5/10/15/25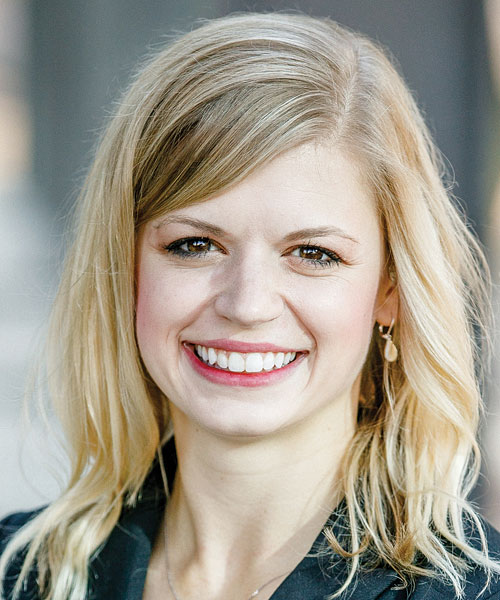 5
Esther Winne '13
Legal Policy Advisor
Arizona Attorney General's Office
Phoenix
Describe your work: My work varies extensively from day to day. As legal policy advisor, I evaluate legal options for the attorney general, research statewide issues, analyze legislation, write talking points, review amicus briefs, edit op-eds, meet with constituents and do whatever else my boss might ask of me. It's an interesting job because I can have my hands in all sorts of issues that come into our office rather than being constrained to a specific area of the law.
What activities do you enjoy outside of work? Basically anything outdoors. Since moving to Arizona in early 2017, I've especially enjoyed hiking with my golden retriever, Charlie. Arizona is a breathtaking state (despite the 120-degree summer weather) and its desert mountains offer an endless number of hiking trails. I'm currently looking forward to tackling the Grand Canyon's R2R2R (a 48-mile, rim-to-rim-to-rim trek) in May. After graduation, I also joined the U.S. Army Reserves JAG Corps, so my obligations as part of that service take up a fairly significant amount of time. But the JAG Corps has also given me one of the greatest honors of my life, which is to meet so many impressive men and women serving in our armed forces.
Are you where you expected to be at this stage of your career and life? Not at all, but it has been an interesting ride. I started out in the private sector for a few years before taking my current position with the Attorney General's Office. The jobs could not be more different, but both have offered me the chance to grow and learn. My aim is to work hard at whatever I do and see what doors open. I'm finding that the expected path is often not as creative as the path you end up taking.
What do you like about your life 5 years after law school? It is hard to believe that it has been five years. I am more than ever thankful for my family and friends, and for the opportunity I had to attend UVA. Five years out, I am grateful for where my career has taken me, for the chance to stretch my boundaries in a new state and for all the adventures that the future will offer.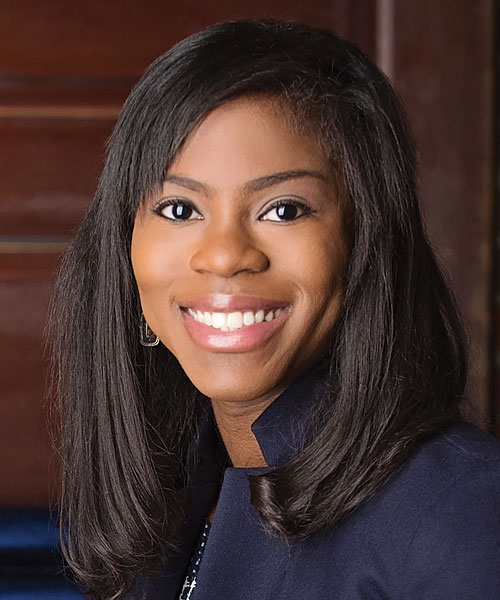 10
Akure Ahaghotu Paradis '08
Senior Counsel, Litigation and Investigations
Humana Inc.
Louisville, Kentucky
Describe your work: I am an attorney for Humana Inc., a health insurance and wellness company headquartered in Louisville, Kentucky. I defend the company in government investigations and, along with the other attorneys in the department, handle the company's diverse and complex litigation portfolio. I also have the pleasure of working hand in hand with our business leaders to provide legal support, proactive risk mitigation and counseling to protect the company's interests.
What activities do you enjoy outside of work? As I write this, my husband and I have three wonderful sons — ages 4, 2 and 3 weeks — so saying that I have my hands full is an understatement. It's a whirlwind, and I'm enjoying spending time with them and watching them grow up. One of my favorite activities is traveling, and I love to experience different cultures with my family. In the past four years alone, our family has visited Spain, France, England and Nigeria. Community involvement is also very important to me. I have the pleasure of serving on the board of directors of two great organizations in town — the Muhammad Ali Center, an interactive museum and cultural center dedicated to civil rights, social action and inspiring young adults to pursue greatness, and the West End School, a free private college preparatory school for young, at-risk boys in Louisville.
Are you where you expected to be at this stage of your career and life? If one would have asked me during my first year in law school what I expected to be doing 10 years out of law school, I would have said "working for the United Nations, specializing in international law and human rights." But life has a way of working itself out and I absolutely love where I am at this stage in my career and life. I am incredibly fortunate to have such amazing family and friends. And I love working at a job that challenges me on a daily basis while still allowing me to spend time with my children.
What do you like about your life 10 years after law school? I love my life. I'm blessed to have a job I like, a wonderful family and great friends, many of whom I met at Virginia Law, including my lovely husband (Charles Paradis '08).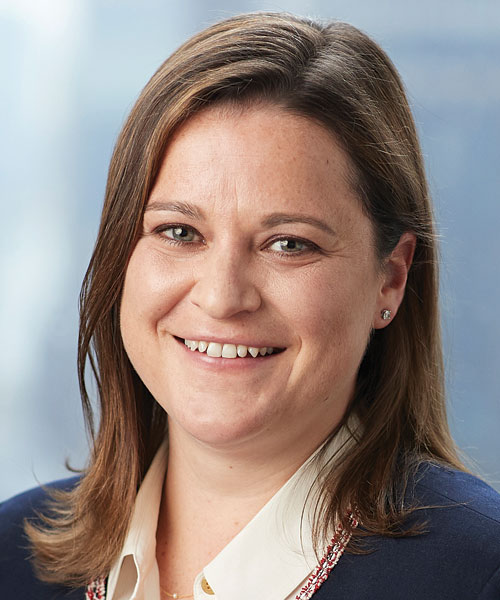 15
Katherine J. Brennan '03
Deputy General Counsel, Corporate Secretary and Chief Compliance Officer
Marsh & Mclennan Companies Inc.
Describe your work: On any given day I might be working on quarterly earnings, employment law matters, cybersecurity, privacy, corporate finance transactions, M&A, trade sanctions or preparing for a meeting of our public company board. This year, I took on oversight of our global compliance program — a new challenge. I work with incredibly smart and dedicated people. Each day is different, and I love it!
What activities do you enjoy outside of work? There are activities outside of work!? Just kidding. I feed off adventure — from climbing Mount Kilimanjaro to heli-skiing to diving with sharks, I like to keep things interesting. I travel a ton for work, but try to make time for personal travel as well. I love tailgating for Army football games in the fall, skiing and college basketball in the winter, outdoor brunches in the spring and gathering at the beach with my family in the summer. Also, LAW SCHOOL REUNIONS, big and small.
Are you where you expected to be at this stage of your career and life? Yes and no. I was only 8 years old when I told my parents I was going to move to New York City to become a lawyer. So, check. But, especially after working at a large firm, I never expected to really enjoy my job. And I do! I've made a few incredibly lucky decisions in my career — for example, declining the offer to structure mortgage-backed securities deals in 2006 and deciding to go in-house before Dewey & LeBoeuf imploded. I consider myself very fortunate to be at Marsh & McLennan in my current role. Particularly in recent years, I have learned to live in the moment and be grateful for every single day.
What do you like about your life 15 years after law school? I like that I can still say with conviction that the best is yet to come!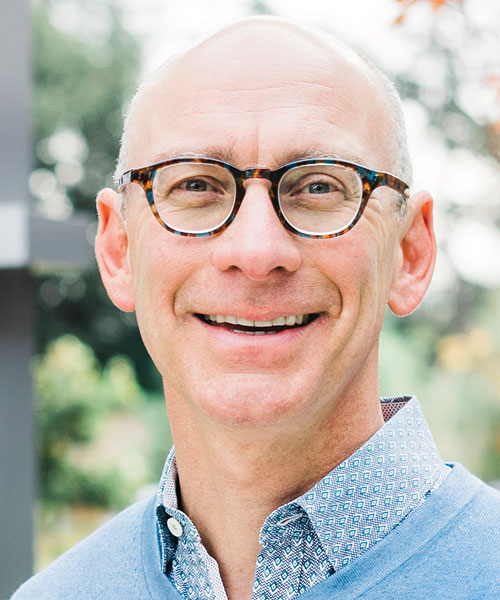 25
David Hyman '93
General Counsel
Netflix
Describe your work: As the head of legal and public policy for an entrepreneurial company like Netflix, I describe my work as being focused on helping my team navigate ambiguity and grow to tackle our expanding global service and studio operations. More concretely, I work with the policy team to develop and mitigate impacts of emerging regulations for internet media businesses. I help build the legal team to support the development and production of original and licensed content, which includes managing issues ranging from music rights and global trade unions to [Foreign Corrupt Practice Act] compliance and anti-piracy. I work with our business development and marketing lawyers (headed by another UVA Law grad, TJ Angioletti '92) to create innovative partnerships and advertising campaigns that bring Netflix to life for our members around the globe. I handle the classic company GC responsibilities, such as managing SEC compliance and corporate governance as well as litigation, intellectual property and employment matters. Lastly, I spend time on business counseling and help develop and implement our unique company culture.
What activities do you enjoy outside of work? Watching Netflix :). I guess that's kinda work too, but I do enjoy a good binge. My latest is "The End of the F**king World."
Are you where you expected to be at this stage of your career and life? I didn't really have any set expectation or plan for my career or life when leaving law school. I think the only thing I knew then was that I didn't want to be a litigator and that my girlfriend, now wife, was a keeper. I was merely excited to learn and try new experiences. I would say that my career and life is certainly providing that … and despite that aversion to a career in litigation, I've found that I really enjoy a good court challenge.
What do you like about your life 25 years after law school? I like that I've helped Netflix, in some small way, become what it is today and that every day at Netflix continues to be an incredible learning experience. I like that I work hard yet have made time to coach my kids in soccer and baseball, help them with school work and otherwise be present with my family.