The Art of Elocution
Public Speaking Program Offers Hands-On Experience to Strengthen Verbal Skills
student in Professor Molly Bishop Shadel's Advanced Verbal Persuasion class, one of many Public Speaking Program offerings at the Law School, had just given a presentation about his mother's rise from working in a factory stitching beanbags for corn hole games to running her own company that makes them. To illustrate the story, the student had brought an example of her work with him to the stage. The speech had gone over well, but there were a few things to think about.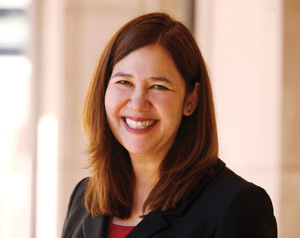 "As soon as you bring out those bean-bags, we're looking at them, waiting for them," Shadel said, bringing to bear her experience as a theater director in New York. "Then, when you finally got to them, it was a long walk across the stage to pick them up. As soon as we see a prop, we're going to focus our attention on it — it's the most compelling thing on the stage. So you need to figure out where it's going to be physically so you can use it effectively." 
The student nodded, taking this in. His presentation, like all of the others in the class, was being videotaped, so that he could go back later and see the subtle changes that were being suggested. Other students added praise and critiques, noticing everything from the student's strong body language to his occasional use of "so" as a "filler word" to begin sentences.
The Public Speaking Program, started in 2002, was designed with the goal of improving the persuasive skills of law students in and out of the classroom, both in public presentations and in one-on-one interactions.
Shadel and Professor Robert Sayler run the program and, with help from adjunct faculty members, teach its classes, which have expanded beyond the typical scope of public speaking courses. The classes are designed to prepare students for every aspect of self-presentation that a lawyer might encounter.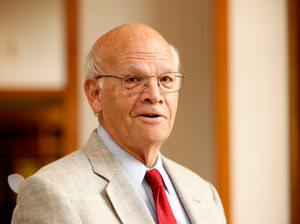 "There is something special about the need for, and the kind of verbal skills required for, a lawyer," Sayler said. "We talk, as lawyers, a ton. Lawyers are talking to clients, to each other. As a lawyer, 90 percent of my day was on the phone with clients, having internal meetings, case meetings, committee meetings. It's a spectacularly oral field. It is never to say that great writing and great analysis should dwindle. But the demand on you to be effective, impressive and respected while you're talking grows exponentially with every year." 
Jack Bisceglia '16 has already found that to be very much the case in his summer associate work. He participated in a mock trial at the firm as part of litigation training, and said the preparation he received from Sayler and Shadel made him feel ready to present his team's closing argument to a partner and former federal judge.
"While Professor Shadel and Professor Sayler's instruction has obvious benefits for those who want to practice in a court­room, I was surprised by how often I have relied on their lessons on a daily basis, whether I'm presenting some research to a partner or just working on a group project here at the Law School," Bisceglia said. "They make a great case for the importance of teaching rhetoric to all students."
The program began with a class called Hallmarks of Distinguished Advocacy, now co-taught by Sayler and Shadel, which begins with bedrock advocacy, but focuses as it progresses on the important aspects of trial preparation: opening statements, closing arguments and direct cross-examination. But realizing the need for non-trial lawyers to develop their verbal skills, Sayler and Shadel have also developed a course called Oral Presentation Inside and Outside the Classroom. Though not a trial course, it still ends with a closing argument, because, Sayler explained, it is "the most difficult and it calls on every rhetorical skill I can think of." 
Demand for more advanced classes caused the course offerings to "grow like topsy," in Sayler's words. Shadel developed a course called Advanced Verbal Persuasion, and Sayler created a seminar on Rhetoric; together, they also teach an intensive one-week course during the law school's January term called Persuasion. A Negotiations class is the latest addition to the curriculum, teaching students how to advocate successfully across a wide range of scenarios. 
Enrollment in all the courses is kept relatively small, in order to give each student the opportunity to improve their presentation skills at length. 
"The only way to teach these skills is to have students stand up and try it again and again, so they can figure out what actually works and what doesn't work," Shadel said. "And to make that happen is really labor-intensive. You need professors watching and giving feedback, and class size has to be small so every student has the chance to present every week for 13 weeks. That's about the time it takes to really master this skill." 
Ben Sachs '09, an adjunct professor and president of The Landing Group, a strategic communication consulting service, teaches the Negotiations class with Shadel. He said that the critique process is an essential component of all of the courses. 
"One of the reasons Molly is so successful is her critiques," Sachs said. "The students recognize that the critique is so spot-on, so effective, so nuanced. While practicing public speaking is critical, self-awareness and practice will only take students so far. These classes take students much further than practice alone because of the focus on critiques that help students discover the nuances of effective communication, lessons that they can then plow into their speech the following week. This is what creates that rapid progress week after week." 
Both Sayler and Shadel take joy in the improvement they observe in students over the course of a semester. 
"We are so often told by students who have taken these classes, 'This is among the most valuable courses I've taken in terms of my future,'" Sayler said. "They get over that fear of speaking and they get to bring their oral and verbal skills up to the quality of their writing and think­ing. I've never seen a single person who wasn't really better at the end the class. Molly and I have talked about having tears in our eyes watching some students, in week 13, who were scared to death at first, and were going to have a problem in their careers, and have gotten so much better by just doing it over and over." 
In addition to the classes they teach, both together and separately, Sayler and Shadel have also co-authored a book, "Tongue-Tied America: Reviving the Art of Verbal Persuasion," now in its second edition. Shadel is the author of "Finding Your Voice in Law School: Mastering Classroom Cold-Calls, Job Interviews, and Other Verbal Challenges." During the 2012 election cycle, Sayler and Shadel kept a popular blog discussing the rhetoric of the presidential candidates, and Sayler in particular makes a point of utilizing footage from presidential debates and speeches in order to emphasize the do's and don'ts of public speaking. 
The Negotiations class focuses on aspects of persuasion that aren't covered by the other courses, though the principles involved are, in many ways, the same.
"Negotiation is, in part, about emotional intelligence, about understanding what's going on in somebody else's head," Shadel said. "A big theme of the persuasion class is similar: People are people. People are not robots. We're not thinking just in terms of abstract theory about what is more persuasive. Human beings have emotions, human beings like logic, human beings have people that they care about." 
Because of this, an important aspect of the class involves taking some of the mystique out of the anxiety-inducing notion of "the art of the deal." 
"Many people think that there are tricks," Shadel said. "People worry that they're going to go in and be negotiating with Donald Trump, and he knows all the tricks. That makes people afraid. For some, that might cause you to avoid negotiating altogether — people will pay money to not negotiate over the price of a car, for example. Others go to the other extreme — they are fearful, so they approach a negotiation as aggressively as possible. Our thesis is that either extreme can be a mistake, and that if you're a­proaching a negotiation with fear and thinking only about getting out of there as quickly as you can, or negotiating with the thought that I can only win if you lose, you're not going to be effective as you could be if you took a step back and said, 'OK, what are both parties trying to do?'" 
A recent Negotiations class exercise involving oil prices emphasized the need for this empathetic approach. Over the course of an hour-and-a-half long exercise, students were assigned the roles of two small, oil-rich countries, and were charged with setting the price of oil they produced to sell to a larger country. The students' best possible outcomes were often foiled by hardball tactics and games­manship that perhaps could have been avoided with a more holistic negotiating approach. (It was, it should be noted, only the second week of the course.) 
In most negotiations, Sachs said, "you're trying to convince someone that the deal you're offering is good for them. If you can convince them the deal is good for them — without bullying them into it — then they're walking away happier, and you get the best of both worlds. The key to negotiation is getting in their head and convincing them, through their own interests, that it actually makes sense for them to do this deal." 
If both parties are convinced that they've been treated fairly, the deal is more likely to be a lasting one. 
"One of my definitions of a good deal is one that it is not fragile," Shadel said. If a business deal is struck but one party doesn't feel good about it, either because of the outcome or the tactics used, you're likely to try to get out of the contract at your first opportunity. "You want a deal that isn't just going to be the headline and then falls apart the very next day." 
Lauren Dugas '16, a student in both Negotiations and Advanced Verbal Persuasion who also took Shadel and Sayler's Oral Presentations In and Out of the Classroom, said that one of the most important skills she has learned through this sequence of classes is the difference between writing for speaking rather than for reading. 
"When preparing for a speech, the way I write is very different—the sentences are shorter, the structure is simpler, the vocabulary is more basic," Dugas said. "I've also learned to make the most of the idea that the first and last things your audience hears are some of the things that stick with them the most."
Elysse Stolpe '14 serves as the assistant commonwealth's attorney for the city of Waynesboro — the first woman to hold that position. She said that the skills she learned in Shadel's Advanced Verbal Persuasion class went far beyond public speaking. 
"Professor Shadel taught me that the essence of public speaking is communication from one person to another using various channels — voice being only one," Stolpe said. "Certainly I use my voice to communicate with my audience as a prosecutor, but arguably more importantly, I use the nonverbal elements of my whole body and mind. Every move, every intonation, every glance is a communication affecting the perception of my trustworthiness and competence — my key stock-in-trade as a prosecutor who is entrusted with the task of achieving justice for the community." 
She added that the skills she learned in the class were particularly useful to her as a woman in a male-dominated field and geographic area. 
"My voice may not be as booming as some of my fellow male practitioners," she said. "But thanks to Professor Shadel, I know that a booming speaking voice is no substitute for thorough preparation, maintaining perspective, and conveying competence and confidence through non­verbal communication."