Change Agents: Business and Firm Leaders
5 Business Leaders
31. Bob Wright '68
NBC and Advocacy
Bob Wright '68 was president and CEO of the National Broadcasting Co. from 1986-2001, and chairman and CEO from 2001 until his retirement in 2007. Under Wright's leadership, NBC went from a $400 million company on relatively hard times to a multibillion-dollar conglomerate. For many viewers, "Must See TV" in the 1990s, which included the first broadcasts of "Friends" and "Seinfeld," was also a cultural touchstone.
Wright went on to help found advocacy groups around the issues of autism and pancreatic cancer, both of which affected his own family. His wife Suzanne died of cancer in July 2016.
32. Barbara Jeremiah '77
Alcoa Exec
Barbara Jeremiah '77 was executive vice president of Alcoa from 2002-08, in charge of corporate development, fol­lowing a long career with the company, which is the eighth-largest producer of aluminum in the world. She has been a director or board member of a number of other industry and financial groups, as well on the board of the Pittsburgh Ballet.
33. Ned Kelly '81
Financial Industry Leader
Before his retirement in 2014, Ned Kelly '81 held numerous key roles with Citigroup Inc., starting in 2008 — the year the financial crisis hit. He helped the finan­cial group recover the financial group as chief financial officer from March through July 2009, and as vice chairman until April 2010. The company paid back $20 billion in government bailout money in December 2009 as part of the government's Trou­bled Asset Relief Program. He passes forward his experi­ences during those years as a lecturer at UVA Law.
Among numer­ous other roles in the financial indus­try, Kelly was also a managing director at JPMorgan Chase and Co., where he was an architect of the company's merger with Chase Manhattan. He is currently a direc­tor of CSX Corp., XL Group and MetLife.
34. Louise Sams '85
Tuned In to Turner
Louise Sams '85 is executive vice president and general counsel for the media conglom­erate Turner, which brings the world news and entertain­ment (everything from CNN to the Cartoon Network). She oversees the legal matters, and a staff of 110 lawyers worldwide, of this largely autonomous unit of Time Warner. From 2003-12 she held dual executive roles, also serving as president of Turner International.
35. George Kliavkoff '93
Media Innovation
George Kliavkoff '93, president of entertainment and sports at MGM Resorts Internation­al, has helped build the business of innovative media and entertainment companies. He was most recently CEO of the virtual reality entertain­ment company Jaunt VR. He has also served as co-presi­dent and group head of Hearst Entertain­ment, the largest and most profitable pri­vately held media company in the U.S.; chief digital officer of NBC Universal Media, where he helped launch Hulu; executive vice presi­dent of business at Major League Base­ball, where he was an early member of the Advanced Media Group, which deliv­ers the sport's digital content; and head of the business develop­ment group at Real Networks, known for its then-innovative RealPlayer.
5 General Counsel
36. R. Hewitt Pate '87
Chevron
As Chevron's chief legal officer since 2009, R. Hewitt Pate '87 directs worldwide legal affairs and serves on its Executive Committee. Active in more than 180 countries, Chevron is one of the world's largest oil companies.
Pate was previ­ously a long-time partner at Hunton & Williams in Wash­ington, D.C., where he headed the firm's global competition practice. He also served as assistant attorney general for the Antitrust Divi­sion of the U.S. De­partment of Justice, and deputy assistant attorney general.
He taught as Ewald Distinguished Profes­sor of Law at the Law School in 1999.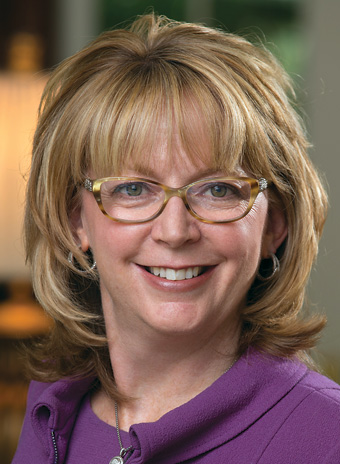 37. Deborah Platt Majoras '89
Procter & Gamble
As the chief legal officer at the multina­tional consumer goods giant Proctor & Gamble and co-chair of P&G's Citizenship Board, Deborah Platt Majoras '89 is mind­ful of the under-representation of women and minorities in large corporations, and is helping to do something about it.
According to P&G's 2018 Citizenship Report, the company, which reported $66.8 billion in net sales the previous year, now has 46 percent female representation among its managers globally — with the goal of reaching 50 percent.
In addition to her work on female representation, Majoras is an advocate for diversity as executive sponsor of the GABLE (Gay, Ally, Bisexual, Lesbian and Transgender Employees) resource group. She also established both global and local pro bono programs for P&G's legal team, which includes about 500 professionals whom she oversees.
Majoras is a former chairman of the U.S. Federal Trade Commission, where she focused on protecting consumers from spyware, online fraud and identify theft.
38. Tracy Preston '91
Neiman Marcus
Tracy Preston '91 is senior vice presi­dent and general counsel for the retail conglomerate Neiman Marcus.
39. Michael Wu '92
Carter's
Michael Wu '92 is senior vice president, general counsel and secretary of Carter's Inc., an American designer and mar­keter of children's apparel.
40. David Hyman '93
Netflix
As general counsel for Netflix, David Hyman '93 oversees 300 attorneys at the juggernaut inter­net entertainment service.
5 in Investing
41. Brian Powers '74
Hellman & Friedman
Brian Powers '74 is senior adviser and chairman emeritus of the private equity investment firm Hell­man & Friedman.
Branded a "financial alchemist" in the 1980s by The New York Times, he led H&F's worldwide in­vestments in media, professional ser­vices, telecom, soft­ware and technology service industries.
42. Mina Gerowin Herrmann '76
Paulson Europe
Mina Gerowin Herrmann '76, business executive and hedge fund manager, was managing partner at Paulson Europe in the run-up to the financial crisis. She predicted the collapse of the subprime mortgage market, which made her company one of the few winners in the financial industry during the downturn. She is currently on the board of CNH Industrial NV.
43. Bruce Karsh '80
Oaktree Capital Management
Bruce Karsh '80 is co-founder, co-chairman and chief investment officer of Los Angeles–based Oaktree Capital Man­agement, a global investment manage­ment company with $120 billion of assets under management. He also serves on the executive board of the NBA's Golden State Warriors, of which he and Martha Lubin Karsh '81 are co-owners.
44. Catherine Keating '87
BNY Mellon Wealth Management
Catherine M. Keating '87 recently joined Bank of New York Mellon Corp. as CEO of BNY Mellon Wealth Management and a member of the company's executive committee. She was previously president and CEO of the asset management firm Commonfund, and the company's first woman in that role.
She also held several positions at JPMor­gan, ultimately over­seeing over $700 billion in investment assets.
45. Ted Eliopoulos '89
Morgan Stanley
The $471 billion investment bank Morgan Stanley re­cently created a new position, vice chair­man of investment management and head of strategic partnerships, spe­cifically for Ted Eliopoulos '89. He was previously the chief investment officer of the $360 billion California Public Employee Re­tirement
5 in Law Firms
46. Pete Ruegger '74
Simpson Thacher & Bartlett
Pete Ruegger '74 became a partner of the New York-head­quartered Simpson Thacher & Bartlett in 1981 and served as chairman of the ex­ecutive committee of the international law firm from 2004 until his retirement in 2013.
47. J. Warren Gorrell Jr. '79
Hogan Lovells
J. Warren Gorrell Jr. '79 is CEO emeri­tus of Hogan Lovells and a partner in the corporate group based in the Wash­ington, D.C., and New York offices. He served as chairman of Hogan & Hartson (now Hogan Lovells) from January 2001 to May 2010 and as co-CEO of Hogan Lovells from May 2010 to June 2014. Gorrell was one of a handful of leaders of major law firms who maintained a substantial practice while managing the firm.
48. Melvin Hollowell '84
The Miller Law Firm
Melvin Hollowell '84 serves as managing partner of the Miller Law Firm in Detroit.
He previously won 100 percent recov­ery for a class who lost retirement pay in Davidson v. Henkel of America, Inc. Prior to managing the law firm, Hollow­ell was appointed as Detroit's chief legal officer following the city's bankruptcy filing, helping to turn the city around.
49. Susan Murley '86
WilmerHale 
A co-managing partner of the firm WilmerHale, as well as a partner in the Corporate Prac­tice Group, Susan Murley '86 is a member of the firm's management com­mittee who joined the firm in 1986.
50. Beth Wilkinson '87
Wilkinson, Walsh + Eskovitz
Beth Wilkinson '87, who as special counsel to the deputy attorney general successfully argued for the execution of Oklahoma City bomber Timothy McVeigh, has had a distinguished career in both private prac­tice and public service. In addition to roles with the Justice Department, she served as vice president, general counsel and corpo­rate secretary to Fannie Mae, helping to rebuild the lend­er's image after ac­counting scandals. Through her firm, Wilkinson, Walsh + Eskovitz, Wilkinson is currently defend­ing the NCAA against a lawsuit that argues capping the amount of money a college athlete can earn is a form of price fixing. She was formerly a partner with Paul, Weiss.