Change Agents: International and Military Leaders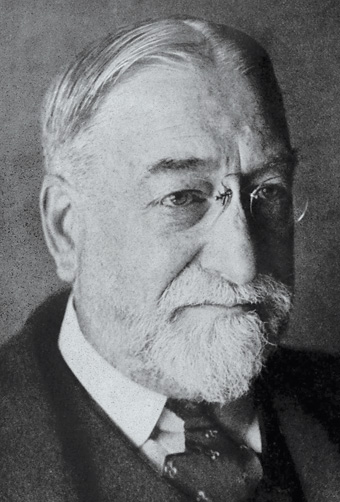 16. John Bassett Moore 1880
First American on the World Court
John Bassett Moore 1880 was the first American to serve as a judge on the Permanent Court of International Justice at The Hague, or the World Court.
The Permanent Court, how­ever, was not so permanent. It existed from 1922 to 1946, ad­dressing international disputes under the League of Nations. The court was replaced by the International Court of Justice — also informally known today as the World Court — under the United Nations.
In addition, Moore was a counselor to the peace process following the Spanish-American War and started the "Digest of International Law," among other public service and academic roles. He served as an assistant secretary of state (and later acting secre­tary of state) and took the first full professorship in international law at Columbia University.
The student-run John Bassett Moore Society of International Law, founded in 1951 and the oldest organiza­tion of its kind in North America, was named in his honor.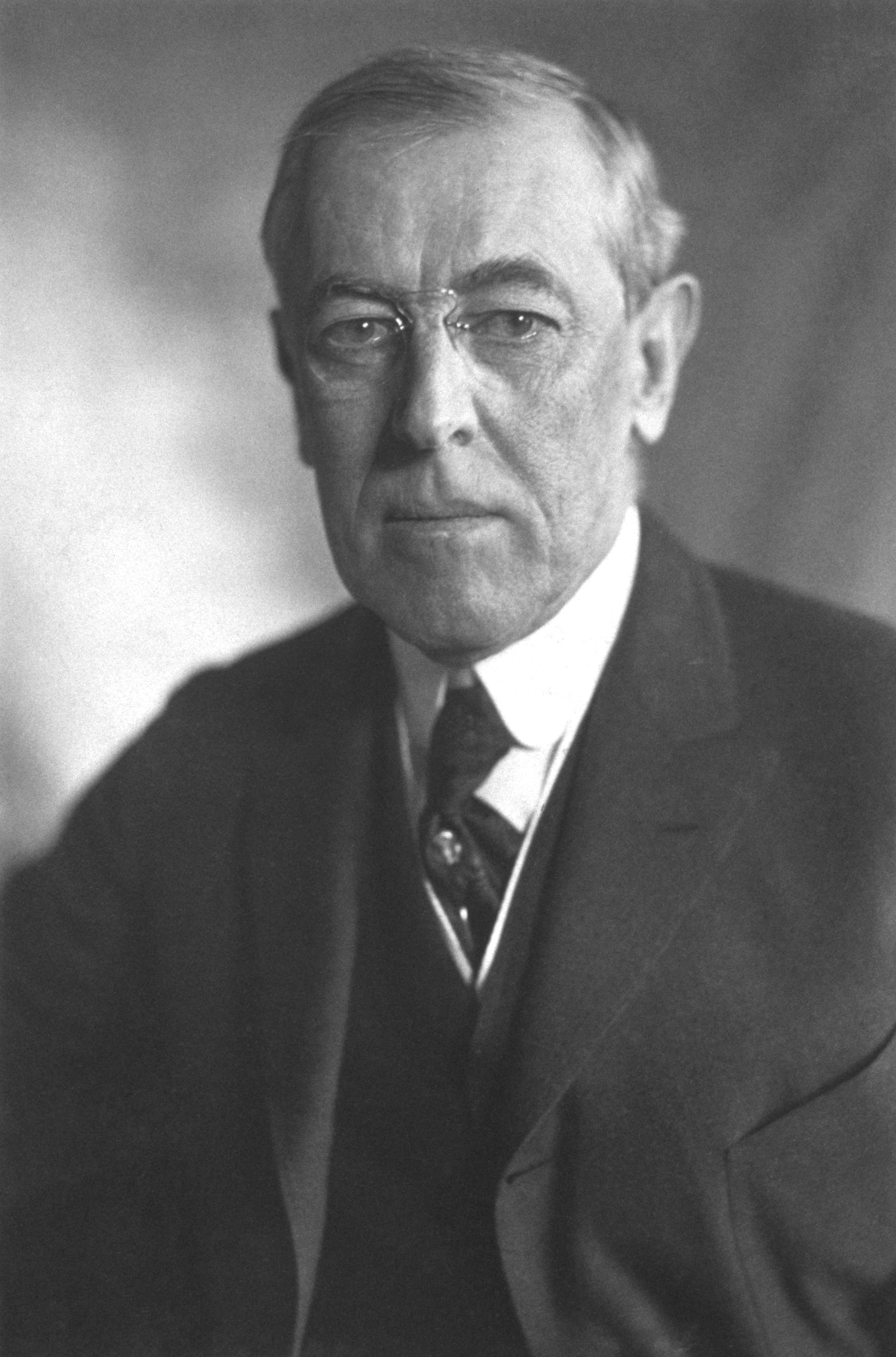 17. Woodrow Wilson 1880
His Path to Presidency and a Bigger Vision
What a person reacts against can be a powerful motivator for changing the world.
Thomas Woodrow Wilson 1880, a native of Staunton, Virginia, studied law at the University of Virginia from 1879-80 but never finished his degree. His departure was ascribed to illness, al­though it could have been a confluence of factors. He reportedly found the instruction dry, was disappointed in being awarded second place in a debate and essay contest, and was afflicted with unrequited love for his cousin Hattie Woodrow, who also lived in Staunton.
Regardless of his reasons for leaving, he finished studying law on his own at his family's home in Wilmington, North Carolina, until he was able to pass the bar examination in Georgia. Seeing opportunity, he set up practice in Atlanta with a friend from UVA.
He soon grew disenchanted with the legal field, however. How he intended to practice law, and what people were willing to pay for, were two different matters.
"Here the chief end of man is certainly to make money, and money cannot be made except by the most vulgar methods," Wilson wrote. "The studious man is pronounced impractical and is suspected as a visionary. Atlanta students of special­ties — except such practical specialties as carpentering, for instance—are classed together as mere ornamental furniture in the intellectual world — curious perhaps and pretty enough, but of very little use and no mercantile value."
To his parents' disappoint­ment, he quit law after only a year. Although he would still refer to himself as a lawyer when it was expedient, he went on to study political science and history at Johns Hopkins University, where he earned his Ph.D.
He ascended in academia to become president of Princ­eton University — his jumping-off point for his subsequent politi­cal career. He became governor of New Jersey, then the 28th president of the United States.
In concert with Wilson, Congress approved a new federal income tax, and established the Federal Reserve Bank and the Federal Trade Commission, among other major reforms. Wilson's policies were considered progressive domestically and activist on the world stage. Following World War I, he proposed and championed the League of Nations — the aims of which, he made sure, were not obscured by the "pettifoggery" of lawyers. The intergovernmental organization was founded on Jan. 10, 1920, as a product of the Paris Peace Conference.
The United States never joined the league, nor did the league ever achieve its lofty goal of world peace. But before being dis­solved and absorbed by the United Nations, Wilson's brainchild was important to expanding the rule of law in the world and for the ideas of collective security and settling international disputes through negotiation and arbitration.
Wilson was not progressive on all issues, however. His track re­cord in regard to African-American rights, including allowing seg­regation among federal workers while he served as president, is considered abysmal, and was far from world-changing for them.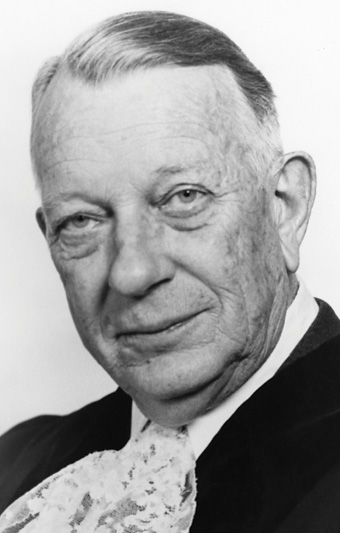 18. Hardy Cross Dillard '27
Putting Nuclear Testing to the Test
Before he was dean of the Law School, Hardy Cross Dillard '27 changed the world through his service as an officer, civilian affairs planner and legal adviser. He served as a colonel in the Army dur­ing World War II, as a commander of Civil Affairs overseeing planning for the occupation of Japan and the retaking of Western Europe from the Nazis, as the first director of the National War College and as legal adviser to the High Commis­sioner of Germany.
After he was dean (1963-68), Dillard changed the world as an appointee to the International Court of Justice at The Hague, also known as the World Court.
From 1970-79, he adjudicated 10 cases. Two of the cases involved France's at­mospheric testing of nuclear weapons in the South Pacific. In May 1973, Australia and New Zealand instituted proceedings against France, seeking a shield from nuclear contaminants that might reach their borders. The court took provisional measures on their behalf the following month, warning France by court or­der that it should avoid encroachment. French officials, despite denying the court had jurisdiction, ultimately said that their country would suspend aerial experi­ments upon the completion of the 1974 series of tests.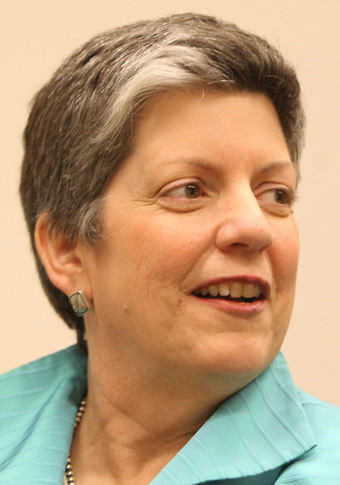 19. Janet Napolitano '83
Air Security After 9/11
On Sept. 11, 2001, terrorists affiliated with al-Qaida used air transportation as a tool to wage war against the United States. Janet Napolitano '83 helped reclaim air safety.
As the third secretary of the Depart­ment of Homeland Security, serving from 2009-13, Napolitano expanded informa­tion-gathering on travelers in an effort to identify potential threats while also mak­ing flying easier for everyday passengers.
PreCheck and The Passenger Name Record Agreement between the United States and the European Union are two such efforts that reached fruition during her tenure at the department, which over­sees the Transportation Safety Adminis­tration.
Napolitano was quoted by The Atlantic as saying PreCheck, the opt-in program for so-called "known travelers" willing to submit to background checks, is "the most popular thing I've ever done in public service." The program allows pre­cleared passengers to skip long lines.
More controversial, however, has been the ongoing collection of passenger name records attached to flights.
In addition to booking details, the "PNR" contains personal data about trav­elers, such as credit card numbers and internet protocol addresses that identify electronic devices, among other sensitive information. The data is reportedly pro­cessed in bulk through computer models to make risk assessments and only used for the purposes of law enforcement.
Napolitano also shaped immigration policy as secretary of homeland security, including with her initiation of Deferred Action for Childhood Arrivals, more frequently referred to as "DACA."
The program allows some individuals who were brought to the U.S. to remain here for renewable two-year periods and creates eligibility for a work permit in the United States. Felonies and serious misde­meanors are disqualifying for candidates, and the program is not a path to citizen­ship. President Barack Obama announced the policy change on Aug. 15, 2012.
Napolitano was the first woman to serve in three high-profile government roles: attorney general of Arizona, secre­tary of homeland security and president of the University of California.
20. Yuji Iwasawa S.J.D. '97
New Judge on the World Court
In 2018, Yuji Iwasawa S.J.D. '97 became the latest UVA Law alumnus to join the bench of the International Court of Justice. The University of Tokyo pro­fessor has served as chair of the U.N. Human Rights Committee, president of the Japanese Society of International Law and vice chair of the London-based International Law Association. He also served as judge and vice president of the Asian Development Bank Administrative Tribunal in Manila, Philippines.
5 Military Leaders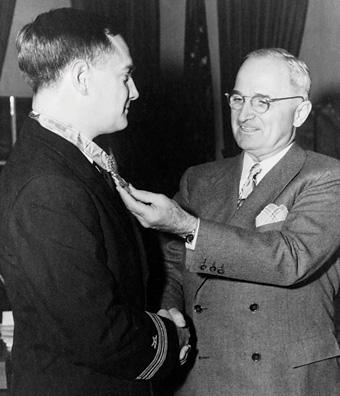 21. Arthur Murray Preston '38
Recipient of the Medal of Honor
A practicing lawyer when World War II called Americans to duty, Arthur Murray Preston '38 joined the Navy and, as a lieutenant in a torpedo boat squadron, commanded the rescue of a downed Navy pilot off of Indonesia's Halmahera Island.
According to his Medal of Honor citation, Preston's two PT boats traversed mine-laden waters and approached within less than 200 yards of a Japanese mooring station, where hostile fire was constant.
"Under continuous fire for 2½ hours, Lt. Comdr. Preston successfully achieved a mission considered suicidal in its tremendous hazards, and brought his boats through without personnel casualties and with but superficial damage from shrapnel," the citation reads.
He went on to achieve the rank of commander before exiting the Navy.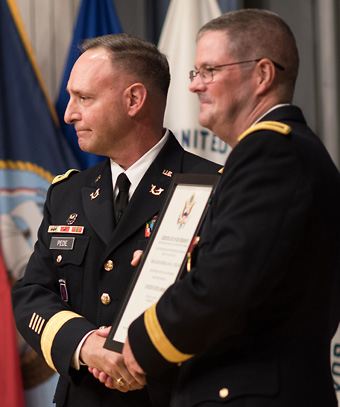 22. Lt. Gen. Charles Pede '87 and 23. Brig. Gen. Paul Wilson '89
Commanding General of JAG and Former JAG Commander
Lt. Gen. Charles Pede '87 is the 40th judge advocate general of the U.S. Army. The military lawyer leads the Judge Advocate General's Corps and the JAG School in Charlottesville. Retired Brig. Gen. Paul Wilson '89 formerly led the JAG School in Charlottesville and the Army's Legal Ser­vice Agency, and is a former chief judge of the U.S. Army Court of Criminal Appeals.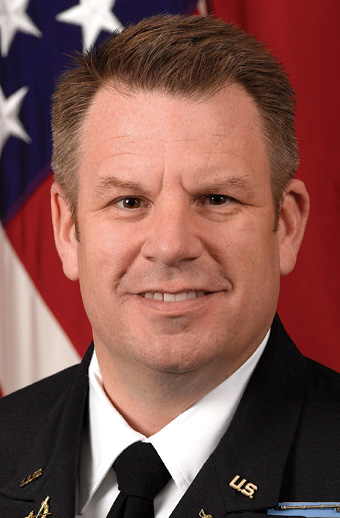 24. Brig. Gen. Richard Gross '93
At the President's Side
Brig. Gen. Richard Gross '93 served as legal counsel to the chairman of the Joint Chiefs of Staff, the nation's highest-ranking military officer and principal military adviser to the president.
25. Cmdr. Anne Marks '01
Navy JAG Advocate
Cmdr. Anne Marks '01 a Navy judge advocate general, serves as staff judge advocate to Commander, Navy Region Mid-Atlantic, and is a former senior judge of the Navy-Marine Corps Court of Criminal Appeals.