A Roadmap to Law School
Inside the UVA Law Initiative To Help Future Law Students Find Their Way
onah Vazquez has the map of New York's A train etched into his brain after riding it for two hours every day for 10 years.
As if by muscle memory, he would hop on at the train's terminus in Far Rockaway, Queens, roll past JFK International Airport and curve back around to slice through a much wealthier Brooklyn neighborhood. At 8 a.m., he would hop off the train at Bedford Avenue and walk two blocks to the Williamsburg High School for Architecture and Design.
Those 24 miles of track provided his map out of Queens, his ticket to a life more comfortable than the one he had inherited. Vazquez had come out as gay to his Puerto Rican parents as a high school freshman. His father disowned him, while his mom continued to struggle with acceptance and reconciliation.
For much of that school year, he cried himself to sleep at night. Before walking into his high school each morning, he would put on a happy face.
"I had no choice but to be OK and put on a smile," he said. "I would tell myself, 'In here, you're someone; in here, you have a chance of making it beyond the situation at home.'"
Vazquez's accomplishments earned him a Posse Foundation scholarship to Vanderbilt University, and there he declared himself an "unaccompanied homeless youth" on financial aid forms to avoid going home and getting into violent confrontations with his dad.
But once Vazquez was safely ensconced in Nashville, he needed a new map, one that could plot the decisions and moves he would need to make to get from first-generation college student to first-generation lawyer.
His mom, who works as a team lead at a call center, had no way of drawing such a map for him. Her own educational opportunities ended during her junior year of high school when her vocational school was shut down because it was the lowest-performing such school in the city at the time.
"My mom's own mom had dropped out of high school, earned her GED, got a job and got married," Vazquez said. "So my mom didn't really know where to go or what to do when the school closed down. All she had seen was get your GED and go to work."
When Vazquez looks at the strong matriarchs in his family, he sees resourceful women who suffered the direct consequences of systemic failures they did not cause and did not understand.
"It's just a matter of the system failing and continuing to fail and to leave it to the individuals to pick up the pieces — pieces that they don't even know are there," Vazquez said. "You don't know what you don't know, so how can you ever course-correct?"
 
IN NOVEMBER 2020, A UVA LAW TEAM SET THE GEARS IN MOTION to begin developing a program that would draw the missing map for a cohort of students like Vazquez: rising college juniors with strong academic records, an interest in law, and an absence of resources and networks that would help them pursue that dream at the highest level.
Dean Risa Goluboff had in mind something akin to the burgeoning number of related programs — typically referred to as pipeline programs — that are popping up in higher education, law firms and bar associations across the country. Through conversations with UVA Law students, Goluboff was determined to create a more comprehensive and transformational program than what she saw elsewhere. She sought additional input from undergraduate students, peer schools and historically Black colleges and universities.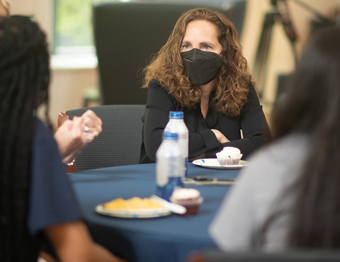 The team — initially including Goluboff; Grace Cleveland '09, chief of staff to the dean; and Kate Martin, director of development at the UVA Law School Foundation — also talked to alumni. Martin, who was the point person seeking funding for the program, remembers the extensive research the team conducted to identify the issues.
"We talked with alumni from various backgrounds who have worked with other pipeline programs to get feedback on how to create something that would be unique and very meaningful in providing preparation and experience," Martin said.
The alumni provided eye-opening anecdotes about the roadblocks that can throw a low-income college student off course, from $300 car repairs to the pressure on these students to support their families during the summer.
By March 2021, those data points had begun to suggest what a truly comprehensive pipeline program would entail, but much remained to be done when Mark C. Jefferson came on board as UVA's inaugural assistant dean for diversity, equity and belonging. He joined UVA from Harvard Law School, where he filled a similar role; before that, he worked as the assistant director of admissions at his alma mater, the University of Michigan Law School.
Part of what drew Jefferson to UVA Law was the opportunity to shape and implement what came to be called the Roadmap Scholars Initiative. He, along with Cleveland, would spend the next seven months designing a program that would fill the gaps and remove the obstacles identified as critical to enabling first-generation and low-income students to attend a law school like UVA.
As a first-generation student at Morehouse College, Jefferson experienced the sense of disorientation among high achievers who lack the mentoring and resources that students with highly successful parents often have. At Morehouse, surrounded by Black students, many with more privileged backgrounds, he excelled academically but lacked direction on how his success might chart a path toward a professional career.
"I had some vague sense that I might want to pursue graduate studies, but I didn't have any sense of the ways in which one would put together a law school application," Jefferson said. "I had a good academic record, but no one ever said to me, 'Hey, you should continue to make good grades because it will help you if you decide you want to go to law school.'"
Having worked at elite law schools in the years since, he understands why that feedback would be important to first-gen students.
"There's not a lot of margin for error in your undergraduate record if the median GPA is 3.94 — that's like two A-minuses and one B-plus," Jefferson said. "How else are you going to get the scores and the grades unless there's someone to tell you, 'You want to be a lawyer? You're on the clock from the moment you show up" at college.
Knowing what other pipeline programs offered, Goluboff had told Jefferson, "Let's dream bigger — just figure out what we need," Jefferson said.
Based on his own experience in a graduate school pipeline program at Morehouse, Jefferson knew the package needed to include in-person experience over the summer and financial support.
The Charles A. Dana Foundation funded a program that paid Jefferson's junior- and senior-year tuition, along with a stipend, to allow him to work on graduate-level research to decide whether he wanted to pursue a Ph.D. It also connected him with mentors and a network of similarly situated students at different schools.
Roadmap's working group decided on a two-year program for rising juniors that would bring students to Charlottesville for mini-law school classes for one summer, support their LSAT preparation their junior year and bring them back to Charlottesville the following summer to polish their applications and train them to succeed in their upcoming paid internships. All of that would be supported by mentors and stipends.
"Whatever the stressors are for first-gen and low-income kids — and they are significant — they wouldn't face them when they were with us," Jefferson said. "Just read the cases and enjoy, and figure out if you want to be a lawyer."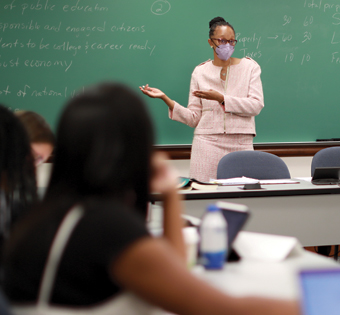 The initiative is the most comprehensive pipeline program offered by any elite law school, providing "soup-to-nuts support" for learning about the law, the legal profession and the application process, according to Goluboff.
The project received its first major endorsement in the form of a significant gift from Thomas R. Denison '86, a trustee of the Law School Foundation who has taught as a lecturer at the school for 12 years. A little over a year after the program first took shape, the team received more good news. The Jefferson Trust, a UVA donor-led initiative that provides seed funding to innovative projects that can spark scalable change, would award the Roadmap Scholars Initiative $200,000. It was the largest grant the trust has made in its 16-year history, according to Brent Percival, the trust's executive director.
"This grant is one I am particularly proud of," Percival said. "Not just for the size, but for the impact it has had and will have, due to the brilliance of the idea and plan under Risa's leadership."
Mark Stancil '99, a Jefferson Trust board member and Triple Hoo, said Roadmap's innovation and nuance made it a good fit for the Trust's grant program.
"It's easy to say there should be a level playing field in elite legal education, but it's another thing altogether to take honest stock of that landscape and put in the hard work necessary to improve it," Stancil said.
Dean Jefferson sought Roadmap applicants by emailing a wide range of institutions.
"We sent well over 300 emails, and we got applications from students whose institutions were not on our mailing list. It will be interesting to see what happens when we send it out this year, and you open [the email] and see people and faces and narratives," Jefferson said about the first cohort of Roadmap scholars.
More than 70 students completed some part of the application process last February and from that, 12 students were chosen, including Vazquez. The scholars comprise three UVA undergraduates, including a Navy veteran; students from historically Black and minority-serving colleges and universities, California and several Southern schools; and a nontraditional student who is a grandmother of five (see sidebar).
 
WHEN THE ROADMAP SCHOLARS FIRST ARRIVED ON NORTH GROUNDS, they were introduced to one another through social events and team-building exercises like a bowling outing, barbecue lunches, ice cream socials and more. The first two days of the four-week program were devoted to introducing the students to legal reasoning, and legal research and writing provided the backbone of the program.
The scholars lived together at Bond House, a new student housing complex on Brandon Avenue. They naturally gravitated into late-night group study sessions in a small study room in the complex. They learned from the same professors who teach UVA Law students — not only Goluboff herself but Frederick Schauer, Kim Forde-Mazrui, Cathy Hwang, Greg Mitchell and Naomi Cahn, to name a few — plus several law librarians.
For the first day of class, Professor Kimberly Jenkins Robinson, one of the nation's leading education law experts, had the scholars read Rodriguez v. San Antonio Independent School District, a 1973 U.S. Supreme Court case.
The students were shocked. Not just by the holding, which ruled that there is no constitutional right to an education. And not just by the difficulty of the reading. In that first late night at Bond House, they were also pleasantly surprised to find themselves in a group of mutually supportive, humble high-achievers who could disagree without being disagreeable.
One student, Aspen Andersson, broke the tension in the room by drawing out the fact that they were all confused and coming at the case from different lived experiences. They then spent hours sharing their different understandings of the facts of the case, the legal reasoning behind the holding, and what the difference between "equality" and "equity" has meant in their own lives.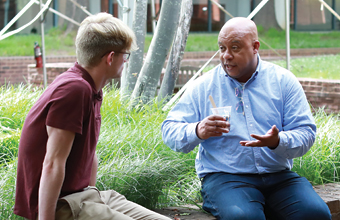 "I come from a long line of educators, so I knew that was something I wanted to study," Andersson said. "But I did not know that we don't have a federal right to education — that was the most surprising thing to me."
Guest speakers exposed the students to an even wider variety of experiences outside of academia. Chris Kavanaugh '06 spoke about his work as the U.S. attorney for the Western District of Virginia, including his experience prosecuting participants in the Aug. 12 Unite the Right violence and the Jan. 6 insurrection.
Cleveland and Jefferson also took the group to Washington, D.C., to show them the seat of government and introduce them to another alumnus, Joe Charlet '18, a Senate Judiciary Committee staffer who talked to them at the Hart Senate Office Building.
Kavanaugh was a first-generation college and law school graduate, and Charlet, similar to Vazquez, was an emancipated minor.
Students were in awe of the D.C. and Charlottesville scenery, impressed by the accomplishments of their professors and guest speakers, and surprised by how much they liked areas of the law they had never encountered. (They were exposed to 14 different substantive law topics in addition to legal process, legal reasoning, and legal research and writing.)
"Constitutional law has never been an area of law that I've even thought about, bankruptcy and contracts even less so," said Makayla Bibby, a Roanoke native studying at UVA's Frank J. Batten School of Leadership and Public Policy. "I had some reservations when I heard the word 'tax,' but every time I got the schedule for the next week, I was excited to learn new things and to see the extent of the law."
An important goal of the program is to "close the gap" between students' vague ideas about law school and the legal profession and the reality of law school and careers in the law, the team said.
 
THE NEXT STEPS FOR THE SCHOLARS WILL BE TO STAY CONNECTED with their peers and the mentors UVA Law is providing, prepare for the LSAT with a subsidy to cover all costs and start their law school applications.
The working group's pipeline research suggested that long-term peer connection is part of the formula for success, as demonstrated by the 23-year track record of the Posse Foundation, which grooms first-generation, low-income high school students for college success, places them in "posses" that will attend the same college together and provides them with full scholarships.
Robert Byron '76, a Jefferson Trust board member, is also a member of the Posse Foundation's board of directors. Byron has endowed a UVA Law scholarship for Posse alumni, and four students have already benefited from his generosity, including three from the class of 2020 and a current third-year student. (Of the 2020 Posse lawyers, two are at AmLaw 50 firms and one is clerking on the U.S. Ninth Circuit.)
Three Roadmap Scholars, including Vazquez, are in an undergraduate posse cohort and brought the program's sense of community with them this summer.
"The way [Posse] thinks about the importance of peer connections and support to success in pipeline programs has definitely been influential for me," Goluboff said. "That sense of community is one we value across everything we do at the Law School, and we wanted it to be an integral part of the Roadmap Initiative. Our goal really is for all of the Roadmap Scholars — both within a given cohort and across cohorts — to think of themselves as connected to one another, as well as to us at the Law School."
UVA welcomed its first undergraduate Posse cohort — a group of 10 from Houston — in the fall of 2014 and has continued to admit a Houston cohort every year since. The school has also added cohorts for veterans and Virginia students, and roughly 55 Posse Scholars have graduated from UVA, according to David Sauerwein, the school's assistant dean of students and its Posse liaison.
Roadmap Scholar Cheyenne Butler is a third-year student in the College of Arts & Sciences who came to UVA in a Posse Houston cohort. She was attracted to the Roadmap Initiative specifically because the structure reminded her of Posse.
"As a Posse Scholar, I understand the value of community when it comes to having access to support in and out of the classroom," Butler said.
How To Get Involved
In addition to providing financial support for the program, alumni can support the Roadmap Scholars Initiative by hosting them in summer legal internships and by serving as mentors to scholars. 
 
If you or your employer are interested in hosting a scholar for a four- to six-week internship, or if you are interested in being a mentor, contact Assistant Dean for Diversity, Equity and Belonging Mark C. Jefferson at 
roadmap@law.virginia.edu
.  
If you are interested in financially supporting the Roadmap Scholars Initiative, contact Kate Martin at (434) 238-6390 or 
martin@law.virginia.edu
.
That Posse culture blossomed during the late nights at Bond House, according to Vazquez. "Half of us were in there, and we took a little study break and everyone was singing along together as background noise, and then Makayla, Tamyah and Blessing started harmonizing," Vazquez said. "Afterwards, we talked and we were all like, 'I'm really going to miss you guys, you know?'"
The cost for each cohort of Roadmap Scholars is $250,000. Denison's gift and the Jefferson Trust grant provided enough seed funding to run the program for two years, Goluboff said. Other alumni have also expressed interest in supporting the initiative, Martin said, and there is already at least one UVA Law scholarship that will give preference to graduates of the program.
Next summer, a new cohort of scholars will arrive, and the original cohort will return to UVA Law as peer mentors and for a "boot camp" that will help them finish their applications and prepare for the internships the program arranged for them. The rest of the summer will be spent working in the paid internships.
"These are amazing students who we want to invest in, both for our own law school and for the legal profession as a whole," Goluboff said. "We think our community and the law itself is enhanced when people with very different kinds of personal experiences and backgrounds become lawyers. And we want to make sure we are contributing to enhancing access to the legal profession in the United States."
While the Roadmap Initiative focused on just 12 promising students, the team behind it hopes that more law schools will create similarly transformational programs.
"Replication is one of the goals," Cleveland said. "Because the program is so resource-intensive and individualized, we have started with a fairly small cohort. But if every other top law school had a similar program, that would be another 200 or so talented lawyers added to the profession every year."
All 12 inaugural scholars expressed a desire to make change through the law and pay forward the remarkable opportunity they received from the Roadmap Scholars Initiative in their communities.
"I've surrounded myself with a lot of people who are just as passionate and determined as I am, and that really inspires me and makes me feel validated," Andersson said about the program. "I think it's easy to feel small, but a lot of the people here make me feel big. They make me feel like together, we can do it and together we can make that change."
Aspen Andersson
University of North Carolina, Pembroke
Hometown: Clayton, North Carolina
Andersson's father is from Sweden and helps her and her sisters practice their Swedish. She hopes to pursue a career in international diplomacy.
---
Makayla Bibby
University of Virginia
Hometown: Roanoke, Virginia
Bibby hopes an understanding of law will build on her interests in policy and government.
---
Cheyenne Butler
University of Virginia
Hometown: Houston, Texas
Butler aims to use a law degree to promote and protect the welfare of women and children internationally and domestically.
---
Carson Livingston Cross
Lees-McRae College
Hometown: Columbus, Ohio
Cross said his grandfather encouraged him to use his gifts to help "people like us, the working class."
---
Tamyah Johnson
North Carolina Agricultural and Technical State University
Hometown: Anderson, South Carolina
Johnson, who danced ballet and played the violin for eight years, said her family and her faith are inspirations.
---
Alan Macias
University of Virginia
Hometown: Dallas
Macias served in the U.S. Navy for five years before attending UVA. "I value that experience a lot because it reinforced my passion for public service," he said.
---
Samantha Navarro
Christopher Newport University
Hometowns: Hampton, Virginia, and La Ceiba, Honduras
Navarro said growing up in Honduras, "where corruption prevails and justice is overlooked," made her realize the importance of a fair legal system. 
---
Dianey Navor
University of California, Los Angeles
Hometown: La Puente, California
Navor noted that the number of first-gen, low-income Latinas in law is "very small, so I wanted to ensure that I was seeking opportunities that would support me in the process of applying to law school."
---
Diane Pfeifer
University of North Carolina, Pembroke
Hometown: Tooele, Utah (now living in North Carolina)
Pfeifer is a mother to four and a grandmother to five. She worked in Utah's state government before going to college. Her own grandmother inspired her career aspirations. 
---
Blessing Roland-Magaji
Scripps College
Hometown: Arlington, Texas
Roland-Magaji, who was an Irish dancer for years in Ireland, was inspired to study law after volunteering at a hospital and observing obstacles people face in the medical system.
---
Kayla Richardson
Hollins University
Hometown: Little Rock, Arkansas
Richardson said she wants to give back to her family one day. "I'm interested in becoming a lawyer because I want to represent the underrepresented and I recognize that I need to be the change that I want to see," she said.
---
Jonah Vazquez
Vanderbilt University
Hometown: New York City
"I've gotten so close to a lot of my fellow Roadmap Scholars and I wholeheartedly wouldn't have chosen to spend this summer any other way," Vazquez said.
Associate Director of Communications and Senior Writer