Gleeson '80, Wilkinson '87 Recruited in Flynn Case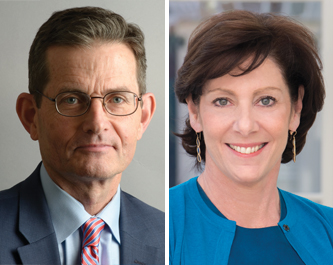 Retired Judge John Gleeson '80 and veteran trial lawyer Beth Wilkinson '87 played high-profile roles in assisting a judge overseeing the case of former National Security Adviser Michael Flynn.
Flynn pleaded guilty in 2017 to lying to the FBI about his conversations with the Russian ambassador to the United States during the transition period after Donald Trump won the 2016 election. Flynn twice pleaded guilty to a criminal charge of making false statements but later sought to withdraw his guilty plea. The Justice Department in May agreed with Flynn that it should drop his prosecution.
U.S. District Judge Emmet Sullivan appointed Gleeson to advise him on the DOJ's request. Gleeson's 73-page brief, released in June, criticized the DOJ for "gross abuse of prosecutorial power" to protect an ally of the president.
"There is no other case in which the DOJ has taken the position that an interviewee can lie with impunity to federal investigators so long as he has committed no other provable crimes," Gleeson wrote. "And it would be particularly baffling for the DOJ to maintain this position with respect to counterintelligence investigations, which are often prophylactic and preventive."
Sullivan then retained Wilkinson, a founding partner of Wilkinson Walsh + Eskovitz, to represent him at the U.S. Court of Appeals for the District of Columbia Circuit. The court ruled for the Flynn case's immediate dismissal in June before the ruling was vacated for an en banc hearing in August. The full court reversed the earlier ruling, rejecting Flynn's and the DOJ's attempts to immediately drop the case.
Gleeson, who received UVA's Thomas Jefferson Foundation Medal in Law in 2016, served on the U.S. District Court for the Eastern District of New York from 1994-2016. He was an assistant U.S. attorney for the Eastern District of New York from 1985-1994, where he was noted for his prosecution of Mafia cases, most notably Gambino crime boss John Gotti.
Wilkinson, a member of the American Law Institute, began her legal career as a commissioned officer in the U.S. Army Judge Advocate General's Corps, and she has served as an assistant U.S. attorney in New York City. She successfully argued for the execution of Oklahoma City bomber Timothy McVeigh, and in 2012 was hired as outside counsel by the Federal Trade Commission to lead an antitrust inquiry into Google. In July, Wilkinson was hired to conduct an independent review of the Washington Football Team's culture and allegations of workplace misconduct.
—Mike Fox
Paul B. Terpak was named to the 2020 list of Virginia Super Lawyers. Terpak is a principal with Blankingship & Keith in Fairfax, Va.
1981
Cam Cowan's film "OPEKA" won the Golden Palm Award at the 2020 Beverly Hills Film Festival. The film chronicles Pedro Opeka — a priest helping some of the poorest people in the world. The son of a bricklayer, Opeka convinced families living in Madagascar's largest landfill that he could teach them how to build their own houses and, in the process, their dignity. His mission is to prepare the children he saves to one day save their own country. Nicknamed "Mother Teresa with Pants" and "The Insurgent of Madagascar," Father Opeka has been nominated multiple times for the Nobel Peace Prize. The BHFF Golden Palm Award is given to the best film competing in all categories.
Cowan left the practice of law to create the film company Sohei Productions and serves as producer, director, cinematographer and co-editor. Sohei's first project, "Madagasikara," was inspired by UVA Law students serving as Cowan Fellows who reported on human rights issues in Madagascar. After a year of research and planning, Cowan made his first trip to Madagascar in June 2014 and finished filming in 2017. The two films are related, according to the filmmaker: "The first is about survival, the second about hope."
C. Steven Mason was recognized in the 2020 Chambers USA for real estate and real estate: finance law. Mason practices with Smith Anderson in Raleigh, N.C.
1983
Mark Davidson was recognized in the 2020 Chambers USA for corporate/mergers and acquisitions law. Davidson practices with Brooks Pierce in Greensboro, N.C.
Jeff Oleynik was recognized in the 2020 Chambers USA for antitrust and bankruptcy/restructuring law. Oleynik practices with Brooks Pierce in Greensboro, N.C.
Irwin Shur reports he is still enjoying retirement, mixed in with some occasional consulting, and serving on the governing council for Advocate Condell Medical Center in Libertyville, Ill. He also released his second album of original music, "Once More, With Feeling," on the usual streaming services.
Gary Torrell joined Hooper, Lundy & Bookman's business department as a partner in Los Angeles. A seasoned transactional and litigation lawyer, Torrell was most recently the chair of the business and finance, real estate and creditors' rights practices at Valensi Rose. For the past 10 years, Torrell was primary outside counsel for a six-hospital health care system in Northern and Southern California, handling medical office building leases, major construction contracts, real estate purchases and sales, and commercial loans. He also does similar work for Southern California owners of multiple skilled nursing facilities.
1984

Emmett F. McGee was featured in 2020 Chambers USA. McGee is a principal in the Baltimore office of Jackson Lewis. He represents employers in all aspects of employment law and human resource management, including employment discrimination, wage and hour issues, and affirmative action planning.
Virginia Gov. Ralph Northam appointed Grover C. Outland III to a four-year term on the Virginia Military Institute Board of Visitors. Outland graduated from VMI in 1981.
John M. Paris Jr. was recognized in the 2020 Chambers USA in the area of corporate/mergers and acquisitions law, band 3. Paris practices with Williams Mullen in Virginia Beach, Va.
1985
Griffith '85 Retires From D.C. Circuit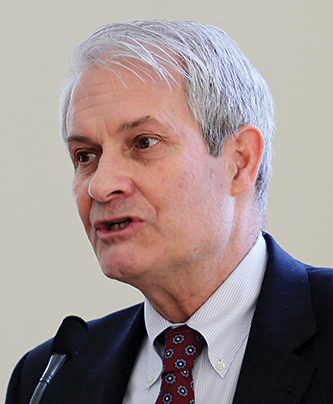 Thomas B. Griffith '85 retired Sept. 1 after serving 15 years as a judge on the U.S. Court of Appeals for the District of Columbia Circuit. He announced his retirement in March.
President George W. Bush first nominated Griffith in 2004 and was confirmed by the U.S. Senate in June 2005.
Two of his final opinions tackled the judiciary and the presidency. Griffith wrote the panel's majority opinion holding that the U.S. House Judiciary Committee could not enforce a subpoena upon President Donald Trump's former White House counsel. He also sided with an opinion denying former National Security Adviser Michael Flynn's bid to compel a District Court judge to dismiss a criminal case against him.
"In cases that attract public attention, it is common for pundits and politicians to frame their commentary in a way that reduces the judicial process to little more than a skirmish in a partisan battle," Griffith wrote in a concurrence in the Flynn case. "The party affiliation of the President who appoints a judge becomes an explanation for the judge's real reason for the disposition, and the legal reasoning employed is seen as a cover for the exercise of raw political power."
After formally stepping down, he continued to warn that seeing the judiciary through a partisan lens is harmful to the republic.
"If someone is committed to an originalist textualist view they're likely to rule in certain ways, whereas if someone has a view that the Constitution invites a more expansive role for judges then they're likely to rule a different way," he told The National Law Journal. "I don't think it's fair to describe those necessarily as partisan affiliations."
Griffith's other notable opinions on the D.C. Circuit included Davis v. Federal Election Commission, which rejected a First Amendment challenge to the Bipartisan Campaign Reform Act's relaxed contribution limits for opponents of self-financed candidates; El-Shifa Pharmaceutical Industries Co. v. U.S., which affirmed dismissal of a defamation suit against the United States by owners of a Sudanese pharmaceutical plant; and Abigail Alliance for Better Access to Developmental Drugs v. von Eschenbach, which found that there is no constitutional right to experimental drugs. He also joined the majority opinion in Parker v. District of Columbia, striking down the District's handgun ban on Second Amendment grounds, which was later affirmed by the U.S. Supreme Court. "I set aside an entire week to work on the case," he told the Journal.
In 2011, Griffith was included on The New Republic's list of Washington's most powerful, but least famous, people. He spoke at the "The Future of Originalism: Conflicts and Controversies" symposium at the Law School in 2019.
Griffith previously served as chief legal counsel for the U.S. Senate from 1995-99 and for Brigham Young University from 2000-05. Before that, he worked in private practice in Charlotte, North Carolina, and Washington, D.C.
He earned a bachelor's from BYU in 1978.
—Mike Fox

Matthew A. Mace, shareholder in Baker Donelson's Baltimore office, earned top rankings in 2020 Chambers High Net Worth guide. Mace is recognized in private wealth law with band 1 rankings — placing him among the top six attorneys ranked in the state.

Amelia Bland Waller joined the faculty of the Appalachian School of Law in Grundy, Va., in November 2019. She is teaching classes in mediation and conflict resolution, as well as workshops in academic success and bar exam preparation.
1986
The Connecticut Supreme Court Historical Society awarded the first annual Christopher "Kit" Collier Prize to Scott Douglas Gerber, professor of law at Ohio Northern University. Named for the late Connecticut state historian, the prize is awarded to historians, legal scholars, political scientists or others who have advanced the study of American legal and constitutional history with Connecticut connections. Gerber is a preeminent scholar and legal journalist, having authored numerous journal articles and newspaper opinion pieces, in addition to five scholarly books on the U.S. Supreme Court and American constitutional history. Since 2001, Gerber has been an associated scholar at Brown University's Political Theory Project.

William A. Isaacson joined Paul, Weiss, Rifkind, Wharton & Garrison's litigation department in Washington, D.C. With decades of experience leading complex commercial litigation and arbitrations, Isaacson is also known for his antitrust expertise on both the plaintiff and defense side. Of the dozen federal antitrust class actions that have gone to trial and judgment in this century, he tried five of them, winning verdicts in each case. Isaacson won a precedent-setting antitrust victory on behalf of NCAA athletes in O'Bannon v. NCAA, and led antitrust cases recovering over $1.5 billion in settlements.
When Sue Liemer changed jobs to teach at Elon University's law school, the university's policy required her to go through the tenure process again — albeit on an accelerated schedule. The process was officially completed in February. Liemer writes, "I likely set some kind of old-age record for receiving tenure this second time around. Then COVID came. With a week's notice, I taught a 10-week spring trimester course entirely remotely. It was the very definition of teaching an old dog new tricks. And it felt like George Jetson was teaching law school." Liemer is director of the school's Legal Method and Communication Program.
1987

John J. Balitis was elected as a fellow of the College of Labor and Employment Lawyers. Balitis was also ranked in 2020 Chambers USA as a top labor and employment lawyer. Balitis practices with Jennings, Strouss & Salmon in Phoenix. He counsels private-sector clients as well as government agencies, including the Arizona Legislature, on a broad range of employment law and labor relations matters. Balitis has been ranked in Chambers USA since 2015.

Kim Boyle was named to Benchmark Litigation's list of Top 250 Women in Litigation for the third year. Boyle, a partner with Phelps in New Orleans, practices in the areas of labor and employment, civil rights, constitutional law, commercial, tort and general litigation. Benchmark's guide spotlights 250 leading female litigators across the U.S. who have contributed to some of the most impactful litigation matters in recent history.
Matthew Brennan joined General Counsel in McLean, Va., as senior counsel. General Counsel represents businesses, nonprofit organizations and individuals. For the past 25 years, Brennan represented clients at Brennan & Waite.
Calvin W. "Woody" Fowler Jr. was recognized in 2020 Chambers USA for litigation: general commercial (eminent practitioner). Fowler practices with Williams Mullen in Richmond, Va.
Timothy Goettel was recognized in 2020 Chambers USA for corporate/mergers and acquisitions law. Goettel practices with Smith Anderson in Raleigh, N.C.
Catherine Murphy Keating was named as one of Barron's 100 Most Influential Women in U.S. Finance. Keating is chief executive officer of BNY Mellon Wealth Management.
David C. Keesler was reappointed to a third eight-year term as a U.S. magistrate judge in the Western District of North Carolina. Resident in Charlotte, Keesler hears civil and criminal cases that arise in the 32 counties that comprise the Western District. He writes that he enjoys having as a colleague Robert Ballou, who serves in the same role in the Western District of Virginia. By appointment of the chief justice, Keesler also serves on the Judicial Conference of the U.S. Committee on Space and Facilities. He and his wife, Susan, have two adult daughters, Amelia and Caroline.
After taking retirement from Owens-Illinois following 20 years leading its government affairs program, Daniel Steen joined the American Property Casualty Insurance Association as vice president and counsel. Based in Washington, D.C, Steen focuses on liability issues for the industry.
Randy Tinsley was recognized in 2020 Chambers USA for environmental law. Tinsley practices with Brooks Pierce in Greensboro, N.C.
1988
David J. Gogal was named to the 2020 list of Virginia Super Lawyers. Gogal is a principal with Blankingship & Keith in Fairfax, Va.

Cynthia Hostetler was appointed to the board of directors of Resideo Technologies. Hostetler has more than 20 years of leadership experience managing large investment funds, allocating capital for businesses — including restructuring and mergers and acquisitions transactions — and overseeing governance and regulatory compliance. Hostetler currently serves on the boards of Invesco Funds, Vulcan Materials Co. and TriLinc Global Impact Fund.
1989
Kovarsky '04, Raphael '89 Elected to American Law Institute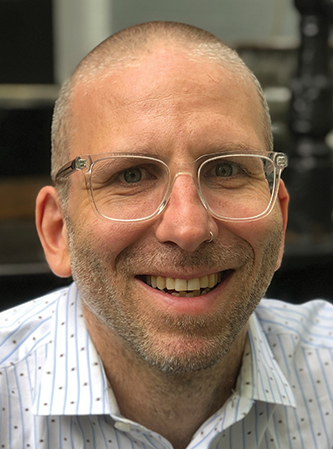 Lee Kovarsky '04, a professor at the University of Texas School of Law, and Stuart A. Raphael '89, a partner at Hunton Andrews Kurth in Washington, D.C., and Richmond, Va., were elected to the American Law Institute.
Kovarsky is a leading scholar of the death penalty and habeas corpus. His teaching and writing also focuses on civil and criminal procedure, criminal justice, federal jurisdiction and conflicts of law. He has co-authored two books with Duke law professor Brandon
L. Garrett, including a leading case book on habeas corpus, the second edition of which is in progress. Kovarsky also regularly represents death-sentenced prisoners as they await execution, and he has worked on many dozens of capital post-conviction cases. He frequently drafts and contributes to amicus briefing before U.S. Supreme and appellate courts, usually representing law professors or professional organizations.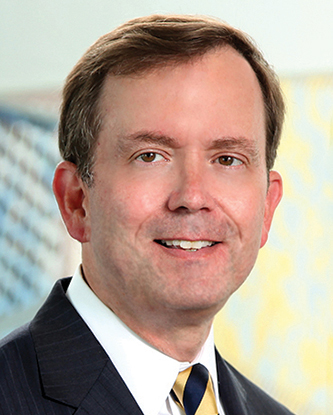 Raphael is co-chair of the firm's issues and appeals group, and focuses on appellate litigation, constitutional issues, complex litigation and strategic counseling. He represents clients on appeal and at trial in a wide variety of areas, including constitutional litigation, toxic torts, intergovernmental disputes, major infrastructure controversies, water rights and construction litigation.
As Virginia's solicitor general from 2014-17, Raphael authored more than 75 briefs in federal and state courts, and presented oral argument more than 30 times in high-profile civil and criminal cases. He is a fellow of the American Academy of Appellate Lawyers and a certified appellate mediator for the Supreme Court of Virginia's pilot-mediation program.
—Mike Fox

Robert J. Tomaso, office managing partner of Husch Blackwell's St. Louis office, has been elected president of the board of governors of the Bar Association of Metro St. Louis for 2020-21. Tomaso, a partner in the firm's labor and employment group, also chairs BAMSL's Bench and Bar Conference Planning Committee.