Send Us Your News
To submit a class note, email us or submit mail to UVA Lawyer, University of Virginia School of Law, 580 Massie Road, Charlottesville, VA 22903. Please send your submissions no later than Feb. 1 for inclusion in the next issue.
1970
Neil McBride began his legal career with Ralph Nader in Washington. With a grant in 1973 from the Ford Foundation, he established a public interest law firm in the Appalachian coal fields of East Tennessee, Rural Legal Services of Tennessee. The firm handled environmental litigation and assisted economic development for a group of local citizens' organizations. (A case for one of its first clients ended up before the U.S. Supreme Court. The firm won, 9-0.) In 1978 that firm became a federally funded legal services firm, which McBride led until 2002. Following a consolidation, he became general counsel of the Legal Aid Society, from which he retired in 2014. In 2010, President Barack Obama appointed him to the board of directors of the Tennessee Valley Authority. McBride's wife of 32 years, Babs Clark, died in 2004. They had two children. In 2012, McBride married Maureen Dunn, former general counsel to the TVA. Both are now retired and spend their time advising nonprofits, traveling, and enjoying children and grandchildren. 
Vernon Swartsel was honored by the Florida Bar Association for 50 years of membership at a luncheon in Orlando in June.
1971
Classmates Richard A. Childs, Kenneth Neal Fink, Patrick C. Massa and Ivan H. Rich Jr. were honored by the Florida Bar Association for 50 years of membership at a luncheon in Orlando in June.
1972
George House was recognized as a leading attorney in environmental law in the 2021 Chambers USA Guide. House practices with Brooks Pierce in Greensboro, N.C. 
Roland Vaughan is observing his 21st year of retirement as a federal administrative law judge. He writes: "It's an exciting time to be in Washington [D.C.]. We have lived in the same Fairfax County house since 1980. I'm looking forward to the 2022 reunion."
Clement '74 Named UVA Rector, Brown '99 Appointed to Board of Visitors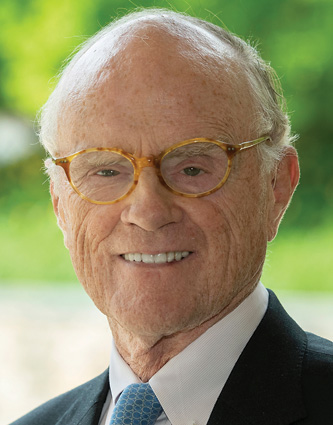 UVA Board of Visitors member Whittington W. Clement '74 was named rector, effective July 1.
The rector chairs the Board of Visitors, which is responsible for the long-term planning of the University. The vice rector is presumed to become rector at the end of their respective two-year terms.
"It's a great privilege to lead such a strong, dedicated board and I look forward to working with my colleagues, President [Jim] Ryan ['92] and his leadership team as we transition from the extraordinary year of the pandemic to more normal times," Clement said.
Clement, of Richmond, Va., was appointed to the board by Gov. Terry McAuliffe in 2015 and was reappointed by Gov. Ralph Northam in 2019. He is special counsel and a former partner at Hunton Andrews Kurth.
Clement is a founding trustee and member of the UVA College Foundation, former member of the UVA Alumni Association Board of Managers and a member of the Jefferson Scholarship National Selection Committee. He is also a past president of the Virginia Bar Association, former chairman of the State Council of Higher Education for Virginia, former Virginia secretary of transportation and a former member of the Virginia House of Delegates. He earned a bachelor's degree in history at UVA in addition to his law degree.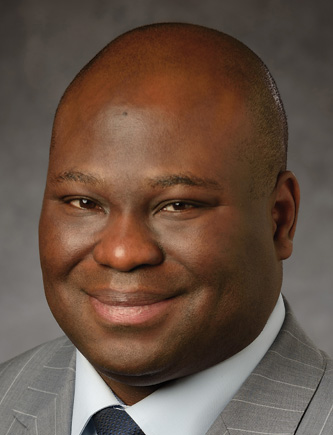 Northam appointed to the Board of Visitors Carlos M. Brown '99, whose term also began July 1.
Formerly a member of Northam's transition team, Brown, of Henrico County, has served as general counsel and chief compliance officer for Dominion Energy since 2019. Prior to joining Dominion in 2007, Brown was managing partner of Brown Martin, and president and managing member of the Obsidian Capital Group. 
He received his bachelor's and law degrees from UVA, and was an Echols, Achievement, Underwood and Hardy Cross Dillard scholar. While an undergraduate at UVA, he served as president of the student body. He is a member of the IMP, Thirteen and Raven societies, and served as president of UVA's Black Law Students Association chapter.
—Mike Fox and Wesley P. Hester
1974
John H. Foote, a shareholder with Walsh, Colucci, Lubeley & Walsh, was named to the Virginia Lawyers Hall of Fame. Foote has practiced in all relevant legal areas affecting land use and zoning in Virginia, including federal regulations of wetlands and waters of the United States, the state regulation of Chesapeake Bay preservation areas, stormwater management and historic preservation. Foote teaches and has written extensively on land use and local government and is author of the principal handbook on Virginia planning and zoning. He has also argued more than 20 cases before the Supreme Court of Virginia. Those cases have led to some of the most significant and influential land use and zoning decisions authored by the court.
Foote served as the county attorney for Prince William County, Va., from 1982 until 1989, and as the deputy county attorney from 1977 until 1982. In both positions he served as the county's chief litigator. In 1989, he transitioned to private practice with Hazel & Thomas. He joined his current firm, based in Prince William, 10 years later. 
Foote is consistently listed in Best Lawyers in America for land use and zoning law, land use and zoning litigation, municipal litigation, municipal law and real estate law. He was named Lawyer of the Year by Best Lawyers in 2016. Virginia Business magazine recognized him on the legal elite in real estate/land use law list in 2016 and 2020. Foote's peers voted to name him a "super lawyer" in Super Lawyers magazine in Virginia and Washington, D.C.
John Squires Reed II died July 9, surrounded by family, after a long battle with progressive supranuclear palsy. Born in Frankfort, Ky., he was an Eagle Scout and swam for Franklin County High School, where he graduated valedictorian. At the University of Kentucky, he majored in political science, lettered in swimming, played water polo, participated in ROTC and graduated Phi Beta Kappa in 1971. While earning his law degree, a random good deed (helping a fellow student he did not know move into her apartment) led to a party invitation the next week — a party where he met Nancy Claire Battles, a young college student from New Jersey. The couple married in December 1973 and returned to Kentucky in 1974 following a brief stint at Fort Gordon, Ga., for Reed's basic training as a military police officer.
Reed began his law practice at Greenebaum Doll Matthews & Boone (later Greenebaum Doll & McDonald), becoming a partner before leaving in 1987 to be a founding partner of Hirn Reed Harper & Eisinger (later Hirn Reed Doheny) and then Reed Weitkamp Schell & Vice in 1997, the firm from which he retired in 2018. Through the years, he mentored many young attorneys who went on to establish their own successful practices and careers on the state and federal bench. He earned the profession's highest rating (AV Preeminent), was recognized by several leading publications as a super lawyer and was a longtime member of the Law Club. Reed served as a special justice of the Kentucky Supreme Court and gave back to his profession through years of service to the Louisville Bar Association.
Service and leadership were a constant thread in Reed's life. He was on the governing boards of Leadership Louisville, the National Association for Community Leadership, Center for Interfaith Relations, Leadership USA, Partnership for a Compassionate Louisville and Louisville Collegiate School. He was a Kentucky Colonel — the highest title of honor bestowed by the commonwealth of Kentucky — and a Bingham Fellow. He was ordained as an elder at Highland Presbyterian Church and served for many years. An avid sportsman, Reed belonged to the Louisville Boat Club, Valhalla and Churchill Downs Turf Club. The latter gave him the opportunity to be an enthusiastic supporter and ambassador for Kentucky thoroughbred racing.
Family and friends were Reed's true focus, according to his family. A talented photographer, he spent over 25 years as the unofficial photographer for his children's sports activities and theatrical performances. He rarely missed a game day or performance. Reed maintained correspondence with his friends from high school, professional and civic involvement, as well as interesting people he met in his travels over the years. He was proud of his Irish heritage and made regular trips to Ireland. 
Reed is survived by Nancy, his wife of 47 years, their children Ali and Jay (partner Meg) and his brother, Jim (Mary).
1977
Dennis J. Curran was named professor of the practice in the political science department of Tufts University in Medford, Mass. Curran was a Boston trial attorney for 23 years before serving as a Massachusetts trial judge for another 15 years.
U.S. Supreme Court Justice Neil Gorsuch cited David Logan's article "Rescuing Democracy by Revisiting New York Times v. Sullivan," published last year in the Ohio State Law Journal, 16 times in his dissent in Berisha v. Lawson. This led to coverage in the media, including interviews with NPR's "On Point" and a podcast debate sponsored by the National Constitution Center. The citation was also noted in multiple articles and op-eds, including in The Washington Post, The Boston Globe and the ABA Journal. As professor of law at Roger Williams University, Logan serves as adviser to the Restatement of Torts (Third): Defamation and Privacy project.
Edwin Hammell Rouh Jr. died July 18, at home in Cherry Hill, N.J., with his family at his side after a battle with cancer.
Rouh grew up in Haddonfield, N.J. He was a 2011 inductee into the Haddonfield Memorial High School Athletic Hall of Fame for his outstanding performance in baseball and wrestling. He also played baseball at Colgate University, where he was offered a minor league contract with the Cincinnati Reds but elected to pursue law school instead. 
Rouh spent his entire professional career in Philadelphia, retiring from Glenmede Trust in 2013. He was an avid golfer and member of Tavistock Country Club and Haddonfield 65 Club. He was a history enthusiast, and no road trip was complete without a visit to a historical site or museum. According to his family, he enjoyed travel, which included golf trips to Ireland and a vacation home in Vermont. He was a member of the Haddonfield Y's Men Club service organization. 
He is survived by his wife, Christy; a brother; mother-in-law; sister-in-law; father-in-law; five nieces and two nephews; and a host of cousins and friends around the co
1978
Debi Sanders was nominated for Catholic Charities USA volunteer of the year and was recognized by the group as a Caritas honoree for her long-term commitment and work in immigration services. Since her retirement from Immigration Legal Services in 2014, Sanders has continued to work toward fairness in the immigration system as an ongoing volunteer with the organization. She was instrumental in setting up a robust pro bono program and establishing the immigration program's partnership with the Family Justice Center in Rockville, Md. 
One of Sanders' former clients, Sumera Haque, was featured in "Out of Many, One; Portraits of America's Immigrants." The book highlights immigrant stories with accompanying paintings by President George W. Bush. Haque tells the story of how she and her two sons met Sanders at Dulles International Airport, where Sanders was offering legal aid while working at the Capital Area Immigrants Rights Coalition.
In Memoriam: Thomas F. Farrell II '79, Former Dominion Energy CEO and UVA Rector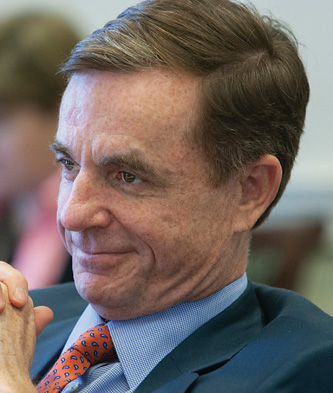 Thomas F. Farrell II '79, former CEO of Dominion Energy and University rector, died April 2. He was 66.
Farrell's association with the University began when he was an undergraduate in the College of Arts & Sciences; he received an economics degree in 1976 and his law degree in 1979. Farrell, who retired from his role on the executive board of Dominion Energy the day before his death, served on the Board of Visitors from 2001-09 and was the University's rector from 2005-07.
"I was heartbroken to learn of Tom's passing," UVA President Jim Ryan '92 said. "He was a true friend and loyal alumnus who selflessly dedicated his time and talent to ensuring UVA's success — whether as rector or as a sports fan. But far more than that, he was a caring person and wise leader, and someone I could count on for counsel or conversation. His extraordinary service and leadership has left a lasting impact on not only the UVA community, but also on the Richmond area, the commonwealth of Virginia, and beyond."
Farrell was born in Okinawa, the son of a military officer who had attended the U.S. Military Academy at West Point. He later wrote and produced the film "The Field of Lost Shoes," about the role of the Virginia Military Institute cadets in the Civil War Battle of New Market.
Farrell spent 15 years as a litigator, first at the law firm Hunton & Williams (now Hunton Andrews Kurth) and then Boothe, Prichard & Dudley, an Alexandria law firm that would merge into what was then called McGuire, Woods and Battle. He joined Dominion Energy as general counsel in 1995, was named president and chief operating officer in 2004, and became president and CEO in 2006. He was elected chairman in 2007.
Farrell was also chairman of Altria Group and served on the AEGIS board of directors. He served as co-chairman of the UCI Road World Championships bicycle races held in Richmond in 2015.
Former Rector Gordon F. Rainey Jr. '67, an alumnus of both the College and Law School, led the University's $3 billion capital campaign when Farrell served as rector. 
"The sudden loss of Tom Farrell is devastating," Rainey said. "He was a remarkable human being, an extraordinary civic and business leader, and as close to irreplaceable in all his endeavors as anyone I have ever had the privilege to call my friend. His commitment and loyalty to his family and friends, to the University and to the commonwealth will be terribly missed by all whose lives he touched."
Rector Whittington W. Clement '74 said the University community had "lost a great friend and supporter."
"No alumnus demonstrated more loyalty and devotion to the University than Tom — remarkable by any standard, but even more so given his responsibilities as CEO of such a large corporation as Dominion Resources," Clement said.
—Mike Fox and Matt Kelly