Send Us Your News
To submit a class note, email us or submit mail to UVA Lawyer, University of Virginia School of Law, 580 Massie Road, Charlottesville, VA 22903. Please send your submissions no later than Feb. 1 for inclusion in the next issue.
1990
Vernon Inge was recognized in 2021 Chambers USA in the general commercial litigation category. Inge practices with Whiteford, Taylor & Preston in Richmond, Va.
Traci Mundy Jenkins became the 2021-22 president of the National Association for Law Placement after completing her one-year term as president-elect in April. The NALP is a legal recruiting and professional development association in North America. Jenkins serves as firm director of career development with Venable in Washington, D.C. 

Douglas L. Kilby joined Stearns Weaver Miller's Tallahassee, Fla., office as a shareholder. Kilby focuses his practice on class actions, antitrust, business litigation and government investigations, particularly matters involving the Florida attorney general's office. 
Henry C. Su received the National Institute for Trial Advocacy's Honorable Robert E. Keeton Award for Outstanding Service. Since 2010, Su has taught 73 programs as a NITA volunteer and receives high evaluation scores every time, he reports. Each year NITA offers trial advocacy skills programs for practicing lawyers around the country. Su is a partner with Constantine Cannon in Washington, D.C., and San Francisco.
1992
Jeffrey Naness continues to represent employers in employment and labor relations matters at his Long Island-based firm. Naness, who plays piano and keyboards, enjoys jazz and the rock bands he plays in.
Kliavkoff '93 Named Pac-12 Conference Commissioner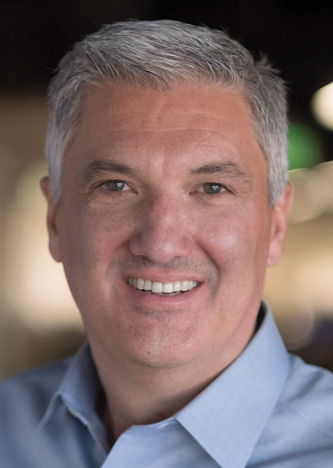 George Kliavkoff '93 was named commissioner of the Pac-12 Conference. His five-year contract began July 1.
Kliavkoff was formerly president of entertainment and sports at MGM Resorts International. He served as a member of the board of governors of the WNBA and managed the Las Vegas Aces WNBA franchise prior to the team being sold. He also sat on the board of BetMGM, one of the three largest U.S. sports betting companies.
"At each step of his career, George has navigated complex, quickly changing environments and has been a successful consensus builder," University of Oregon President Michael H. Schill, chairman of the five-member search committee, said in a statement announcing the hire May 13. "George is a visionary leader with an extraordinary background as a pioneering sports, entertainment and digital media executive, and we are delighted and honored that he has agreed to become our next Pac-12 Commissioner. He is the new prototype for a sports commissioner."
Previously, Kliavkoff co-led the largest and most profitable pision at Hearst Entertainment & Syndication, overseeing Hearst's interests in cable television networks, including ESPN, A&E, Lifetime and History. He was also the first chief digital officer at NBCUniversal, where he set corporate digital media strategy and developed new business models and markets.
Prior to NBCUniversal, Kliavkoff was executive vice president of business for Major League Baseball Advanced Media and managed corporate development, business development, and baseball's digital media subscription and licensing businesses.
"I am thrilled to be the Pac-12 Commissioner. This is a challenging time for intercollegiate athletics, but I believe these challenges also create significant opportunities," Kliavkoff, a former Boston University rower, said in a statement. "I loved being a student-athlete, and I'm passionate about the doors that college sports and higher education open for young women and men. My job at the Pac-12 will be to help manage the balance between continued academic excellence, student-athlete well-being and an even higher level of athletic achievement."
The conference, which comprises 12 universities, leads the nation in NCAA championships in 54 of the past 60 years, with 535 NCAA team titles overall.
—Mike Fox
1993
Craig W. Sampson co-authored the 2021 edition of "Family Law: Theory, Practice, and Forms," published in Thomson Reuters' Virginia Practice Series. Sampson is a shareholder at Barnes & Diehl in Richmond, Va.

R. Todd Silliman was named managing partner of Dentons' Atlanta office. Silliman's environmental litigation has included representing the state of Georgia for 15 years in the so-called "Tri-State Water Wars." That matter included multistate negotiations and regulatory matters, and litigation over the federal government's operation of reservoirs that supply water to more than half of Georgia's population. Silliman leads the firm's U.S. environment and natural resources practice and represents clients in matters under a wide array of federal, state and local environmental laws.
C. Stewart Verdery memorialized his former boss and beloved friend, U.S. Sen. John W. Warner '53, by sharing reminiscences in a Medium.com blog entry.
1994
Zebulon D. Anderson was recognized as a leading attorney in labor and employment law in the 2021 Chambers USA guide. Anderson practices with Smith Anderson in Raleigh, N.C.
Robert Borhart joined Ballard Spahr as of counsel in the Minneapolis office. Borhart practices in the finance department and focuses on corporate trust matters. Prior to joining Ballard Spahr, Borhart spent almost a decade at Wells Fargo. He also worked in private practice and as legal counsel for the office of the governor of Minnesota.
1995

Shanti Ariker was appointed senior vice president, general counsel at Zendesk in December. She also recently published an autobiographical essay in "Simpsonistas Volume 3," a New Literary Project publication. 
Martin Burke joined Holland & Knight as a partner after two decades with Burr & Forman. He joins the litigation group based in Tampa, Fla. Burke represents corporate and government clients in state and federal court at the trial and appellate level. His practice focuses on consumer class actions, business disputes, personal injury and product liability issues. He also has experience handling arbitrations and mediations as well as advising on corporate policies, procedures and technologies. Burke chairs the federal torts committee at the Federal Bar Association. 

Last year, Trey Cox left his own firm of 25 years to join Gibson Dunn's Dallas office — becoming a partner alongside Stewart McDowell (San Francisco), Tull Florey (Houston) and Boris Dolgonos (New York), as well as Helgi Walker '94 (Washington, D.C.). In May, Cox was elected partner in charge of the office. His practice focuses on complex commercial litigation and trial work, helping clients resolve large, complicated and often high-profile business disputes.

Serena M. Mentor was promoted to partner at Hunton Andrews Kurth in New York. Mentor represents issuers, sponsors, underwriters, agents, trustees and servicers in connection with public and private asset-backed securitization transactions, with a special focus on mortgage and mortgage-related assets. She also frequently analyzes and interprets various regulations, requirements and restrictions promulgated by regulatory and other governing authorities with respect to such securitizations. Mentor previously served as senior capital markets counsel for Wells Fargo Bank.
Ackneil M. "Trey" Muldrow III joined Weil, Gotshal & Manges as a partner in its global private equity practice. Based in New York City, Muldrow was most recently with Akin Gump Strauss Hauer & Feld, where he was the partner in charge of the firm's New York office and a member of its global corporate steering committee. With a broad corporate practice, Muldrow advises corporations, sovereign wealth groups and private equity sponsors around the world on market-leading transactions — including cross-border merger, buyout, spinout, carve-out and pestiture transactions. He has also developed a practice in asset manager mergers and acquisitions, and complex secondaries transactions.

Jennifer Short has joined Blank Rome's Washington, D.C., office as a partner in the white-collar defense and investigations group. Short represents government contractors, health care providers and others in highly regulated industries that are susceptible to government investigations and enforcement actions.
Alumni Take On Federal Executive, Judicial Roles
Confirmed and nominated alumni include (top) Brig. Gen. Robert A. Borcherding '99, Bill Nelson '68, Robin Carnahan '86, Chris Kavanaugh '06, David Turk '99; (bottom) Deborah Boardman '00, Toby Heytens '00, Lauren King '08, Patricia Tolliver Giles '98 and Michael S. Nachmanoff '95.
President Joe Biden chose several alumni to fill high-profile positions in the executive branch and in the courts, in roles that require Senate confirmations. 
Executive Branch
Bill Nelson '68 became NASA's administrator. Nelson, who formerly served on the NASA Advisory Council, was a U.S. senator from Florida from 2001-2019 after serving as state treasurer, insurance commissioner and fire marshal for six years. He also was elected to six terms in the U.S. House of Representatives from 1979-1991. In 1986, he flew on the 24th flight of the space shuttle Columbia, orbiting the Earth 98 times over six days. Nelson conducted 12 medical experiments, including the first U.S. stress test in space and a cancer research experiment sponsored by university researchers.
Robert A. Borcherding '99 was promoted to brigadier general and assigned as legal counsel to the chairman of the Joint Chiefs of Staff. Borcherding has served in the U.S. Army for 28 years, including as staff judge advocate in Iraq and Afghanistan. Other legal assignments included tours as a legal adviser for U.S. Africa Command; group judge advocate for the 10th Special Forces Group; deputy staff judge advocate for the 1st Infantry pision & Fort Riley; and trial counsel and senior trial counsel for the 21st Theater Support Command in Kaiserslautern, Germany.
Robin Carnahan '86 is now administrator of the General Services Administration. Carnahan served as secretary of state of Missouri from 2016-20, and directed the state and local government practice at 18F, a tech consultancy inside the GSA that she founded. Through her work with the GSA, Carnahan helped federal, state and local government agencies improve customer-facing digital services and cut costs, according to a press release. As secretary of state, Carnahan served as the state's chief election official and state securities regulator, and was responsible for providing in-person and online services to hundreds of thousands of customers.
Chris Kavanaugh '06 was confirmed as U.S. attorney for the Western District of Virginia. He previously served as assistant U.S. attorney for the district from 2014-21. He has also served as an assistant U.S. attorney in the U.S. Attorney's Office for the District of Columbia, and as senior counsel for the U.S. deputy attorney general. Kavanaugh has taught federal criminal practice and trial advocacy as a lecturer at UVA Law. He received the school's Shaping Justice Award for Extraordinary Achievement in 2020.
David Turk '99 became deputy secretary of energy. Turk was previously deputy executive director of the International Energy Agency, helping countries worldwide on their clean-energy transitions. He has also directed analysis focused on digitalization and energy, hydrogen and tracking progress on a wide range of clean-energy technologies. Turk also served as deputy on the Energy Agency Review Team during the Biden administration transition, which provided recommendations across the full range of Department of Energy issues and offices. In the Obama administration, Turk worked in the department coordinating international technology and clean-energy efforts.
Federal Courts 
Deborah Boardman '00 was confirmed to the U.S. District Court for the District of Maryland. A former U.S. magistrate judge, Boardman spent 11 years as a member of the Federal Public Defender's Office for the District of Maryland, where she was named first assistant federal public defender in 2015. She previously spent six years in Hogan Lovell's pro bono department. (See her Last Word column on p. 80.)
Lauren King '08 was confirmed to the U.S. District Court for the Western District of Washington. King, a citizen of the Muscogee (Creek) Nation based in Oklahoma, has been an attorney at Foster Garvey and served as a pro tem appellate judge for the Northwest Intertribal Court System. She previously taught Federal Indian Law at the Seattle University School of Law. She is the sixth Native American federal judge in U.S. history and the first in Washington state history.
Pending Confirmations
Several more alumni have been nominated to serve; their confirmations were pending as of press time. Updates will be posted in the next issue.
Mary Boyle '91 was nominated to serve as commissioner of the Consumer Product Safety Commission. 
Mark Brzezinski '91 was nominated to serve as ambassador to Poland. 
Patricia Tolliver Giles '98 was nominated to the U.S. District Court for the Eastern District of Virginia.
UVA Law professor Toby Heytens '00 was nominated to the Fourth U.S. Circuit Court of Appeals (see p. 16).
Cynthia Hogan '84 was nominated to serve on the Corporation for National and Community Service board of directors.
Neil MacBride '92 was nominated to serve as general counsel for the Treasury.
Michael S. Nachmanoff '95 was nominated to the U.S. District Court for the Eastern District of Virginia.
Doug Parker '97 was nominated to lead OSHA as the assistant secretary of labor for occupational safety and health. 
Mohsin Raza Syed '08 was nominated to be assistant secretary of government affairs for the Department of Transportation.
 —Mike Fox
1996
Anthony F. Vittoria was installed for a one-year term as president of the Bar Association of Baltimore City in May. Founded in 1879, the BABC is the oldest bar association in Maryland, established a year after the ABA.
1997

DLA Piper partner Elisha King, a member of the new 11-person management team that supports the firm's American chair, also serves as firm general counsel. King joined the firm in 1997 and has served as general counsel since 2018.
1998

Valerie H. Bonham joined the Kennedy Krieger Institute as its first vice president and general counsel. The institute is a nonprofit organization internationally known for improving the lives of children, adolescents and adults with diseases, disorders and injuries that impact the nervous system. 
With years of experience providing legal counsel to academic, health and science organizations, including the U.S. Department of Health and Human Services and the National Institutes of Health, Bonham is an expert in a wide range of legal matters, including medical research, technology transfer, clinical care and ethics. Bonham will provide comprehensive legal support to the institute, its governing boards, health care providers, researchers and educators.
After leading communications for Aetna and, most recently, managing CEO and enterprise communications for CVS Health, Sandra Waite was named senior vice president and chief communications officer at Guardian in New York. Waite is responsible for the company's communications and corporate social responsibility strategy, and will support the CEO and executive leadership team in the execution of the enterprise strategy.
Alumni Play Part in Expanding Virginia Court of Appeals
Virginia lawmakers elected Lisa Lorish '08 and Stuart Raphael '89 to the Virginia Court of Appeals as part of a court expansion plan in which several alumni played a role. With the bench expanding from 11 to 17 judges, UVA undergraduate alumni Junius Fulton (College '81), Daniel E. Ortiz (College '99) and Vernida Chaney (College '99) were also elected.
The court expansion made Virginia the last state judicial system in the country to guarantee appellate review of all civil and criminal circuit court decisions. State Sen. Scott Surovell '96 sponsored the 2020 bill that authorized a study on appeals courts, and Professor Emeritus Kent Sinclair led the resulting study. Following the study's recommendations, Sen. John Edwards '70, who leads the Senate's Judiciary Committee, sponsored the bill expanding the court, which Surovell helped write. Several alumni engaged in the judicial vetting and selection process, including Surovell, Sen. Chap Petersen '94, Sen. Jennifer McClellan '97 and Del. Rip Sullivan '87, among others.
Alumni "have their fingerprints all over this," Surovell said.
Lorish, a Law School lecturer, formerly served as an assistant federal public defender and the appellate specialist for the Western District of Virginia. Lorish created and directed the Federal Criminal Sentence Reduction Clinic and served as a lecturer for the Criminal Justice Reform Seminar.
Raphael previously was a partner at Hunton Andrews Kurth, where he was co-chair of the firm's issues and appeals group. He served as solicitor general of Virginia from 2014-17. Raphael is a fellow of the American Academy of Appellate Lawyers and a member of the American Law Institute.
Supporters of the expansion were interested in growing the court not only to guarantee a right of appeal, but to expand the persity and experiences of judges currently on the bench, most of whom previously worked as prosecutors or in attorneys general offices. Surovell, a defense lawyer, said he was interested in adding judges with criminal defense experience, such as Lorish.
In public interviews with lawmakers before her appointment, Lorish said she would bring her experiences with her if elected to the bench.
"I've seen how cases are brought when you have all the resources in the world and I've seen how cases are prepared when you have very little," she said.

Lisa Lorish '08 and Stuart Raphael '89 joined the Virginia Court of Appeals bench through legislation spearheaded by Sens. John Edwards '70 and Scott Surovell '96.
—Mary Wood
1999

Jason S. McCarter joined Miller & Martin as a member in Atlanta. He represents automotive, technology and other business enterprises in complex commercial disputes and regulatory investigations. He also counsels and advocates for clients facing contract, business tort, secured lending, creditors' rights and licensing issues. Named a commercial litigation leader by Best Lawyers in 2021, McCarter practices in state and federal courts, as well as alternative dispute resolution forums around the country.

Riley H. Ross III, a partner at Mincey Fitzpatrick Ross in Philadelphia, was presented with the third annual Pennsylvania Bar Association Civil and Equal Rights Champion Award in May. The award honors an inpidual who advocates for civil rights for all Pennsylvanians through constitutional advocacy, legislative acts, or advocacy or inpidual representation and development of case law.
Ross has extensive experience in the areas of state and federal criminal law, white-collar criminal defense, civil rights litigation, corporate compliance, internal investigations, employment law and personal injury. 
He has been a champion for advancing the cause of civil rights through various leadership positions in the PBA and other legal organizations. At the PBA, Ross is a member of the Civil and Equal Rights Committee and served as its chair from 2018-20. He is a current member of the PBA House of Delegates, and is also on the Federal Practice, Legal Ethics and Professional Responsibility, and Minority Bar committees.