Send Us Your News
To submit a class note, email us or submit mail to UVA Lawyer, University of Virginia School of Law, 580 Massie Road, Charlottesville, VA 22903. Please send your submissions no later than Feb. 1 for inclusion in the next issue.
2000
Partner Rebekah Goodheart was named co-chair of Jenner & Block's communications, internet and technology practice in Washington, D.C. She joined the firm in 2016, with over 20 years of experience advising clients on FCC advocacy and strategy. She has experience with technical rules regulating broadband networks, subsidies for broadband networks and adoption, mapping of broadband networks and mergers approval. Goodheart is regularly recognized by Legal500 in various telecoms categories; in 2020, she was named a Next Generation Lawyer in the Telecoms and Broadcast: Regulatory category.
2001

Gunes Hopson joined Geronemus Law as of counsel. Geronemus specializes in providing concierge in-house attorney services working with companies of all sizes and industries. Hopson also continues to enjoy providing concierge-level travel planning services through her business, My Path Unwinding Travel, specializing in luxury and family travel.
2002

Jennifer E. Michael, former chief of the Industry Guidance Branch at the U.S. Department of Health and Human Services' Office of Counsel to the Inspector General, has joined Bass, Berry & Sims as a member of the firm's health care practice in its Washington, D.C., office.
Alumni Elected to American Law Institute

Jennifer Morgan DelMonico '97, Steven M. Haas '04 and Seth W. Stoughton '11 were elected to the American Law Institute.
DelMonico is a trial lawyer for parties in complex litigation disputes and defendants in tort and product liability actions at Murtha Cullina in New Haven, Conn., where she recently completed a six-year term as managing partner. She represents clients in a variety of contexts, regularly handling claims for product liability, negligence, breach of warranty, breach of contract, ERISA violations, environmental violations, patent infringement, copyright, trade secrets and unfair trade practices.
Haas focuses on mergers and acquisitions, corporate law and corporate governance at Hunton Andrews Kurth in Richmond, Va., and is co-head of the firm's mergers and acquisitions team. He represents clients on a wide variety of M&A transactions, including change-of-control transactions, public company sales, strategic acquisitions and pestitures. Haas also regularly advises companies and boards of directors in connection with corporate governance, shareholder activism and other fiduciary duty matters.
Stoughton is an associate professor at the University of South Carolina School of Law and an associate professor in the university's Department of Criminology and Criminal Justice. He is a core faculty member with the university's Rule of Law Collaborative. Stoughton is also the principal co-author of "Evaluating Police Uses of Force" and has written book chapters about police misconduct, the use of force and use-of-force review. In April, he testified as a use-of-force expert for the prosecution in the trial of Derek Chauvin, the former police officer who was convicted of murdering George Floyd.
—Mike Fox
2003
Katherine J. Brennan was appointed general counsel of Marsh, a professional services firm in the areas of risk, strategy and people. In her new role, Brennan leads all legal and compliance strategy for the Marsh business globally. She will continue to chair Marsh McLennan's ESG management committee and the company's enterprise-wide crisis management team. 
Stacey Rose Harris was named to the 2020 class of Leaders in the Law by Virginia Lawyers Weekly, which recognizes 25 lawyers statewide each year. Harris is a partner with DiMuroGinsberg in Alexandria. Her practice focuses on business litigation.
2004
Nicole A. Edmonds, a corporate governance and federal securities attorney with in-house and regulatory experience, has rejoined Troutman Pepper's Corporate Practice Group as a partner. She is based in the firm's Washington, D.C., office. 
Edmonds initially joined legacy firm Troutman Sanders in 2004, serving many years as a corporate associate and counsel prior to transitioning to her roles as attorney adviser with the SEC's Office of Investor Education and Advocacy, and as sole clearance counsel for the White House's Office of Presidential Personnel. She most recently served as assistant vice president and corporate secretary with Washington Gas.
Turoff '04 Promoted to General Counsel of Hershey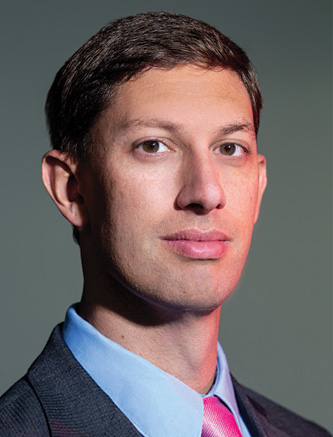 The Hershey Co. promoted James Turoff '04 to senior vice president, general counsel and secretary on May 20. Turoff had been serving as acting general counsel at the Pennsylvania confectioner since December.
"I've been really fortunate to have people who invested in me early, whether partners at a law firm or in-house, but at every stop along the way," he said in an interview with Law360. "It made all the difference in any success I had and being where I am today."
Turoff leads the company's global legal, compliance and ethics, government relations, corporate security and corporate secretary teams. He told Law360 that his goals are advancing the executive committee's persity, equity and inclusion initiatives, and applying what was learned during the COVID-19 pandemic, such as the benefits of a flexible workforce. He reports directly to Chairwoman and CEO Michele Buck. 
"James brings depth of experience and has proven how to effectively work and lead across legal disciplines, balancing our enterprise ambitions with sound risk and opportunity management," Buck said in a statement. "He has risen through the legal department here at Hershey and understands the complexities and opportunities within the business. He has earned the trust and respect of our entire leadership team and our Board of Directors, and I look forward to partnering with him as we continue to drive growth."
Before becoming acting general counsel, Turoff served as vice president and deputy general counsel. Prior to joining Hershey in 2014, Turoff was assistant general counsel at Harsco Corp. and director for corporate governance and securities at The Scotts Miracle-Gro Co., where he also served as assistant secretary.
—Mike Fox
2005
Brent H. Olson was named a member at Dykema Gossett, based in the firm's Washington, D.C., office. His practice focuses on insurance coverage litigation and counseling insurance companies on complex coverage issues related to directors and officers, errors and omissions, employment practices and other specialty lines policies.
2006
Rudy Mehrbani testified before the House Oversight and Reform Committee in May in support of reforms to enhance accountability and transparency in the executive branch. His testimony focused on democratic norms and guardrails that have weakened over time and require reinforcement. Mehrbani is a senior adviser of the governance program at Democracy Fund, an independent foundation working to ensure that the political system can withstand new challenges and deliver on its promises to the American people. 
Katerina Moshinski Newell, of the Pels Law Firm in Bethesda, Md., led the team representing the father of an 18-year-old killed in a Virginia silo accident. On July 22, the Supreme Court of Virginia reversed the Loudoun County Circuit Court's dismissal of the case, Brian C. Potter, Personal Representative of the Estate of Daniel C. Potter, Deceased v. BFK Inc., with prejudice. The issue considered by the court was whether a Buell Classifier installed in the silo to process manufactured sand qualified as "equipment" under a statute of Virginia code. The court concluded that the classifier (which the court characterized as "a device used for a specific purpose unrelated to the structural integrity of the building itself") was "equipment" under the code.
2007

Chanel Frazier was named head of BlackRock's Atlanta Innovation Hub, which plans to expand from 300 to 1,000 employees by 2024. Frazier also serves as the head of business strategy for BlackRock's Portfolio Management Group. For the second consecutive year, Frazier was named to the Empower Top 100 Ethnic Minority Executives List. Named an Executive Role Model, she was selected for her work in creating a more perse and inclusive workplace. Last year, Frazier was the first BlackRock leader to receive the honor.
Barine Majewska was promoted to counsel at Vicente Sederberg in Denver. Majewska is a leading member of the firm's entheogens and emerging therapies practice group.
Katherine C. Rohrbaugh is the head of operations regulatory compliance, food safety, at Amazon and lives in Seattle with her husband, Scott (College B.S. '00, Ph.D. '07).
2008
Chris Gaskill was promoted to executive vice president, chief legal officer and secretary for Summit Materials in Denver. Gaskill, who has worked for the company since 2015, most recently served as senior vice president and deputy general counsel. He oversees all legal, corporate governance, enterprise risk management, compliance, litigation, regulatory and outside counsel management.
2009
DLA Piper partner Jamila Willis, co-chair of the firm's consumer goods and retail sector and chair of the New York office's restructuring practice, was named to Bloomberg Law's inaugural They've Got Next: 40 Under 40 list highlighting up-and-coming attorneys across various practices. 
Willis' recent work includes representing Abengoa and its subsidiaries in their global restructuring, medical device manufacturer REVA Medical Inc. in connection with its prepackaged restructuring transaction, and Otsuka America Pharmaceutical Inc. in connection with its acquisition of substantially all assets of Proteus Digital Health.