Send Us Your News
To submit a class note, email us or submit mail to UVA Lawyer, University of Virginia School of Law, 580 Massie Road, Charlottesville, VA 22903. Please send your submissions no later than Feb. 1 for inclusion in the next issue.
1954
Robert N. Robinson died May 17 in Charlotte, N.C. He practiced all his life with the North Carolina bar. He never retired, kept his license active and stayed current on continuing legal education. 
His family noted that Robinson's love of the law and his degree from UVA were some of his most cherished possessions. He was buried with his UVA hat on his chest. 
Robinson spent his entire career in Charlotte, preferring to be a sole practitioner. He was well known in his specialty, bankruptcy, with many high-profile cases, and practiced from New York to Florida and into South America. 
Robinson's family said they believe he may have been the only attorney in the city of Charlotte who never sent a bill to a client. He was not in it for the money and assumed people would pay him what they owed him. 
1958
By Larry Grim, Class Secretary
Nathan Cherry '07 read our spring notes and complimented the "How-We-Met" stories! How many times, Dear Reader, do you read class notes from a class not your own? (FYI: Nathan added, "I met my wife, Melissa (McWilliams) Cherry '09), when I was a 3L and she a 1L (at the Dandelion Parade no less). We practiced in D.C. for a time and then I went back to school ... Darden ... began a new career in energy investment across London and Houston. We have three kids, 11, 9 and 6."
Jim Atkin wrote, "My granddaughter graduated from UVA Law School this year. In doing so she followed her father, Class of 1985, and her grandfather. I have [been] retired for 20 years and find that the world is full of good people (except for a few evil ones) and the future looks lovely once the corrupt governments on the planet are eliminated. Hope to stay around to see if it happens."
Bill Bunting called after the spring '22 notes came out to correct my error claiming Hobart McWhorter was a battery commander for artillery forces in Hokkaido, Japan, during World War II. It was the Korean War, not WWII, obviously. Bill and I had a fine long chat in which he reported he may be the largest property owner on Nassau Street in Princeton, N.J., except for the university. He says he goes to his office daily. Kathy and I hope to accept his invitation to drop by when we return from Stone Harbor, N.J., to Perkasie, Pa.
David Carter, who left our class before we graduated for an exciting career in London, wrote: "I've been in the United Kingdom for 50 years, have four children either currently employed or finishing off their formal education. Thankfully the Carter gang live just miles from me and keep me amused and out of trouble. Life is pretty good ... despite a few political problems that are fascinating and troublesome!"
Vickie Cooper says: "I am up in Maine at our camp on Long Lake near Bridgton. I have many wonderful memories of vacationing with Len [Cooper] at this camp that has been in his family since the 1940s."
Bill Edwards: "Things have been rough for the past couple of weeks. There have been 17 or 18 positive tests of COVID - which resulted in total lockdown of the floor ... I'm told if there are no new positive cases [soon], things will open up. I sure hope so. I'm set for jury trial on Aug. 8. I would hate to see COVID or monkeypox get in the way. One District Court was shut down completely last week because of the number of positive tests among staff and jurors. And with all the courts trying to catch up on criminal cases, the civil dockets have suffered. My case on the 8th is either the fifth or sixth setting for the case. I have my fingers crossed." He later added: "The defense just raised the table stakes to about $600,000."
Walter Jerald Ford reminisced about Bert Sachs' recent death. "He was such a great friend and always full of life. He was just a good person to be around, and he was the perfect judge. For many years Bert, Jack Clarkson and I met every month at our regional judicial meeting. It was something I looked forward to. I got to know Bertís lawyer son who had the same wonderful personality as his dad. I never heard Bert speak ill of any living soul and he was one of the most entertaining persons I have ever known. I practiced law before 'Judge Bert' when he was in the District Court and listened to many cases he ruled on before he got to my case. He got all of them right. I stayed a while to say hello and he said he was constrained not to call me Jerry - rather than Lawyer Ford from the bench. I sat in the Norfolk Circuit (Virginia) a lot as a visiting judge, and we had several of our classmates who practiced in the area appear on our docket. It was a fun time. We also had Bob Doumar '53 on the federal bench in Norfolk. Bob was a fraternity brother when we were undergrads at UVA ... ."
Bill Griesar's first wife and mother of their three children died in 1994, but after "five years of wilderness" he married Jane. She was a professor of art when they met and still does some teaching today - including schooling Bill about art history. She wrote this about how they met:
"Fall 1997. I was a professor of art history at Hunter College and taught an honors course with a colleague from the history department - she handled the politics, I covered the painting, sculpture and architecture. She was married to a scientist, who among other things had totally bizarre ideas about the development of Egyptian culture. He did, however, have connections to Rockefeller University. 
"Just before Christmas, my colleague called me from JFK [airport] to say that she had given my phone number to Bill Griesar, who was serving as general counsel at Rockefeller. "He'll probably call you after the holidays,' she said, 'but if he doesn't, you should give him a call. He is definitely a keeper.'
"Bill called after the New Year, but I was leaving to spend a week in Aruba with my daughter Katherine. I can't remember who called whom when I got back, but Bill and I arranged to have dinner together in Manhattan. He was then living in Dobbs Ferry, and I was on East 87th Street. We met at a restaurant on Madison and 70th - I don't remember the name, but I do recall a lovely, relaxed dinner with a man of great charm. We agreed to get together again, but as we were parting I made a nearly fatal mistake. You see, I'd spent quite a bit of time in France for art history research, and as Bill and I were leaving I took him by the shoulders and gave him one of those left-cheek, right-cheek pecks that is the French equivalent of shaking hands common in the U.S. today, that simply was not done here among us older folks in 1998, but Bill recovered nicely.
"ìWe dated through the spring, but both of us went traveling that summer. Bill took a walking tour through the Czech Republic with his son Bill, and I spent the summer in Paris with my daughter Kat. Newfangled email had come into use, so we were able to keep in touch, and when we reconnected in the fall, Bill and I knew a lot more about each other. When we decided to get married, we turned to one of Bill's friends and former colleagues, who had become an Episcopal minister after he retired - he always joked that he embraced the ministry to atone for the sins committed while practicing law. He married us in Connecticut on June 10, 1999, and we had a reception at the UVA Club in NYC. 
"Summer 2022. We share four children and five grandchildren, and we're the opposite of snowbirds, whatever that's called. We spend the winter months in White Plains, N.Y., and head north to Chamberlain, Maine, around mid-May, usually staying there till mid-September. Back in 1976, Bill had the astounding foresight to buy a house on the Maine coast, and though it's since been updated and expanded, it maintains its cottage simplicity."
Griesar preceded Grim alphabetically and academically from when we entered the UVA College in 1951 through law school. No one ever came between us alphabetically. I first saw his name on the dean's list in the spring of 1952 when mine made a rare appearance. I learned much of his youth was spent in the Naples, Fla., area where my lady, Kathy O'Dea, and I live. Kathy, like Bill's wife Jane, has a serious interest and background in art. So, your secretary has asked Kathy to offer her tale of how we met:
"I always loved learning and school. A full scholarship to the College of New Jersey followed with earning a M.S. at the University of Pennsylvania gave me the credentials to spend many happy years teaching. Along the way I met my future husband, John P. O'Dea (Jack) ....
"I developed an interest in art, began modest collecting and developed a friendship with a master-gilder/framer, Peter Crafts. I was accepted as a student in the Barnes Foundation to study art in their fabulous collection and began, arguably, the best phase of my education. Then, suddenly, Jack died at 58 of a totally unexpected heart attack and our world was upside down.
"I was able to raise our teenage children alone. I continued to complete the two-year course of study at the Barnes Foundation and pursue more art credentials at New York University and Bryn Mawr College. NYU was focusing on the study of and historic significance of frames. A Barnes teacher recommended that I go to an all-day art symposium on the art of Bucks County, Pa., at the Berman Museum at Ursinus College in Collegeville, Pa. So, on June 6, 1998, at 8:30 a.m., I entered the museum and saw on an easel a painting of a snow scene and man in a blue blazer and bow tie. Curious, I strolled up, listened and found the man had just purchased the picture from a lady in her 80s who was telling its origin. ... The frame on the picture was not appropriate. The artist was [the well-known Pennsylvanian impressionist] Walter Emerson Baum. I chimed into the conversation, then suddenly thought to say: 'Excuse me, am I interrupting a private conversation?' I was welcomed to stay. Then a whistle blew, signifying the start of the symposium in a classroom. On the walk to it, I tagged along with the man in the bow tie and found his name was Larry Grim. I asked what he did and he said 'gardener,' and conspicuous dirt under his fingernails backed that up.
"The first of the four lectures at the symposium was given by Missy Saxton, [who had a] Harvard Ph.D., on Baum, whose work was on display throughout the museum. She was articulate and fascinating. At the break when she finished, I bought the biography she wrote on Baum before I found out the artist was Larry's grandfather. The next lecture was on Walter Elmer Schofield, another impressionist artist. I was sitting next to Larry during the lectures and we chatted, then separated.
"I went into the very crowded lunchroom and put my backpack on the chair besides me. A little while later, Larry appeared, looking for a seat. By that time, the only one left was under my backpack. So, I invited him to join me. I asked what he was going to do with the frame on the painting he'd just bought. I suggested it could be improved by switching to one of the famous Bucks County frame makers and named a few. After lunch, I suggested looking at it and some of the other frames on paintings in the museum; it became clear Larry knew or cared little about frames. But, Suzanne Smeaton, a frame expert from Eli Wilner of New York, the first afternoon lecturer, woke him up with slides and accounts of frames and framers for Pennsylvanian impressionist art. She dwelt at length on the Bucks County framers Iíd mentioned. He was so impressed, by the end of the day, my 'fine art consultant' card was in his pocket and I was "hired" to inspect his collection and make suggestions on frames.
"We met a few days later. I saw his collection and met his wife, Nell. Later, he traveled to Stone Harbor and we met Peter Crafts as we debated frames. This was purely a business opportunity for me. I earned the business-like nickname of 'Framing Lady' and his interest in and spending on frames increased dramatically. Sometime later, for reasons and causes existing before my arrival, Larry and Nell divorced. He shopped for a house and found one not far from the Bay Pony Inn, in Lederach, Pa. It was on a hilltop overlooking a park and the Perkiomen Creek. He bought it and hired an architect to expand it. Art galleries were added with ample garages and storage space.
"Meanwhile, I had some health issues that put me in the hospital. Larry provided comfort in addition to what I received from family and friends. I spent much of my recovery time in his new house, decorating it with a passion. Three years later I sold my home in Wayne and moved into Larry's house. Then we were able to combine the rest of our art and furniture.
"The house became a mecca with our combined art. I enjoyed the dream of living with wonderful art. We entertained a lot, including boards of directors at the Berman, where I became active (and still am) and of the Baum School of Art in Allentown where Larry was active. He also served two terms on the James A. Michener Art Museum board in Doylestown. My daughter had her wedding there.
"At 85, Larry retired, we sold that house and moved to a condo in Naples, Fla., where, in our 24th year, we live in winter, returning to Stone Harbor in summer. Both are filled with as much of our art as possible. Our mutual interest in art has made our life fun and it has been a luxury to be surrounded by it.
"It has been a full, interesting and always challenging ride with Larry. I have been so blessed (or, Larry says, cursed)."
George Harris wrote: "As the comings and goings of children and grandchildren seems if not written in stone, then at least confirmed by all involved. ... Presently recovering from COVID. Not the same in our age bracket as what I hear from the younger generation."
Here's a note from Joe Hilton: "... am still working in real estate. My wife still works in interior design and my granddaughter has been admitted to Duke. My first daughter is a successors residential broker and my second has her Ph.D. in child psychology. One grandson is finishing high school. Cheers."
I asked Doug Mackall about his commuting friendship with a lady from my daughter's backyard [wedding] and, alas, got: "My friend [Emily Slingluff] from Virginia Beach died in January, after being courted 18 years. At 91, I am on the lookout again. C'ville is a wonderful place to retire. Especially when you have season football, basketball and women's basketball tickets. Come on down!"
Ellen McWhorter wrote from Alabama: "I am learning to live on my own and still missing my better half a lot. Cooking for one is not the same, especially when Hobart [McWhorter] was such a good eater! I am going to visit friends in the North Carolina mountains next week and look forward to cooling off there. I now have two great grandchildren and expecting a third in October. Hobart did not get to meet young Hobart Amory King Jr. He would have been so proud!"
Tom Otis belongs or belonged to every important fine club in Massachusetts, so I asked him about the Somerset Club in, Beacon Hill, Boston. He replied: "I have never been a member of the Somerset Club, but it has a splendid reputation. I do know the food is excellent. You will be comfortable there ..."
Ben Phipps and JJ command: "Fall visit to [Tallahassee] is mandatory. Late fall or midwinter? ... You all stay in our (JJ's) downtown pied-a-terre. I'll conduct a tour of the 'other Florida,' with hills and Spanish moss." We will comply!!!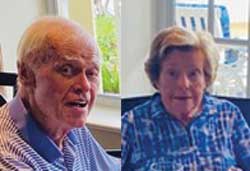 Ted Torrance, our most highly revered secretary emeritus, has called his wife, Connie, 'long-suffering' frequently in the past and indeed it is apt today as she must, in his words: "push around all the nurses, docs, etc." attendant upon him as he fights his battles with imbalance and dizziness. Connie is remarkable in that she has superbly decorated their lovely digs on North Hutchinson Island in Vero Beach, Fla., and taken the time to craft this account of how they met:
"On a snowy, sunny Saturday morning in 1958, I was eating breakfast at the home of my beau, Chuck, when into the kitchen walked Ted Torrance. Ted and Chuck were old boyhood friends and unbeknownst to me, Chuck had invited Ted to be a guest at the ski house we had rented with a bunch of pals at Mount Snow, Vt., for the winter.
"After breakfast, the three of us piled into the car, all three in the front seat, and headed for the mountain. The skiing was wonderful, and afterwards back at the house dinner, long charades games and drinks were a blast.
"The ski house had some eccentricities, including a shower in the kitchen, as well as a player piano. There's an old saying, 'They always fall for the piano player,' and I was no exception. Not only could Ted play the player piano, but he could also play very well himself. I loved it. As the winter wore on, several of my ongoing romances faded and Ted became 'the one.'
"Skiing showcased one of Ted's finer qualities — patience. The only skiing I had done had been on neighborhood hills as I was growing up, and I found real mountains a bit challenging. You couldn't just point your skis downhill and let go on the mountain. I didn't even know how to snowplow or do proper turns. However, with time-consuming patience, Ted got me going and we continued skiing for many years.
"Fortunately, skiing wasn't the only thing we enjoyed together; we found we shared a number of common interests, friends and particularly the out-of-doors. In October of 1960 we married, and now, 61 years later, we continue living happily ever after."
Henry Williams' widow Barbara Dimmick is "so glad we came up with the idea of how-we-met stories! They read like a treat and add 'some romance' and in all cases a sense of joy in life!" She adds: "Henry reports that he 'was happiest on a sailboat; water was his natural environment. So, I am having the following put on the back of his headstone. It's from 'The Wind in the Willows.' He would have loved it! He loved humor.
'Believe me my young friend, there is nothing — absolutely nothing — half so much worth doing as simply messing about in boats."
1960
Ronald W. Dougherty received the 2021 Clayton G. Horn Award of Excellence for his decades of service to his hometown, Canton, and to Stark County, Ohio. 
Returning to Canton after graduation, Dougherty became a community fixture over the next 60 years. In addition to his legal practice with Krugliak, Wilkins, Griffiths & Dougherty, where he served as managing partner for 17 years, his efforts spanned a broad range of organizations and agencies. 
Dougherty helped with United Way campaigns, Pro Football Hall of Fame festivals and Canton Regional Chamber of Commerce projects, as well as leading the Canton Jaycees when it had more than 500 members.
Dougherty served the city as an assistant solicitor for several years during the 1960s. He held a seat on the Stark County Board of Elections. He served as a director and member of the executive committee of the Pro Football Hall of Fame beginning in 1990 and is now an emeritus director. 
1966
Although retired from the federal judiciary, Paul Michel maintains a full schedule of consulting, mediation, arbitration and moot courts in intellectual property law, the federal circuit court's specialty. Michel publishes dozens of articles each year to inform policy and policymakers. 
1967

Will Macht died peacefully March 15 at his home in Vancouver, Wash., surrounded by his partner Sylvia Skarstad and his sons, Marlow and Madison. He was 80. 
Macht was born in Syracuse, N.Y., in 1941 to Milton Macht and Sylvia Smith Macht. He graduated from Deerfield Academy and Princeton University's School of Public and International Affairs before attending UVA Law. 
Macht began his career as an assistant counsel, first to U.S. Sen. Jacob Javits and then to Sen. Robert F. Kennedy '51. While with the U.S. Treasury he worked with international development banks. He then became international counsel for the Gates Corp. in Denver. Macht shifted his focus from international to national development when he became the development director of the Rouse Co. At the time, the company was building the new city of Columbia, Md., between Washington, D.C., and Baltimore. 
Several years later, Macht and his wife, Marieluise Vogt Macht, moved to Hood River, Ore., and raised their family in a former schoolhouse built in 1910. Sensing the potential for mixed-use development of Hood River's extensive waterfront, Macht was elected port commissioner. He was involved in numerous land developments in the Hood River and Portland areas. When Diamond Fruit closed its cannery, he championed the port's purchase and redevelopment of its 800,000 square feet of buildings on 20 downtown blocks. Macht urged the city to form an urban renewal agency that included the entire downtown, and he became one of its first members. Later, his company was selected by the Vancouver Area Development Authority to manage the adaptive reuse of its historic Officer's Row. He proposed a bistate, federally chartered Columbia Gorge Development Bank, which drew heavy support from the region's congressional delegation. He also advanced alternative solutions to reuse the Memorial Coliseum and to provide sustainable Columbia River crossings.
In addition to his work in urban development, Macht taught throughout his 44-year career at both Portland State University's College of Urban and Public Affairs and the University of Oregon School of Architecture. His interests included urban real estate development, public-private partnerships, micropolitan development, retrofitting suburbia and competitive development workshops. He published more than 200 articles in professional journals and books. 
Outside of his professional achievements, Macht pursued his passion for creative design,  building mobiles and crafting sculptures. He also listened to classical music, swam, and was an avid reader and writer of history. He wrote extensively of his family's history to ensure that the value he placed on education, engagement in public welfare and dedication to family would be passed on to future generations. 
1968
David D. Biklen, past executive director of the Connecticut Law Revision Commission, chaired the drafting committee for the Uniform Unregulated Child Custody Transfer Act. Drafted and approved by the Uniform Law Commission in 2021, that act has now been introduced in several state legislatures and enacted in Utah and Washington. 
The act highlights the lack of regulations around child custody transfers. Some parents find that after birth or adoption, they experience considerable difficulty or even inability to care for their child. This sometimes leads families to transfer the child to a person outside of the courts and the child welfare system. Without specific regulations, a transfer of custody goes unnoticed in the child welfare system and places the child at risk. 
The act highlights different types of support available to these families to reduce the need for unregulated transfers. 
Biklen has been a member of the Uniform Law Commission since 1982 and was elected a life member in 2009. As a Connecticut commissioner, in addition to the transfer act, he chaired the drafting committee on the Uniform Real Property Electronic Recording Act, which has now been enacted in 38 states. Biklen has served on several other drafting committees, including the committee to revise the Uniform Common Interest Ownership Act and the drafting committee on the Uniform Electronic Legal Material Act.
Karl W. Boyles Jr. was honored by the Florida Bar for 50 years of membership. Honorees were recognized at a luncheon in June. 
J. William Lewis' debut novel, "The Essence of Nathan Biddle," was among the winners of this year's Feathered Quill Book Awards, which celebrates excellence in book publishing. The book was heralded as a timeless, sweeping tale that unfolds on the Alabama coast in the 1950s.