Send Us Your News
To submit a class note, email us or submit mail to UVA Lawyer, University of Virginia School of Law, 580 Massie Road, Charlottesville, VA 22903. Please send your submissions no later than Aug. 1 for inclusion in the next issue.
1948
Kemper Goffigon celebrated his 98th birthday Sept. 17. Goffigon writes that he's still active, doing "reasonably well" and keeps in touch with a few classmates. He said he recalls many fond memories of his seven years at UVA, where he earned undergraduate and law degrees, especially his time living on the East Lawn. Goffigon passed the Virginia Bar in 1947, prior to getting his law degree in 1948.
1956
Mark H. Berliant received the John L. Muething Lifetime Achievement Award in Law from the Cincinnati Bar Foundation, which presents the award for 50 years of exemplary service as a lawyer. For five years, Berliant worked as a tax trial attorney for the Internal Revenue Service Office of Chief Counsel. In 1961 he joined Strauss Troy, where he was a former president, tax department chairman and board chairman. Over the span of his career, he served as former national chairman on real estate tax problems for the American Bar Association and on the Hamilton County Board of Commissioners as a past member of the Tax Levy Review Committee, as well as on subcommittees related to family services and indigent care. He served on the boards of Cincinnati Overseers Hebrew Union College, the American Jewish Committee, the Jewish Vocational Service, Rockdale Temple and the Greater Cincinnati/Northern Kentucky Film Commission, and on the board of trustees of The Cincinnati Retirement System. He also served as a commissioner for Cincinnati Tall Stacks Bicentennial and is former president and board chairman for the FreeStore Foodbank. Berliant has been recognized by Best Lawyers for 33 consecutive years. He also received UVA's Thomas Jefferson Literary Society Award for 50 years of active service to the University.
1958
Class Updates by Ted Torrance, Class Secretary
It's always rewarding to see what a little nudging and cajoling will produce for these columns, and the latest exercise has been no exception. About one-third of our class expended the time and effort to send along notes to me, for which I am deeply appreciative. Here are the somewhat distilled versions of the contributors' reports, observations and musings:
After 10 years of retirement living in Roanoke, Va., Jim Atkin was leveled by a stroke last spring and decided to move to an apartment in Santa Rosa, Calif., to be nearer to his family. Some welcome; the area was hit by the worst forest fires in its history, but Jim said that life has since settled down.
Stuart Brunet sent along a newsy note summarizing his and Helen's careers. For Stu, the bulk of his working life was spent in the trust and administration department of Irving Trust Co., from which he retired in 1989. Over the years he has served on various Mendham, N.J., town agencies, including the Planning Board, before which he also has appeared in connection with his own real estate development work (when he was not on the board). He and Helen wintered here in Vero Beach, Fla., just up the harbor from me, for several years before eventually returning to Mendham full-time, where they participate in the "new golf" (bridge) several times a week.
From a telephone chat with Jack Clarkson: He retired as a judge on the Norfolk (Va.) Circuit Court and now resides in a retirement community in Ponte Vedra Beach, Fla., "where there are no lawns to cut."
Alan Diamonstein sent along a summary of his career — which included his service as a delegate to the Virginia General Assembly for 35 years and eight years on the UVA Board of Visitors. He is the oldest partner in his Newport News  law firm and continues to go to the office daily.
Bob Dorsey can be found in Las Vegas (where I believe our class representation is modest). He and his wife, Pat, have had some health issues — indeed, who has not, at our ages — but seem to be getting along.
Bill Edwards' home in Aransas Pass, Texas, survived Hurricane Harvey and had electricity restored by Christmas. Bill retired from ranching after some 40 years but is actively practicing law in Corpus Christi. There is a very good pic of Bill on his firm's website: Google the Edwards firm in Corpus Christi.
From Greenacres, Fla., Mark Flanagan reports he had an active civil trial practice for 30 years, retired, traveled extensively for five years and then returned to the practice with his son until his second retirement at age 83.
As ever, Fred Goldstein continues to be active and involved — in part as a member of the Virginia Tax Study Group (which takes him to Charlottesville from time to time), and in part in London, where he maintains a collection of 18th- and early 19th-century caricatures and illustrated books. In addition, some 20 years ago Fred was instrumental in reviving the New England James Madison UVA Law School Scholarship, which has helped to educate 11 men and women at the Law School. And I am advised that Fred has volunteered to be the point man for our 60th reunion in May.
Bill Griesar enjoyed an exceptional role in his son's wedding in Maine last summer: He performed the ceremony. To do so he became an ordained minister in the Universal Life Church. ("Yes, mail order, but it passed muster under Maine law and my sensibilities.") When not ministering, Bill still travels regularly with his wife, reads good books, sees good movies, eats well and believes "there is still much to look forward to."
In Louisville, Ky., Stuart "Blue" Jay spends his days wagering on horses or playing bridge. Blue: May I introduce you to Stuart Brunet? Recently, Blue was busy planning for his 35th annual trip to the Dominican Republic in January.
Allan and Nancy Johnson have sold their home in Virginia Beach, Va., and have moved to a continuous care retirement community there. A daughter has received a degree from the Law School, and a granddaughter is a first-year student at the school. Talk about a dynasty!
After 43 years of practicing law, Michael Kaplan lives in a co-op in Manhattan and now spends his days in museums and at plays and concerts. He said that he and his wife, Harriet, still travel from time to time, and that his one regret is not having retired early enough to enjoy retirement.
Sadly, Fred Landess reports on the passing of his wife, Kitty, after 58 years of marriage, and of the life adjustments he has had to make since. On the brighter side, Fred continues to enjoy an active tennis game and plays the trumpet in two bands. Substantially all of Fred's career was spent with McGuireWoods in Charlottesville.
In his book "A Journey Worth Taking," John Merchant shares his memoirs of his developmental years, centering in significant part on his experiences as a member of our Law School class. If you haven't read it, I recommend that you do. John sums up his view of the Law School thusly:
"In truth, UVA Law has been a critical factor in all our lives and is, or will be, the same for all who attend and endure there now. Its reputation, worldwide, remains unsullied … and of great importance to America's future."
Brad Miller sent along a handwritten note from Clearwater, Fla., which I greatly appreciated. Brad clearly has some physical problems, which must have made his writing to me extremely laborious, so his note was specially valued. Brad said he is under "24/7" care, and he is coping with his problems as best he can.
In an envelope postmarked Sarasota, Fla., Lew Norton returned my letter with the following endorsements: 1) I play golf 2-3 times a week. 2) I am helping two insurance companies with their investments and legal compliance matters. 3) I don't travel except as a necessity.
Bill O'Connor writes that he has moved from Oregon to a suburb of Richmond, Va., with the expectation of spending more time with his family. He does note, however, that aging has its consequences — in his case a diagnosis of Parkinson's disease and its related balance problems. His gym continues to be a significant daily activity.
Bill suggests that perhaps it is time to re-read Oliver Wendell Holmes' poem "The Boys," which begins:
"Has there any old fellow got mixed with the boys? If there has, take him out without making a noise …"
Our class president, John Oram, writes from Savannah, Ga., that "after a long discussion with my aging frame (some parts don't move that should and some move but should not) I gave up the game of golf." John now spends a good part of each week auditing courses at a local university and a learning center. He sends his greetings to all his classmates.
From Tallahassee, Fla., Ben Phipps reports he still "pretends to practice law," but that he does, in fact, go to his office almost daily and has various cases pending around the state. As a member of the Jeffersonian Grounds Initiative, he attends meetings in Charlottesville twice yearly. And as the chief mover behind the Class of 1958 Dillard Scholarships, he urges all to designate their annual gifts for that cause.
Bill Shands writes that after a 27-year career at The Life Insurance Co. of Virginia (as general counsel and senior vice president) he joined a Richmond firm as senior counsel; after 10 years there, he retired and was due to move last December into a Richmond retirement community and "let others worry about corporate, local, national and world events while we continue to enjoy a peaceful life."
Bob Smith reports on the passing of his wife a couple of years ago, but on the positive side notes that four children and three grandchildren are all doing well. Bob authored West's "Tax Law Dictionary," which is now in its 25th edition.
Henry Williams and family generate an annual Christmas newsletter, which is always fun, if mystifying, to read, given the plethora of names mentioned. But I can glean from the latest issue that Henry is still vitally active on a number of fronts, one of the more obvious being his cruising on the Great Lakes and the Atlantic. A snapshot of Henry shows a fellow who hardly knows what the passage of years is supposed to do to one.
One of the early responders to my plea for news was Swan Yerger, who telephoned me from Jackson, Miss. We had an extensive, and good, chat covering a wide range of topics. It is quite clear that his extended family is a very important part of Swan's life, and he seems to be quite contented with life at the moment.
Your scribe sends his thanks to all who made the foregoing report possible. I hope I will see many of you at our 60th reunion in May, so that I can thank you in person.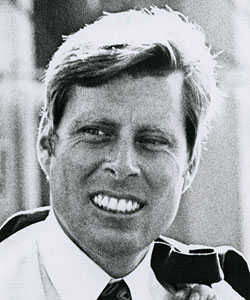 In Memoriam: U.S. Senator and Inspiration for 'The Candidate,' John Tunney '59         
John Varick Tunney '59, the former U.S. senator and House member who was the inspiration for a major motion picture, died of prostate cancer Jan. 12. He was 83.
Tunney served one term as a Democratic U.S. senator from California for six years, beginning in 1971. Immediately prior, he served as a member of the U.S. House of Representatives from California's 38th District for three two-year terms.
His 1970 Senate rise was loosely sketched in the Robert Redford movie "The Candidate."
As a freshman senator, still in his 30s when elected, Tunney wrote 38 bills that made it into the books. He helped enact antitrust, civil rights and environmental protection laws.
He was known among his colleagues for his "cordial manner and strong negotiating skills," according to the Los Angeles Times.
At UVA Law, Tunney earned a reputation as a presenter who could think on his feet. He won the William Minor Lile Moot Court Competition along with his roommate, Edward "Ted" Kennedy '59, another future U.S. senator.
"And of course, Teddy just loved the fact that he had won and Bobby [Kennedy '51, his brother] had not," Tunney once told a Boston Globe reporter.
In another interview, Tunney said he revised his public speaking style after receiving initial moot competition feedback that he didn't "exert" himself. He decided he could take a cue from his roommate's more "forceful" approach. He even practiced for hours alone in the woods.
"I felt that I had to go out into the forest sometimes, the woods around our house, and just speak to the trees, like Demosthenes," he told an interviewer with the Edward M. Kennedy Institute.
Tunney and Kennedy were Senate colleagues and remained close after law school.
Tunney also attended Yale University, earning a degree in anthropology, and The Hague Academy of International Law in the Netherlands.
Before politics, he was a practicing attorney in California who taught business law at night; a judge advocate general in the U.S. Air Force; and, briefly, an associate at Cahill Gordon in New York City.
Tunney's Senate win paralleled that of fictional protagonist Bill McCay of "The Candidate," a long-shot idealist who challenges a Senate incumbent. The film contains a theme about speaking openly about political views versus moderating a message.
The Associated Press reported that Tunney felt he had to "quiet" his message in order to win.
After a tide of conservatism resulted in his defeat for re-election to the Senate in 1976, he returned to law as a partner with Manatt, Phelps, Rothenberg & Tunney.
In addition, he served on several corporate boards and participated in civic and cultural affairs in his later years.
Tunney was the son of famous parents: the prizefighter Gene Tunney and Connecticut socialite Polly Lauder Tunney.
—Eric Williamson