Send Us Your News
To submit a class note, email us or submit mail to UVA Lawyer, University of Virginia School of Law, 580 Massie Road, Charlottesville, VA 22903. Please send your submissions no later than Aug. 1 for inclusion in the next issue.
1980
Following the merger of C.R. Bard with Becton, Dickinson and Co., JOHN BRENNER became chief litigation counsel with the new entity, BD. 
EDWARD R. KOCH is retired from the practice of law and now the New Jersey chair of USA Track & Field Officials. He resides in Haworth, N.J., with his wife, Cora, and sons, Eddie and Bill. 
DIAL PARROTT'S second book, "Pigeons in the Piazza: A Young American Family's Italian Adventures Seamlessly Merged With Growing Up in Police State Mississippi," will be published later in 2019. "The subtitle says it all," writes Parrott. "Tons of great photographs will accompany the text." 
KATHY ROBB was named to City & State's 2018 Responsible 100, honoring individuals who "embody the core principles of corporate social responsibility." City & State, a New York City-based weekly magazine covering politics and government, annually honors New York's most outstanding executives, thought leaders, visionaries and influencers for improving their communities and making transformative change. Robb is a partner at the environmental law firm Sive, Paget & Riesel in New York City. 

JOSEPH L. CLASEN of Robinson + Cole in New York and Stamford, Conn., received Local Litigation Star recognition from the inaugural edition of Benchmark Labor & Employment. 
1981
KARSH '81 TO SERVE AS UVA CAMPAIGN CO-CHAIR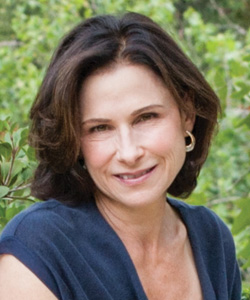 MARTHA LUBIN KARSH '81 and basketball star Malcolm Brogdon (Col '16) will serve as co-chairs for "Honor the Future: The Campaign for the University of Virginia," UVA announced in October. 
The $5 billion campaign will position the University to thrive into its third century through a commitment to UVA's founding ideals: truth, citizenship and the power of knowledge. Gifts from the University's many generous supporters during the campaign are expected to bolster strategic objectives in every school, department and sector, and further improve UVA's unparalleled student experience. 
Chaired by Peter Grant II (Col '78, Darden '86), a longtime stalwart supporter of UVA, the campaign begins its public phase in the fall. 
"Martha Karsh and Malcolm Brogdon represent what this university—and this campaign—are all about," UVA President JIM RYAN '92 said. "They love UVA, but they also believe it can be even stronger than it is today, and I'm grateful to both of them for agreeing to help lead this campaign and help us continue to make progress." 
Karsh, who graduated from the College of Arts & Sciences in 1978, co-manages the Karsh Family Foundation's giving. In 2017, she and her husband, BRUCE KARSH '80, announced a gift to the Law School that, when matched by funds provided by the University's Strategic Investment Fund, marks the largest commitment in Law School history. The gift will fund the school's Karsh-Dillard Scholarships, which awards full tuition and fees for all three years of study. It also establishes the Karsh Center for Law and Democracy and creates an endowed professorships fund—named in honor of U.S. Supreme Court Justice Anthony Kennedy—to support faculty affiliated with the Karsh Center. 
Martha Karsh recently served as a member of the board of the organization that helped Los Angeles land the 2028 Summer Olympics. A trustee emerita of the UVA Law School Foundation, she co-founded the Los Angeles design firm Clark & Karsh. The Karshes co-own the Golden State Warriors. 
"'Honor the Future' is an ambitious and important campaign for a flagship public university certain to reach new heights under Jim Ryan's leadership," Karsh said. "At the Law School, I forged my professional and family life and honed critical intellectual skills. I'm honored to give back to a University which gave me so much." 
Brogdon currently plays for the NBA's Milwaukee Bucks, earning Rookie of the Year honors in 2017. He graduated from UVA in 2016 with a bachelor's in history and a master's from the Frank Batten School of Leadership and Public Policy. 
—McGregor McCance 
NELL HOFFMAN BONAPARTE, PAT RIGBY WILLIAMS, KAREN HENIZE GEIGER, CHERYL KREMZIER BAIRD, SARAH GANNON SEDDELMEYER, KRISTEN WOLMACK MALONEY, TINA RAVITZ, and CHRISTINE HUGHES gathered in Sante Fe last fall for a long weekend of art, history, friendship and food.
CAM COWAN'S documentary film, "Madagasikara," has won awards in multiple film festivals, and is up for two awards in an upcoming London festival: Best Foreign Language Documentary and Best Cinematography in a Documentary. The film is about the dire situation in one of the world's poorest countries, Madagascar, and focuses on the personal stories of three women. While their life stories differ, their missions are the same: to educate their children. 

JOHN L. RIVKIN has been named to Best Lawyers for insurance law. Rivkin practices with RivkinRadler in Uniondale, N.Y. Rivkin is also a U.S. Merchant Marine officer who holds a U.S. Coast Guard 100-Ton master's license. 
DAVID SCHAEFFER is the author of a second book on mountaineering, "Another Five Big Mountains and Treks," which was published by Mercer University Press in the fall. This book covers Schaeffer's climbs of Mount Rainier, Mount Fuji in Japan, Cho Oyu in Tibet (the sixth-highest mountain in the world), and treks to Everest base camp and the Inca Trail to Machu Picchu. Schaeffer's first book, "Five Big Mountains," sold out of its first hardback printing and is now available in paperback. It covers Kilimanjaro, Aconcagua, Vinson in Antarctica, Elbrus (the top of Europe in Southern Russia, climbed with JIM EWING), and Pico de Orizaba, the highest mountain in Mexico. Both books are available on Amazon. After 38 years as a civil litigator and trial attorney in Atlanta, Schaeffer is retiring from the active practice of law and will concentrate on his mediation practice with Miles Mediation in Atlanta and Savannah, Ga. He and his wife will be moving to Kiawah Island, S.C., this year. 
1982

 

MARK MERRITT rejoined his practice at Robinson Bradshaw in Charlotte, N.C., after serving as vice chancellor and general counsel at the University of North Carolina-Chapel Hill for the past two years. Merritt's 33-year business litigation experience includes antitrust, complex, class action and shareholder litigation. He has represented clients in governmental investigations, including civil and criminal investigations conducted by federal antitrust agencies, and investigations by the Securities and Exchange Commission. 
1983

 
MARK DAVIDSON of Brooks Pierce in Greensboro, N.C., was recognized in Best Lawyers 2019 for corporate law, mergers and acquisitions law, securities/capital markets law and tax law. 
MATT ESTES wrote, "I left Skadden and joined the Office of the General Counsel in 2018, where I work with classmate DEBBIE LEAHY." 
PATRICK O. GOTTSCHALK of Williams Mullen in Richmond, was recognized in Best Lawyers 2019 for business organizations (including LLCs and partnerships). 

LOUIS J. LICATA, founder and president of the Licata Law Group in Independence, Ohio, was appointed to the Case Western Reserve University Visiting Committee for Inclusion, Diversity and Equal Opportunity. 
In the fall, JANET NAPOLITANO sent a note, "I'm beginning my sixth year as president of the University of California. And, while I was sad to miss last year's reunion, I was happy to host STEVE EDELSON, KENT ALEXANDER, DAVE MUSHINSKI, MARK KANTOR, ELAINE METLIN, ALICE HILL and JOHN YOUKILIS '84 for a weekend in the Bay Area. Bowling was included!" 
JEFF OLEYNIK of Brooks Pierce in Greensboro, N.C., was recognized in Best Lawyers 2019 for antitrust law and bankruptcy and creditor debtor rights/insolvency and reorganization law. Oleynik was also recognized in Business North Carolina's "legal elite" for bankruptcy.
1984
ALUMNAE NAMED 'INFLUENTIAL WOMEN OF LAW'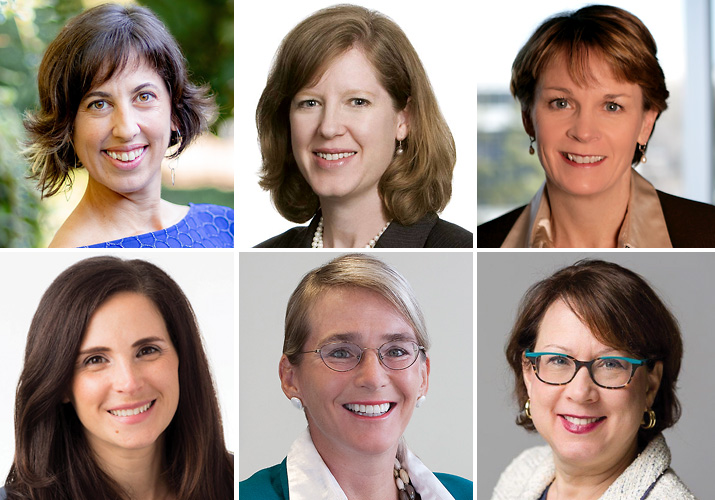 Six alumnae—ANGELA CIOLFI '03, VALERIE WAGNER LONG '98, ALISON M. MCKEE '84, JOAN C. MCKENNA '94, COLLEEN MAREA QUINN '88 and KATHERINE J. SEIKALY '05—and Dean Risa Goluboff were honored in the inaugural class of "Influential Women of Law" for 2019 by Virginia Lawyers Media, publisher of Virginia Lawyers Weekly. 
Honorees were celebrated at a reception and dinner Feb. 18 outside Richmond. 
Ciolfi is executive director of the Legal Aid Justice Center in Charlottesville. The former Powell Fellow previously served at LAJC as legal director of JustChildren, and director of litigation and advocacy. 
Long serves as co-chair of Williams Mullen's land use practice in Charlottesville and focuses on real estate transactions and land use matters. The Best Lawyers in America has recognized her as a top attorney for both land use and zoning, and real estate law. 
McKee is of counsel at Kaufman & Canoles in Virginia Beach and specializes in commercial law. She is chair of the Virginia Bar Association board of governors and co-chair of the VBA's Committee on Virginia Third Party Legal Opinions Report. 
McKenna is a partner at O'Hagan Meyer in Richmond and represents businesses in a variety of employment and tort lawsuits. She has served as president of the Virginia Women Attorneys Association board of directors and was recognized by Virginia Business magazine as a "Legal Elite" in labor/employment. 
Quinn specializes in adoption and assisted reproductive technology law at Locke & Quinn in Richmond. She is past president of the Academy of Adoption & Assisted Reproduction Attorneys, having served on the academy board and in numerous chair and conference chair positions. 
Seikaly is a partner with Reed Smith in McLean, focusing her practice on government and internal investigations, and regulatory compliance and enforcement matters. She was named a Washington D.C. Rising Star in white-collar criminal defense in 2014. 
Goluboff, Arnold H. Leon Professor of Law and a professor of history, is the 12th, and the first female, dean of the Law School. She is a nationally renowned legal historian whose scholarship and teaching focuses on American constitutional and civil rights law, and especially their historical development in the 20th century. 
—Mike Fox
WILLIAM CHAPMAN sent in a family update. "In September our son Ben proposed to the wonderful Katie Bono and their wedding is set for July. She adds a love of the outdoors to an outdoor-loving family in a totally great way. In October, I retired, intending this time only to play. In November, Frankie opened a successful solo exhibit of her paintings at a Pioneer Square gallery. And in December, our daughter ELLIE '15 said yes to her beau, Adam Butler. He adds particular strength to the family basketball team, as each generation seems to improve. Ellie practices law at GLEN STUART'S firm, Morgan Lewis, in the San Francisco office. "Frankie and I will celebrate our 35th anniversary after our UVA reunion of the same number. She has somehow evolved from scientist/regulator/ mediator at UVA and the Environmental Protection Agency to an even more talented and fun artist/parent/ hiking and tennis partner. 
"My retirement is from five years leading a company in redeveloping a coal export terminal project, adding needed infrastructure in an industrial port town called Longview, Wash. Economic development is sorely needed in Longview, just as the coal that would pass through it is needed in Japan and South Korea as they continue to upgrade and diversify their energy supplies." 
LONNIE D. "CHIP" NUNLEY III received the 2018 George Hettrick Leadership Award from the Greater Richmond Bar Foundation for his pro bono work. Nunley is a partner at Hunton Andrews and Kurth and he's served as pro bono partner for the firm's in service-Richmond efforts. Under Nunley's leadership, 100 percent of Hunton lawyers have contributed pro bono service annually for the last nine years. He helped create two pro bono programs: the Richmond Bar's housing clinic program and a hotline program. Both programs serve tens of thousands of low-income individuals. 
JOHN M. PARIS JR. of Williams Mullen in Virginia Beach was recognized in CoVa Biz magazine as a top lawyer in coastal Virginia for business law. 
1985
SAMS '85 ELECTED CHAIR OF PRINCETON UNIVERSITY BOARD OF TRUSTEES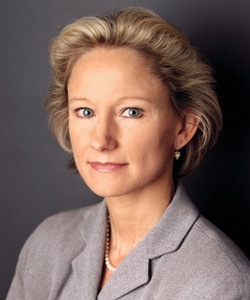 LOUISE "WEEZIE" SAMS '85, executive vice president and general counsel for Turner Broadcasting System, has been elected chair of the board of trustees of Princeton University, effective July 1. 
Sams, who served her first term as a charter trustee from 2004-14 and began her second term in 2015, was elected by her fellow board members at a meeting in November. 
"Weezie Sams is a proven leader who has served with distinction and wisdom on the board of trustees and in many other key roles within Princeton's alumni community," Princeton President Christopher L. Eisgruber said in a statement. "Her engagement with this university, and her dedication to its values, are unsurpassed." 
Sams practiced law for several years at White & Case in New York before joining Turner in 1993, where she has served in a number of leadership roles, including a stint as the president of Turner International. She oversees the company's legal matters worldwide, which include acquisitions and joint ventures; production and clearance of content for Turner's networks; protection of the company's intellectual property; and litigation and employment matters. Sams directs a staff of 110 lawyers located around the world. 
She graduated magna cum laude with a bachelor's from Princeton in 1979. 
—Mike Fox 
J. DAVID CARROLL of Sands Anderson in Richmond was named to Virginia Business magazine's 2018 Virginia Legal Elite in the area of corporate counsel. PAUL A. LOMBARDO, Bobby Lee Cook Professor of Law at Georgia State University College of Law, was a featured commentator in the Oct. 16 "American Experience" episode on PBS, "The Eugenics Crusade." 
His work on the history of eugenic sterilization and the 1927 Supreme Court case Buck v. Bell was also highlighted in "Finding Carrie Buck," a graphic article published online to accompany that program. Earlier this year, he was the featured interviewee on the NPR program and podcast Hidden Brain, "Emma, Carrie, Vivian: How a Family Became a Test Case for Forced Sterilizations." 
MELISSA H. WEAVER of Brooks Pierce in Greensboro, N.C., was recognized in Best Lawyers 2019 for employee benefits (ERISA) law. 
1986
EFFORT LED BY DOLAN '86 EXPANDS ACCESS TO AP COURSES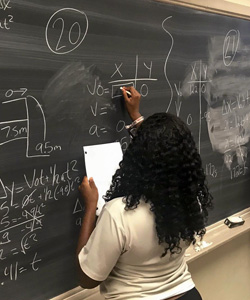 Founder and CEO MATT DOLAN '86 conceived the Global Teaching Project as a way to provide underserved students the same educational opportunities that he and his wife, MARYELLEN DOLAN '87, sought for their own children, including their daughter Nora, who graduated from the UVA College of Arts & Sciences and is now working with Teach For America. 
The Global Teaching Project provides promising high school students in rural, low-income communities access to the advanced courses their schools otherwise could not offer, due both to a lack of resources and a chronic and worsening shortage of qualified teachers. 
The first person Matt Dolan spoke with about the project was Law School classmate TODD WAGNER '86, a pioneering technology entrepreneur who has long been deeply involved in efforts to help disadvantaged students succeed academically. 
"Todd understood the enormity of the task, but he also recognized its importance," Dolan said. "He agreed to be part of our effort—without his input, we could never have gotten off the ground or remained in business." 
Mississippi fares worst in metrics of Advanced Placement exam participation and performance. The pilot program's inaugural course is AP Physics 1, a subject chosen at the urging of Mississippi school superintendents, who cited a particularly severe shortage of teachers in that subject. State education officials note that, in a typical year, the state colleges and universities may produce a single physics teacher for the state's 130,000 public high school students. 
To help implement the course, Dolan turned to UVA physics department Chair Bob Jones, whom Dolan knew from their days together as students on Grounds. Jones, in turn, helped recruit UVA undergraduate physics majors to serve as tutors. 
"We were confident that the UVA tutors would do a great job teaching physics," Dolan said. "What we did not anticipate is the value they would bring as role models. They have opened a new world to our students, who have learned not just the subject matter, but also what it takes to excel academically." 
In the 2017-18 academic year, the program successfully increased the number of Mississippi public high schools offering AP Physics 1 by 30 percent. 
Last May, students from participating Mississippi schools took the AP Physics 1 exam—a challenge that less than one-third of 1 percent of Mississippi public high school students took on. In each case, those students were the first ever at their schools to take that exam. 
—Jane Kelly 
PETER A. CARO, a partner at Casner & Edwards in Boston, was selected for inclusion in the 2018 Massachusetts Super Lawyers for his practice in real estate. 
GEORGE DOUMAR reports, "I have run 14 half-marathons in 2018, all with gimpy knees. All four of our children have graduated from college. I just had an ultrasound, and the doctor said my liver looks great!" SCOTT GERBER'S fourth legal thriller, "The Art of the Law," was published in October by Anaphora Literary Press. Fellow legal thriller author ADAM MITZNER '92 blurbed the book and Gerber was interviewed by an Ohio TV affiliate about the novel upon its release. This year Gerber is a visiting professor of political theory at Brown University.
IULIANO '86 NAMED PRESIDENT OF GETTYSBURG COLLEGE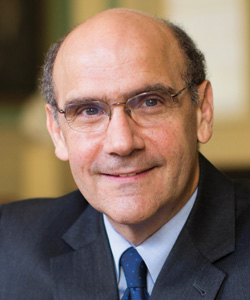 ROBERT W. IULIANO '86 will depart Harvard University to become the 15th president of Gettysburg College in Pennsylvania, starting in July. 
He most recently worked as senior vice president, general counsel and deputy to the president at Harvard, and as a lecturer at Harvard College and the Harvard Graduate School of Education. Gettysburg made the announcement in January. 
"I can't imagine anything more inspiring than joining the Gettysburg community and helping the faculty, students and staff 'do great work,'" Iuliano said in a statement. "My life has been devoted to and defined by higher education, and the opportunity to come to a campus where the faculty and students work so closely together on the shared endeavor of learning and advancing knowledge is enormously exciting." 
At Harvard, Iuliano oversaw the University Police Department, managed efforts to strengthen Title IX anti-discrimination regulations, and worked with other leaders to launch an online learning partnership with the Massachusetts Institute of Technology. He taught classes on education and the law, and contemporary issues in higher education. 
As general counsel, Iuliano led Harvard's response to the lawsuit challenging the college's consideration of race in admissions. He was also instrumental in restoring formal recognition of ROTC on campus after a decades-long absence, negotiating agreements with the armed forces after the repeal of the "Don't Ask, Don't Tell" sexuality policy in 2011. 
"As deputy to the president at Harvard, Bob has been involved in key decisions the university has made about strategy, policy and student life," said David Brennan, chairman of Gettysburg's board of trustees, in a statement. "This wide variety of experiences at such a remarkable institution, coupled with his passion for teaching and the liberal arts, translates into the type of leader we need at Gettysburg College." 
Iuliano previously worked in the labor and litigation departments of the Boston law firm Choate, Hall & Stewart and served as a federal prosecutor in the U.S. Attorney's Office in Boston before joining Harvard's Office of the General Counsel in 1994. 
He earned a bachelor's in government from Harvard College in 1983. 
—Mike Fox 
1987

 
THOMAS P. ANGELO is the chief executive officer, president and founder of Angelo & Banta in Fort Lauderdale, Fla. The firm represents developers, private equity firms and banks in loan transactions 
around the country. Angelo is also a real estate investor on multifamily and retail projects and has a consulting firm that actively manages several restaurants throughout the United States. His most recent venture is a partnership with Fabio Trabocchi from Washington, D.C., where they have opened Fiola Miami, located in Coral Gables, Fla. 

JAMES L. BANKS JR. is general counsel of the Society for Human Resource Management, an organization whose mission is to transform work. Prior to joining the society, Banks served as attorney for the city of Alexandria, Va., where he was general counsel for the city and advised and represented its mayor, City Council, city manager and city departments on a variety of legal matters. Previously, Banks was a partner at Seyfarth Shaw and McGuireWoods, where he focused on employment litigation. 
PETA General Counsel JEFFREY KERR took part in a 10-part documentary series titled, "PETA Reveals: Everybody's Got a Story." Kerr's episode features some of the landmark legal cases and legal work Kerr has done on behalf of PETA. 
BOB SAUNDERS of Brooks Pierce in Greensboro, N.C., was recognized in Best Lawyers 2019 for litigation and controversy (tax), nonprofit/ charities law and tax law. Saunders was also named Lawyer of the Year in Greensboro for litigation and tax controversy. 
RANDY TINSLEY of Brooks Pierce in Greensboro, N.C., was recognized in Best Lawyers 2019 for environmental law and litigation. 

Alumni in the Los Angeles and Orange County, California, region held the first "official" FEB CLUB social events—four of them throughout the month of February as a nod to the UVA Law tradition. Region managers LISA STEEN PROCTOR '89 and NANCY SCHWAPPACH '87 get credit for the idea and for volunteering on behalf of the Law School Foundation. 
1988

 
JOHN COOPER writes, "Our son, MATTHEW, is attending the Law School and is a member of the Class of 2021. He loved his first semester. Prof. Ken Abraham was his Torts teacher, 33 years after he taught me!" 
SUSAN B. READ has opened the Law Office of Susan B. Read in Staunton, Va., a general practice office, concentrating in family law. Read also provides mediation services. 
ERIC C. TAYLOR was elected assistant president judge of Los Angeles Superior Court for 2019-20.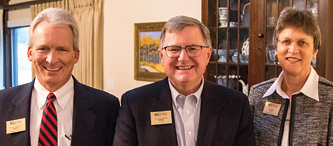 Friends and classmates, left to right, DAVID FLANIGAN '88, ALEXANDER "WHIT" WHITAKER '88, and NELL KING BIEGER '87 at a recent trustee event for King University in Bristol, Tenn., where Whitaker is president and Flanigan and Bieger serve as members of the board of trustees.
1989
CADISH '89 TAKES SEAT ON NEVADA SUPREME COURT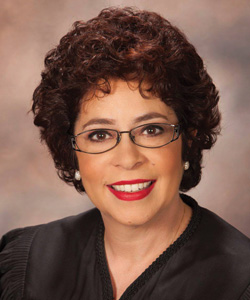 Justice ELISSA CADISH '89 of the Nevada Supreme Court helped make history when she took her seat in January, giving women a majority on the court for the first time. 
She won a nonpartisan, open election in November to Seat C after being the top vote-getter in a five-way primary in spring. Abbi Silver and Justice Lidia Stiglich also won, and the trio joined Justice Kristina Pickering, who wasn't up for re-election, to give the women four out of seven seats on the bench. 
Cadish, a self-described "law geek," said she considers retired U.S. Supreme Court Justice Sandra Day O'Connor a role model and hopes the court's new majority will inspire others. 
"It's important for everyone, regardless of their backgrounds and experiences, to have role models to look to and know that there are opportunities out there to do all kinds of different things," she told the Las Vegas Review-Journal. "And I think it will help when you see, wow, four women sitting up there with three men. It looks like a realistic possibility, and it's something to really work toward." 
She was appointed Clark County district judge by Gov. Jim Gibbons in 2007 after serving as a lawyer representative to the U.S. District Court. She previously worked at the Las Vegas law firm Hale Lane Peek Dennison and Howard, focusing on commercial litigation and employment law. 
Cadish was president of the Southern Nevada Association of Women Attorneys from 2004-06, and remains an active member. She was elected to the American Law Institute in 2016 and is a master in the Howard D. McKibben Inn of Court. She has been honored with numerous awards by the local legal community. 
After graduation from UVA Law, Cadish clerked for U.S. District Judge Philip M. Pro of the District of Nevada and was considered by President Barack Obama to replace Pro in 2012 ahead of his retirement. 
She graduated magna cum laude, earning a bachelor's with honors from the University of Pennsylvania in 1986. 
—Mike Fox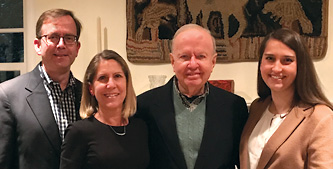 Three generations from the Law School enjoy Thanksgiving together in 2018: ABBY JOHNSON RAPHAEL '89; her husband STUART RAPHAEL '89; Abby's father, ALLAN JOHNSON '58; and their daughter, DANA RAPHAEL '20. Abby writes, "I graduated 31 years after my dad, and Dana will graduate 31 years after I did. Quite a family tradition!"