Send Us Your News
To submit a class note, email us or submit mail to UVA Lawyer, University of Virginia School of Law, 580 Massie Road, Charlottesville, VA 22903. Please send your submissions no later than Aug. 1 for inclusion in the next issue.
1948
ROBERT COLLIER NUSBAUM died on Oct. 31. Born in Norfolk, Va., he is survived by his wife of 31 years, LINDA S. LAIBSTAIN '76, and sons, Robert and William, and an extensive family and dear friends. Nusbaum's undergraduate education at Harvard was interrupted by World War II, when he was called to service first in the Army, and then in the Office of Strategic Services, serving in the European theater until the conclusion of the war.
Nusbaum's war service left him with a lifelong appreciation for and love of France. He returned numerous times, enjoying the country's culture and the opportunity to speak French. After a postwar term at Harvard, he enrolled at the Law School. He began his practice of law in Norfolk with ALAN J. HOFHEIMER '25, a relationship that endured for more than 40 years. Their firm grew to 30-plus attorneys, and in 2004, Hofheimer Nusbaum merged with the law firm Williams Mullen.
In Nusbaum's 65 years of practice, he was regularly named a super lawyer by Virginia Super Lawyers magazine and a member of the legal elite by Virginia Business magazine. He was a permanent member of the Judicial Conference of the U.S. Court of Appeals for the Fourth Circuit. He was a fellow of the American Bar Association, the Virginia Law Foundation, the American College of Trust & Estate Counsel, and the American College of Real Estate Lawyers. Nusbaum served as president of the Norfolk & Portsmouth Bar Association, and chaired the Virginia State Bar Committee on Women and Minorities in the Law, among numerous other leadership positions in the bar. In 2011, Nusbaum received the Eggleston-I'Anson Professionalism Award, the highest honor given by the Norfolk & Portsmouth Bar Association to a practicing attorney.
His civic and philanthropic activities include years of service on the board of directors and executive committee of Norfolk International Terminals, various boards of Sentara Health Systems and its predecessors, and the board of directors and as chairman of the Library of Virginia. He served as an officer and director of the Tidewater Chapter of the American Red Cross, the Norfolk Forum, the Virginia Symphony, the Maury Foundation and the Diabetes Institutes Foundation. He was particularly proud of his role in establishing the Foundation for the Howard and Georgeanna Jones Institute for Reproductive Medicine at the Eastern Virginia Medical School, including serving several years as chairman.
Always committed to building a forward-thinking community, in the late 1950s, Nusbaum publicly fought against Virginia's "Massive Resistance" to the integration of Norfolk public schools. In the 1960s, he organized The Aid Fund to provide scholarships to talented African-American students who were integrating Virginia's public colleges and graduate schools. In the 1970s and 1980s, he founded and led Virginians Organized for Informed Community Expression to support the then-controversial creation of the Jones Institute for Reproductive Medicine. In the 1990s and 2000s, he conceived and facilitated the founding of the Center for the Study of Religious Freedom at Virginia Wesleyan University. In recognition of his contributions to the establishment of the Center for Religious Freedom, Virginia Wesleyan University awarded Nusbaum an honorary doctor of laws degree in 2002.
Nusbaum was named First Citizen of Norfolk by the Cosmopolitan Club in 1996, an honor also bestowed upon his mother, Justine, in 1979. He received the second Barron F. Black Community Builder Award from the Norfolk Foundation in 2008, and in 2009 was named the Colgate W. Darden Jr. Scouter Citizen of the Year by the Tidewater Council of the Boy Scouts of America. In 2013, Nusbaum received the Humanitarian Award from the Virginia Center for Inclusive Communities, and in 2014, he was honored with the L.D. Britt, M.D., Community Service Award. In 2014, Nusbaum and his wife received the Chancellor's Award for Leadership and Philanthropy from Tidewater Community College for their years of support of TCC and higher education at the community college level.
In 2017, in recognition of his contributions to furthering higher education in the African-American community, and his having been the chief patron of Norfolk State University's Honors College since its inception in 1993, the university named it "The Robert C. Nusbaum Honors College," which will remain one of his enduring legacies.
WILLIAM "BILL" SAGER died at 99, in Arlington, Va., on Jan. 12. Sager was the beloved husband of Elizabeth and father of Rebecca, Phillip and Sandy. Of deep meaning to Sager's life, and therefore to his family's life, was his experience in the Marines in the South Pacific. He often said to them, "Those of us who survived 131 days (and nights) of combat at Guadalcanal have always maintained the 'heroes' of Guadalcanal were buried in the Marine cemetery by the Lunga Lagoon." His family called him "our Guadalcanal hero." Sager was raised by immigrant parents in Front Royal, Va. Upon graduating from the Randolph Macon Academy, he enlisted in the Marines and attended the University of Virginia. It was at the University, in French class, that he met Elizabeth Mopsik of Charlottesville, who would become his devoted wife of 76 years. They were married in 1942, three weeks before he was sent overseas in the first amphibious landing and defense of Guadalcanal. According to Sager's daughter, "My dad's Law School roommate and best friend for life, HERMAN ABADY '46, of Richmond, Va., covered for my dad in the Marines on May 24, so that my dad could marry my mom in Charlottesville."
Sager and Abady landed together on Guadalcanal on Aug. 7, 1942, and fought side by side for months. The book, "Battle at the Overland Trail, One Night of Combat on Guadalcanal," written by Abady's son, Jason, depicts one of the battles that Abady and Sager fought together as young Marines and comrades.
In 1944, Sager volunteered for duty with the U.S. Navy Group, China, also known as the Sino- American Cooperative Organization. He was among five Marine officers, all with South Pacific combat infantry experience, selected. The Marines trained and equipped three battalions of Chinese guerrillas who operated behind Japanese lines in a secret mission assigned by Adm. Milton Miles.
After the war, he received his J.D. and his M.A. in economics and accounting. From 1959 to 1982 he served in the federal government working for the Internal Revenue Service, the U.S. Treasury and the Department of Justice. From 1982-1995 he served as the attorney for the Society of Public Accountants. With regard to his philosophy of life, Sager liked to paraphrase the late Adm. Arleigh Burke: "I have lived a good life. I wasn't killed in the war. I married the woman I loved. We've had a beautiful life together. I never had a job I didn't like. I am satisfied with my life and achievements, both military and civilian."
1953
IN MEMORIAM: DOUGLAS D. DRYSDALE '53 TAX FIRM CO-FOUNDER AND PHILANTHROPIST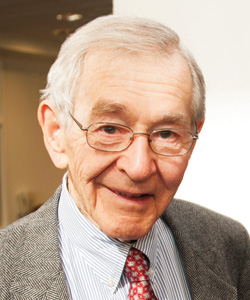 DOUGLAS D. DRYSDALE '53, a founding member of Caplin & Drysdale and a former UVA Law lecturer, died Nov. 27 in Charlottesville. He was 94.
Drysdale co-founded Caplin & Drysdale with former IRS Commissioner and UVA Law professor MORTIMER M. CAPLIN '40 in 1964. Today, the firm offers legal services in 13 tax practice areas and employs more than 60 attorneys in New York and Washington, D.C. Drysdale retired from the firm in 2013.
At UVA Law, Drysdale taught tax law from 1960-1981 and later served on the executive committee for the Law School's 2004-12 capital campaign. He was a life member of the Law School's Dean's Council.
As counsel to DAVID A. HARRISON III '41, Drysdale was also the architect behind the David and Mary Harrison Distinguished Professorships, announced in 2002 as a $34.8 million gift through Harrison's endowed estate.
"Doug Drysdale was a gem," said former Dean JOHN C. JEFFRIES JR. '73, senior vice president of advancement at UVA. "I never knew a more effective lawyer or a finer gentleman. The Law School benefited from Doug's personal generosity and also from his advice and guidance to David Harrison."
As a member of the University of Lynchburg board of trustees in 2013, Drysdale and his wife, Elaine Hadden, pledged $3 million toward the expansion and renovation of the university's student center. The Douglas and Elaine Hadden Drysdale Student Center was named in their honor.
Professor Michael Doran was an associate and junior partner at Caplin & Drysdale before going into teaching, and considers Drysdale a mentor and model lawyer.
"He had technical mastery of every corner of the tax law, and he was highly skilled as both an advocate and a counselor," Doran said.
Doran said Drysdale's colleagues remember his patience and kindness, especially with young lawyers. He recalled one time when he wanted to talk to Drysdale about a development but was met with a closed office door.
"His secretary tried to warn me off, telling me that she had strict orders not to disturb him; I knocked on the door anyway," Doran recalled. "It was late in the day on April 15, and there was Doug filling out his own tax returns with a No. 2 pencil. He looked up, smiled and said in his Central Virginia accent, 'Michael, I trust you're here to help.'"
Drysdale earned his LL.B. from the Law School in 1953 and was inducted into Phi Beta Kappa and the Order of the Coif. He earned a B.A. from UVA in 1944.
—Mike Fox
STAN HARRIS, after leaving the Washington law firm Hogan & Hartson, had four presidential appointments, serving sequentially on the Superior Court of the District of Columbia, the District of Columbia Court of Appeals, as the U.S. attorney for the District of Columbia and on the U.S. District Court for the District of Columbia. The bar association gave him a special award for a distinguished career.
1954
IN MEMORIAM: DANIEL ROSENBLOOM '54, LAW SCHOOL FOUNDATION HONORARY TRUSTEE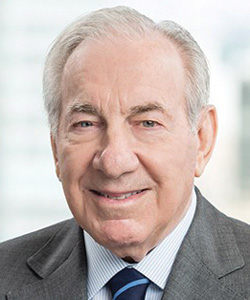 DANIEL ROSENBLOOM '54, a banking executive and former Law School Foundation trustee, died Nov. 29. He was 88.
He was a member of the foundation's board of trustees for 12 years. Rosenbloom served on the foundation's Investment Committee from 1994-2002 and as its chairman from 1999-2002. He played a significant role on the board's Budget and Finance Committee for two years starting in 2003, before he became an honorary trustee.
He also established the Law School's Rosenbloom Award, given annually to honor students with strong academic records who have significantly enhanced the academic experience of other law students by volunteering support and assistance.
"Dan was in the vanguard of alumni leaders who loved the Law School and supported its ambitions when few outside the academy had reason to see the changing landscape in legal education," said Law School Foundation President and CEO LUIS ALVAREZ JR. '88. "Dan was loyal, gracious and altruistic. He belonged to a generation of the Law School's finest friends."
Rosenbloom had served as general counsel, portfolio manager, chief administrative officer, investment banking/ corporate finance director and a member of the Management Committee at First Manhattan Co., a New York-based investment management firm he joined in 1968. He also served as a member of the Specialty Firms Advisory Committee and New York Area Firms Advisory Committee of the New York Stock Exchange, and as a member of the Advisory Group of HINC Asset Management AB of Sweden.
Rosenbloom earned his B.A. from Virginia in 1951, his LL.B. from the Law School in 1954 and his LL.M. from the New York University School of Law in 1960.
—Mike Fox
1957
LAWRENCE M. PHILIPS died Feb. 7. He is survived by his beloved wife of 61 years, Dorothy Miller Philips, and sons, James and Robert. A Bronx native, Philips graduated from City College of New York before attending the Law School. He served in the U.S. Air Force. He is remembered for his generous smile, expansive sense of humor and love for New York City.
Philips started his career handling matters for clients including Broadway great Alan J. Lerner. Later, he moved into private practice as a 1960s avant-garde lawyer who represented chart-topping pop musicians such as Spanky & Our Gang, Oliver and Melissa Manchester. His clients also included the legendary Nina Simone, Oscar-winning Alan Menken, Universe City, The Putnam County Pickers, The Yates and early rap pioneers The Last Poets.
Later in his career, he changed focus to represent sculptors and painters such as Claes Oldenburg, Gianfranco Ferroni and Arturo Di Modica, the artist who created the famous Charging Bull on Wall Street. Studying under Philip Pavia and Chaim Gross, Philips then became an artist, producing several hundred original works in marble and bronze, and on canvas.
He had several solo gallery shows and participated in multiple joint exhibitions. One of his sculptures, "Down the Nile," is displayed at the Law School.
1959
ROBERT BOHANNON is a member of the Lakewood Volunteer Dance and Tap Club. The club performs at nursing homes, memory centers and assisted living centers two or three times a month. Bohannon says his audiences enjoy when he impersonates Elvis.
1960
TALMAGE NEWMAN COOLEY died Aug. 24. Talmage, known to friends as "T," was born in Harrisonburg, Va. Cooley was a direct descendent of Robert Newman, who in 1609 arrived at the English colony in Jamestown, Va.
Cooley first attended UVA as an undergraduate and was accepted to the U.S. Naval Officer Candidate School in Newport, R.I., and during the Korean conflict was stationed at the Port Lyautey naval base on the coast of Morocco. Later, while at the Pentagon, he became engaged to Martha Winder Goldsborough, 1933-2013, and they relocated to Charlottesville, where Cooley attended the Law School.
The couple moved to Waynesboro after graduation, and he practiced with Edmunds, Freed and Cooley. Later, he was a partner with Cooley, Poindexter, Burns and Marks, also in Waynesboro. In 1984, Talmage was appointed district court judge for both Augusta County and the city of Staunton, serving until his retirement in 2001.
Beginning in the 1990s, the couple started taking painting classes at the Beverly Street Studio School. They participated in gallery shows and annual group trips to Europe to paint with fellow students and friends. Cooley, his family reports, possessed a spirit full of warmth and mirth, held a great sense of civic duty and was a loyal and caring friend. Cooley is survived by his three children, Talmage, John and Heath.
1961
ROBERT L. MONTAGUE III has been serving on the board of Frontier Nursing University in Hyden, Ky., and is now a trustee. He is also current president of the Middlesex County Museum and Historical Society.
1962
On July 9, Vermont lost one of its beloved sons, a defender of the state's material culture and historical record, as well as a generous benefactor who routinely gifted Vermont institutions with the treasures he collected. J. BROOKS BUXTON was a seventh-generation Vermonter who grew up in the old millhouse at Chittenden Mills on the Browns River in the village of Jericho.
An avid skier, Buxton was a member of the University of Vermont Alpine Ski Team. He then attended the Law School before embarking on his career, first in New York and then overseas. For more than four decades, he lived in Beirut, London, Riyadh, Tripoli, Tunis and Dubai while working in finance, and then in the international oil and gas industry.
Buxton became deeply engaged in the history of each place in which he made his home and was fascinated by the art and artifacts that reflected their culture. With his extensive knowledge of history and multifaceted interest in the arts, he began collecting fine and decorative arts, as well as early 19th-century photographs of the regions in which he lived and traveled.
In addition to Buxton's extensive Middle East acquisitions, when living in London he built a distinguished collection of modern British art. But that was not his sole extracurricular pursuit in the United Kingdom. After a rare nontraumatic spinal cord injury in the 1990s left his lower body paralyzed, Buxton grew aware of the challenges of public access and became an advocate for accessibility, lobbying Parliament and contributing to spinal cord injury research during his time in London.
When he retired as president of Conoco Arabia Inc. and director of Conoco Middle East Ltd. in 2003, Buxton returned to his beloved Jericho in a beautiful home designed by his niece, Lori Buxton Myrick, with vistas of the Winooski River and the hills beyond. Since his return to Vermont, he focused assiduously on assembling an extensive collection of paintings depicting the agricultural and built landscape of Vermont from the 18th to 20th century, as well as select pieces by contemporary Vermont artists. It is an invaluable record of the Vermont landscape and considered to be the most extensive artistic representation of Vermont's pastoral heritage in existence. In 2015, Buxton bequeathed the collection to the University of Vermont's Fleming Museum of Art.
Buxton was an active member of many boards during the last 15 years, including the Vermont Historical Society, Shelburne Museum, the Friends of the Statehouse and the Jericho Historical Society, and he was chair of the Fleming Museum's board of advisors. He also was an advisor of the University of Vermont College of Engineering; the Middle East Center for Arabic Studies in Oxford, England; and the H.R.H. Prince Salman Center for Disability Research in Riyadh, Saudi Arabia, among others.
In May, Buxton was awarded a doctor of humane letters from his alma mater, the University of Vermont, during its 217th commencement ceremony, in which he was honored as "exemplifying the engagement with and dedication to learning that the University of Vermont endeavors to instill in all its students."

JAMES A. WADE of Robinson + Cole in Hartford, Conn., received Local Litigation Star recognition from the inaugural edition of Benchmark Labor & Employment.
1963
MICHAEL ALAN BANDER, a 45-year Miami resident, U.S. Army veteran and one of the deans of the immigration bar, died suddenly at his summer home in Spruce Head, Maine, on Sept. 16, at age 79.
Bander was recognized in publications such as Best Lawyers in America and through his membership in IMMLAW, the consortium of outstanding U.S. immigration lawyers providing services in U.S. port cities, which he helped organize. Most importantly, he was a devoted husband to JoAnne Bander for almost 49 years, loving father to Stephen and DEBORAH '05, and active member of the community.
Born in Haverhill, Mass., and raised in Chevy Chase, Md., he attended UVA for college and for law school. He was a committed UVA and Washington Redskins fan. Following law school, he served in the U.S. Army Medical Service Corps in Vicenza, Italy, rising to the rank of captain. He returned to Washington and joined the U.S. Department of Justice, where a legal case took him to Paraguay. He and JoAnne later spent two-and-a-half years there with the Agency for International Development. With his mastery of Spanish and knowledge of Latin America, a relocation to Miami, with its diverse cultural landscape, was a logical next step. Bander served as president of the local chapter of the American Immigration Bar Association, National Board of the Immigration Bar; president of the American Jewish Committee, South Florida Chapter; board member of the Florida Bar Foundation; board member of the Prologue Society; member of the Coral Gables Pension Board; member of the Governor's Commission on Affordable Housing; and board member of Gables Cinema.
Bander dedicated his career to helping thousands of people from around the world attain U.S. residency and citizenship and contribute to the growth of Miami. A Robert Indiana print of the Statue of Liberty, with a tear on her cheek, hung over his desk. He helped organize and finance a successful effort in the mid-1990s to oppose Proposition 187, an anti-immigrant referendum effort in Florida.
He was a founding member of the Miami Book Fair and founding subscriber of New World Symphony and could be found in the front rows of Chapman at the Book Fair; at some 15 New World concerts seasonally; and chatting with his Doctors Hospital exercise group at the Coral Gables Farmers Market. He was an avid reader of history.

Former U.S. Sen CHRISTOPHER "KIT" BOND writes that he still enjoys practicing law, running a small business development company and selling renewable energy tax credits and other direct placement securities. "It's better than being in the circus that has become the U.S. Senate." Bond was recognized as a St. Louis Lawyer of the Year by Best Lawyers. Bond focuses his practices on government relations at Thompson Coburn.
1964
MARC PEVERS completed the inaugural world cruise on the Viking Sun last winter.
1965
At the end of 2018, SANDY SIERCK completed 20 years as an adjunct professor at Georgetown's law school, co-teaching the course International White Collar Crime.
1966
Judy Simmons writes that her husband, MARTIN SIMMONS, died. "Martin practiced law for 50+ years …. He was so proud to have graduated from UVA Law School. I enjoyed chairing the Law Wives and teaching at Meriwether Lewis grade school." Together the couple developed 600 Brandon Ave., a complex near UVA Grounds with more than 40 condos, where many students lived.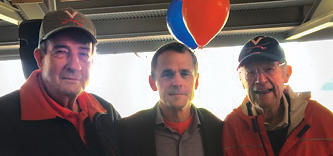 RON TYDINGS '66, UVA President JIM RYAN '92 and DOUG MACKALL '58 attended the Belk Bowl on Dec. 29.
1968
JAYSON AMSTER published his first volume of poetry, "Haikuish Cats & Other Critters," illustrated by Vici Taus. Amster reports he's been writing poetry since college but hasn't shared it until now. He plans to publish another volume this summer and said writing "helps with my sanity while practicing." With fun illustrations, the book is intended for an adult audience but accessible to youngsters as well.
1969
IN MEMORIAM: DONALD MACKAY LL.M. '69, SCOTTISH HIGH COURT JUDGE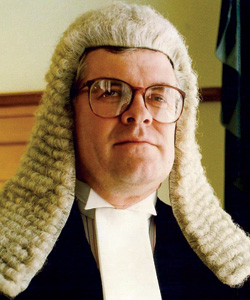 Lord DONALD MACKAY LL.M. '69, a former British judge of the Supreme Courts of Scotland and lord advocate, died Aug. 21 in Edinburgh, Scotland. He was 72.
Mackay was appointed a judge of the Court of Session and High Court of Justiciary, Scotland's highest courts, in 2000. He also served as a senator of the College of Justice, a set of legal institutions involved in the administration of justice in Scotland. He was one of five additional Lords of Appeal in the House of Lords, where he sat as a crossbencher.
He retired from the House of Lords in 2017.
"My first encounter with Donald was also my first ever week in practice," Mackay's colleague Lord Iain Bonomy told The Scotsman. "I was junior counsel to him in a High Court sitting. From then on I was struck by the importance to him of 'doing right' by those he represented and judged. He encouraged and supported my involvement in a wide range of international judicial activities. Many others benefited from Donald's interest in improving and maintaining standards in the wider legal profession."
In 1995, Mackay was named solicitor general for Scotland and then lord advocate, the chief legal officer of the Scottish government and the Crown in Scotland. He also became he became known as Lord Mackay of Drumadoon.
He previously served on the board of the Criminal Injuries Compensation Authority and was a prosecutor at the High Court and temporary sheriff. While practicing at Allan McDougall & Company SSC in the 1970s, Mackay became a member of the Society of Solicitors in the Supreme Courts of Scotland and was admitted to the Faculty of Advocates.
He earned an LL.B. and LL.M. from the University of Edinburgh.
—Mike Fox 
JOHN P. PARTIN has retired after 44 years of practice, though he still mediates cases. In 2017, he was honored by the Army Judge Advocate General's Legal Center and School to give the 11th annual George S. Prugh Lecture in Legal History. He spoke about his experience as an assistant prosecutor in U.S. vs. William Calley.
GORDON SCHRECK retired from active practice in January of 2018 and was appointed distinguished adjunct professor at Charleston School of Law in August.