In Memoriam: Leigh Middleditch '57, Sorensen Institute Founder Who Worked To End Gerrymandering in Virginia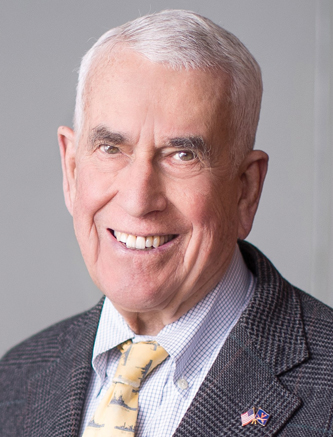 Leigh Middleditch Jr. '57 (COL '51), who worked behind the scenes to end partisan divides in Virginia, including in gerrymandering, while also improving his alma mater and the Charlottesville community, died Oct. 4 at 92.
He is perhaps best known for co-founding the Sorensen Institute for Political Leadership at UVA, which trains leaders in the art of political negotiation and nonpartisan cooperation, and for helping to end the state's decades-old partisan redistricting process by launching a successful constitutional amendment campaign.
"If anyone was the father or parent of nonpartisan redistricting in Virginia, it was Leigh," said Charles "Skip" Fox '80, a retired partner at McGuireWoods who worked with Middleditch for decades.
Middleditch's resume of social contributions was robust. In fact, according to his friends, they were so numerous as to make them nearly impossible to quantify and order. He was a serial founder and member of boards and charitable projects, including having served on the UVA Board of Visitors from 1990-94 as an appointee of Gov. Douglas Wilder. His civic commitments, most often focused on governance, filled almost every moment outside of his work in tax law.
Middleditch eschewed the spotlight, so he refused to assert ownership over his many claims to fame.
"He would not want credit for any of it," said Bob Gibson, a former executive director of the Sorensen Institute who recently retired from UVA as communications director of the Weldon Cooper Center for Public Service.
Recognizing growing national and state political divides, Middleditch co-founded the institute in 1993 as the Virginia Institute of Political Leadership, in collaboration with Charlottesville-based investor and environmentalist Michael Bills. The goal was fairly straightforward, Gibson said: "Bring Republicans and Democrats together."
Among the more than 2,000 graduates of the institute's various programs, alumni include Gov. Ralph Northam and dozens of members of the Virginia General Assembly, including 27 current members, and hundreds of other leaders, who serve in local government or other roles.
In the interest of political comity, one of Middleditch's many initiatives was OneVirginia2021: Virginians for Fair Redistricting. The group set out to overhaul gerrymandering in the state — a redrawing of voting districts that typically happens after a party has gained power, all done behind the scenes. Critics viewed the historical process as a way of artificially manipulating future elections, distorting how pockets of the state actually voted. OneVirginia2021ís efforts led to the successful state referendum in 2020 that established an advisory commission and new redistricting rules.
"He was the prime motivator behind the effort, which sponsored the longshot amendment," Gibson said. "It passed with overwhelming public support and approval."
Though the effort was not a total victory, Gibson said, because partisan appointment still plays a role in the new scheme, "It ends gerrymandering by one party through backroom dealing and introduces transparency into the process."
Middleditch was born Sept. 30, 1929, in Detroit. He completed his bachelor's from UVA, where he was a member of Omicron Delta Kappa, before embarking on military service. He returned to the Law School through the ROTC program, and after graduation became an associate of James H. Michael Jr. '42 from 1957-59, then a partner at Battle, Neal, Harris, Minor & Williams from 1959-68. He joined McGuire, Woods, Battle & Boothe (now McGuireWoods) in 1972, only retiring from the firm in 2018.
Throughout his professional career, he was also devoted to helping UVA.
Middleditch served as the University's legal adviser and special counsel from 1968-72, during the shift to coeducation in undergraduate study. In addition to later serving on the Board of Visitors, he served as president of the Law School Alumni Association from 1979-81; served on the UVA Alumni Board of Managers from 1994-2001, including as president from 2000-01; chaired the UVA Health Services Foundation (now UVA Physicians Group) from 1988-97; chaired the Virginia Health Care Foundation from 1997-98; was foundation president of the Miller Center for the Study of the President; and helped start the Osher Lifelong Learning Institute at UVA in 2001.
Other major volunteering included directing the U.S. Chamber of Commerce and service on the boards of the American Bar Association, Virginia State Bar, Virginia Health Care Foundation, Virginia's Secure Commonwealth Panel and the Virginia Council on Economic Education. He was president of the Charlottesville-Albemarle Bar Association from 1979-80.
He was a former trustee for the Thomas Jefferson Foundation, which runs Monticello, and James Madison's Montpelier.
Co-author of the first edition of "Virginia Civil Procedure" with professor emeritus Kent Sinclair, Middleditch taught as a lecturer at UVA's graduate School of Business from 1958-1990, and at the Law School for two decades starting in 1970.
Although he reluctantly accepted a few awards over the course of his life, including the Sorensen Institute's Founder's Award in 2019, Middleditch found the work itself to be his reward, according to friends. Friends said he instilled in his fellow lawyers that pro bono and public service were to be considered not just the occasional good deed, but a way of life.
In bringing others along, then standing behind them, "He did a lot that a lot of other people got credit for," Fox said. The key to his lasting successes was his persistence. "If he wanted something, he was going to keep after you."
Middleditch is survived by his wife, Betty Lou, and three children, among other family members.
—Eric Williamson
1958
by Larry Grim, Class Secretary
@email
Jim Atkin writes: "Now in my 90s, I found out that after a thorough background investigation, I have been accepted by the Santa Rosa Police Department as a member of their volunteer group. I find that when one is willing to stand up and help support the local community, there's still room for us guys. I have always liked to participate where I live, this is something I learned in my days at Clark Hall. Thank you for asking." Terrific, Jim! Really great to know. Your secretary's lady, Kathy O'Dea, 81, and several of her pals put in hours of volunteer community work, so she's impressed: "Such a good use of a lawyer's talent!" she says.

Len Cooper died Dec. 18 at age 93, not waking after a stroke. He was high school senior class president and letterman in track and football, Rutgers University Student Council vice president and captain of the mile relay team. After Officer Candidate School, he served two years as line officer on a destroyer/mine sweeper in the Korean War before law school. After graduation, he joined a D.C. firm and did antitrust litigation for municipalities at the highest levels. He chaired the Pro Bono Committee of the D.C. Bar Association and was awarded attorney of the year for his pro bono work. Your secretary tried to email his excellent full obituary to everyone in the class, but if you did not get one or would like one, email me. His favorite hobby was horseback riding. Here's what his lovely wife, Vickie, tells about how she married him:
"I'm a West Coast girl from The Dalles, Ore. After I graduated from college (Portland State University, BS Econ), I went to work for a real estate startup company in Portland. It was fun but I wanted to see more of the country. I saw an ad for a management internship with the U.S. Department of Commerce in Washington, D.C., and applied. Surprisingly, I got the job! I went to D.C. and after a year at the department, I moved to the National Oceanic and Atmospheric Administration.
"I had always been a horse lover and soon after arriving at NOAA I met a woman who was taking horseback riding lessons at the Potomac Horse Center. I decided to give it a try and that's where I met Len, who was also taking riding lessons there. We struck up a conversation and soon were meeting up after our lessons and having these long conversations. This went on for weeks and I had just about given up hope of anything romantic developing when he finally asked me out. We had a wonderful time on our first date, but I had a business trip to Colorado scheduled for the next week, so he decided to come and watch my riding lesson and then take me to the airport to catch my plane.
"Now I was in a beginning jumping class (you could trip over the jumps), but we hadn't even started to jump. We were just warming up. I was riding an older school horse and when I asked for the canter, she slipped on the new dirt flooring of the arena and fell. Instead of being thrown clear, I went down with her. As she scrambled to get up, she stepped on my leg and kicked me on the temple. I fell face down into the new dirt floor and was covered from head to toe. Len rushed to my side and helped me up, but I was mortified, and I was sure that this was the end of our relationship.
"Len tried to talk me out of going on my business trip, but I didn't want to let my team down and I insisted on going. On the four-hour plane ride, I began to have second thoughts. My leg stiffened up and I developed a pronounced limp. My temple turned purple, and I got a big black eye. When I arrived in Denver and limped off the plane, my team met me with choruses of 'What happened to you?' On the 25-minute car ride to Boulder (our destination), I got very depressed. I had given Len a copy of my itinerary and when I checked into our hotel and went to my room, there on the table was a big bouquet of yellow roses! I decided right then that this was the man for me, and I have loved him ever since and always will."
Bob Dorsey says no COVID but "broke and had surgery for my right femur — my two Las Vegas-based sons have been taking care of me. It is great at this time of my life to really get to know them. My life here is quiet, the glamour of Las Vegas wore off a long time ago. I still drive and can do the things I want, attend meetings and go to church. It is hard for me to imagine what Charlottesville is like today. Ben Phipps and I shared a rooming house for a while."
Bill Edwards and Walter Jerald Ford shared tales of Fort Monroe as ROTC lieutenants. Bill didn't know Jerry's first name was Walter, but recalls vividly the number of higher-ranking officers, as he was secretary/treasurer of [Bachelor Officer Quarters], "which was in fact a transient officers luxury hotel where all the visiting officers stayed and where we lieutenants lived. I always wondered how we lieutenants ended up with the best living conditions. I was a post special services officer and as such had the additional burdens of running the movie theater, fishing boats, duck blinds, skeet range and other play toys. And I was also assigned to coach the traveling sports teams which included basketball, bowling, softball, and swimming and diving... (I had mostly college guys who had just returned from the Olympics.)"
Always dependable: Bill Griesar and his wife, Jane, spent from late May to early September as usual in "Chamberlain, Maine, where we were visited by several of our children and grandchildren — the coast there being a natural magnet for young and old alike. And, of course, we ate lobster often and, for those who don't know the area, some of the best-tasting oysters in the world harvested from the Damariscotta River."
Joe Hilton reports: "Yesterday I met with my old friend [real estate developer] Larry Silverstein who rebuilt the World Trade Center. I am 87 and Larry is a few years older. Both of us are of sound minds and still doing real estate deals. Yes, our hearing and sight are not perfect but we're still having fun; each married for 50 years. Poor girls!! That's all."
Doug Mackall invites: "All members of the class of '58 are welcome to have a drink with me and on me at Farmington when in Charlottesville. The All-American football player at the University during our time, Jim Bakhtiar, known as 'The Persian Prince,' just died." Born in Tehran, Iran; Bakhtiar died a day after his 88th birthday on Jan. 8.
(Secretary's Note: Robert Kent Gooch — UVA quarterback hero, Rhodes Scholar, awardee of the Croix de Guerre and political science professor to many of us in the College — championed amateurism in athletics and had UVA drop athletic scholarships so UVA's football teams lost something like 27 straight games in the 1950s, the only bright spot being Jamshid Abol Hassen Bakhtiar's reign on and off the field. He went on to play Canadian professional football then returned to UVA Medical School, where he played rugby. Your secretary served in the military with First Troop Philadelphia City Cavalry and on its rugby team, playing at about age 30 against Bakhtiar on the field near the gym. In a scrum, my neck was severely twisted. Fellow Phi Gam Dr. Jim Hunter took me to the ER for X-rays with one of the skull to show me: no brain.)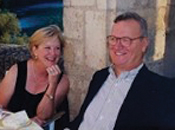 Hobart McWhorter died Jan. 6 after a brief illness complicated by COVID. Hobart was an Eagle Scout, awardee of the Rushton Cup — the highest honor at Birmingham University School — a graduate of Phillips Exeter Academy and of Yale University in 1953, where he was on the swim team. He served as a lieutenant and battery commander for artillery forces in Hokkaido, Japan, during World War II. Then he graduated from UVA Law and joined the Birmingham firm of Bradley Arant Rose & White, where he was a fearless trial lawyer. Your secretary tried to email his excellent full obituary to all in our class; if you did not receive one or would like one, email me a request. Here is what his wonderful wife of 25 years says:
"When I was very young, I first met Hobart and his former wife when my former husband and I came up from Mobile to a party my great-aunt gave in Birmingham. Since Hobart and his wife were 10 years older, I debated whether to say "yes ma'am" and "yes sir" to them!! Later I would see them when we would come up to Birmingham to these very fancy tennis tournaments at the Mountain Brook Country Club. Years later, having been single for years, out of the clear blue, I received a letter from Hobart. It took me days to decipher his handwriting because he wrote like someone who signed the Declaration of Independence!
My dearest Ellen,
I am writing to invite you to be my date for the weekend and tennis partner for the regional meeting of the American College of Trial Lawyers which is October?? 1987 at 6 p.m. at the Grand Hotel in Point Clear, Alabama. I sincerely hope you will be able to join me. I anxiously await your response.
Your devoted servant,
Hobart A McWhorter Jr., Esq.
"How in the world could I ever respond in like-manner to that adorable letter? I started trying to call him on the telephone. He did not have an answering machine!!! (Nor a color TV!!) After about two weeks, I finally reached him at midnight (unbeknownst to me, he was slightly filled up with spirits) and he thought I had accepted his invitation for the whole weekend. But no, he talked me into coming to the cocktail party Thursday night, but I already had plans for the weekend. He heard "yes" to the cocktail party, but did not understand that I couldn't stay, so he was "surprised" and not happy when I said I had to leave that evening. Even though we had a great time that night, I didn't hear a word from him afterwards.
"The next summer, a mutual friend said to me, "You need to go out with Hobart McWhorter." I replied, "Been there, done that, didn't take, forget it." She said, "Nope! We're going to have a rerun on that! You two were made for each other." She and her husband hosted us and this time the date "took!!" That weekend was the beginning of us. I have loved that man since Dec. 2, 1988, until the day he died on Jan. 6, and I will continue to love him forever! He roared like a lion but had the heart of a puppy. That's my man!!!!"
—Ellen L. McWhorter, January 2022
Tom Otis says "Mina and I are keeping a low profile at Round Hill, in hope of ducking COVID-19: Delta, Omicron and other variants thereof. Golf will resume in April and I am looking forward to tennis and pickleball with elderly friends this summer. Our daughter, Elise, put on an extravagant 90th birthday party for my family and friends in September here at Round Hill. Mina's brothers from Oregon and Connecticut attended and Mina had a great reunion with them." He closed with his customary courteous invitation to Kathy and me to visit. I'd like to see my Farmington suitemate and his bride again!

Class newlyweds Ben Phipps and bride "JJ" planned and executed a splendid mini-class reunion at the Vinoy Renaissance St. Petersburg Resort & Golf Club, Oct. 31-Nov. 3. Hobart and Ellen McWhorter, after an East Coast visit to Ted and Connie Torrance, joined JJ, Ben, Doug Mackall, and my lady, Kathy O'Dea, and me for great reminiscing, fine dining and touring. JJ, of Swedish and American Indian descent, a lawyer expert in many fields, especially American Indian treaties, was a delight to meet. Here, see the love birds in matching caps with their initials "B J" It was a poignant last time with Hobart, now departed, who reported the Torrances were most gracious and fun to visit. Doug drove down and back from C'ville all by himself but brought tons of his Virginia gentleman charm and kindness, doing special treats for each of us.
News of the passing of Judge Leonard Bertram "Bert" Sachs was delivered by his granddaughter, Shira Furman '14. Shira writes, "Dean Mahoney was kind enough to allow my grandfather to be hooded with me at my 2014 graduation ceremony, as he missed his own graduation. He was such a proud graduate of UVA and cherished his time there." Bert Sachs, 92, passed away peacefully on Friday, Jan. 7. He was a beloved husband, father, grandfather, great-grandfather, uncle and friend. He is predeceased by his wife, Sarita R. Sachs, and survived by his three loving children and seven grandchildren. He was blessed with one great-granddaughter, as well as many loving nephews, nieces, cousins, and many dear friends and colleagues.
Bert was born in DeLand, Fla., to the late Benjamin Sachs and Sara Weiss Sachs. He was raised in Lexington, Va., as his family moved there when he was less than a year old, where he attended the Lexington Public School System. He attended the University of Virginia but resigned from his studies in December 1950 to enlist in the U.S. Air Force, where he served for four years, including one year in Korea. In 1955, he returned to UVA to attend law school. Upon finishing his studies in January 1959, Bert served as law clerk to the Honorable Judge Walter Hoffman, the U.S. District Judge in Norfolk, Va., during the implementation of the U.S. Supreme Court mandate to end racial segregation in the local school system. He then went into private practice until 1980, during which time he represented clients in various types of litigation, including civil and voting rights cases. He was elected judge of the General District Court of the City of Norfolk in 1980, and in 1985 he was appointed to the Circuit Court of the City of Norfolk until he retired in June 1994. He was known as "the peoples' judge" and he prided himself on upholding the integrity of the law while treating all people fairly. He lived proudly by the mantra "Justice, Justice You Shall Pursue."
More than anything, he loved spending time with his beloved wife, Sarita, their children and their families, whether they were visiting in Norfolk or Florida, or traveling to see them. Bert had many passions, including traveling, art, history, photography, birds, music and reading. He was a longtime congregant of Temple Israel in Norfolk, and he was very involved in the Anti-Defamation League as well as many other organizations. He lived his final years at Beth Sholom Terrace in Virginia Beach, Va., where he was lovingly cared for by all. May his memory be a blessing to all who loved him.
Karl Velde: "So far so good on COVID for Sandra and me... . On the happy news front, I celebrated my 90th birthday with five birthday cakes over the period of late-July until mid-October (actual birthday August 9), climaxing with a dinner at the Harvard Club in Boston (remember I went to Princeton), but it was a convenient location to have my children and grandchildren present for a great picture on the staircase."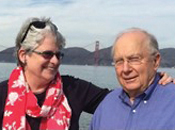 Henry Williams died Nov. 29, age 91, in Scottsville, N.Y. He is survived by his wife, Barbara, six daughters, 14 grandchildren and two great-grandchildren. He had a distinguished career practicing "village law," as "Williams Law Offices," active in local government as majority leader of the Monroe County Legislature, occasionally as judge in small claims court. A í52 Dartmouth College graduate, he was a U.S. Navy navigator and executive officer, 1952-55. At UVA Law, he was Order of the Coif, Raven Society, ODK, on Virginia Law Review and sang in the Libel Show. He began sailing at age 10 and never stopped — racing in Newport to Bermuda classics. A 50-year member of Great Lakes Cruising Club, he earned their Admiral Byfield Award for sailing each of the Great Lakes. Last summer, he raced his Niagara 35, "Walter Mitty," and was called "Bly" by his crew. He was also an avid skier serving the Eastern Division of U.S. Ski Patrol as legal counsel. Your secretary tried to email his full, excellent obituary to everyone in the class. If you did not get one, email me a request. Here is what his wife of 15 years, Barbara Dimmick, tells of their romance:
"As a small child I wanted to be a cowgirl and a writer. Before I could hold a pencil, my mother obligingly wrote down my stories. Once I conquered using a pencil, writing was my soul. I wrote plays for my friends to perform, poems, stories and funny anecdotes. At the same time, I rode horses and took a year off from majoring in English at college to ride and study at Morven Park International Equestrian Institute. The program was modeled after the cavalry instructor's program at Sandhurst in England and was directed by a retired British officer, who expected us to be able to ride any horse (no matter how difficult) any time, on the flat or galloping and jumping cross-country. In short, it was and remains the most challenging, instructive and difficult year of my life.
"Over the next years I taught riding and college writing. I wrote constantly; my dream of course was publication, and sure enough I became 'an overnight success' at age 40, with the publication of my first novel, 'In the Presence of Horses.' It was widely translated and became a best-seller in Germany.
"Another novel and stories followed. I became a visiting professor at Dartmouth and began teaching creative writing. I enjoyed my oak-paneled office on the third floor of an old building, my very bright and some later extremely successful students, my writing colleagues and beautiful walks across campus.
"One spring I was asked if I would teach a writing course for alums as part of alumni summer college week. Despite dire warnings from my colleagues about alumni egos and sometimes outrageous demands, I said yes.
"Henry graduated from Dartmouth in 1952. (I hadn't been born yet.) And he loved returning for reunions and alumni college.
"True story: I walked into my writing classroom the first day of alumni college to find three male doctors on their feet disparaging one another. The general doctor called the radiologist 'a shadow doctor' and proclaimed that 'real doctors cut flesh.' Whereupon the third doctor announced he was an orthopedic surgeon — only to be informed he was 'a mere carpenter.'
"Since my rough and ready year at Morven Park, I'd always assumed I could pretty much handle anything. What's a human being compared to 1,000 pounds of horse flesh with a steel shoe nailed to each hoof? But these three were out of control.
"So, I did normal professor things. I sat in an empty chair, which happened to be next to a man leaning intently forward, trying to talk sense to the warring doctors. I dropped my books on the table with a bit of a thump. The doctors still argued like eight-year-olds. I called for attention and began to speak, feeling somehow protected by the man beside me. The doctors were lifting their chins at each other, posturing, so I shoved my chair back and left the room, quietly closing the door behind me.
"And I tried a trick I learned from a seasoned junior high math teacher. I locked myself in the ladies room and planned to bloody well stay there until I felt like going back. I stayed 20 minutes, and sure enough my class was now quiet and worried. Where had she gone? Would she ever return?
"The man with the quiet, intelligent presence beside me was Henry, of course. He leaned toward me and whispered, 'Are you alright?' I nodded, went to the blackboard and started writing. The room was silent until I asked a question, and gingerly we got to work.
"The next day 'the surgeon' didn't come to class and our group became close. Henry and I had a distinct spark between us. We had lunch a few times and sat together at the final dinner. But afterwards when he suggested we might see each other again, I reminded him he was (even if unhappily) married. I said goodbye quite firmly.
"A year passed. He sent me a few modest gifts. These made me uncomfortable; I responded with ice-cold thank-yous. Communication ceased. I was relieved he'd gotten the message.
"The following summer, I walked into the same classroom to teach the very same course, and lo and behold, his marriage finishing, there was Henry.
"Once again, my writing group became close-knit, so now it was comically difficult for Henry and me to find 10 minutes alone together. Try to slip out for lunch? For a drink after class? A walk? Every time, one or more group members, oblivious, said, 'Wait! We're coming too!' Henry and I maintained poker faces.
"The second to last night we planned an elaborate set of maneuvers to meet for a quiet dinner for two. Alas, one of the group followed Henry, and we begged for an evening for ourselves — and for his discretion.
"'A ha!' he said, all smiles. 'I thought something was in the air.' We swore him to secrecy.
"Fourteen months later, we were married in the Old Chapel at Central Moravian Church in Bethlehem, Pa.
"When I told my Dartmouth College department chair I was resigning and why, he was astonished. 'You're choosing personal happiness over a position in the Ivy League? Is that wise?'
"'Yes,' I said. And it was."
 
Alas, dear classmates, I am sorry to bear so many sad tidings. I'd like a moratorium on fine friends passing away. I tried to send the full, excellent, well-written obituaries to all by blast email. If you'd like a copy, email me a request. Also, I forwarded some wonderful funny, poignant memories about Hobart McWhorter from the lawyers in his firm that were sent to me by his spectacular wife, Ellen. Copies also available.
Please share these notes with your spouse and/or significant other; email me any comments. Respectfully Submitted, Larry Grim, Secretary
1960

UVA Law recently named the Richard A. Silver Scholar, Camilo A. Garcia '22. Garcia is the top student in the Class of 2022, with the highest GPA after two years. He is editor of the Virginia Law Review, a mentor in the St. Thomas More Society and the Latin American Law Organization, and participated in the Supreme Court Litigation Clinic. The scholarship was established by Silver, who has been long recognized as a leader in the litigation bar in Connecticut. He is senior partner at the law firm Silver Golub & Teitell in Stamford, where he is still actively practicing in the areas of medical malpractice, serious personal injury, birth injuries, complex civil litigation, traumatic and acquired brain injuries, spinal cord injuries and wrongful death.
1962
Sam Polk submitted the following news: "Since my graduation from the Law School: one firm; one wife, two children; four grandchildren — a good life!"
1964

Anthony Pantaleoni passed away, according to family, peacefully at the home where he spent his very first summer, surrounded by his family and listening to his favorite music. Pantaleoni is survived by Emily, his wife of 60 years; his children, Tom and Tea; and daughter-in-law, Alessandra; "the lights of his life," grandchildren West and Kyd; his brother, Mike, and "so many nieces, nephews and spectacular friends whom he loved and counseled and celebrated whenever he could."
The family said that "after a less than stellar run through Buckley, Milton and Harvard, Pantaleoni found his lifelong passion at the Law School.
"For him, legal briefs on the weekends were like Sunday comics to a kid."
Pantaleoni was a partner for almost 50 years in the New York firm that is now Norton Rose Fulbright.
"If he could have practiced law for another 50 years, he very likely would have done so," family members added.
Pantaleoni was on the Board of UNICEFUSA, originally the U.S. Committee for UNICEF, which his mother co-founded in 1947. During his tenure as chair of the board, UNICEFUSA raised over $2 billion for the parent organization.
A gifted and graceful athlete, Pantaleoni was a memorable tennis player "who never lost his balance and rarely his humor on the court."
"Patoto," a nickname from his grandchildren, "had an infectious laugh and could always find joy in the smallest of life's pleasures; he loved screened porches anywhere, being with family and friends anytime, and all cheeseburgers and martinis. Maybe more than anything, he loved rolling up the rug and jitterbugging with Emily.
"His even-keeled nature and sage advice got many of us through life's most difficult times. He will be sorely missed."
1966
Glenn Adams wrote, "Thanks for the wonderful tribute in the Fall 2021 UVA Lawyer magazine to Law School Foundation President Emeritus David Ibbeken '71, my 1963 classmate at Princeton. David richly deserved this recognition for his tireless efforts over many decades benefiting UVA Law. Princeton is equally proud of him."
Tom Byrum now lives in Powell, Ohio, to be nearer to his daughter and grandchildren. After active duty in the military, Byrum began to practice estate planning law and probate matters in 1968 in Wheeling, W.Va. Byrum retired in 2020 and is now an inactive member of the West Virginia Bar.

died Sept. 14 at Williamsburg Landing, Williamsburg, Va., after living with Parkinson's disease for many years. He was 80.
Viener was born in Richmond in 1941 to Reuben and Thelma Kurtz Viener. He attended Thomas Jefferson High School, where he played tennis for legendary coach Sam Woods at Byrd Park, who led his players to 11 consecutive state championships, and under whose coaching Viener was a top-ranked doubles player. He attended the University of Pennsylvania, where he was a varsity letterman in squash, and then went on to receive his law degree from UVA.
While working in New York City, Viener met his future wife, Karen (nee Marschalk), and they soon moved to Darien, Conn., where they lived for 25 years and raised their family. Viener's talent and interests led him to business law and eventually corporate development with Richardson-Vicks, where he was vice president for acquisitions. In this role, he earned a reputation for creativity and goodwill in transactions, and for his clear vision on strategy. In a later career chapter, Viener would apply his experience to the formation of an entrepreneurial vehicle, purchasing two companies, White Lightning Products, later sold to Sherwin-Williams; and Maritime Wood Products in Stuart, Fla., where he and Karen retired before moving to Williamsburg to be closer to family.
According to family, "Viener is remembered as a sportsman and a gentleman, gifted with persistence and purpose; never seeking the spotlight, and quietly working to 'be the best he could be' every day. He set an example in the peak fitness he maintained throughout his life, and in his equanimity as a husband, father and entrepreneur. Often found behind a camera lens, his passion for photography was a constant, documenting his love of family, friends, humor, nuance and the natural world. He and Karen enjoyed their many ranch vacations and scenic hiking trips in the U.S. and abroad."
Viener is survived by his wife of 51 years, Karen Viener; sons Justin (Cindy) and Hardy (Shona); and three grandchildren.
1967
C. Grice McMullan Jr., retired partner at ThompsonMcMullan in Richmond, Va., shared information about a book he believes would be of interest to classmates and other UVA Law alumni.
"As a 1967 graduate of the [L]aw [School] and a practicing attorney for five decades, having retired several years ago, I have spent much time reading about the history of the United States, the formation of our government, and the evolution of the legal profession.
"Recently, I discovered an excellent book about an individual who became a guiding influence on Thomas Jefferson that would be of immense educational value and therefore highly recommended reading by attorneys and those attending or having attended the Law School. Of particular interest is its relevance to Jefferson's plan for the law program that he established at [UVA].
"The book, a George Wythe biography titled 'Jefferson's Godfather: The Man Behind the Man' by Suzanne Harman Munson, details the transformation of the Virginia lawyer to statesman status in little more than 100 years. In fact, I have been told that in 17th-century Virginia, attorneys were held in such low regard that at one time, they were banned entirely from the colony''s courtrooms. However, due to the influence of what Wythe taught and his strong friendship with Jefferson, by the end of the 18th century, Virginia law school graduates filled the highest offices in the land as principled leaders.
"In fact, Virginia Governor Jefferson was instrumental in opening America's first law school at the College of William & Mary in 1779, and his former law teacher, Wythe, became only the second professor of law in the English-speaking world, after Oxford's Sir William Blackstone. Wythe's program would set the standard for Jefferson's law school in 1819 and others in the years to come. ...
"At Wythe's death in 1806, his former pupils were virtually running the country. President Jefferson stood at America's helm, Chief Justice John Marshall and Justice Bushrod Washington ruled on the Supreme Court, and John Breckinridge served as attorney general. Rising political star Henry Clay joined other Wythe students in Congress, the Senate, and national and state cabinet offices and judgeships. Arguably the most influential teacher in American history, Wythe modeled public service for his students as a signer of the Declaration of Independence, active member of the Continental Congress, speaker of the Virginia House of Delegates, and clerk of the Virginia House of Burgesses.
"Jefferson's goal for his law school was clear, as was Wythe's purpose earlier: to train leaders for the country's vanguard. Identifying the legal profession as 'the nursery of our Congress,' Jefferson believed that education was fundamental to America's future success: 'Whenever the people are [well] informed, they can be trusted with their own government.'"
1969
Gordon Schreck is serving as distinguished visiting adjunct professor of maritime law at Charleston School of Law in South Carolina. Schreck also serves on the board of trustees at Columbia Theological Seminary in Decatur, Ga.