CONSTRUCTION: New Karsh Student Services Center Debuts
By Mary Wood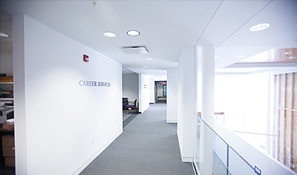 The Law School has wrapped major construction on the new Karsh Student Services Center and other renovations designed to improve the student and visitor experience.
"This summer's work went remarkably smoothly," said Dean Paul G. Mahoney. "The Karsh Student Services Center will help us better serve current and prospective students." The project was made possible through a substantial gift from Martha Lubin Karsh '81 and Bruce M. Karsh '80 of Los Angeles.
The renovations, which launched in earnest over spring break, redesigned student services offices in Slaughter Hall to include reception areas and expanded the space allotted to the Law School's 20 clinics. The construction involved creating a two-story atrium that juts out into the Slaughter Hall courtyard, known as Purcell Garden, and offers a gathering space that will lead into the redesigned garden.
Students who participated in on-grounds interviewing enjoyed the natural light in the new interview rooms, and "it is exciting to see the whole project come together," said second-year student and tour guide Chelsea Belote. "I can't wait to take prospective students on tours of our new facilities."
On the first floor of the center, visitors and students have easier access to the Admissions, Financial Aid, and Graduate Studies offices. A staircase in the atrium leads to new offices for Career Services, the Public Service Center, and Clerkships Office, all grouped around a central reception area just around the corner from interview and videoconference rooms. Clinics have expanded space on the second floor as well.
"Getting our clinics outfitted properly, considering their tremendous growth, was an important part of this project," said Senior Associate Dean for Administration Stephen Parr. "Now, they have additional faculty offices and more shared workspaces."
Professor Richard Balnave, director of UVA Law's clinical programs, said the clinics are "especially grateful for the conference room spaces. In our old location, several clinics shared a single conference room," he said. "Now we'll be able to discuss our clients' confidential matters within the confines of our clinic space."
The renovations required many staff and faculty members to relocate over the summer to classrooms and other spaces in the Law School. "Building Services, Law ITC, and others worked long and hard to manage the construction and get us to occupancy on time," Mahoney said."Many departments and individuals had to relocate temporarily. I am grateful to all of them for the cooperation and good cheer that they brought to this project."
With staff back in their offices in time for the start of the school year, affected departments are enjoying the renovated spaces.
"The new space is wonderful," said Senior Assistant Dean for Admissions Anne Richard. "Having the admissions staff all together and centrally located on the first floor is extremely important because we now are more visible and easily accessible to our applicants and admitted students."
Additional changes include a redesigned staff and alumni lounge that opens onto a balcony with a view of the garden. The Virginia Law Review and Virginia Journal of International Law moved to new and improved offices on the second floor of the library.
Other renovations make better use of existing space. Two new interview rooms overlooking the Purcell Reading Room were added, and Purcell, known also as "the Fishbowl," is being modified to better serve as a space for events. The Student Affairs and Student Records offices were connected through an interior hallway to provide better workflow between the departments.