Hunton & Williams Teams with Law School on Asylum Case
IN DECEMBER 2005, NINE LAW SCHOOL STUDENTS teamed up with two Hunton & Williams attorneys on the case of a Senegalese woman seeking political asylum in the United States. Tried in the Immigration and Naturalization Court of Baltimore, the case resulted in a victory for the UVA/Hunton & Williams team, awarding asylum to the client and ending her six-year struggle to escape life-threatening persecution in her native country.
The plight of their client, who wished to remain anonymous for this article, began in 1999 in West Africa in her native country of Senegal. As punishment for her involvement in a movement for independence, she was detained and gang-raped by soldiers in the Senegalese Army. With the help of family members, she managed to escape to Mexico where she was robbed of all her belongings and documentation. As she lay prone in the false bottom of a pick-up truck, Mexican border smugglers spirited her into the U.S. In 2001, Eight weeks after leaving Africa she found shelter in New York City without proof of her identity or the legal justification for seeking asylum.
Law School students Rachel Cella, Tommy Goodman, Adam Trouner, Jacob Rooksby, Krissie Darr, Katie Youman, James Yeagle, and Brian Malbacho participated in this case as a part of the Law School's pro bono partnership with Hunton & Williams, established in 2005, and coordinated by Dean Kimberly Emery '91 to involve students with asylum cases and custody and support cases for victims of domestic violence.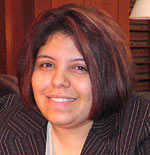 Angela Caldwell '04
This particular project paired the students with Hunton & Williams attorneys from the Richmond office, including Jim Farnham, Rita Davis, the firm's current Pro Bono Fellow, Angela Caldwell '04. Although the students were not present in court throughout the trial, their research efforts and preparations for the case were critical in overcoming the greatest challenge of the case, said Farnham. "There was absolutely no available documentation proving the existence or time frame for even one segment of our client's epic journey."
The students proved themselves extremely resourceful in rebuilding the factual support for their client's asylum claim. Yeagle worked to translate French documents and speak the language in phone calls to Senegal, while Darr researched the conditions of the client's home country, a key factor in the judge's decision to allow her to remain in the U.S.
"We each had substantive work to do, and it was a great experience to be part of a team doing real legal work for clients on a weekly basis," said Rooksby.
Pete Johnson, Chair of the Hunton & Williams' Richmond office Pro Bono Committee, commented, "This was a very difficult case legally and factually, and yet the team overcame all the obstacles. Without the team's hard work, this result would have been impossible, and our client would not have had a chance of remaining in the United States."
Adding to a courtroom victory, the UVA/Hunton & Williams partnership was further successful as a learning experience for the students involved. Exposed to "great resources, an organizational structure and the ability to work with a group of dedicated attorneys" Darr is grateful to be involved in this project and finds herself "inspired to continue work on these very important pro bono cases."