Virginia Law Alumni Events

Classmates Eric Fletcher '98 and Crystal Gafford Muhammad '98 at the Charlottesville event.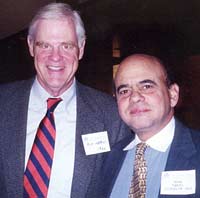 Roy Harrill '66 and Ron Tweel '71 at the Charlottesville event.
A host of cocktail receptions and luncheons provided outlets for law alumni to reunite this past fall and winter.
On October 15 Charlottesville alumni gathered for a cocktail reception in Scott Commons, the expansive common area of the Law School's Student-Faculty Center. Alumni were invited to see the new addition for the first time, and Dean John Jeffries '73 spoke to the more than 55 alumni who attended.
Thirty-five alums attended the Tidewater-area luncheon held on November 21 at the Harbor Club in Norfolk. Assistant Dean Bill Bergen gave a virtual tour of the latest changes to the Law School. Alumna Alison McKee '84 helped the Alumni Association coordinate this event.
On February 13, nearly 100 Richmond-area alumni listened to the Speaker of the House of Delegates, William J. Howell '67, at the Commonwealth Park Suites Hotel at Capitol Square. The evening was held in honor of those alumni who were appointed to the Governor's Cabinet: Whittington W. Clement '74, Secretary of Transportation; W. Tayloe Murphy, Jr., '60, Secretary of Natural Resources; Michael J. Schewel '79, Secretary of Commerce and Trade; and members of the Virginia General Assembly: Delegate William K. Barlow '65; Delegate Robert B. Bell '95; Senator John S. Edwards '70; Delegate William R. Janis '99; Delegate Bradley P. Marrs '85; Delegate J. Chapman Petersen '94; Delegate Gary A. Reese '69; and Delegate Clifton A. Woodrum '64.

On February 18, an annual Atlanta luncheon, for approximately 70 alumni, took place at the Four Seasons Hotel. Dean Jeffries was introduced by classmate J. Kirk Quillian '73, partner at Troutman Sanders in Atlanta. Later that evening a cocktail reception in Birmingham was sponsored by John Hagefstration '86 at Bradley Arant for 35 area alumni.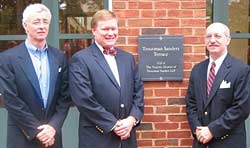 Left to right: James W. Addison '71 and Robert W. Webb, Jr. '75, of the Troutman Sanders's Atlanta office, and Mark S. Shiembob '82 from the Richmond office, at the dedication of the Troutman Sanders Terrace at the Law School.
Troutman Sanders Dedication
The brick area situated in front of the new Student Faculty Center was dedicated to the Law School in October as the Troutman Sanders Terrace. Partners and alumni of the Atlanta-based Troutman Sanders LLP (which merged January 1, 2001 with Richmond-based Mays & Valentine LLP) donated the funds for the space.
BLSA Reunion
The Black Law Students Association (BLSA) held an alumni weekend February 21-23 as a celebration of Black History month. This year's theme was Lifting Our Voices, Spreading Our Wings. The weekend kicked off on Friday with a social mixer. Saturday started with breakfast and remarks from Dean Jeffries, followed by a two-credit Continued Learning Education course in Ethics. Afterward, alumni enjoyed a luncheon featuring the Honorable John Charles Thomas '75, former Justice on the Supreme Court of Virginia, as the keynote speaker. Alumni then participated in a panel discussing the future of affirmative action as a result of Hopwood v. Texas and the pending University of Michigan case before the U.S. Supreme Court. The weekend concluded on Sunday with a farewell breakfast.
The BLSA has a mission to articulate and promote the professional needs and goals of black law students; foster and encourage professional competence; and focus upon the relationship of the black attorney to the American legal structure.
Law Alumni Weekend, May 2-4, 2003
Classes of 1948, 1953, 1958, 1963, 1968, 1973, 1978, 1983, 1988, 1993, 1998 and the Lile Law Society
Area alumni are invited to take advantage of complimentary CLE offerings:
Ethics, 2-credit course taught by Professor George M. Cohen, Edward Howrey Research Professor of Law

or

Trusts and Estates, 2-credit course taught by Charles D. Fox IV '80, Partner, Schiff Hardin & Waite in Chicago
Both offered 3-5 p.m. at the Law School

RSVP: lawalum@virginia.edu or call 434-924-3588
Deadline to register: April 25

Other Upcoming Alumni Events

May 17 Reception for Class of 2003
Law School
May 18 Graduation
Law School
June 19 D.C. Alumni Luncheon
Hotel Washington
For the latest on alumni events, go to the Law School's Alumni Events Calendar.