A Lawyer at Day One: Jeffries Answers market Need with Law & Business Program
Cullen Couch
At a 2001 conference convened on the occasion of the Law School's 175th anniversary celebration, a panel of alumni, leaders of the nation's major law firms and global business enterprises, offered a blunt critique of the legal profession. Too many lawyers, they said, lacked the business "vocabulary" necessary to understand sophisticated finance and accounting. As a result, their analysis and advice lagged the clients' interests in the deal at hand.
The business-side panelists expressed frustration with the state of affairs. Jeffrey L. Humber, Jr. '78, now retired Senior Vice President and head of global diversity for Merrill Lynch and former co-CEO of Merrill Lynch South Africa, complained that "the time that it takes us to train our lawyers on the transactions is time that we have lost. We cannot execute a transaction until the lawyers have said, 'yes.' They cannot say 'yes' until they understand what it is we do. And as our transactions have become ever more complicated and complex…, we need to have lawyers who understand the transaction, understand it quickly, and can act as a partner to us on the commercial side of the venture."
Ralph Baxter, Jr. '74, Chairman and CEO of Orrick, Herrington, & Sutcliffe, agreed, saying "there is law and there is business, and then there is the important stuff in between. That is where the action is. That is where you really add value for your clients. It doesn't do you much good to simply know the law. You have to know why it is important. The more the law school curriculum can preserve fundamental learning about the principles of law and add the practical and prepare the students to get beyond law to the intersection of law and business, the greater service we do them and the better lawyers they will become."
Dean John Jeffries took the panel's criticism to heart. It wasn't unexpected; he had heard it before and given it a great deal of thought. Jeffries realized that the problem was less about the internal dynamics of practicing law and more about learning how to be a true business partner with the client. He began serious internal discussions with then academic associate dean Paul Mahoney (who will succeed Jeffries as Law School dean in July) and other members of the faculty and administration. Together they created the Law & Business Program to sharpen the content of what is being taught in the classroom and to more closely align the Law School's curriculum with the real concerns of business and corporate counsel.
A curricular innovation
Law School students, because of the strength of Darden, can pursue a quality JD/MBA program, but that is an intense four-year program that attracts only a handful of students each year. The Law & Business Program, on the other hand, is completely internal to the Law School, and provides as part of the basic three-year course of study the core analytic tools to successfully enter corporate practice or even begin a career in banking or finance. The program was intended to reach many students – dozens more than those enrolling in the JD/MBA program – and, by extension, open that area of the Law School's curriculum to more faculty and visitors to increase the students' exposure to the complexity of today's business problems and the executives who manage them. This was a critical feature of the program's architecture. The point was to popularize the study of "hard" business law and create demand for it. By that measure, the Law & Business Program has succeeded.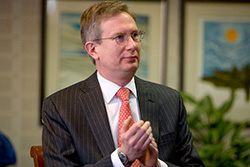 Paul Mahoney
Today, the program attracts hundreds of law students every year who learn the context in which legal problems occur, what truly affects the client, and how they, as counsel – not just lawyers – should identify what matters. The many skills that lawyers must have – legal writing, negotiation, forensic speaking – are all things that lawyers can and do learn on the job. But very few lawyers have the time or the opportunity to learn finance on the job. Traditionally, law schools have tried to tackle this readiness issue using a back-door, skills-based approach. Students must draft legal instruments, such as indentures for debt securities or merger agreements, and learn what a contract looks like, or a court pleading. While those exercises are important, they are not fundamental intellectual endeavors.
"There's a place for them," says Mahoney, "but John's insight was that there was a broader issue. Students walk into practice and try to deal with business transactions without an intellectual understanding of what the transactions are." The Law & Business Program teaches accounting and finance to give students the language to understand those transactions, and lets them build on that knowledge by offering enhanced versions of traditional law school offerings. Students in the program graduate with a greater ability to "partner" with their business clients much earlier in their careers.
The program calls for an accounting and finance course in the first year. In the second year, students take Law & Business sections of Corporations, Bankruptcy, or Securities (ideally, they take all three). They learn the same legal doctrines as the traditional offerings, but they learn them in a way that integrates quantitative analysis and thinking. For example, if studying business bankruptcies, they go beyond the language of Chapter 11 and learn what a distressed company looks like, what its balance sheet means, how it can be restructured to get back on its feet, and how bankruptcy helps it achieve that goal.
Finally, the third-year component offers intensive short courses taught by business executives and distinguished practitioners that provide empirical exchange and discrete instruction about actual and emerging issues. Students might look at M&A transactions in the technology sector or at a biotechnology start-up and examine their challenges and problems – and more importantly, how to resolve any legal issues to advance the client's business goals.
Mahoney keeps coming back to the word "context;" students must understand that legal questions don't arise in a vacuum. "No one wants to know whether a timeshare in a condominium is a security for purposes of the federal securities laws just out of intellectual curiosity. The client has a problem and the client wants to solve it. So, for us, a big part of the challenge is to make sure that the students understand when and how this question is going to come up."
Mahoney says that students climb a steep learning curve on basic vocabulary and analytical techniques. "Although business decisions involve more than just accounting and finance, we figure that those are two pieces that we can deliver that are extremely important parts of that vocabulary and analytical toolkit."
Based on enrollment and course evaluations, the first-year and third-year components – the fundamental accounting and finance package, and the short course seminars – have been a hit with the students and accomplished their purpose. The second-year piece, where resident faculty add depth and rigor – and perhaps even an extra credit hour – to standard business law courses, is moving ahead and finding its sweet spot.
"I would give us an A minus [there]," says Jeffries. "I think we have done some things very right, yet it remains a work in progress. It's a great beginning. We should feel very proud of what we've done, and we should be aware that it needs to grow and improve. It took a few versions of the basic accounting and finance course to come up with the right format and the right delivery. I think we've got that down. We have some very fine short courses offered by alums who have incredible experience in the real world, and that has worked well. There are some aspects of the program that need to be developed, but it's a great beginning."
Mahoney agrees, adding that the program has done one thing extremely well. It has convinced law students that it's worth their while to learn some accounting and finance. "I think that we should not overlook what a remarkable achievement that is by itself. Many law students walk into a law school remembering that the last time they added a pair of numbers together it didn't go so well. They're hoping that they never have to deal with that again. To tell them that they ought to take an accounting course and a finance course and have them agree is a pretty significant achievement. I think it speaks to the credibility that our faculty have with our students. We're able to tell them this will be a good thing, and they invest in that."
Mahoney observes that students increasingly appreciate, and embrace, the extra effort required by the program's more challenging course work. Their effort, he says, will be "fully paid with interest in making them more effective lawyers when they go into practice. I completely believe in the product we're offering. The program has a sound intellectual foundation. It's just a question of designing it the best way we can and getting students to understand how much it's worth."
Mahoney judges the effectiveness of the Law & Business Program by one measure, and he will continue to use the same one as dean. "I want our students to be able to walk in and feel like they are lawyers from the first day. If they understand what the client's problem is, and they feel a responsibility to help solve it, we've done our job."