1960s Class Notes

---
1960
An article in Charlottesville's Daily Progress, hailed John P. Ackerly III for his "spirit of service." Ackerly finished his five-year tenure as UVA's rector in March. "There is no finer gentleman than Jack Ackerly. I found him a great leader," noted Elizabeth A. Twohy, a member of the Board of Visitors since 1995, the same year Ackerly was appointed. Another member of the board, William G. Crutchfield, Jr., said, "Jack is a consensus builder. He really tried to bring out the best in the board." Ackerly serves as a partner in Troutman Sanders LLP in Richmond, VA.
Charles H. Osterhoudt reports he enjoyed a recent trip to Tuscany.

Ronald W. Dougherty is the current President of the Ohio State Bar Foundation Board of Trustees. Dougherty is a Life Fellow of the Foundation and a longtime Board of Trustees member. A partner at Krugliak, Wilkins, Griffiths & Dougherty, Co., L.P.A., he also serves as general counsel to the Pro Football Hall of Fame. Dougherty received the 2002 Award of Merit for Community Service from the Canton (Ohio) Regional Chamber of Commerce.
1961
Virginia Beach attorney Barry Kantor, a partner in Christie, Kantor, Griffin & Smith, PC, was included in the 2003–2004 edition of The Best Lawyers in America. He has been included in each edition since 1989. The book lists the top one percent of the lawyers in the country.
1964


Fred Fielding is senior partner with Wiley, Rein & Fielding. He recently spoke on "The 'Politics' of Presidential Appointment of Judges" at UVA's Miller Center. Fielding served with Harold Tyler as members of a Miller Center Commission on the selection of federal judges.
1965
William S. Tucker, Jr., has moved to Charleston, SC, and plans to retire at the end of the year.
1966
Theodore S. Halaby has been elected Chairman of the Colorado Republican Party.
1968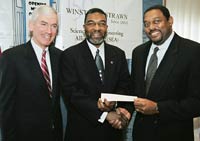 Winston & Strawn's D.C. Managing Partner Mike McGarry'68 (left) and Partner Tom Poindexter (right) with Dr. RObert Shepard (center), at an event commemorating Winston & Strawn's 150th anniversary.
Washington, D.C., managing Partner Michael McGarry III, along with fellow partners and associates at 900-member Winston & Strawn, are commemorating the firm's 150th anniversary with a yearlong series of "Opportunities Through Education" public service projects for communities where it has offices. One such project is the creation of workshops that will provide enhanced educational opportunities for District of Columbia Public Schools teachers and students. In addition, the firm will sponsor the construction of a playground this summer in a "child-rich and playground-poor" section of the city with the exact location to be determined at a later date. Other initiatives include diversity scholarships and a pro bono commitment requesting all attorneys to pledge a minimum of 35 hours of pro bono work during calendar year 2003.
1969

Tom Carr writes that he's now with McManus, Schor, Asmar & Darden in Washington, D.C.
David R. Percy (LL.M. '96) became Dean of Law at the University of Alberta in Canada for a five-year term beginning July 1, 2002. In 2001 he worked for the U.N. Food and Agriculture Organisation based in Rome on a project involving Water Law and Aquaculture in five African countries and in 2002 he worked as a consultant for the FAO in Namibia. (David requested his news appear in both the J.D. and LL.M. sections, as he had many friends in the Class of '69.)
Pre-1960
1960s
1970s
1980s
1990s
2000s
LL.M.