Non-Fiction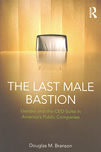 The Last Male Bastion: Gender and the CEO Suite in America's Public Companies
Douglas M. Branson LL.M. '94
Routledge
Women have made great inroads into the world of politics as senators, representatives, governors, and cabinet secretaries. They've taken leadership positions in non-profits as CEOs overseeing budgets of billions of dollars, taken the helm of a number of colleges and universities, and sit on the bench of the Supreme Court of the United States. But only three percent of Fortune 500 CEOs are women.
While women account for nearly 40 percent of MBA graduates and 50 percent of law graduates, why do so few reach the CEO suite? Branson takes on the task of evaluating why women have not achieved at the same level in the corporate world. "In business," he explains, "there is a 'leaky pipe,' with a great flow of women at the intake, but just a trickle at the outfall 20 or so years later."
The author traces the careers of 15 women CEOs and presents portraits of some of the women CEOs who made it to the top of some of the largest organizations, including Jill Barad at Mattel Toy, Andrea Jung at Avon, and others. Details about education, career moves, and family lives, as well as revealing personal reflections are examined.
Branson discusses the pros and cons of the plowhorse versus the showhorse CEO, how CEOs are selected, and describes the "glass ceilings, floors, walls, and cliffs" women run into along the way. He surveys lessons learned and sheds new light on how more women could make it to the chair in the CEO suite.
Douglas M. Branson is the W. Edward Sell Professor of Law at the University of Pittsburgh School of Law.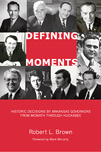 Defining Moments: Historic Decisions by Arkansas Governors from McMath Through Huckabee
Robert L. Brown '68
University of Arkansas Press
Faced with decisions that could prove destructive to a political career, politicians show their true mettle.
Robert Brown shows how decisions made by ten Arkansas governors have shaped their terms in office, their legacies, and even history.
Sid McMath had to decide whether to support President Harry Truman's civil rights platform or the rising Dixiecrat tide against it. Francis Cherry had to decide whether to label his opponent as a Communist. Orval Faubus made a stand on desegregation of public school that brought the issue to national attention. Winthrop Rockefeller's public response following the assassination of Martin Luther King, Jr., had an impact on race relations. Dale Bumpers grappled with redistricting in a turbulent time in Arkansas politics. David Pryor made a decision on whether or not to dam the Strawberry River. Frank White dealt with the controversial issue of religion in schools. Bill Clinton pushed through the issue of testing teachers. Jim Guy Tucker wrestled with a divided legislature in a Medicaid financing crisis. Mike Huckabee walked the line on consolidation of public school districts.
Brown examines pivotal moments in the careers of these Arkansas governors, who served over a period of 60 years. When an important decision had to be made, some of the governors he profiles let ambition get the best of them, while others took risks to do the right thing.
In his forward to Defining Moments, Mack McLarty, who served as advisor to three presidents of both parties and as White House chief of staff for President Bill Clinton, praises Brown, saying he writes with "the objectivity and intellect of a Supreme Court justice, the scholarship of a political historian, the engaging style of a professional storyteller."
Robert L. Brown has known nine of these governors at least casually, worked for two as an aide, and supported two others either financially or through work in the precincts. He is an associate justice of the Arkansas Supreme Court and has been involved with Arkansas politics for 40 years.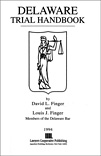 The Delaware Trial Handbook
David L. Finger '88 and Louis J. Finger
www.delawgroup.com/dth
The Delaware Trial Handbook, a treatise on trial practice and procedure in Delaware state courts, was originally published in 1994. After a change in ownership of the original publishing company, publication of the book ceased, and the copyright transferred to David Finger after his father's death. Finger has updated The Delaware Trial Handbook and has made it available for free online at www.delawgroup.com/dth.
The handbook offers novices and experienced attorneys alike invaluable information concerning procedural issues that arise during a trial. It includes coverage on the role of the attorney, pre-trial motions, selection of juries, different types of evidence, rules of evidence, order and burden of proof, opening and closing arguments, methods of examining witnesses, privileged communications and hearsay, measures of damages, jury instructions, verdicts, post-trial motions, and other topics as well. The 500-page book is annotated throughout with citations to judicial rulings in the State of Delaware.
David Finger is a partner with Finger & Slanina in Wilmington.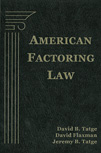 American Factoring Law
David Flaxman '64 with David Tatge and Jeremy Tatge
BNA
This is the first comprehensive treatise on factoring law in America. It offers a detailed, practical analysis of legal and business issues faced by factors, their clients, account debtors, guarantors, third-party lenders, and taxation authorities. American Factoring Law is unrivalled in its coverage and analysis of asset-based lending and commercial finance.
"Factoring is one of those things that most commercial lawyers know a little about," begins the foreword. "The problem is that a little knowledge is a dangerous thing." The authors, experts in the field, provide an excellent reference, a comprehensive look at factoring from its historical development to its use in tax planning.
American Factoring Law presents an in-depth analysis of the relationship between factoring and the Uniform Commercial Code, an explanation of the concept of security, detailed checklists on due diligence, and discussion of circumstances in which factors can exercise their own discretion. Other topics include credit risk and variations of factoring arrangements, from non-recourse to partial non-recourse to partial recourse to full recourse, to split risk, discussion of fees, even bankruptcy of clients or factors themselves.
Armed with extensive knowledge and experience in factoring matters, the authors are nevertheless able to explain the ins and outs of the complex subject in a clearly comprehensible way.
David Flaxman is general counsel of Rosenthal & Rosenthal, Inc., commercial old-line factors in New York City,, founded in 1938.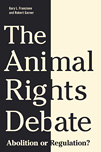 The Animal Rights Debate: Abolition or Regulation?
Gary L. Francione '81 and Robert Garner
Columbia University Press

In his latest book, Gary L. Francione speaks out about his abolitionist approach to animal rights: as long as animals are property, laws and industry practices requiring humane treatment will never provide meaningful protection. He maintains that there is no moral justification for using them for our own purposes.
Francione's coauthor, Robert Garner, defends a protectionist or welfare approach. He argues for animal rights that work toward minimizing or eliminating animal suffering. He maintains that even though the traditional animal welfare ethic is philosophically flawed, it can contribute in a meaningful way to achieving animal rights ends.
Each of the debaters delves into the moral status of non-human animals and the pros and cons of animal welfare reform. In their debate on the animal protection movement in the U.S. and abroad, Francione and Garner assess organizations such as PETA (People for the Ethical Treatment of Animals) that support improving the methods of animal slaughter. They also discuss American and European laws and campaigns from both the animal rights and animal welfare perspectives.
"This is a subject of extremely heated debate in animal studies and society at large, and Gary L. Francione and Robert Garner address it as no others can," notes Gary Steiner, professor of philosophy at Bucknell University.
Gary Francione is distinguished professor of law and Nicholas deB. Katzenbach Scholar of Law and Philosophy at Rutgers University School of Law-Newark.

Food Safety Law
James F. Neale '98 and Angela M. Spivey
Law Journal Press
As many as 76 million food-borne illnesses are recorded in the United States each year, and the mass production of food, widespread distribution, and new ways of tracking outbreaks have led to unprecedented litigation.
Food Safety Law
is the definitive guide to this complex and rapidly growing area, a reference source to navigate the many agencies, statutes, regulations, and case law involved.
Food Safety Law delves into complex administrative areas, concentrating most on the FDA and USDA. From prevention and compliance to an outbreak and resulting litigation, the book takes readers through key topics, including: food safety threats, inspections, foreign objects in food, detection of outbreaks, recall strategies, causes of action and defenses, proving causation, insurance coverage, labeling requirements, and the latest legal issues as well, including, among others, obesity, cloning, and bioengineering.
James F. Neale is a partner with McGuireWoods in Charlottesville, where he is co-chair of the firm's food-borne illness litigation practice group. He has substantial mass tort and class action litigation experience and has argued before the Virginia Supreme Court and the U.S. Court of Appeals for the Fourth
Circuit.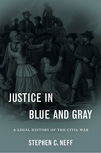 Justice in Blue and Gray: A Legal History of the Civil War
Stephen C. Neff '76
Harvard University Press
Of all wars throughout history, none equals the Civil War in the role played by law and the number of legal issues and disputes decided in courts. In Justice in Blue and Gray: A Legal History of the Civil War, Stephen C. Neff offers the first comprehensive study of the array of legal issues that arose from America's deadliest war. Many of these—sovereignty, civil liberties, pardons and amnesty, detention, the limits of executive powers—are just as relevant today.
Justice in Blue and Gray delves into the most fundamental questions, such as the lawfulness of secession: was the Civil War a war in the true legal sense (the Confederate side thought so) or an exercise in law enforcement (the North thought so). The book also goes into less well-known legal aspects of the conflict—the use of the so-called "iron-clad" oath in which people had to swear not only to their present and future loyalty but also that they had always been loyal. Under such an oath many could commit perjury and be prosecuted for such.
The book goes beyond the Civil War period to show how legal systems are tested in times of crisis. "Law is a constantly living, evolving subject," writes Neff, "with the past gliding its way into the present (and the future) with a silence that is as deceptive as it is inexorable. Many—in fact virtually all—of the issues that faced the policy-makers of the 1860s are still with us today, in a more or less recognizable form."
"Thorough yet succinct, Justice in Blue and Gray is the best book so far to bring together all the legal conflicts that shaped the Civil War," writes Michael Vorenberg, Brown University.
Stephen C. Neff is Reader in Public International Law at the Edinburgh Law School.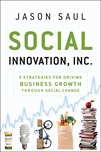 Social Innovation, Inc.: 5 Strategies for Driving Business Growth Through Social Change
Jason Saul '96
Jossey-Bass
Social Innovation, Inc. is not about corporations doing good for the sake of doing good. It's about a new era in which corporations profit from social change. "The simple truth is that corporations don't have a conscience, only people do. If we want to motivate business to solve social problems, we have to start from the assumption that companies will only ever care about the bottom line." The key is to find creative means of combining social change with market forces. Social innovation requires solving problems through business strategy, not philanthropy and compliance. Saul argues that current standards for labeling a company as "socially responsible" are flimsy at best.
Saul gives practical examples from the field to show the way GE, Travelers, Wellpoint, and Wal-Mart use social innovation to revolutionize the very way we think of the role of corporations in society. He details five strategies for social innovation, offering step-by-step guidance for how to get started, and makes a clear case for how social values can drive business strategy to tap one of the greatest remaining business opportunities.
Jason Saul is on the faculty of Northwestern University's Kellogg School of Management, where he teaches corporate social responsibility and non-profit management. He is founder and CEO of Mission Measurement, a data-driven strategy consulting firm that helps public sector, non-profits, and corporations measure and improve their social impact.

The End of Fundraising: Raise More Money by Selling Your Impact
Jason Saul '96
Jossey-Bass
Why does it cost non-profits on average $20 to raise $100, while it costs companies only $4? The answer, says Jason Saul, is that we need to raise money from sources that have a real stake in the results. He wrote The End of Fundraising for executives and fundraisers, board members and funders, academics and practitioners, graduate students and undergrads, socially conscious thinkers and hard-nosed business people.
Traditional fundraising depends on the unpredictable donations of people whose reward is the warm, fuzzy feeling they get from their philanthropy. No one has to donate, so if they don't feel like donating, they won't. In the traditional model, non-profits have no leverage, explains Saul. In The End of Fundraising, he shows non-profits how to stop rattling their cups and start marketing their impact.
With 15 years of experience advising the world's leading non-profits, foundations, and corporations, Saul has come up with the formula that makes it possible for non-profits to attain reliable financial sustainability. The End of Fundraising is a guidebook for professionals in the world of non-profits for how to understand the role of social change in today's economy; get across the value of impact in a compelling way; identify potential sources of funding; and create dynamic, persuasive pitches to audiences. The book includes all the tips needed to frame and market a non-profit organization's impact and step-by-step guidance for creating dynamic new opportunities with potential funders.
Jason Saul is on the faculty of Northwestern University's Kellogg School of Management, where he teaches corporate social responsibility and non-profit management. He is founder and CEO of Mission Measurement, a data-driven strategy consulting firm that helps public sector, non-profits, and corporations measure and improve their social impact.
Five Big Mountains: A Regular Guy's Guide to Climbing Orizaba, Elbrus, Kilimanjaro, Aconcagua, and Vinson
David Schaeffer '81
Mercer University Press
A gloveless hand going numb in a frigid wind at 17,000 feet, crampons coming loose on a vertical climb—all in a day's work if you want to make it to the summit of one of the world's highest peaks. The author, who dubs himself a "somewhat crazy, regular guy," balances his legal career with challenging climbing expeditions and shares the thrill (including close calls) and exhilaration of mountain climbing.
David Schaeffer climbed as a child, but his real climbing quest began when he climbed Mt. Whitney, at 14,494 feet the highest peak in the continental U.S. He and his brothers slogged their way up 97 switchbacks, with Boy Scouts and a few octogenarians passing them by, but they made it to the summit. Schaeffer was hooked, and decided to seek a bigger challenge.
In the next eight years he made five major climbs. His first high-altitude climb was Orizaba, a steep, glaciated Mexican volcano. Then he conquered four of the Seven Summits, the highest peaks on each of the continents: Elbrus (Europe), Kilimanjaro (Africa), Aconcagua (South America), and Vinson (Antarctica).
His candid narrative describes each journey in detail—the danger, the passing doubts, the triumphs. He also reflects on the challenge of re-entry into everyday life each time he returns. He expected the warmth of coming home to his wife and children in Atlanta, but there were also odd after-effects: For days after returning from Aconcagua, he writes, "my head and my soul were still blowing in the winds high up in the Andes."
Schaeffer never sees a snow-capped mountain without wondering if he could make it to the top. But, he writes, "I'm a husband, father, and lawyer first, and a mountain climber on the side." He offers practical advice for would-be climbers: plan the climb carefully, do your homework, acquire the right equipment, train well, and find an experienced guide. He also recommends taking on such adventures before you get married. His wife doesn't stand in the way of his mountain quests, but he decided that Everest and Denali were just too risky to attempt.
David Schaeffer is a partner with Chilivis, Cochran, Larkins & Bever in Atlanta, Ga.
Fiction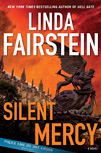 Silent Mercy
Linda Fairstein '72
Dutton
On the opening pages of Silent Mercy, New York City Assistant District Attorney for Sex Crimes Alex Cooper scrambles to get to a fire on the steps of Harlem's Mount Neboh Baptist Church at 114th Street and Seventh Avenue. She finds the body of a woman, brutally disfigured and set aflame.
Why on the steps of a church? Did religion play a part in this and in the string of homicides at other churches throughout the city? Alex's race to learn about the role of women in different religions and their institutions throughout New York leads her to St. John the Divine, Old St. Patrick's Cathedral, and other places of worship as the serial killer makes his moves, leaving the mutilated bodies of his victims at religious sites throughout Manhattan.
On the trail of the killer, Alex discovers a bizarre link between martial arts, fist fighting, and worship, just one of the fascinating threads of behind-the-scenes religious history discovered by Linda Fairstein in her background research for Silent Mercy.
At St. John's, Alex and her longtime sidekick, NYPD homicide detective Mike Chapman, study six magnificent stained glass windows originally meant for another chapel, when they get an insight into the mind of the killer and a clue to where he might strike next.
For two decades Linda Fairstein was Chief of the Sex Crimes Unit for the Manhattan District Attorney's office. In that position she became a legal expert on crimes of sexual assault and domestic violence. For her 13
th
novel, Fairstein draws on the rich history and architecture of New York City, which, as always, provides a fascinating backdrop for her thrillers.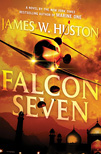 Falcon Seven
James W. Huston '84
St. Martin's
Several years ago, President Bush signed a bill authorizing the president of the United States to use whatever means necessary to extract Americans being held by the International Criminal Court. James Huston wondered what would happen if the ICC charged Americans with war crimes and the president had to decide whether to use the power claimed in the controversial act. The result is Falcon Seven, his latest thought-provoking thriller.
The plot unfolds as two Navy F/A-18 pilots, intending to bomb a meeting between al-Qaeda and Taliban leaders in Pakistan, mistakenly hit innocent civilians instead. Their plane is shot down and the flyers are secretly taken to The Hague in the Netherlands, where they are charged with war crimes.
The National Security Council assigns Jack Caskey, a criminal defense lawyer and former Navy SEAL, to defend the pilots. He travels to Pakistan on a dangerous mission to find witnesses. At the same time, the NSC wants President Barack Obama to use a little-known act that authorizes the use of force to extract Americans held by the ICC. At first Obama gives a special ops team the go-ahead, but changes his mind and cooperates with the ICC.
Incensed at this turn of events, Caskey begins his defense but works behind the scenes to get the men free before they are imprisoned indefinitely. High drama in the courtroom and forays into the world of international intrigue make Falcon Seven a compelling read. "Huston provides an intriguing look at international law, current American policies, and modern war," notes Publishers Weekly.
James Huston is a former F-14 pilot, graduate of TOPGUN, and experienced trial lawyer.