Clinic Students Travel U.S. to Argue Appeals in Federal Courts
By Eric Williamson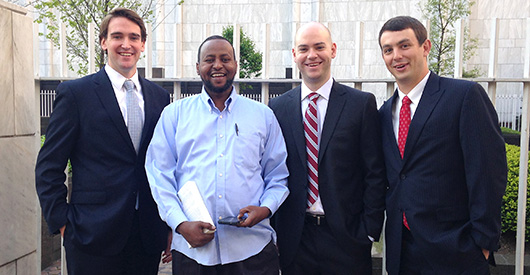 Appellate Litigation Clinic client Abdurahman Haji, second from left, stands with student legal team Cory Ward '15, Jack Zugay '15, and David Martin '15.
Through the expanded reach of the Appellate Litigation Clinic, third-years are gaining experience preparing and arguing appellate cases in courtrooms across the country.

The clinic handled appeals beyond its home circuit this year, including two recent First Amendment cases argued in Ohio, and an upcoming argument for a high-profile prisoner in Arkansas.

"Last year, we initiated an effort to expand the geographic reach of the Appellate Litigation Clinic beyond the Fourth Circuit in Richmond," clinic director Stephen Braga said. "This year that effort bore fruit. By summer, I expect that we will have had seven students argue in four different circuits."


The team of Jack Zugay, David Martin, and Cory Ward traveled to Cincinnati in April to argue two First Amendment cases before the U.S. Court of Appeals for the Sixth Circuit.
On April 29, Zugay argued in the case
Abdurahman Haji v. Columbus City Schools
, which centered on whether their client, a former middle school teaching assistant, was fired by the Columbus School System for exercising his First Amendment rights. Haji had made a video of a sermon he delivered at his local mosque. During the sermon, he criticized the manner in which the language arts class he helped conduct taught Greek mythology.
"He believed it had crossed the line into religious instruction, rather than remaining solely historical instruction," Zugay said.
The school system claimed the reason for the firing was that Haji left early from work on Friday afternoons, in violation of the collective bargaining agreement. But even if that were real reason, Zugay said, an existing agreement had been in place to allow his client to leave early to conduct Friday worship.
Zugay said arguing the federal appeal was a rare honor.
"Arguing the case was a tremendous opportunity," he said. "It is rather unique for a young lawyer to get to argue a federal appeal—let alone a law student. All of the preparation we went through—the numerous moots, the countless discussions we had about the case—really helped prepare me to think on my feet and respond to the judges' questions."
Ward helped the team on the Haji case by mooting as the state's counsel throughout the preparations. He said it was gratifying to see their client's reaction following the actual oral arguments.
"The most rewarding part of the appeal was meeting Mr. Haji after the argument," Ward said. "His appreciation was palpable, and the moment made me realize what an amazing skill we have acquired over the past three years, and the positive impact we can make moving forward."
On April 30, Martin argued in the case
Ohio Council 8 v. Secretary of State
.
The students challenged Ohio's system for judicial elections, which prohibits judicial candidates from being identified with their political parties on the general election ballot. Their clients—a coalition of Ohio voters, judicial candidates, and the Democratic Party of Ohio—contended that this system deprived them of their First Amendment rights to association and freedom of expression.
"The law mandates partisan primaries for Democrats and Republicans, and then strips that party label from the general election ballot," Martin said. "We argued that the immense voter drop-off experienced in these elections is at least in part caused by the burden on First Amendment freedoms, and that constitutional burden is too great for the state to justify the poorly tailored law."
Martin called the experience "the capstone" of an enjoyable three years at UVA Law, despite having felt some stress during the argument. Aware of the relatively brief time he was slotted, Martin said he had to work to pace his replies.
"The biggest challenge was slowing down, to make sure my answers were responsive, thorough, and persuasive," Martin said. "That was especially difficult given the time crunch; 12 minutes at the podium goes especially quickly when challenging a 160-year-old state law in a federal court."
But he said he felt prepared because of the supportive efforts of Professor Michael Gilbert, who judged Martin's final moot before he left for Cincinnati, and Braga and classmates.
The Sixth Circuit has not yet issued its decision on either of the two appeals.
Another team of now-former clinic students, Katie Clifford and Mario Peia, will soon argue before the U.S. Court of Appeals for the Eighth Circuit in
Holt v. Howard
, although the date has yet to be finalized. Holt and Professor Douglas Laycock made news earlier this year at the U.S. Supreme Court when they brought, and won, Holt's religious liberty complaint against the Arkansas prison system for not allowing Holt to wear a beard, per his religious convictions as a Muslim.
Holt is now asking an appeals court to help him obtain documents under the state's Freedom of Information Act that he was previously denied, but may demonstrate his actual innocence. The act prohibits inmates without counsel from accessing state records under the state's FOIA law, but allows inmates with counsel to do so. Clifford and Peia assert that this statutory distinction violated Holt's rights to equal protection under the law and to access the courts.
"Our client seeks reports stating that the main witness in his conviction lied and/or had a habit of lying in cases similar to his," Peia said. "This information and documentation is absolutely critical towards Mr. Holt's attack on his conviction; indeed, he cannot challenge his conviction without this information."
Students this year also argued federal appeals in the Fourth and D.C. Circuits, filed an amicus brief in the U.S. Court of Appeals for the Second Circuit, filed a petition for a writ of certiorari in the U.S. Supreme Court, and filed an opening brief on behalf of a new clinic client in the Sixth Circuit.
Braga said students learned how rules vary in the different federal circuit courts, how the logistics of travel can impact preparation, and how the geographic backdrop for the courts and the judges sitting on those courts can affect their receptiveness to certain arguments.
He said gaining this kind of experience may provide the future lawyers an edge.
"Because of their talents, UVA Law graduates will most likely wind up working in a national law practice, so being exposed to actually litigating real cases around the country while still in law school will provide an enormous practical advantage to the students," Braga said.