Students on the Go
Students continue to travel throughout the United States, Asia, Africa, and Latin America to volunteer their time and skills in a wide variety of programs that defend human rights and provide legal and humanitarian aid. Here are some of this year's highlights.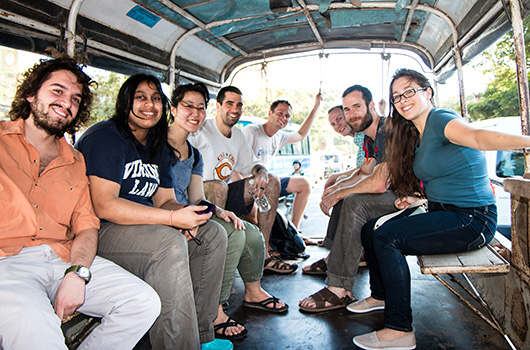 The Human Rights Study Project's Cowan Fellows in Myanmar.
Human Rights in Myanmar
Students in the Human Rights Study Project traveled to Myanmar, a Southeast Asian country attempting to transition toward democracy, to research a range of human rights issues.
Known as Cowan Fellows, student project members Ledet and Tanner Camp '16, Tony Greene '16, Tawnie Gulizia '15, Sejal Jhaveri '15, Monica Kim '15, Reedy Swanson '16, and George Zaras '16 spent 15 days in the country studying issues ranging from the impact of foreign investment to health care and Myanmar's constitution. More at:
www.law.virginia.edu/html/news/2015_spr/hrsp.htm
.
---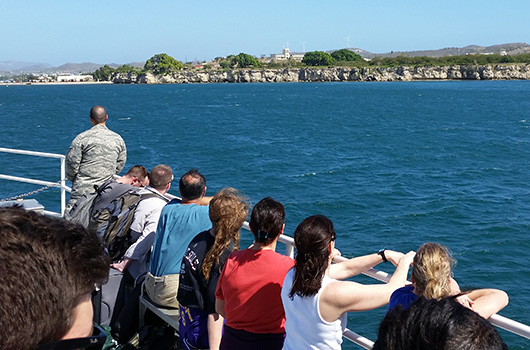 Judicial Watch observers headed to Guantanamo Bay.
Monitoring Detainee Hearings in Guantanamo Bay
Five students traveled to the Guantanamo Bay Naval Base in Cuba this year for a week-long trip to monitor pretrial hearings for detainees facing charges related to terrorism.
The students, Maggie Cleary '17, Nate Freeman '17, Drew LaFountaine '15, Andrew Lanius '15, and Rhett Ricard '15, volunteered to serve as nongovernmental observers with Judicial Watch, a nonprofit public interest organization. The role of the observer is designed to help increase the transparency of the proceedings in Guantanamo Bay. More at:
www.law.virginia.edu/html/news/2015_spr/guantanamo-bay-observers.htm
.
---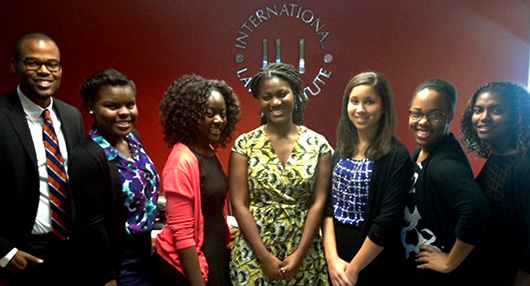 Students participated in this year's BLSA service trip to Uganda
BLSA Members Share Best Legal Practices in Uganda
Six members of the Black Law Students Association traveled to Uganda during the winter break to help build a continuing education platform for judges, attorneys, and professionals who use the nation's legal system.
The students in the nine-day January service trip worked on behalf of the International Law Institute's African Centre for Legal Excellence, an organization contracted by Uganda to help restructure the judiciary.
The institute's larger mission is to improve law, governance, finance, and project management so that African nations can better compete globally. More at: www.law.virginia.edu/html/news/2015_spr/blsa-uganda.htm.


---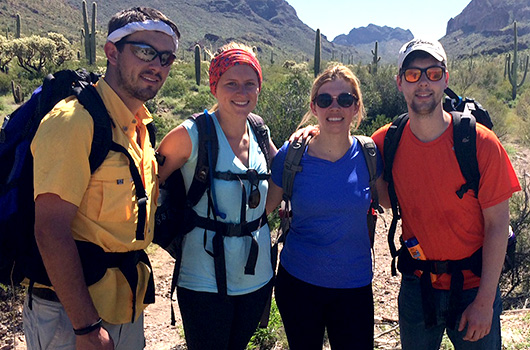 Students volunteered for the relief organization No More Deaths during Alternative Spring Break. The Arizona nonprofit was one of seven groups students helped.
In the Desert and on the Docket
From helping poor defendants on crowded court dockets in New York and Louisiana, to providing relief to migrants in the Arizona desert, students aided legal and humanitarian efforts as volunteers through an alternative spring break program.

The law students—29 in total—worked at seven locations across the country, donating more than 1,000 pro bono hours. Now in its seventh year, the Public Interest Law Association's Alternative Spring Break Program allows students to learn about careers in public service while also helping a range of government and public-interest organizations. More at: www.law.virginia.edu/html/news/2015_spr/pilabreak.htm.