1980s Class Notes
1980
John F. Brenner was named in New York Super Lawyers 2011 and in New Jersey Super Lawyers 2012 in class action/mass torts, personal injury defense-products, and civil litigation defense. He is a partner in the health effects litigation practice group with Pepper Hamilton in Princeton, N.J., and New York, where he focuses his practice on the defense of complex product liability and mass tort cases against pharmaceutical and medical device manufacturers.
Leonard C. Martin has been selected to serve as state chair for Mississippi for the American College of Trust & Estate Counsel (ACTEC) for a five-year term. He was named among the 2011 Mid-South Super Lawyers and was selected for inclusion in Best Lawyers 2012 in trusts and estates and nonprofit/charities law. He is a shareholder with Baker Donelson in Jackson, where he concentrates his practice in taxation, trusts and probate, planned giving, and nonprofit organizations.

W. David Paxton was named among the 2011 Virginia legal elite by Virginia Business magazine in the area of labor/employment. He is a partner with Gentry Locke Rakes & Moore in Roanoke.
Jonathan J. Rusch, a deputy chief in the fraud section of the U.S. Department of Justice, has received the Director-General's Commendation from the United Kingdom Serious Organised Crime Agency (SOCA). The commendation, which is SOCA's highest award and one rarely given to non-Britons, is in recognition of his service as co-chair of the international mass-marketing fraud working group, a multinational law enforcement body dedicated to improving international cooperation and coordination in combating all types of mass-marketing fraud.
1981
Christine Hughes was recently elected to the board of directors of the northeast chapter of the Association of Corporate Counsel. The ACC is an association of in-house counsel that offers legal education programs, pro bono opportunities, advocacy, women's and diversity initiatives, and networking to its members. Hughes is general counsel at Emerson College in Boston, Mass.
Chris Roux has joined Alston & Bird in Washington, D.C. He practiced in Los Angeles for 30 years, serving the last three as co-chair of Alston & Bird's construction & government contracts group. He was selected for inclusion in Best Lawyers 2012 in the area of construction law. "The move was made principally for family reasons," he writes, "but I am looking forward to transitioning my practice to the East Coast and reconnecting with UVA classmates." He can be reached at Chris.Roux@alston.com.
1982
Jack Ross left the practice of law in Washington, D.C. some years ago to pursue writing interests. Ross is a freelance sports journalist, currently writing mostly about golf. Among other endeavors, he writes a monthly golf rules column for New England Golf Monthly—"putting my legal training to work in a different capacity!" Ross has also contributed articles to Kingdom Magazine (Arnold Palmer's publication) and Arnold Palmer's Guide to the Majors. Ross is co-author of a golf book that has just been released:Mastering Golf's Toughest Shots. This is the second book published by the Professional Caddies Association, and contains hands-on advice from some of the top professional caddies. Ross contributed a chapter about how players can use the rules to their advantage in problem situations. (See In Print.)
Dennis Ryan has joined Health Diagnostic Laboratory, a medical testing company established in Richmond, Va., in 2009, as executive vice president. Ryan will help plan the company's expansion of facilities in the United States and in Europe. He was a founding partner of LeClairRyan.

Raymond Truitt has been appointed to the board of advisors of Loyola College, Loyola University Maryland's school of arts and sciences. He is managing partner for finance and operations for Ballard Spahr in Baltimore and is a partner in the real estate department. Truitt was selected for inclusion in Best Lawyers 2012 in real estate law.
J. Vann Vogel is working as a deputy general counsel at Verizon Wireless. His son, Peter, is a freshman at University of North Carolina and his daughter, Susanna, is a freshman at Davidson. He and his wife, Jennifer, enjoy fall weekends in the Carolinas and their vacation/retirement house in Asheville.
1983

Robert Barnes is of counsel in the real estate and finance practice with Carlton Fields in Atlanta, Ga. He has experience in CMBS lending and matters involving mezzanine loans, equity investments, borrowing entity structures, defeasance, asset management, loan workouts, and real estate leasing and sales. He previously served as general counsel and in senior management for two nationally recognized commercial mortgage lenders.
Blake A. Bell, senior counsel with Simpson Thacher & Bartlett in New York City, was elected to a four-year term as town councilman in Pelham, N.Y., where he served as town clerk for the last four years and as town historian for the last nine.

While he and his wife, Janice Ingram, have been raising their son, Brett (15), and daughter, Jennifer (10) in Pelham, Blake has published two books on the history of the region (and is working on a third).He has published more than 80 articles on related topics that have appeared in a host of newspapers and history journals and has presented academic papers on the same subject at conferences throughout New York State.He sits on the boards of numerous not-for-profit philanthropic and historic preservation organizations and is a member of the program committee for the Conference on New York State History.Far more importantly, he notes, for much of the last decade he has been a Little League, softball, and soccer coach.
Hugh M. Fain III has been installed as the 124th president of the Virginia Bar Association. He is a shareholder in the litigation section at Spotts Fain in Richmond and is the firm's managing director. He was named in Best Lawyers 2012 in commercial litigation and bet-the-company litigation, named among the 2011 Virginia Business magazine's list of legal elite in civil litigation, and in Virginia Super Lawyers 2011 in the areas of business litigation, employment & labor, and intellectual property litigation.
Lisa M. Friel has left the Manhattan District Attorney's office after 28 years in public service to join T&M Protection Resources, a security, consulting, and investigations firm in Manhattan, where she is vice president in charge of the sexual misconduct consulting and investigations division.

Elizabeth G. Hester has been named a BTI Client Service All-Star, a recognition (from BTI Consulting Group) of attorneys who deliver superior service to Fortune 1000 companies and other large organizations. She is a partner in the commercial section with Kaufman & Canoles in Richmond, Va., where her practice includes mergers and acquisitions and assisting clients in the formation of limited partnerships and limited liability companies. She also handles general contract and corporate matters. Hester was selected for inclusion in Best Lawyers 2012 in the area of corporate law. She is a fellow with the Virginia Law Foundation.

Robert P. Latham was elected to the International Rugby Board executive committee. He is the first American to be a voting member of the board in its 125-year history.


John "Gib" Mullan became chief counsel of the House Energy and Commerce Committee's subcommittee on commerce, manufacturing, and trade in 2011.
Greg Musil
continues to practice commercial litigation and real estate law with Polsinelli Shughart in Kansas City, Mo. Musil was selected for
Missouri & Kansas Super Lawyers
for 2011 and
Best Lawyers 2012
in bet-the company litigation, commercial litigation, land use & zoning law, and real estate. He was named as Kansas Litigation-Real Estate Lawyer of the Year for 2012. In 2011 he was elected to the board of trustees of Johnson County Community College, a 42-year-old institution with more than 21,000 credit students.
1984

Judge Russell Carparelli LL.M. of the Colorado Court of Appeals has received the 2012 Honorable William J. Brennan, Jr., Award given by the National Trial Advocacy College at the Law School. The award is given in recognition of outstanding skills and contributions to the National Trial Advocacy College and the legal profession. Judge Carparelli has served on the faculty of the National Trial Advocacy College since 1984.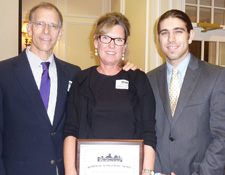 Catherine Currin Hammond, chief judge of the 14th Judicial Circuit in Henrico County, Va., received the 2011 Women of Achievement Award from the Metropolitan Richmond Women's Bar Association for her pro bono work and decades of public service. Judge Hammond has taken a leadership role in efforts to help the homeless, in advocacy for inmates on death row, and in bringing about statewide mental health reform. She has also volunteered as an intake lawyer at Central Virginia Legal Aid. The bar also recognized Hammond's initiative in creating the first drug court in Henrico, a collaborative project including law enforcement and health care providers. Hammond's husband, Paul, and son, Matthew, were with her to receive the award.
John K. Hutson has been selected as educator of the year at Army Logistics University in Fort Lee, Va.
Mary Steele has recently become CEO of New Horizons Ministries, a non-profit serving Seattle street kids. Mary served on the board of New Horizons during her career as a litigator at Davis Wright Tremaine. She took over leadership of the organization after retiring from her law practice.
Gretchen Wylegala has been elected vice chair of the Hilbert College board of trustees. She is also currently a member of the University of Virginia Jefferson Scholarship regional selection committee. Wylegala is an assistant U.S. attorney in the U.S. Attorney's office, Western New York District. Her work in law enforcement has been recognized by the U.S. Justice Department with a 2011 National Crime Victim Service Award.
1985

In 2011 Paul A. Lombardo was elected as a member of the American Law Institute and named the Bobby Lee Cook Professor of Law at Georgia State University in Atlanta. He was appointed as a senior advisor to the Presidential Commission for the Study of Bioethical Issues in Washington D.C., and traveled to Guatemala to investigate U.S. government funded research there as reported by the Commission in: Ethically Impossible: STD Research in Guatemala from 1946-1948. His award winning book, Three Generations, No Imbeciles: Eugenics, the Supreme Court and Buck v. Bell, was released in paperback and on Kindle. He also published A Century of Eugenics in America: From the Indiana Experiment to the Human Genome Era. (See In Print.)
He is regularly contacted as an expert by the media, and in the past year has been interviewed by the Associated Press, the BBC, USA Today, National Public Radio, the CBS Evening News, and Anderson Cooper 360 on CNN.
Steve M. Pharr has named in North Carolina Super Lawyers 2012 in construction litigation. He is with Pharr Law in Winston-Salem, where he focuses on general commercial litigation, construction law, real estate litigation, professional liability, and products liability.
Michael Platt has been appointed chief executive officer of Lease Corporation International, an aircraft leasing company that is a wholly owned subsidiary of the LIBRA Group. He is based in New York City.
1986
Andy Abrams LL.M., who was named dean of the Charleston School of Law in 2008, reports that the law school received accreditation from the American Bar Association in August.
Joseph G. Grasso co-edited the American Bar Association's The Handbook on Additional Insureds. (See In Print.) The book comprehensively addresses issues that relate to additional insureds that concern both insurers and policyholders. Grasso is a partner in the litigation department and co-chair of the insurance practice group with Wiggin and Dana in Philadelphia and New York.
John J. Jenkins has been named by Best Lawyers 2012 as the Lawyer of the Year in Cleveland in the area of securities/capital markets. He advises publicly and closely held corporate clients on matters involving securities and capital market issues, mergers, acquisitions and divestitures, and general corporate law. He is partner in the securities and capital markets group with Calfee, Halter & Griswold.
Susan W. Murley was named to the Top Women in Law for 2011 by Massachusetts Lawyers Weekly. She is co-managing partner of Wilmer Hale and a partner in the corporate practice group in Boston, where she concentrates her practice mainly in the areas of corporate finance, mergers and acquisitions, and corporate governance.
James F. Ritter has joined Sheppard, Mullin, Richter & Hampton in Washington, D.C., where he is special counsel in the corporate practice group. He represents businesses seeking and providing access to capital in a number of industries, and has extensive experience in the aerospace, defense, communications, health care, and energy industries. He was previously with Latham & Watkins.
Jennifer Weiss is in her seventh term in the North Carolina House of Representatives. She has represented her district since 1999.
Kenneth Williams is professor of law at South Texas College of Law in Houston. He is a nationally recognized expert on the death penalty and criminal law. His book, Most Deserving of Death? An Analysis of the Supreme Court's Death Penalty Jurisprudence, was recently published by Ashgate Publishing Company. (See In Print.)
1987
David J. Bederman passed away on December 4 at the age of 50. He was K.H. Gyr Professor of Private International Law at Emory Law School and a noted authority on public international law, admiralty, and legal history.
Prior to his 20 years at Emory Law, Bederman was with Covington & Burling and served as a legal adviser at the Iran/U.S. Claims Tribunal at The Hague. He was a prolific author of books and articles on public international law, legal history, admiralty, legislation and regulation, and constitutional law. He litigated cases involving shipwreck finds on the ocean floor and represented the company that held the salvage rights to the Titanic. Last year he became chair of the board of directors of Odyssey Marine Exploration Inc., which leads search and recovery of deep-ocean shipwrecks. He was counsel of record in 52 cases in the U.S. Court of Appeals and argued four cases before the U.S. Supreme Court. He was a visiting professor at the Law School.
Ron Haron resides in Arlington, Va., with his wife, Judy, daughter, Rose (6), and son, Anthony (4).
In October Jeffrey Kerr, general counsel to People for the Ethical Treatment of Animals (PETA), filed a lawsuit asking a federal court to declare that five wild-caught orcas forced to perform at SeaWorld are being held as slaves in violation of the Thirteenth Amendment to the Constitution. The filing, the first in history seeking to apply the Thirteenth Amendment to nonhuman animals, named the orcas as plaintiffs and sought their release. In February U.S. District Judge Jeffrey Miller of San Diego, Cal., ruled that the Thirteenth Amendment applies only to humans.
Kerr brought an earlier formal complaint to the Florida State Attorney asking that involuntary manslaughter charges be brought against SeaWorld and its executives following the February 2010 death of orca trainer Dawn Brancheau. She drowned after being pulled into the water by an orca that had been involved in two previous deaths. OSHA cited SeaWorld Orlando for willfully exposing employees to life-threatening hazards in interacting with orcas.
Kerr argues that orcas are intelligent animals that, in nature, work cooperatively, form complex relationships, communicate with distinct dialects, and swim long distances every day. In captivity at SeaWorld in California and Florida, they are forced to swim in tight circles in concrete tanks. They are deprived of their freedom, the use of their sonar, and are forced to perform tricks for human entertainment.
Alfred "Ran" Randolph, Jr., serves on the Virginia Bar Association's board of governors. He was selected for inclusion in Best Lawyers 2012 in banking and finance law, corporate law, and financial services regulation law. Ran is a partner with Kaufman & Canoles in Norfolk, where he is a member of the lender representation and bankruptcy and the creditors' rights and business restructuring practice groups. He coaches youth lacrosse with Jeff Stedfast '86. Ran has three boys (9, 12, and 16) and is approaching his 23rd wedding anniversary with his wife, Kristen.
1988

Kim Bonuomo has been elected shareholder with Moss & Barnett in Minneapolis, Minn., where she is a member of the family law practice group. She focuses her practice on complex asset valuation and distribution, business valuations, custody and parental rights, financial support, premarital agreements, and settlement negotiations.

John M. Cooper and a partner announced their new personal injury law firm,Cooper Hurley, in Norfolk, Va. Cooper was previously a partner with Shapiro, Cooper, Lewis & Appleton and devotes himself to helping individuals hurt in car, truck, motorcycle, and train accidents. Cooper is a district governor for the Virginia Trial Lawyers Association, the statewide plaintiffs' bar, and serves as chair of the FELA (railroad worker claims) Litigation Group for the American Association for Justice. He was named to the Top 100 Trial Lawyer list for 2011 by the National Trial Lawyers organization. In January he was reelected as 2nd district governor for the Virginia Trial Lawyers Association.
Elizabeth Garrett has been elected to the American Academy of Political and Social Science (AAPSS) and will be inducted as a Harold Lasswell Fellow. She was selected in recognition of contributions she has made to social sciences and for communicating her understanding beyond her own discipline.
Garrett is the Frances R. and John J. Duggan Professor of Law, Political Science and Public Policy at the University of Southern California Gould School of Law. She holds joint appointments at the USC Dornsife College of Letters, Arts and Sciences, and the USC School of Policy, Planning, and Development, as well as a courtesy appointment at the USC Annenberg School for Communication & Journalism. She is an authority on the study of direct democracy, including initiatives, referenda, and recalls, and is one of the country's leading experts on statutory interpretation and the role of institutions—judicial, legislative and administrative—in shaping the interpretive process.
Patrick Hyder Patterson recently published Bought and Sold: Living and Losing the Good Life in Socialist Yugoslavia with Cornell University Press. In the book he examines the unique mix of socialist and consumerist life in the former Yugoslavia. (See In Print.) He is assistant professor of history at the University of California, San Diego.
1989

Brian C. Riopelle
has been recognized in
Benchmark Litigation
as the 2012 Virginia Litigator of the Year.
American Lawyer
selected him as its Litigator in the Spotlight in 2011, and he was named in
Chambers USA 2011
as a leading lawyer for intellectual property. Riopelle was also named in
Best Lawyers 2012
in patent litigation and in
Virginia Super Lawyers 2011
in intellectual property litigation and business litigation. He was also named one of Virginia's Legal Elite in
Virginia Business 2011
in intellectual property law. Riopelle is partner and chair of the IP litigation/patent department with McGuireWoods in Richmond.