Students are at the heart of UVA Law, and the reason scholarships and loan forgiveness are a top priority. Financial aid is key to recruiting diverse and talented students, removing barriers to entering the legal profession, and enabling careers in public service.
Financial aid is almost always a significant — if not decisive — factor when admitted students of the highest caliber choose UVA Law. The resources to provide such aid are critical to the school's future.
THE POWER OF ENDOWMENT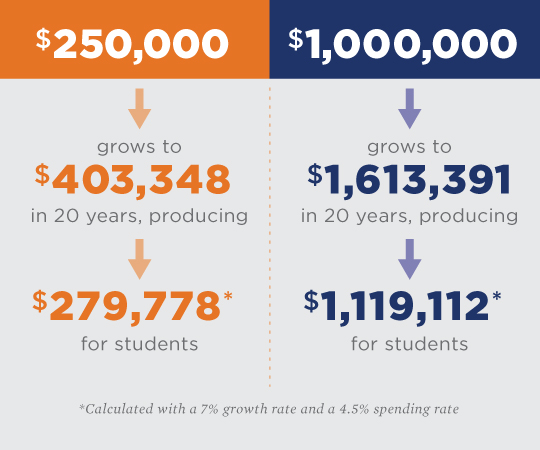 Endowed Scholarships
| | |
| --- | --- |
| NAMED DEAN'S SCHOLARSHIPS | $1 MILLION |
| NAMED SCHOLARSHIPS | $750,000 | $500,000 | $250,000 |
Named scholarships, which carry the names of their donors or an honoree, enable the Law School to attract exceptional applicants who are likely to be recruited and supported by many peer schools. These scholarships are awarded to students of particular merit, promise, or need, and are intended to provide substantial tuition assistance.

Endowed Loan Forgiveness Funds
| | |
| --- | --- |
| NAMED LOAN FORGIVENESS FUND | $250,000 |
Named loan forgiveness funds, which recognize the donor or an honoree, enable the Law School to fulfill its commitment to making public service a viable career path. A fund endowed with $250,000 provides more than $11,000 annually in loan assistance to graduates working in public service or in underserved areas of Virginia.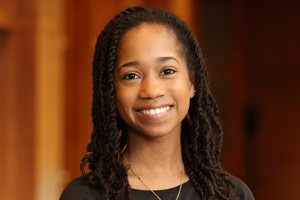 Your Gift Made a Difference
"Your donations make it possible for students like me to attend law school and to seize opportunities to make a difference on and off Grounds.
"After just one semester, I have experienced the life-changing impact of your donations. Whether I am attending office hours with top-notch professors or doing pro bono work with the Domestic Violence Project, all of this started with the scholarship I received.
"Your generosity enables students from a diverse range of backgrounds to experience a UVA Law education. I am grateful for the opportunity to form lasting friendships with my incredibly talented classmates and professors. I look forward to pursuing the countless opportunities that your support makes possible for students like me. 
"Choosing to come to UVA Law was one of the best decisions of my life."
NICOLE BANTON '21
Recipient of the Dasha Smith '98 Scholarship