New Harrison Professors Are Leaders in the Academy and in the Classroom
Abraham, BeVier, and Mahoney All Past Recipients of University Teaching Awards

Cullen Couch


Virginia has long been known for its scholarship and for its teaching. That was surely so when David A. Harrison III '41 was a student. His experience in the classroom so impressed him that he made a generous gift at his death specifically to fund professorships and "otherwise to provide faculty support." His gift—now more than $49.2 million—is believed to be the largest single endowment for faculty chairs in the legal academy.
"The Harrison Professorships signal to the world our commitment not only to remain in the very first rank of American legal education," says Dean John C. Jeffries, Jr., "but to challenge the nation's leading private universities for the nation's foremost leading law professors."
Harrison chairs are reserved for senior teachers and scholars of national distinction who also embody the ideals of the Law School. The most recent appointments are among Virginia's finest. Kenneth Abraham is widely regarded as the nation's foremost expert in insurance law. Lillian BeVier has won praise for a lifetime of thoughtful First Amendment analysis and for important contributions to modern intellectual property law. Paul Mahoney is regarded as the best scholar working today on securities regulation. "All stand at the pinnacle of their fields, with long records of accomplishment and distinction and many years of service at the School of Law," says Dean Jeffries.
Each has also been recognized by the University of Virginia for teaching excellence. In 1998, Mahoney won the All-University's Outstanding Teaching Award—the same award conferred on Abraham in 2000. And this year, BeVier received the University of Virginia Alumni Association Distinguished Professor Award. In different but compelling ways, they all contribute to the Virginia teaching tradition and extend its legacy. Here, we present more fully their interests and careers, particularly how they balance and combine their teaching and scholarship.
Kenneth Abraham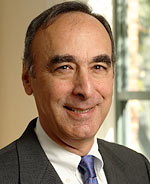 Before Kenneth Abraham became a law professor, he practiced law in New Jersey for several years. When he began "looking for a change," he had doubts he would be able to compete in a profession that prized above all intellectual achievement. "I never thought of myself that way. I knew that law teaching was hard to get into, but I asked around and some friends told me about a one-semester opening at Case Western Reserve." Abraham took that job and then moved to the University of Maryland for the next nine years. "I knew that I was not ready for the big leagues, certainly not the University of Virginia. I learned and worked at getting better at scholarship and teaching, was offered a visiting role at the Law School for one year, and then came full time."
Twenty-three years later, Abraham has made his mark at the Law School and in the legal academy, both as a scholar and a teacher. His casebook, Insurance Law and Regulation, now in its fourth edition, has been used as the principal text in courses on insurance law in more than 100 American law schools. His torts treatise, The Forms and Functions of Tort Law (2d ed. 2002), has become a basic text for first-year law students across the country. And since 1996 he has been a member of the Council of the American Law Institute, the governing board of the nation's leading organization of lawyers, judges, and law professors.
"Scholarship drives my teaching," he says. "I bring to the classroom a great deal of knowledge, and I try to impart some of it in a clear and organized way."
Abraham's principal goal in the classroom is to make theory practical. He understands that at its simplest level, law is just a set of rules. It is the theory behind those rules that brings them alive and helps the lawyer apply them effectively to new situations. Otherwise, says Abraham, legal rules are only sets of commands divorced from the principles and purposes that the rules serve. "I have always thought that law teaching and legal scholarship must be theoretical or they will be nothing more than reporting and description," he says. Abraham attributes his success in the classroom to three ingredients: enthusiasm, clarity, and discomfort.
"I cannot tell anyone where to get enthusiasm for teaching a subject. I love the subjects I teach, and I love being in the classroom." And over time, Abraham has increasingly come to appreciate the value of organization and clarity in the classroom. "I once thought that substance and depth mattered above all else, and in the end they do. But substance and depth cannot be adequately conveyed without organization and clarity."
He is also quite willing to make students uncomfortable in the process of deconstructing many of the "unexamined ideas" they bring with them to law school. Abraham encourages them to test these ideas against counterarguments. "They think I'm tough, but all I'm doing is engaging in the same conversation that all lawyers do. This is not always comfortable for students, but it is a terrific way to learn. We take a position, we argue it, and the other side does the same. Many of my former students return and tell me that my classes don't seem as tough as they were when they were here. Well, that's because they're lawyers now and very used to this type of conversation. That's all I'm doing in class, conversing with my students as a lawyer. They need to get used to that."
And the students do, year in and year out, and they appreciate Abraham for it. In turn, he looks back on his years at the Law School with great fondness. "If somebody told me 35 years ago that some day I would be a distinguished professor at the University of Virginia School of Law, I never would have believed them. This has been a dream for me." And his Harrison appointment "means that my law school and my colleagues have recognized that my career here as a scholar and teacher has brought some distinction, and that is very gratifying. It's a great honor.
Lillian BeVier
For Lillian BeVier , the Harrison appointment is the capstone to a rich career at the Law School. "I can remember when I got here and to think that this is what I'm ending on is really quite wonderful. I'm very touched, very honored, very astonished. I just love this place and it's hard to even imagine how good it's been to me."
BeVier did not always aspire to be part of the legal academy. After she received her law degree from Stanford, a former professor whom she consulted for career advice suggested she try teaching. Her first teaching job was with the University of Santa Clara, and she earned tenure rather quickly—even before she had produced any scholarship.
"I wanted to be at a school that would push me a little harder. I received a number of calls the year I was invited to come as a visitor to Virginia. I accepted the Virginia visiting offer, piled my two boys in the car, and off we went on our adventure." As a single mom with two children, it was a long way to travel, but the Law School community welcomed her. "Here I was a single woman from California—there weren't other women on the faculty—with these two young boys. I think I may have seemed sort of exotic to people in Charlottesville at the time, but everyone was very welcoming. My faculty colleagues encouraged me, and their wives—there were no husbands of faculty members back then—invited me to their homes. They played tennis with me. They were friendly, and they made me feel I might make a home here."
It was not all smooth sailing at first. BeVier was the first woman professor to receive tenure at the Law School, and the only woman on the faculty for her first nine years at Virginia. But in the years since she arrived, BeVier has worked to perfect her scholarship and her teaching, refining both to such a degree that she has become a noted First Amendment scholar and one of the Law School's favorite professors. As a scholar, she is a bold theorist. But as a teacher, she still experiences anxiety that in her next class she won't get it right. It drives her to prepare assiduously for each class, even for subjects she has taught for many years.
"I think to myself, 'I've taught this before. Why is my stomach in knots?' But I take teaching very seriously and prepare like mad for all my classes. All the issues I teach really matter to me, and how each class goes also matters. I have a hard time lightening up about it."
Her preparation covers both technique and substance. In terms of technique, she's learned a few tricks of the trade. If she writes on the board, she writes legibly; if she announces an outline, she follows it. She talks at a reasonable pace, is prompt about starting and ending class, and makes sure the class is clear about her expectations. More substantively, she knows her agenda and how to make her goals for the course as coherent as possible. She knows to have reasons for starting where she starts and ending where she ends, and for taking a particular route from start to finish. She signals clearly to her students that she takes the teaching enterprise seriously. And she tries to let her students know that she understands their uncertainties and wants to help dispel minor ones so that they can concentrate on the ones that matter. But these techniques don't go to the heart of what her teaching is about.
BeVier says "the real work of teaching entails the effort to get students genuinely to engage with the subject matter and then to sustain that engagement well past the final exam. I want to provide them with a foundation of knowledge and help them to acquire tools they can build upon in the years to come." This goal poses two principal challenges to her. "First, I try simultaneously to achieve mutually inconsistent objectives: make the subject matter transparent; at the same time preserve its mystery and leave many of its puzzles tantalizingly unsolved. Make the students feel comfortable and secure; but sustain a level of tension necessary to prod genuine mental effort."
BeVier's second challenge arises from the simple fact of the students' youth and relative inexperience. "They can't truly understand what they're being taught until they have more experience of life. Only that experience will give full meaning to what they've studied. So I try now to offer them ideas that will resonate, that will remain triggers to thought in the years to come." She recalls a two-word sentence that a law school teacher of her own said when she was studying constitutional law. 'Institutions matter,' he said. Just that. Institutions matter. My thinking has ever since been stimulated and enriched by that surprisingly profound truth. I can only hope that I offer my students an occasional insight as memorable, as transparent, and as irresistible an invitation to continue to seek deeper understanding as was that."
Paul Mahoney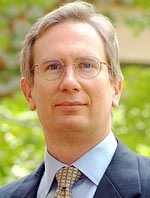 Paul Mahoney believed that someday he might become an academic, but he thought it would be important to his credibility as a teacher to have some practice experience. Trained as an electrical engineer at M.I.T., his mathematical mind drew him to the intricacies of securities law and financial regulation. After graduating from Yale in 1984, he joined Sullivan & Cromwell and practiced corporate law there for four years.
Eventually, his natural curiosity pulled him into academia. "I wanted to understand more about how the legal system worked, what were the effects of securities regulations, how the transactions function, whether law helped or hurt. You can't do that on the client's dime." Mahoney joined the Law School faculty in 1990. Aside from several visiting professorships and a leave to head Sullivan & Cromwell's practice in Moscow, he has been at the Law School ever since.
Mahoney brings to his teaching the rigorous precision and analysis he learned as an engineer. In fact, he sees many similarities between law and mathematics. "I think they're both analytical exercises and in important respects deductive," he says. "Lawyers do much of what mathematicians do. They abstract some of the complications away from real life, develop a set of basic principles, and are very good at using words to describe their analysis. Mathematicians do the same thing using symbols."
In the classroom, Mahoney expects his students to be precise in their ability to make an argument that follows a logical progression from one step to the next. To help them do that, he brings math into the class to show them just how easy it is to express certain ideas mathematically. "Frankly, throwing a little symbolic logic at the problem helps them understand these ideas. Math shows them that they can analyze a problem by expressing different features of the problem as mathematical variables and then manipulating those variables."
Mahoney says that he often learns something new in the classroom. Either a student asks a question that makes him think about the problem in a new way, "or, and this is terrifying but nevertheless exciting, I'm in the middle of saying something and I suddenly think, 'Well, that's not quite right. You could make the following counterargument.'" Comparing teaching law to doing stand-up comedy, Mahoney starts with "an idea of how you want the hour to go, but there's always the possibility that things will go a little bit differently. You have to be able to think on your feet, so it's a fun and exciting experience."
According to Mahoney, legal education does two different things. First, 1Ls learn a set of analytical tools that they will use to attack problems throughout their career, the so-called "thinking-like-a-lawyer" part of the training or, as Mahoney calls it, the "tool kit." Second, 2Ls and 3Ls learn content that serves as a knowledge base they take to their professions and develop over time.
But Mahoney thinks that building the "tool kit" shouldn't end after the first year. Students should continue to learn analytical skills that are not the traditional thinking-like-a-lawyer skills, but nevertheless will be there for them throughout their careers. "I try to show students that they can analyze various legal problems using data, and though it might not be useful their very first day as a first year associate, somewhere down the road it will be. I want to show them enough different ways of looking at problems so that when they encounter something new, they can reach into the tool kit for an insight or another technique that might help them understand the problem a little bit better."
And why the rich teaching culture at Virginia? It's simple, says Mahoney. "People here really care about teaching. It is so ingrained in the culture that anyone who arrives here, whether they're an entry level or a lateral hire, can't help but be influenced by it. It is often easy to stay at a particular equilibrium, but very hard to get there. Quality teaching is an example. If you don't have it, it's hard to get simply because of natural self-interest. From the perspective of any single professor, it is clearly in your long-term career interest to shirk in the classroom because almost none of your external reputation in the broader world will be based on your teaching. But when a law school has developed a culture in which teaching really matters and people expect you to do well at it, then it's much easier to sustain that."
His appointment as a Harrison professor "is the highest honor one can get. It means your own colleagues—at least those who advise the Dean on chair appointments—have a lot of respect for your research and teaching and other contributions you make to the school. An honor that comes from the people who know you best is especially meaningful."