CIVIL RIGHTS: Marshall Counsels Low-Income LGBT New Yorkers Through New Fellowship
By Brian McNeill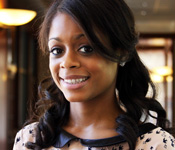 As the inaugural Katherine and David deWilde '67 LGBT Summer Fellow, third-year Heather Marshall gained hands-on experience working on cutting-edge legal issues affecting low-income New Yorkers who are gay, lesbian, bisexual, and transgender.
The $10,000 fellowship supports students working on behalf of the LGBT community and allowed Marshall to work for the LGBT Law Project at the New York Legal Assistance Group this summer.
David deWilde '67, a San Francisco resident, said he and his wife, Katherine, funded the grant through the Law School Foundation to attract the best and brightest students to gain direct, personal experience in legal and cultural issues involving the LGBT community, both nationally and locally.
"Our goal is to empower a Virginia Law student to make an immediate practical contribution in this rapidly changing, controversial aspect of civil rights," he said. "This is an opportunity to advocate and educate, to help establish new precedent. We are inspired by the bipartisan efforts of leading lawyers, judges, and legislators to bring change to this important area of civil rights and we hope this fellowship will inspire young leaders at UVA Law to join their ranks."
Marshall recently spoke with UVA Law about her experience as the inaugural deWilde Fellow.
What kind of work did you do as part of your fellowship at the LGBT Law Project?
I was able to work on a variety of projects, but the bulk of my work involved direct representation of low-income LGBT New Yorkers. I interviewed clients and witnesses, assisted in responding to and drafting proposed orders and motions, and supporting affidavits. I made frequent appearances in court and was able to successfully advocate for domestic violence victims in Brooklyn Family Court. I also participated in several negotiation conferences in housing and family court.
The majority of my cases were in the areas of family law and immigration law, and I was able to do substantive work in a number of possibly precedent-setting cases. A typical day could include researching exceptions to the one-year asylum application deadline, calling up an [assistant district attorney] to ask (read: beg) for a certification for a U-visa applicant, meeting with a client to discuss intimate details of his relationship with his recently deceased partner to develop a strong case for succession, then running to family court to respond to a last-minute order to stay on a temporary visitation order. A typical day could also include spending all day in court with a domestic violence victim in order to obtain an order of protection against her abuser. I was always busy, but the issues were interesting and many of my clients had particularly captivating stories.
I also worked on LGBT advocacy and education. I assisted in preparing material for presentations on cultural competency for family court lawyers in the five boroughs. I spent time in different courts in the five boroughs educating community members about the unique issues facing LGBT youth and LGBT domestic violence victims; this also included providing information on the nonlegal resources available to those individuals, as well as resources available to their family members and friends. I also was an integral part in organizing NYLAG's participation in the annual NYC Pride parade and helped in organizing other events meant to bring supporters of LGBT rights together. Additionally, many of the cases I worked on will help pave the road in defining parental rights in LGBT relationships.
What did you learn from working there?
The 2011 legalization of same-sex marriage in New York has raised a number of unprecedented issues, especially in the area of family law. Working on these cases really challenged me to think outside of the box to develop compelling arguments and to be as thorough as possible in researching issues, which often included turning to unlikely (and unknown) sources of information.
In addition to building upon my legal research and writing skills, I also developed a conscious recognition of the differences between law in theory and law in practice — learning that some obvious legal points were just not that important to certain judges, so make sure to have plenty of back-up arguments, even if they don't seem strong to you; if you have a family court appointment at 9 a.m., you will not be out before noon; most opposing counsel want to work with you, but some don't even show up to court; and sometimes you can reach an ADA on the first try. Most importantly, I learned that a lot of people in the legal profession are unaware of the unique issues that LGBT clients face and the dynamics of LGBT relationships — not because they don't care, but mostly because they haven't had to in the past. As laws around the country change, it is important that this knowledge become universal in the legal profession — cultural competency is an essential component to diligent representation in all areas of the law.
Do you think this experience will further your career as a lawyer? In what ways?
Absolutely. The connections I established with legal professionals in a range of practice areas are invaluable. I was able to take advantage of CLEs being offered in virtually every major practice area. Of course, being able to dive head first into real and exciting legal work with real clients allowed me to significantly grow all of the skills essential to being a successful attorney.
What advice would you offer other UVA Law students who might be interested in applying for this fellowship?
Do it. The laws affecting LGBT clients are interesting, controversial, and constantly changing, and they arise in many practice areas in both the public and private sectors. Find a sponsor organization that will allow you to do substantive work and you could have the opportunity to change lives, help establish new precedents, and to educate and advocate. Do some research — you might be surprised to learn how much has been done and how much still needs to be done to ensure the rights of LGBT individuals in America.