Non-Fiction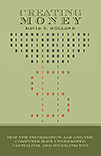 Creating Money: How the Information Age and the Computer Have Undermined Capitalism, and Socialism Too
David S. Holland '72
CreateSpace

The rocky state of the world's economies in 2007-08 has been blamed on several things: mortgages granted to unqualified buyers, the use of new financial instruments and strategies understood by few, and financial insurance products with odd names like "credit default swap."
In this book, David Holland argues that the main cause of the financial crisis (from which we have not yet fully recovered) has been much more basic: the "financialization" of the economy through the use of computer technology.
In the Industrial Age, economic systems were based on money as a scarce commodity, but now, in the Information Age, money can be created in an instant in the form of intangible assets and different kinds of debt, all with the aid of ever faster computers. The world's political and economic systems are still having serious trouble adjusting.
David Holland was formerly a policy and financial analyst with the Federal Deposit Insurance Corporation.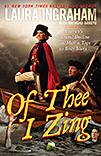 Of Thee I Zing: America's Cultural Decline from Muffin Tops to Body Shots
Laura Ingraham '91 with Raymond Arroyd
Threshold Editions/Simon & Schuster
Walk through an American shopping mall, and chances are you will witness an array of sights that indicate the downward slide of American culture: an overweight 50-year-old in tight pants and a tube top, a teenage boy wearing jeans three sizes too large, couples at restaurants talking on their cellphones to people who are somewhere else. Laura Ingraham takes it all in and warns us that the debt crisis and international instability aren't all we have to worry about; our own culture is in trouble with a capital T.
Ingraham's sharp-witted and humorous commentary takes aim at a culture in which Facebook and text have become verbs, and reading books is an unusual pastime; unusual baby names are going beyond creative into the realm of the peculiar; and weddings last longer than some marriages. The list of possible examples seems endless. Odds are no matter where you live you could add new entries while going about your day. It's high time, she warns, for America to begin its cultural recovery.
Laura Ingraham is conservative political commentator and radio host and former litigator. This is her fifth book.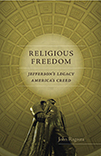 Religious Freedom: Jefferson's Legacy, America's Creed
John Ragosta '84
University of Virginia Press
In
Religious Freedom: Jefferson's Legacy, America's Creed
, historian and lawyer John Ragosta gives readers a new perspective on Thomas Jefferson, the First Amendment, and the idea of religious liberty in the United States. Jefferson believed that free thought and political freedom would be at risk if the government did not stay out of church and church out of government. Until Supreme Court Justice William Rehnquist challenged reliance on Jefferson's ideas, there had been near consensus on this issue in the Supreme Court. In recent times others have spoken out in favor of more government involvement with religion.
Ragosta explains how and why the First Amendment was adopted, and shows that though Jefferson advocated a clear separation of church and state, he never sought completely secular public life for the nation. The author delivers a strong defense of Jefferson's advocacy for strict separation of church and state and takes a close look at Jefferson's own religious ideas, revealing how the man's own religious beliefs were at the heart of his views on religious freedom. Religious Freedom: Jefferson's Legacy, America's Creed examines a key idea in American history in a way that helps us better understand current debate regarding church and state in the United States.
John Ragosta is currently a visiting assistant professor of history at Hamilton College in upstate New York.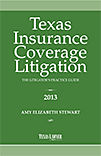 Texas Insurance Coverage Litigation: The Litigator's Practice Guide
Amy Elizabeth Stewart '92
Texas Lawyer Books
Texas Insurance Coverage Litigation: The Litigator's Practice Guide
is a desk reference for Texas litigators who handle an occasional insurance coverage lawsuit or confront occasional insurance questions in the context of their litigation practice.
With a focus on third-party liability policies and related litigation, this book includes legal analysis, practical tips, and annotations specific to Texas and Fifth Circuit practice. It mainly deals with representation of policyholders, due to the fact that the insurance industry tends to use coverage counsel for litigation of coverage disputes.
Readers will find clear explanations of a range of crucial topics, including how to navigate an insurance policy, nuts and bolts of commercial general liability, professional liability errors and omissions, cyber and privacy liability, and issues involving jury selection, as well as legal analysis, practical tips, and useful forms.
Amy Stewart's law firm, located in Dallas, represents corporations in disputes with their insurance companies.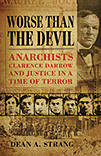 Worse Than the Devil: Anarchists, Clarence Darrow, and Justice in a Time of Terror
Dean A. Strang '85
University of Wisconsin Press
In 1917 a bomb exploded in a Milwaukee police station, killing nine officers and a civilian. Though the responsible party was never found, the police, the press, and the public rushed to the conclusion that the criminals were Italian. Soon, 11 alleged Italian anarchists went to trial on unrelated charges.
With a backdrop of World War I and growing fear and hatred of radical immigrants, an unfair trial ensued. The Italians were convicted, even though they had not been charged with that particular crime. Clarence Darrow managed to lead an appeal that gained freedom for most of those convicted, though his methods in doing so were found to be suspect.
Meticulously researched, Worse Than the Devil points out weaknesses in our legal system that continue today as courts administer criminal justice to both newcomers and outsiders. The conflict and debate involving issues of civil liberty, immigration, radicalism, and terrorism are just as urgent in the American legal system today.
Dean Strang is a criminal defense lawyer and adjunct professor at the law schools of the University of Wisconsin and Marquette University.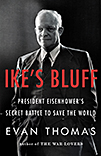 Ike's Bluff: President Eisenhower's Secret Battle to Save the World
Evan Thomas '77
Little, Brown and Company
The 1950s are often thought of as a prosperous but boring decade, and the president associated with that time as a quiet, dull man who stood watch over a peaceful time. But as Evan Thomas reveals in
Ike's Bluff
, Eisenhower was a genius at manipulating key figures to achieve his aims, calculating his strategy like the brilliant bridge and poker player he was. He was canny and confident and could be ruthless, yet he possessed the moral courage to be a model peacekeeper.
Finding himself in a position to annihilate the enemy with nuclear weapons during the dangerous early days of the Cold War, he used them to bluff instead, despite the warnings from his generals that first strike was the only path to survival. It was a high-risk maneuver, but it worked brilliantly.
The author used diaries, including one kept by Eisenhower's physician, and newly declassified papers to delve into Eisenhower's life and give a new perspective on the subject. "The balance that Thomas achieves between Eisenhower the public servant and Eisenhower the man is, in my opinion, as close to the mark as we are likely to see," writes Eisenhower's son, John. "An astute, thoroughly engaging portrayal," notes Kirkus Reviews. Ike's Bluff is an insightful study of one of the world's most underrated leaders.
Evan Thomas teaches writing and journalism at Princeton and is a frequent commentator on TV and radio. He was editor-at-large of Newsweek until 2010.
Fiction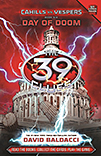 Day of Doom
David Baldacci '86
Scholastic
This sixth and final book in the popular children's series,
The 39 Clues: Cahills vs. Vespers
, begins with the kidnapping of seven members of the Cahill family. A shady organization known as the Vespers demands a list of ransoms from around the world, and thirteen-year-old Dan Cahill and his sister, Amy, set out on a global treasure hunt to meet the demands and keep their family safe.
As they deliver the last ransom, hoping that their family will be released, the two realize that all their labor has only led them to a final, deadly turn. They have become pawns in a plot to harm millions of innocent people, as the Vespers stop at nothing in their attempt to take over the world. Dan, Amy, and their friends scramble to stop Vesper One in the nick of time.
David Baldacci and his wife, Michelle, founded the Wish You Well Foundation, which works to promote literacy.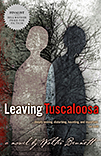 Leaving Tuscaloosa
Walter Bennett '72, LL.M. '86
Fuze Publishing
Set against a tense, sweltering Alabama backdrop in 1962, the year before Bull Connor turned Birmingham's fire hoses on civil rights protesters and the Ku Klux Klan bombed the 16th Street Baptist Church, this story follows the paths of Richeboux Branscomb, a white teenager, and Acee Waites, a black cook in a popular burger joint in Tuscaloosa. One night, after leaving the grill, Richeboux and his friends ride through a black neighborhood. As they approach a leader of the black community on a dark road, one of the boys takes aim and hits the man with a raw egg. Instead of just taking it, the man runs after them, his face twisted in both anger and fear. In that moment, a thoughtless prank spirals into a compelling tale of black and white.
Through the events that follow, Richeboux and Acee to get to know each other as people, despite the fact that they came from different worlds.
Bennett's sharply etched fiction was inspired by his experiences growing up in the South. The novel, his first, was a 2010 finalist for the Bellwether Prize (now the PEN/Bellwether Prize for Socially Engaged Fiction). "Walter Bennett has a real gift for capturing time and place, and an absolute genius for creating his larger-than-life yet totally believable characters," writes noted Southern writer Lee Smith. "Leaving Tuscaloosa is deeply moving, disturbing, haunting, and important."
Walter Bennett is a former lawyer, judge, and law professor living in Chapel Hill, N.C. He is a native of Tuscaloosa.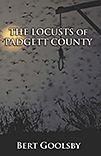 The Locusts of Padgett County
Bert Goolsby LL.M. '92
Alondra Press
Tobias Erscan, a black tenant farmer in the Deep South in the early 1900s, touches the shoulder of Lily Cato, a white music teacher and choir director, and unwittingly sets off a firestorm of reaction. He is accused of "assault with intent to ravish." Citizens of the town demand "justice" and seek the death penalty, their racial prejudice stoked by the local newspaper and the Ku Klux Klan.
Andrew Beauchamp, the criminal prosecutor for the case, sets about to prosecute Erscan for a capital crime. Though he feels some ambivalence about whether Erscan deserves the death penalty, he is more concerned with his reputation in the town and his chances in the coming elections, and so he refuses to plea bargain the charge to a lesser crime. He thought this would be the easier way out—at least for him—but he didn't anticipate that his self-serving choice would lead to awful consequences for both Erscan and himself.
The powerful story told in The Locusts of Padgett County was drawn from a legendary court case from 1909.
Bert Goolsby is a former Chief Deputy Attorney General of South Carolina and criminal prosecutor.