Send Us Your News
To submit a class note, email us or submit mail to UVA Lawyer, University of Virginia School of Law, 580 Massie Road, Charlottesville, VA 22903. Please send your submissions no later than Aug. 1 for inclusion in the next issue.
1971
After 30 years as a partner at Williams & Connolly in Washington, D.C., James Fuller took of counsel status and is traveling more.
1972
Howard Gordon was recognized as a member of the 2017 Class of Leaders in the Law by Virginia Lawyers Weekly. The awards program, which honors lawyers who are setting the standard for other lawyers in Virginia, named 30 people to the 2017 class. Gordon joined Hofheimer Nusbaum, which later merged with Williams Mullen, in 1972. His practice focuses on commercial and multifamily real estate, commercial leases, ground leases, land use planning and permits. Gordon represents owners and developers in land acquisition and the development, leasing and financing of shopping centers, multifamily housing projects, hotels and traditional neighborhoods.
George House was named in 2018 Best Lawyers in America for environmental law, environmental litigation, mining law, natural resources law and water law. House practices with Brooks Pierce in Greensboro, N.C.

Peter V. Lacouture was elected chair of the American Bar Association Infrastructure and Regulated Industries Section. The section is the third-oldest section in the ABA and celebrated its 100th anniversary during the 2017-18 year. The group brings together members of the bar who represent clients in the rapidly changing legal environment in infrastructure and regulated industries, including aviation, communications, electricity, gas, oil pipeline, railroad, transportation infrastructure and water industries. Lacouture has served the section in a number of positions, including 12 years as editor-in-chief of "Recent Developments in Public Utility, Communications and Transportation Industries," a comprehensive review of developments in areas represented by the section's committees. Lacouture is a member of Robinson+Cole's environmental, energy and telecommunications group in Providence, R.I. He represents clients in the siting and permitting of large infrastructure projects. He also represents clients in other public utility, zoning, environmental and land use cases in Rhode Island.
Tate K. Sterrett has been included in Best Lawyers in America 2018 for his legal practice in family law and family law mediation. Sterrett practices with Horack Talley in Charlotte, N.C.
1973
In January of 2017, Charles Adams returned to Switzerland from his term as U.S. ambassador to the Republic of Finland. Two months later he assumed his position as partner and global head of Orrick's International Arbitration Practice Group based in Geneva.
Patricia A. Donovan (Sister Patricia) came to Charlottesville in September 1970 after a career as a high school teacher and principal in Rochester and Elmira, N.Y. She had been a member of the Sisters of Charity since graduating from high school, and had a long-held dream of becoming a lawyer. Donovan found her three years at the Law School enormously rewarding both intellectually and personally, her classmates said, and she made many lifelong friends among both students and faculty. Her background in education gave her a unique perspective in the education law courses she delighted in. After law school, Patricia worked in the Pennsylvania Attorney General's Office, advising the State Department of Education. She ultimately left religious orders, and spent the final years of her career in the general counsel's office of the School District of Philadelphia.
After retirement, Donovan moved back to her hometown of Rochester, where she died after an extended illness on Nov. 10. She was 86.
After 40 years of federal service with the U.S. Department of Justice and U.S. Treasury, most recently as director of enforcement and compliance of the office of the comptroller of the currency, Richard C. Stearns accepted a position as senior advisor at McKinsey & Co., where he advises financial institutions on risk practices and regulatory affairs.

Fred Tulley was recognized in the 2018 Best Lawyers in America in commercial litigation, banking and finance litigation, and bankruptcy litigation. Tulley practices with Taylor Porter in Baton Rouge, La.
1974
The fifth edition of "Understanding Corporate Law" by Douglas M. Branson LL.M. is being published. The book is his 24th. Branson is the W. Edward Sell Professor of Business Law at the University of Pittsburgh.
Michael McAdoo joined the wills, trusts and estates, and commercial real estate and leasing practices at Blankingship & Keith in Fairfax, Va. McAdoo's commercial real estate practice emphasizes representing institutional lenders and owners in secured lending transactions. His wills, trusts and estates practice focuses on family estate planning, including wealth transfer planning and trust and estate administration.
1976
Walter N. Bardenwerper returned to China to teach Enterprise Risk Management at the Peking University School of Transnational Law in Shenzhen, China, during the 2017 academic term.
Bill Cary was named in 2018 Best Lawyers in America for employment law and labor law (representing management), and labor and employment litigation. Cary practices with Brooks Pierce in Greensboro, N.C.
Luther Munford's essay, "Letter to a First-Year Law Student," was published in Vol. 20 of The Green Bag, second edition.
1977
Julian D. Bobbitt Jr., a member with Smith Anderson in Raleigh, N.C., was recognized in 2018 Best Lawyers in America.
Margaret Ann Brown's daughter, Margaret Birkel '18, graduates from the Law School in May and is pursuing a career as a public defender. While at the Law School, Brown writes, Birkel was active in the Program in Law and Public Service and clinics, reinvigorated the Virginia Law in Prison Project, and in her final year co-chaired the Peer Advisor Program for first-year students. Brown continues to practice commercial law as a partner with Troutman Sanders in Tysons Corner, Va., and Washington, D.C. Brown writes that she enjoyed seeing many classmates at last year's reunion.

Dennis J. Curran, a Massachusetts Superior Court justice, received the William Whiting Award for Judicial Courage from the American Board of Trial Advocates' Massachusetts Chapter "in recognition of his many years of honorable service to the people of the Commonwealth of Massachusetts, and in appreciation for his determination to 'watch and guard the liberties of the people.'"

Barry R. Kogut of Bond, Schoeneck & King in Syracuse, N.Y., was recognized in the 2018 Best Lawyers in America. His practice focuses on environmental law.
1978

Christopher D'Angelo was the speaker for the program "The Potential Reach of U.S. Sanctions on Asian Affiliates" at the Asia Meeting of the International Association of Defense Counsel in Hong Kong in October. The meeting included several programs presented by an international panel of leading lawyers with regard to dispute resolution and government compliance and investigations.
D'Angelo was also a speaker at the Spring Technical Meeting of the International Alliance of Asbestos & Pollution Reinsurers in Munich in June. The alliance is made up of the major players in the reinsurance world facing pollution and asbestos issues, primarily in the U.S. and Europe. His presentation included information about exposures and the overall prognosis for individuals affected by related diseases in the U.S., in order to assist the companies in writing risks and handling claims.
He was the moderator and a speaker on "Data Privacy — No More Safe Harbour: Cross-Border Discovery and Compliance with Data Protection Laws" at the International Corporate Counsel College in October 2016 in Brussels. D'Angelo was a contributing author to the Defense Counsel Training Manual published by the International Association of Defense Counsel in 2016.
D'Angelo was elected to a second term on the board of directors of Citizens Diplomacy International of Philadelphia, a public-private partnership with the U.S. Department of State and the city of Philadelphia. Their mission is to promote mutual understanding among nations and prevent wars by bringing people "face to face" and creating a dialogue between Americans and guests from abroad. The group promotes democracy, free enterprise, international trade and educational exchanges.
He is chairman of the international practice and co-chairman of the business litigation and products liability section at Montgomery, McCracken, Walker & Rhoads, and is based in Philadelphia and New York.

Linda E. Romano of Bond, Schoeneck & King in Syracuse, N.Y., was recognized in the 2018 Best Lawyers in America. She focuses her practice on business law and public finance.
1979
Mark Amerman is chief financial officer of Show Hope (showhope.org), a nonprofit organization in Franklin, Tenn. Show Hope provides grants to help families with the costs of adoption. Show Hope also supports Care Centers in China, which provide care for children with acute medical and special needs.
Randy Underwood was recognized in 2018 Best Lawyers in America for financial services regulation law and real estate law. Underwood practices with Brooks Pierce in Greensboro, N.C.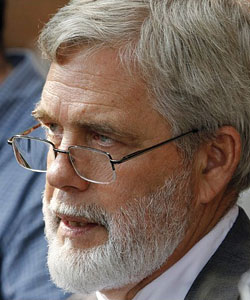 Leaving a Legacy: Chapman '79 Retires After 24 Years as Top Charlottesville Prosecutor
Warner Davies "Dave" Chapman '79 retired after serving 24 years as Charlottesville commonwealth's attorney. He decided not to run for re-election in 2017.
Notable cases during his tenure included the murder trials of former Kluge family bodyguard Dorian Lester in 1998 and former Virginia lacrosse player George Huguely in 2010.
Chapman first took office 1994 after serving as Albemarle County deputy commonwealth's attorney. He said he ran for the city's top prosecutor job largely because he was critical of the manner in which exculpatory evidence was being withheld in the city.
"We had an open file policy in the county at that time," Chapman said. "It would be fair to say that during my tenure in the city my office participated in multiple collaborative efforts to improve the local criminal justice system."
The Charlottesville/Albemarle Drug Treatment Court is one such example of a multi-agency planning effort. It enabled substance-addicted offenders to be diverted from ordinary prosecution to a treatment program.
The prosecutor's office also spearheaded a collaborative effort to help inmates get out of the criminal justice system and back on their feet.
"You begin to learn in that position what an opportunity you have to be at the forefront of the direction of criminal justice in a community," Chapman told The Daily Progress in February. "It gives you an opportunity to be at the forefront of issues of societal consequence."
In the article, he also touted his office's aggressive yet even-handed approach to prosecutions stemming from August's violent Unite the Right rally.
Chapman said he will spend a portion of his retirement exploring new hiking trails with his wife, Cyndy.
UVA Law Prosecution Clinic instructor Joe Platania was elected the new commonwealth's attorney for the city.
—Mike Fox