Checking In During the Pandemic
ow are you doing? We checked in with four alumni about how they and their areas of law have been faring during the disruptions caused by the pandemic, including any adaptations they've had to make. They shared their frank insights, revealing they are handling issues with creativity and resilience — in other words, like UVA lawyers.
M&A AND OTHER BIG TRANSACTIONS

/ Trey Muldrow '95 
Learning to Deal Amid Disruption
The due diligence of valuing a company has become more labored due to the pandemic, and projecting future business has become more complex.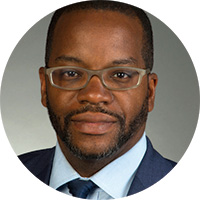 Even so, after a challenging first half of 2020, the business world has mostly adapted to the new normal.
At Akin Gump Strauss Hauer & Feld's New York office, former Partner in Charge Trey Muldrow '95 (now a partner in Weil, Gotshal & Manges' global private equity practice), who is experienced in handling mergers and other complex corporate matters, observed that businesses were going through "cataclysmic change" last year in terms of their prospects.
Yet, "with additional liquidity from banks and other private equity sources, in the second half, much to the surprise of many, there were many more transactions," Muldrow said. "Where does that leave us? It leaves us in a place where people are ready and able to transact, and there is capital to be deployed."
Among last year's highlights, Muldrow helped facilitate the $5.4 billion merger between British electric vehicle company Arrival and U.S.-based CIIG Merger Corp. that provided the buzzed-about electric vehicle startup entree to Wall Street investors.
Muldrow commuted from his Brooklyn residence to Manhattan three or four times a week last year, joining the small percentage of attorneys and business staff occupying Akin Gump's floors at the Bank of America Tower, which has often been used for film and television shoots. He said he felt the need to be there in person, but looking beyond the pandemic, he saw the upside of his lawyers being able to work from home more often, which has allowed them to spend more time with their families.
When a little one inevitably joins a video conference unexpectedly, "that's the best part," he said.
He and his wife, Dana, have two girls, ages 8 and 12, who have been able to return to their schools.
Given that everyone has had to adjust to remote engagement, Muldrow said, Akin Gump had actually become more connected across offices, and more sensitive to inclusion and other people's needs. Clients, too, "have gotten comfortable with this means of engagement. They've seen these complicated deals get negotiated and settled virtually."
He said he expects law firms in general to fare better during the course of the pandemic than they did after the 2008 economic downturn, because of the workforce reductions that previously occurred.
"I don't think there's going to be wholesale changes," he said.
He worries more for New York's world-renowned service and entertainment industries, including Broadway.
"It's very quiet, especially in Manhattan, and at night it gets very dark," he said. "You just don't have the businesses that are open in the same way, whether it be theater, restaurants or nightlife."
HEALTH CARE

/ Karen Gibbs '92
Helping Clients Decide When To Keep CARES Act Cash
When the government first offered "free" money to health care providers as relief during the pandemic, Karen Gibbs '92 helped her clients stop and consider the prudence of accepting. She's a partner with McDermott Will & Emery and is based in Chicago. With 130 attorneys across the firm who are focused on diverse health care issues, McDermott has the largest such practice in the country. Gibbs advises health care and life sciences organizations, investors and lenders on a variety of matters, including the CARES Act Provider Relief Fund.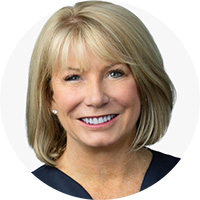 The U.S. Department of Health and Human Services began releasing $178 billion to hospitals and other health care providers in April 2020 — naturally, with conditions.
"Initially the money hit bank accounts, then the question was, do you keep it or not?" she said. "Recipients had to sign on to terms and conditions, and it was possible for providers to apply for additional funding. The terms and conditions kept evolving, sometimes changing within the course of a day."
Keeping the cash under the CARES Act has required making attestations in an uncertain business environment. Public disclosures — information that could be seized upon by competitors, such as details about revenue — might result in greater financial exposure than an award amount. Companies were also concerned that they might face scrutiny, and even enforcement actions, related to any inaccuracies that they might unintentionally report. Not to mention that businesses perceived to be milking the government in a crisis, even if they meet all the legal requirements, could still face backlash.
Each client's situation has been different, she said, but among the portfolio companies of private equity funds that she represents, many decided not to take the money. "Some could make do without it and decided not to take risks that might be associated with keeping the relief funds."
Gibbs, a Double Hoo who holds a master's in history, joined McDermott as a partner seven years ago, having previously been vice president and senior counsel at CVS Health and a partner at Sidley Austin. She now heads McDermott's Chicago health and life sciences practice. 
"We're helping our clients plan for the future," she said. "You don't skate to where the puck is. You skate to where the puck is going to be."
Despite the need for relief from all things COVID, at the dinner table, Gibbs and her cardiologist husband, Gary, often can't help but talk shop. Their home has been her office for the past year. She said her husband brings home personal stories, as well as stories from peers on the frontlines. The insights help her better understand her clients. 
"I have a direct view to the challenges on the ground," she said. "Regardless of the financial effects, this year has been beyond stressful for health care providers. There are layers of PPE protection. The more protective, the less comfortable. Providers have seen many people suffer and die from COVID.  It has been tough. We are optimistic, though, that we are on the other side of the crisis."
ENTREPRENEURSHIP

/ Steve Kaplan '05
Facilitating Terrifying Leaps, Casually
Are we in an economic bubble? Steve Kaplan '05 laughed. A Washington, D.C., and Northern Virginia partner in the law firm Pillsbury, he said a bubble has been feared by entrepreneurs for at least the past five years. If there is one, he only sees the rainbow on the outside.
"I think it's always a good time to start a company," Kaplan said.
While the COVID-19 economy has had its share of hard-hit industries, opportunities for the types of businesses he tends to represent, often tech-focused, appear to track strongly with the consumer needs that go along with distancing. E-commerce, remote computing and cybersecurity startups are thriving. He said risk is being minimized by a new breed of determined entrepreneurs in emerging spaces.
"These are companies that are going to do things 10 times better than before rather than 10 percent better," he said.
Kaplan admits that, unlike his clients, he's a little risk averse — which perhaps works in their favor; he helps clients take flying leaps while ensuring they stick the landing. He's been at Pillsbury doing the same type of work since he graduated from law school. His love of gadgetry pushed him in the direction of tech, but he ultimately discovered that it was the people and personalities in the entrepreneurial ecosystem that really appealed to him.
"I say I found the right thing for all the wrong reasons," he said.
Kaplan usually first encounters clients in the Maryland-D.C.-Virginia market, although they may gravitate to the San Francisco Bay Area or New York, where venture capital is rich. He provides them strategic advice on which types of capital to court and when, ranging from small friends-and-family and angel investor rounds to $300 million growth equity financings, with typical clients hoping to eventually sell the business and, for most of them, start another one.
"The thing I love about my practice is I get to see clients grow and evolve over the years," he said. "They go from a couple of people forming a company to selling it for millions of dollars a few years, or more than a few years, later. They really are looking for you to offer the full suite of everything. The technical lawyering part is a much smaller portion of the job, while the business advice is a bigger part."
Kaplan is a third-generation Wahoo, but first-generation UVA Law. He's married to Kelly Voss '07, pro bono counsel at Covington & Burling. They have two children.
As other attorneys are just recently exploring how casually they can dress when reporting from home, Kaplan already has his "work-from-home casual" nailed. A long time ago, he had a conversation with his bosses about being allowed to mirror his clients. It took some convincing for him to be permitted to buck the dress code.
"If I was wearing a suit to one of my meetings, I would look like I didn't get it," he explained to them. "Slowly but surely, I turned casual Friday into casual Thursday, and then casual every day."
FAMILY LAW

/ Afi Johnson-Parris '02
Steadily Seeing Clients, But Marriages May Be Steady, Too
Two nurses who work at the same hospital end their relationship, they have an informal child visitation arrangement, and then a highly contagious virus becomes a public safety threat. If the man puts visits on pause because he was exposed to a COVID-19 patient, could that be grounds for overturning their agreement?
"It gets tricky," North Carolina family law attorney Afi Johnson-Parris '02 said. "Everyone has opinions about what is safe and what isn't."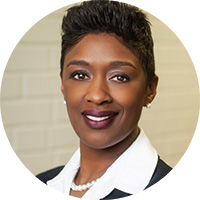 Despite working on a COVID-19 ward herself, the woman asserted that her ex's house was no longer safe, though he takes the same health care precautions. The judge ultimately ruled in favor of the man, Johnson-Parris' client, formalizing the preexisting visitation schedule.
"Sometimes I feel like I'm part of a movie production," she said as she talked about helping her client prepare to appear on camera for his court hearing. "I told him, 'I want you on the couch right there. I like that picture in the back that says 'Dad,' so turn the camera this way."
Johnson-Parris, whose solo practice is in Greensboro, left her former firm before the pandemic hit. She said it was good timing, rather than trying to start a new business during a pandemic. Because she was already established in her practice area in town, business has been strong. Among her new clients are "folks who can't make it through the pandemic with each other."
Nationwide, the divorce picture is partly cloudy but perhaps offers room for optimism, at least for romantics. Divorce was down before the pandemic and the decline appears to be ongoing, according to Professor Naomi Cahn, a family law expert who recently joined the UVA Law faculty. She cited research from Bowling Green State University that tracked five states reporting continuous data last year during the pandemic (North Carolina was not among them).
"That report suggests that the trend is continuing," Cahn said. But she cautioned, "Reports early in the pandemic suggested that divorce rates were spiking, so it is too early to tell just what the impact is and will be."
Commentators have suggested that some spouses may be feeling stuck but are waiting for uncertainty around the pandemic to abate before making a move. Women have suffered disproportionate job losses due to shutdowns, Cahn noted.   
Another reason for lower national divorce numbers may be court processing delays. Johnson-Parris said her state court has suffered from setbacks, just like courts across the country. At times, her paralegal has had to leave filings in a bucket outside of the clerk's office, to be processed at some unspecified future date.
The status of custody battles in the U.S. is even hazier than the divorce picture, Cahn said, though Johnson-Parris noted anecdotally that custody issues may be keeping her and her peers the busiest.
The alumna said she's grateful for a steady home life with her husband, Steven, and their two children, a freshman and junior in high school who are largely self-sufficient.
Still, when the internet goes out at home and a school report is due, Mom is the one who gets the call.