From her time working in government, Leezie Kim '96 knows about making big decisions under pressure, but she has experienced a very different kind of pressure over the past 18 months in her current job as chief legal officer of Fox Restaurant Concepts.
Fox, a James Beard-nominated restaurant incubator company, operates more than 50 restaurants across the country. Those restaurants employ thousands of people, and their livelihoods were disrupted when COVID-19 hit last March. Dine-in business largely disappeared, forcing Kim to oversee some restaurant closures and thousands of employee furloughs, something that had never happened before in the company's 20-year history. 
"It was chaos and things were changing all the time," she said. "We were all doing what we could to keep people as safe as possible." 
Under Kim's oversight, Fox quickly started a program to distribute modest emergency grants to furloughed employees, eventually giving away over $1 million in private donations. At the same time, Kim and her team were sending the thousands of furloughed employees electronic gift cards every other week, so "even if we couldn't provide work for them, we could at least feed them and their families, and check in on how they were doing."  
Throughout, Kim and the Fox leadership team were leading the company through the most difficult financial and cash flow challenges the company had ever faced. They learned how to do contact tracing and secure COVID-19 testing capabilities. In March, they ran a two-day COVID-19 vaccination clinic for Fox employees, their families and the employees of smaller, independent restaurants that didn't otherwise have access to vaccines so early.  
"I get asked all the time," Kim said, "'Why does somebody who worked in politics go into the restaurant business?'" In her view, the two worlds have a lot in common. "If you ask anyone who works in politics who on the support team is the most important, everyone will say it's the constituent services team. That love of interacting and serving the public is the same in both fields."
Kim gained her public-sector experience working with Janet Napolitano '83, the former Arizona governor and secretary of homeland security, but their relationship first blossomed as a friendship. She met Napolitano, then the newly appointed U.S. attorney for the District of Arizona, the summer after her first year in law school. A mutual friend invited Kim and Napolitano to lunch. They talked much longer than expected.
"Janet was sharp, geeky and so funny that we hardly noticed that our table was the only one left [occupied] in the dining room," Kim recalled. "It just goes to show how many doors are opened by luck in one's life."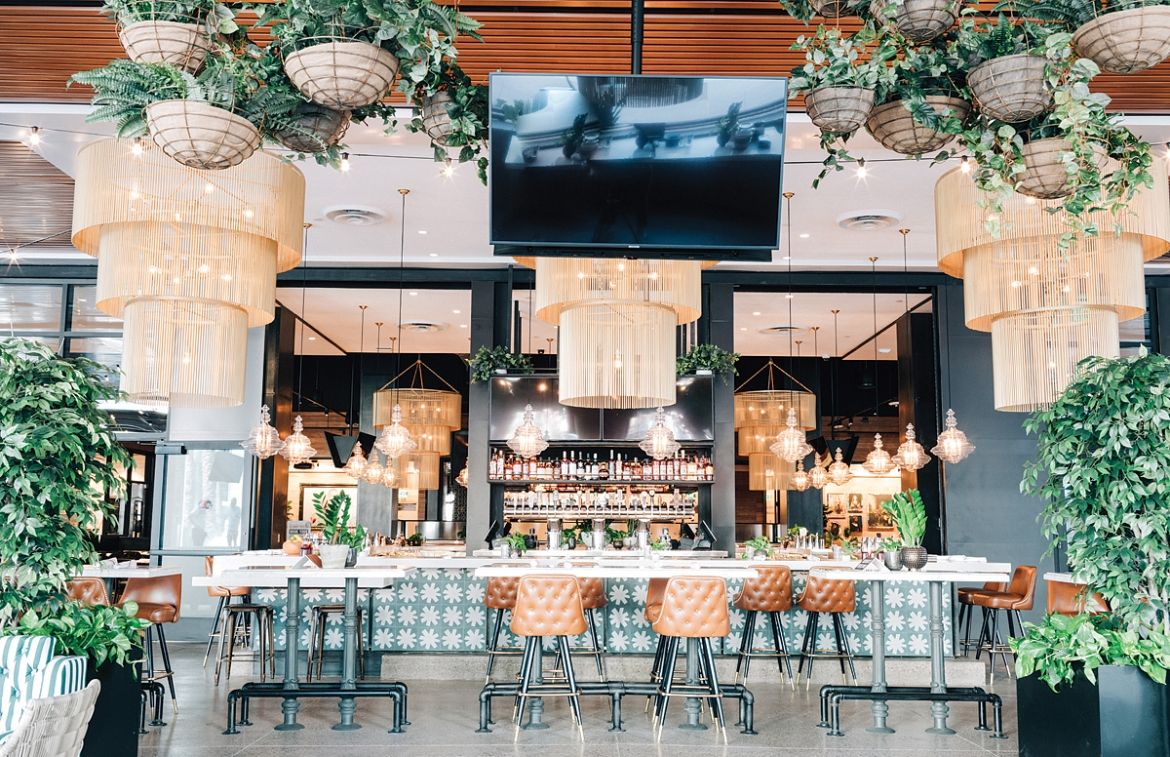 One other piece of "luck" Kim cited from her years at UVA was when two classmates, Peter Vincent and Lily Garcia-Walton, set her up on a blind date with another classmate, Gary Restaino, whom she later married. Restaino is now a prosecutor in the U.S. Attorney's Office for the District of Arizona. (Note: Restaino became U.S. attorney for the District of Arizona on Nov. 23, after publication of the fall 2021 UVA Lawyer issue.)
After graduation, Kim joined Quarles & Brady in Phoenix and began what she thought would be a career in private practice in corporate law. In 2003, however, shortly after Napolitano was elected Arizona's governor, she brought Kim in to work on a statewide tax reform project. Once the project was completed, Kim returned to Quarles and made partner, but in 2008, Napolitano called her back to be the governor's general counsel. Several months later, when President Barack Obama named Napolitano to lead the Department of Homeland Security, Kim went with her to Washington, serving as deputy general counsel. 
UVA connections ran strong in the Department of Homeland Security. To pick just two examples at the time, then-Professor David Martin took a leave of absence to become the department's principal deputy counsel while Vincent, Kim's classmate, at her urging, became the principal legal advisor for U.S. Immigration and Customs Enforcement.
Martin recalled Kim as "a wonderful colleague" who stepped up to help work on the department's response following an unsuccessful attempt by the so-called "underwear bomber" to destroy a Northwest Airlines flight on Christmas in 2009. Kim was later part of a team that worked on the Obama administration's Deferred Action for Childhood Arrivals program, of which she is particularly proud.
Kim returned to Quarles for a third time in 2012, but less than two years later the founder of Fox Restaurant Concepts offered her a job in-house. She has been there since 2014. 
"This is the most fun I have had in any job," she enthused. "It's great serving your country, but it is a lot of fun to be doing new menu tastings as part of your workday."