The Fairfax County courtroom that was the site of the legal feud between Johnny Depp and Amber Heard was teeming with Wahoos, not all of whom were swimming in the same direction.
The University of Virginia graduates making waves included Depp's lead trial attorney, Benjamin Chew '88 of Brown Rudnick. Chew had been representing Depp in business disputes for more than five years when Depp asked him to file the $50 million defamation complaint against his ex-wife Amber Heard for a 2018 Washington Post op-ed in which she said she "became a public figure representing domestic abuse." Heard countersued for $100 million, also alleging defamation.
Two weeks before the televised trial started, Chew reeled in another Wahoo to help. A trial partner from the Boston office, Rebecca MacDowell Lecaroz '06, stepped in to work with expert witnesses and ended up playing a key role with fact witnesses.
Across the aisle, a third Wahoo — and another Benjamin, this one by the name of Rottenborn — was leading Heard's team. Rottenborn, a Stanford Law School alumnus, earned his bachelor's degree from the University of Virginia in 2003 and worked pro bono to help nine victims of the Unite the Right rally violence recover $26 million in damages in Sines v. Kessler. The Woods Rogers partner also taught federal litigation courses as an adjunct at UVA Law from 2013 to 2018, driving up from Roanoke to do so. (Rottenborn did not respond to requests for an interview.)
In the media frenzy that followed, it was too easy to forget that the abuse allegations that emerged during the trial were weighty and serious, and required the lawyers to walk a fine line as advocates.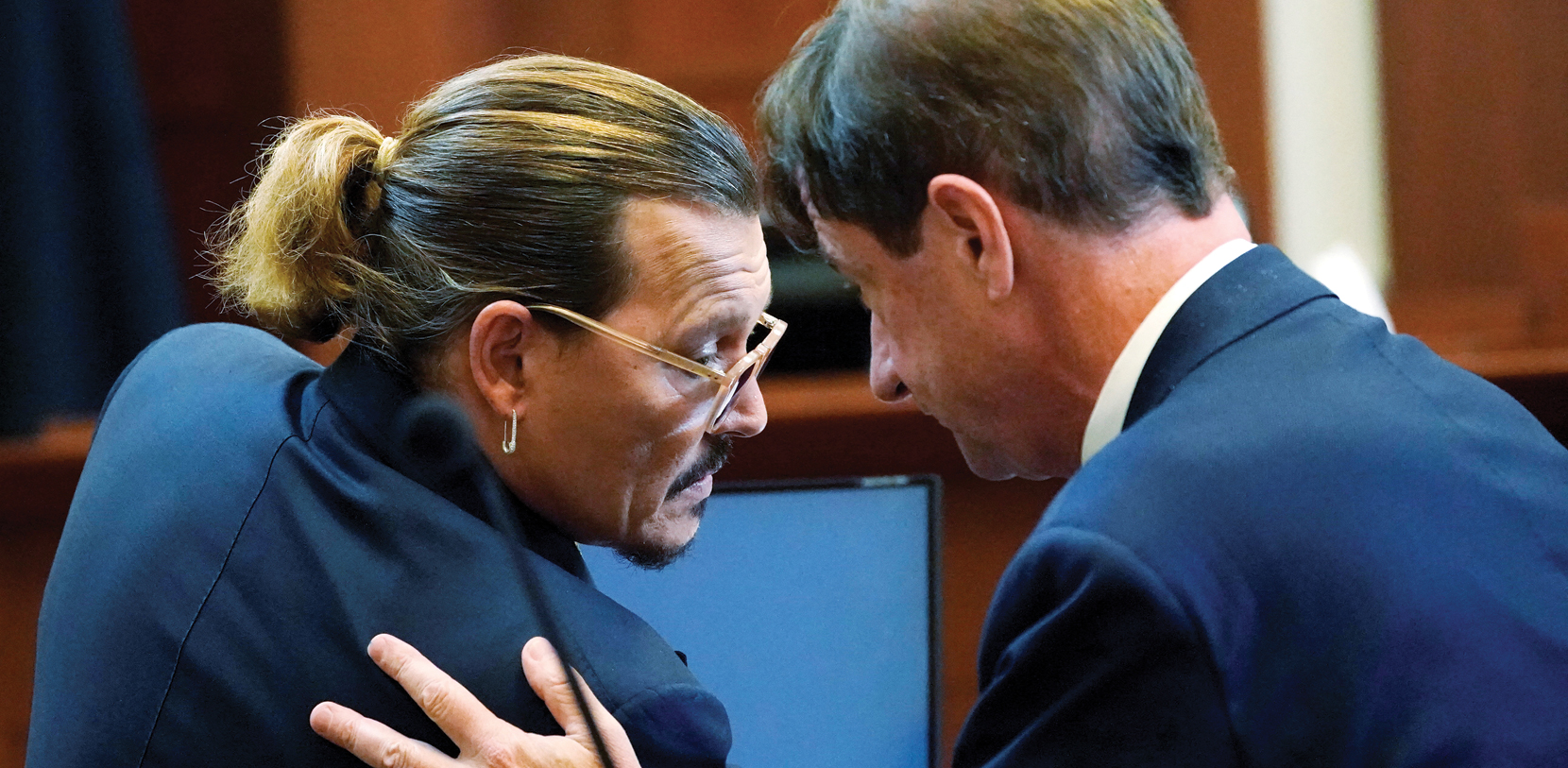 Johnny Depp and Benjamin Chew talk in court. Steve Helber/Pool via Reuters
Lecaroz joined the team after spending several hours discussing the facts to make sure that she, like Chew, believed Depp was defamed.
"I think it's fair to say generally that all of us support the #MeToo movement and tend to believe women, so we did a lot of due diligence because truth is always a defense in a defamation case," Chew said. "But for those who came aboard later, they had to take their own journey and see the facts that were somewhat counterintuitive. It was important to him that each member of the team believed in him — not that he was a perfect person, because he's not — but that everybody believed that he did not do this."
Depp's team had the bigger victory in court, with the jury awarding him $10.35 million, while Heard was awarded a $2 million verdict in her counterclaim. But Depp's lawyers also became minor media celebrities whose courtroom moves were analyzed almost as closely as the celebrity combatants'. While Chew and Lecaroz have been honing their trial advocacy skills since their days at UVA, nothing could have prepared them for the onslaught of attention they experienced on social and mainstream media.
"It's quite surreal for all of us, as you can imagine," Chew said in an interview in August. "Johnny's view was, 'I want people to actually hear my side of the story — the more, the better,' but I don't think even he had any understanding of the interest that would ensue."
The underlying issues in the case were anything but funny yet, for the lawyers, the outpouring of attention has been absurd, humorous and, at times, creepy.
Other than the opening and closing arguments, Court TV's cameras were trained mostly on the famous litigants. But the cameras also captured the litigators in some candid and viral moments. There was the moment Chew allegedly "fist-pumped" when Lecaroz's cross-examination of Heard's sister opened the door to admitting Depp's ex-girlfriend, Kate Moss, as a rebuttal witness.
Social media critics jumped on Chew for his emotional reaction, while others made video shorts of the cross-examination and praised Lecaroz's performance. (The Wahoo — the unofficial mascot of UVA — wasn't quite the right kind of game fish to describe her; one fan called her "the quiet shark" of the team.)
Chew agrees that Lecaroz is, in fact, a quiet shark. "Rebecca's the brains behind this operation — I'm just the front person," Chew said.
Chew, who joined the firm as a partner from Manatt Phelps in 2018, works in sports and entertainment law (he defended Cher in a lawsuit related to a film she produced) and in complex commercial litigation. He has represented multiple foreign governments and officials, including some who were prosecuting their own defamation claims.
The social media ecosphere seems drawn to the Brown Rudnick team as much for their apparent camaraderie as for their impassioned advocacy for Depp. Viral videos captured several moments outside the courtroom, including Chew shuffling out carrying his own lectern and the team posing with pirate-hatted alpacas brought by a Depp fan.
In the UVA Law interview, the lawyers talked about what the work and the verdict meant to them.
After spending nearly two months working and semi-sleeping at the Tysons Ritz Carlton, Lecaroz said she's convinced her colleagues are indeed "who you want around the conference table with you at 3 a.m."
Chew choked up describing his own feelings about the trial.
"I wear my heart on my sleeve, and there was a lot of emotion in the courtroom," Chew said. "But we really felt that our client's life was on the line, so that maybe led to more emotion than normal cases."
Heard's attorneys filed a notice of appeal in July.
Ironically, despite the tsunami of online attention paid to Chew and Depp's other lawyers, a Google search for "Benjamin Chew Lawyer" turns up a different American lawyer as the top hit. The original Benjamin Chew was a Philadelphia Quaker who became a lawyer the old-fashioned way, by reading law and apprenticing under Andrew Hamilton.
Hamilton is known for the 1735 John Peter Zenger case, which established truth as an absolute defense to libel and defamation. That Revolutionary era Chew went on to represent William Penn, founder of Pennsylvania, and his family for 60 years, including in defamation and libel cases. That Chew is also the great-times-eight grandfather of Johnny Depp's candy-loving defamation lawyer, Ben Chew of Brown Rudnick.
"My wife says that things happen for a reason, and I've come to believe that, too," Chew said. "Not to be weird, but I do think it was meant to be."