Every law school's core strength is its faculty. That is especially true here at UVA Law, where faculty value training the next generation of lawyers as much as developing innovative ideas and improving the law. The faculty are leaders in their fields and in the profession, they are transformative clinical practitioners, and they are award-winning teachers who care deeply about nurturing students' abilities, broadening their intellectual horizons, and preparing them for exceptional careers.
Professorships enable the Law School to attract, support, and retain the world-class scholars and teachers who are so essential to the school's mission and reputation. Intense competition for leading scholars has made attracting and retaining the strongest faculty more challenging and more expensive than ever.
| | |
| --- | --- |
| DISTINGUISHED PROFESSORSHIPS | $5 MILLION |
Distinguished professorships recognize leading senior faculty and are typically held for the duration of the chairholder's tenure. The income from endowment helps attract, reward, and retain preeminent teachers and scholars.
| | |
| --- | --- |
| RESEARCH PROFESSORSHIPS | $2 MILLION |
Research professorships provide a flexible and meaningful way to reward and encourage faculty productivity. They provide significant summer and research support and are usually held for three-year terms. Appointments are based on scholarly distinction and contributions to the institution.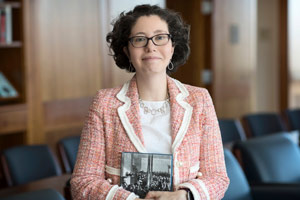 "I am writing to express my gratitude to you for endowing the Class of 1966 Research Professorship in Law, which has supported my work at the University of Virginia School of Law. It is an honor to be a member of the UVA community and to hold this this chair. My first book, Secession on Trial: The Treason Prosecution of Jefferson Davis, won the Cromwell Prize for the best first book in American legal history at the annual meeting of the American Society for Legal History.
"I am now at work on a new book that focuses on another aspect of the legal history of the Civil War. This project has brought me back to archival research, at the National Archives and in Massachusetts and North and South Carolina. Holding the Class of 1966 Research Professorship has allowed me the time and resources to undertake this necessary travel.
"I am fortunate to be a part of the scholarly community at UVA and to teach so many enormously talented law students. It is truly a privilege to teach at a place that is as intellectually vibrant and so warm-hearted as UVA. The Law School would not be the esteemed institution that it is today without the support of donors like you. Thank you for supporting my research and for everything you do to support UVA Law."
PROFESSOR CYNTHIA NICOLETTI