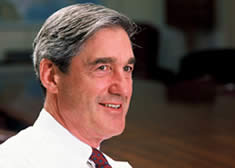 "I have been very lucky. I always felt I should spend some time paying it back."
Robert S. Mueller III '73
On the Front Lines Again
By Cullen Couch
"This will be a hard interview. The Director doesn't like to talk about himself."
That's not a statement one often hears in the nation's capitol. But John Collingwood, Assistant Director of the Office of Public and Congressional Affairs for the FBI, was summarizing an essential character trait of Robert S. Mueller III '73: humility.
"He doesn't like his picture taken, either," added Mike Kortan, Chief of the Public Affairs Section.
Terrific.
Mr. Collingwood and Mr. Kortan, both career Special Agents, had met us on the top floor of the J. Edgar Hoover building in Washington. We had just passed through the post 9/11 cordon of security and were standing in a long hallway outside the Director's spacious waiting room. Collingwood and Kortan were vetting some of the questions we planned to ask, acting as Mueller's first line of editorial defense. But they weren't doing it as bureaucrats. It was their job, but one could see immediately that they really cared about their chief. It was the first indication of the quality of the man who is now our country's chief law enforcement officer. We followed them to the Director's office where he greeted us warmly, striding toward us from his office overlooking the Washington Monument and saying "Hi, Bob Mueller." Forthright. Respectful.
Mueller is a fit man with an ex-Marine's passion for hard exercise. Lanky with a square jaw and engaging smile, he holds your gaze. A naturally reticent man, he's perfected the lawyer's penchant for answering the question asked but never venturing into the one implied.
Bob Mueller's public service pedigree goes back to 1970 and the jungles of Vietnam. Born in New York City and raised near Philadelphia, he graduated from Princeton, enlisted in the Marine Corps, and shipped into combat as a platoon leader, the most perilous posting in the war. It was a time when the firefight was at its fiercest, both in Vietnam and in the streets of this country. But to Mueller, there was no controversy. It was a matter of duty. "I have been very lucky. I always felt I should spend some time paying it back. One of the reasons I went into the Marine Corps was because we lost a very good friend, a Marine in Vietnam, who was a year ahead of me at Princeton. There were a number of us who felt we should follow his example and at least go into the service. And it flows from there."
After being wounded in combat and earning a Bronze Star, two Navy commendation medals, the Purple Heart, and the Vietnamese Cross of Gallantry, Mueller returned to civilian life. But like most veterans returning home, he found a society riven by distrust, anger, and suspicion, both toward the veterans and the political leadership. It's in this context that one must understand Bob Mueller's passion for public service. The country was deeply dispirited, its self-image terribly damaged, yet he was drawn inexorably toward serving it again. He applied to law school with the intention of going into the FBI as an agent.
Instead of being rewarded for service to his country, Bob Mueller found that many of the top law schools looked suspiciously at military service. But not the University of Virginia. "I applied to a bunch of schools," he said, "but back in '69-'70 having been in the service was not wildly applauded. A number of law schools didn't give much credit to the fact that you were in the service. Virginia was not one of them. They believed that military service was important. It was one of the few. Many of the others that were in those top ranks would look askance at somebody who had done some time in the service."
At Virginia, Mueller found himself amongst a diverse group of students. At that time, one would expect that a seasoned Marine who had risked his life for his country, and who had faced national derision for his efforts, would be bitter. But Bob Mueller is nothing if not calm, unflappable. Thoroughly at peace with himself, he took none of it personally. And that allowed him to analyze people and issues for what they were, not what they appeared to be.
For example, deferment of conscientious objectors was a red meat issue for a typical Marine in 1970. Bob Mueller isn't typical. "They deserve a huge amount of credit for taking a principled stand. It was an interesting time and a good mix," he said. "I made some very good friends who were diametrically different in their positions than I was at that time in terms of the war. But we had mutual respect."
Mueller found more than a legal education at Virginia. Like his experience at Princeton, he found a commitment to values that are essential to public service. "There are schools that want pure smarts and there are others that look for the judgment and maturity that show you have done something else besides going straight into law school. I think Virginia has been good in that regard. I feel strongly that it supports Virginia and produces the leaders of a state. And it is important to inculcate in that leadership certain values which may be different in those other schools that are preparing people for the legal profession alone, as opposed to some kind of public service."
After his successful academic career at Virginia where he served on Law Review, Mueller sought a position with the United States Attorney's office, but couldn't get in right away. He accepted an offer from Pillsbury, Madison & Sutro in San Francisco where he could hone his litigator skills. "Ultimately I wanted to go into public service. I didn't know what private practice would be like. We found out relatively quickly. It has its benefits, but I wanted to do public service. Every day you go to work because you want to; there is always something interesting and exciting. And you do it for somebody else, not just for the salary."
He worked at Pillsbury for three years, developing a keen interest in criminal law and criminal prosecution. He reapplied to the U.S. Attorney's office and became an assistant U.S. attorney for the District of Northern California in 1976, quickly rising through the ranks to become chief of its criminal division in 1981, and then in 1986 United States Attorney for the District of Massachusetts in Boston. During that time, he investigated and prosecuted financial fraud cases, narcotics conspiracies, racketeering cases, terrorist cases, tax matters, and public corruption cases. According to Governor Weld of Massachusetts as reported in the New York Times, "He simply knew his stuff. And there was no swagger to him, no strut to this guy at all."
For Bob Mueller, public service is just that, service. It's not about recognition, or money, or power. It's about seeking justice for the families of victims and upholding our system of laws. "Doing homicides, the victim's family was always present in your mind. You're trying to find and bring justice to them. Working as an assistant U.S. attorney, I've seen how people think that they can get away with things and skirt the law. Bringing them to justice is tremendous satisfaction."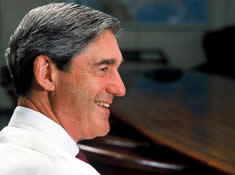 "The joy of it is that you are doing it for the country, you are doing it for other FBI agents, you are doing it for the community, and you are doing it for the people. That is tremendously rewarding."
Mueller's work and reputation came to the attention of U.S. Attorney General Richard L. Thornburgh. He called Mueller in 1989 and asked him if he could oversee from Justice Department headquarters the prosecution of Manuel Noriega, a precedent-setting international law case with daunting political overtones. Mueller readily accepted, and the team won that case and jailed Noriega. Later, as Assistant Attorney General in charge of the Criminal Division of the U.S. Department of Justice, he would take on other high profile cases like the Lockerbie bombing case and the Gotti prosecution. In the late 1990s, he would also serve as the Chief of the Homicide Section of the United States Attorney's Office for the District of Columbia, and then return as the United States Attorney for the Northern District of California in San Francisco.
"I have always loved investigations," said Mueller. "I love everything about investigations. One of the most challenging times I've had as a lawyer has been doing homicides here in the District of Columbia. I love the forensics. I love the fingerprints and the bullet casings and all the rest that comes along with doing that kind of work."
And Then the World Changed

Mueller's appointment as Director of the FBI faced little opposition at his Senate hearings. The Senate confirmed him in August and he was sworn in on September 4, 2001. One week later came the attack on the World Trade Center, the Pentagon, and the heroically aborted attack that crashed in Pennsylvania. Immediately, Director Mueller closeted himself in the FBI's Command Center, on the front lines in a new kind of war waged by a malevolent, shadowy enemy living on a diet of hatred and desperation. Mueller remained there for three months directing the nation's law enforcement efforts.
"Information was coming in from all over the world," said Kortan, "but he's the type of leader who listens to his experts. He was decisive and trusted his people and their judgment. For anyone, it was a lot to take on."
The Command Center sits deep within the Hoover Building, surrounded by security and outfitted with a dazzling array of computer networks and situation rooms. The Director's special office surveys it all from a central location at its hub. Essentially, Mueller was conducting his public service duties from inside a fortress. Little personal contact with the outside world save the reams of data, leads, and alerts that all demanded attention. But as cataclysmic as 9/11 was, the FBI has systems and procedures in place built upon the experience they've had with other events similar in style, if not magnitude.
"As with other horrific incidents like Oklahoma City and the East Africa embassy bombings," said Kortan, "when something like this happens, everyone knows what they have to do. They're all professionals and they just do their job."
The real test of Mueller's patience came the following May and June. The newswires were singing with allegations of information mismanagement, institutional disarray within the FBI command structure, and botched analyses. Members of Congress came down hard on Mueller and his agency, accusing them of failing to heed warning signs that could have prevented the tragedy. Did it test his commitment to public service? No. "The rewards of public service outweigh the periods of criticism that you will inevitably get," said Mueller. "Six months from now people who don't know you will have forgotten what is written in the newspapers. And people who know you know that much of what is written is untrue. It's much harder for your family and the people around you. They see all the criticism, much of which they think is undeserved, yet they don't have the rewards of doing the job that you are doing. You put up with it. After surviving Vietnam, everyday you are alive is a blessing. There are crises and then there are crises. You have people snipping at you but it is not the same as having bullets whipping around. So you put everything in perspective. You are just lucky to be alive and have the opportunity to do something like this."
Since 9/11, the mandate for Mueller and the FBI has grown from catching criminals to preventing crime. Some see this as a cultural shift difficult to implement in a large institution. But not Mueller.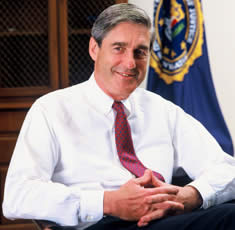 "I've seen how people think that they can get away with things and skirt the law. Bringing them to justice is tremendous satisfaction."
"I think there is a fallacy out there that it is very difficult for an institution to move from being a crime solving, after-the-fact, reactive organization to a preventive, intelligence organization. The fact of the matter is that the agents, whether they're working the counter-intelligence or counter-terrorism or criminal side, are excellent investigators. They interview and put together pieces of information, whether it's evidence in a court room to convict somebody or it's information to present to an analyst to be analyzed and paint a predicted picture as to what al Qaeda or some other terrorist group is doing now. The talents of the agents support both end products.
"And we are shifting to counter-terrorism nearly 500 additional agents. But I don't think it will be a dramatic shift. What we have to do-and what we haven't done in the past-is build up the analytical capacity both in technology and the analysts that take the information that we gather, analyze it, and be better able to disseminate it. That is the challenge. I think everybody overstates the culture change. The culture doesn't change. The culture of the Bureau is hard work, integrity, sacrifice. That is what you see from just about every agent you have out there. To shift the focus of the investigations from a court case to preventing another terrorist attack has been much less a culture shift and more a focus and a mission shift."
Perhaps the most revealing illustration of Bob Mueller's strength of character and love of public service is the fact that he relishes his role at the epicenter of the nation's war on terrorism. It's personally dangerous. He lives daily with the knowledge of looming threats that could cause public panic. He is responsible for the safety of millions of citizens. His success can never be trumpeted; it hinges on what doesn't happen. But his is not a politician's love of power, nor a general's lust for battle. Rather, it's the simple pleasure he gets from his job and the joy of giving back to the country that has treated him well.
"I love it. I like the challenge, and there is a lot to be done. We have the best investigators in the world in this institution and some of the best people here at headquarters that carry me. The challenge is to get them the tools that they need to become even better. And that is what we are working on. You have the rewards of being involved in the critically important investigations, whether it is the investigation of the hijackers or anthrax or the like. And with all the frustrations, there is always the next tip, the next opportunity to solve. That is the heart of the issue. That is the heart of what we do. And that is really fun. The joy of it is that you are doing it for the country, you are doing it for other FBI agents, you are doing it for the community, and you are doing it for the people. That is tremendously rewarding."
Mueller shrugs off the fact that as Director of the FBI he is prime target for terrorists. Wherever he goes, he has a cordon of security within which he enjoys a good margin of safety. But he loses the spontaneity of movement enjoyed by the rest of us.
"My wife is a true saint. Ann and I have been married since right after college. She has been through Vietnam. She has been through law school. She has been through everything. And she is just remarkable. And my kids are grown up and away. But it has affected us in what we do and the freedom we have to move around. But by the same token, it becomes part of the job and it will always be here. And you do it and hopefully down the road you return to anonymity."
Finally, when asked what it takes to be good public servant, Mueller said, "Integrity. First is integrity. To the extent that you have it, humility. Discipline. Decisiveness. Doggedness."
All character traits of Bob Mueller, and why he is the right man for the job. As a nation, we have a right to expect the best from the FBI. Bob Mueller will make sure we get it.
Cullen Couch, Director of Communications, and Melissa Young '83, Associate Executive Director and Director of Operations of the Law School Foundation, interviewed FBI Director Mueller on August 6 at his office in the J. Edgar Hoover Building in Washington, D.C.