Analyzing the Real Role of Tort Law

This summer, Kenneth Abraham became the Robert E. Scott Distinguished Professor of Law. On October 1, he delivered a Lecture to the Law School community inaugurating his occupancy of the new chair honoring former Dean Scott. In his lecture, entitled "A Unified Vision of Tort Law and Insurance," he analyzed the role that tort law plays in the $1.5 trillion personal injury and illness compensation system. Abraham believes that the academic principles of tort taught in law school differ fundamentally from their practical effect in personal injury compensation. As a result, we tend to assume that tort is the primary remedy for personal injury, when in fact it accounts for less than twenty percent of the compensation paid to victims.
"In law school we think of tort law as central to the way we deal with personal injury," he said. "It's sensible to think that way in the first year; these ideas are the building blocks of how we understand the legal system. But they're not the primary means we use to promote safety or compensation in personal injury."
Further, according to Abraham, we tend to think tort law is the dominant method of promoting safety, a role that is in fact undertaken by the market, administrative regulation, and criminal law as well. This misunderstanding of the role of tort skews its importance in the effort to make the system respond efficiently to safety and compensation concerns.
"The magnitude and scope of insurance mechanisms that exist apart from tort law dwarf its compensation functions," said Abraham. "Significant other sources of law promote safety, including the many state and federal regulations and criminal law. Once we recognize the role that the law of torts plays in this larger universe, we can be freed up to think more flexibly about what combination of insurance, tort law, and safety regulation can achieve our aims, rather than thinking simply that changing tort law alone will improve our system. This idea is wrong and the sooner we realize that, the better."
In a separate event, Abraham delivered the keynote speech, "Employment Practices Liability Insurance: The Challenge of Innovation" to a Conference on Employment Liability and Insurance in Washington, D.C., on June 24.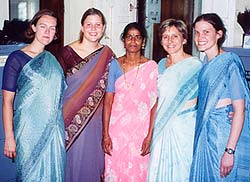 From left, Mary Breed, Amy Rudy, Pushpa, Armacost, and Keri Buzby Adams at the International Justice Mission's Chennai, India, office. Pushpa is one of the cooks at the office.
Helping Assure the Legal Rights of Bonded Laborers
For two weeks in August, Barbara Armacost traveled to Tamil Nadu in India with ten other Charlottesville residents to work with the International Justice Mission (IJM) to help assure the legal rights of bonded laborers, particularly child bonded laborers. Among the group were Kimberly Stegall '02, Logan Breed '02 and his wife Mary, Jesse Rudy '02 and his wife Amy, and Keri Buzby Adams '02 and her husband Scott Adams '01.
According to Armacost, laborers become bonded after borrowing money from money lenders who demand their labor in repayment of the loan. Bonded labor is illegal in India but the laws are rarely enforced for a variety of reasons, including the corruption and inertia of local officials and a lack of personnel to investigate and prosecute the cases. "Many of the bonded laborers work in terrible conditions, ten hours per day, six days per week," she said. "Bidi workers, for example, usually children of only seven or eight, are required to roll 2,000 cigarettes a day. Gem workers, who spend long hours polishing gems against a foot-powered grinding wheel, often go blind because they have no way of protecting their eyes. Many of these bonded laborers spend their entire lives in servitude and may even pass on their debts to the next generation."
As members of the scheduled caste, the very lowest in India, these laborers are devoid of hope and opportunity in a society that is largely deaf to their needs. "These people have no power, no land, and they are at the bottom socially and politically," said Armacost.
Armacost and her group interviewed individual workers and prepared reports that would serve as the basis for IJM's presentation to local officials with responsibility for enforcing the laws against bonded labor. IJM has developed relationships with many honest local officials who, when faced with clear violations, are willing to take action against the money lenders and free the bonded laborers. But what happens to the laborers after they are freed?
Armacost and her group visited a group of released quarry workers who had returned to their village, Tharamangalam, after thirty-five years in bonded labor. "They had no land, no ration cards for government assistance, and they were living outside under the trees," Armacost said. "This just underlines the fact that the legal work that frees oppressed people is only the beginning. They also need an enormous amount of aftercare in the form of counseling, education, financial assistance, job training, and other help."
But Armacost and the rest of team that went to Tamil Nadu are committed to continuing to do what they are trained to do: act as advocates for those who have no voice. "What I love, what inspires me, is the notion that lawyers have a special kind of skill effective for addressing oppression in the world," said Armacost. "People oppressed by those in power are without anyone to speak for them. Lawyers know how to investigate, frame the story to satisfy legal standards, and then take that story to someone who has the power to do something about it."
What keeps her going when surrounded with intractable poverty? "I am learning that despite the enormity of the needs, in some sense one must concentrate on the value of individual lives," she said. "One of the girls, a bidi roller, was really bright and enthusiastic despite her limiting circumstances. I remember thinking here is a kid who has potential and asking myself, what could she be in a different situation? It made me hopeful, seeing the face of this one child and others like her, instead of only seeing a faceless mass of oppressed people. In order to remain committed to this work, one has to be willing to do something, even if in the scheme of things, it seems small."
Bonnie Receives Yarmolinsky Medal
The Institute of Medicine of the National Academy of Sciences (IOM) honored Richard J. Bonnie with the Yarmolinsky Medal, its most prestigious award for non-physician members, in recognition of his "distinguished service" to the Academy. Bonnie served on the IOM Board on Neuroscience and Behavioral Health for a decade and also chaired its membership section on Social Sciences, Humanities and Law. He has chaired Academy studies of drug abuse research, injury prevention, and elder abuse and neglect, and is currently chairing a congressionally mandated study on underage drinking. He has also served on many other Academy studies.
"I'm very proud of the Yarmolinsky Medal," said Bonnie, "because many other people are deserving of that award, including our very own Dick Merrill." The Medal was awarded to Bonnie at the IOM annual meeting in Washington on October 15.
When Bonnie isn't teaching or writing, he is devoting his time to public service, primarily with the National Academy of Sciences. His dedication to public service came at an early age.
"As a young man I knew I wanted to commit my career to public service," he said. "It's very deeply embedded in the values of the community in which I grew up."
His commitment led him to issues involving drug abuse policy, psychiatry and human rights, and the nexus between law, science, and public policy. He found the Academy the perfect place to pursue his life work.
"I have a deep personal commitment to teaching students and writing about my ideas," said Bonnie, "but I think that the opportunity to devote my energies to public service was the most important reason that I chose an academic career. I believe in the power of ideas and in the desirability of linking knowledge to public policy and to people's lives."
Bonnie's lifelong effort to tie these together for the public good started with his work on illegal drug policy. He served as Associate Director of the National Commission on Marijuana and Drug Abuse, advised the White House on drug policy, and served on the first National Advisory Council on Drug Abuse. During that time, he wrote a book on the history of the marijuana laws, lobbied for decriminalization of marijuana, and advocated a public health approach to illegal drugs as well as alcohol and tobacco.
The next phase of Bonnie's public service involved the death penalty. He spent the better part of a decade defending death row inmates. It took a lot out of him.
"It ended up swallowing a lot of my time during the 80s and early 90s." he said. "Three of those four defendants are dead, and the other one is alive only because of a commutation from Governor Wilder. It was a very frustrating effort."
Also during the 1980s Bonnie was deeply involved in mental health law reform in Virginia and on a national scale. He had a hand in writing all of the mental health legislation enacted in Virginia during this period, and was a major architect of the American Bar Association's Mental Health Criminal Justice Standards. His approach to the insanity defense was endorsed by the ABA and the American Psychiatric Association after the insanity acquittal of John W. Hinckley in 1982, and was subsequently embraced by the Congress.
Bonnie subsequently became involved in tobacco policy reform, protecting elder rights, and ensuring the rights of subjects in clinical trials. In June, he testified on elder abuse and neglect in front of the Senate Finance Committee.
Bonnie says that the biggest obstacle to the promulgation of effective public policy is a "lack of political will." It is certainly not a lack of will on his part. This year alone he has chaired the National Research Council Panel on Elder Abuse and Neglect, been a member of the IOM Committee on Assessing the System for Protecting Participants in Human Research, and is chairing a new NRC/IOM Committee on developing a Strategy to Reduce and Prevent Underage Drinking. He has just been appointed to the NRC Committee on Law and Justice, and is also serving on a Committee on Mental Retardation and Death Penalty for the Virginia Crime Commission to help the General Assembly respond to the U.S. Supreme Court's decision last term in Atkins v. Virginia.

Brooks Joins Amnesty International as Board Member

Rosa Brooks has been elected to the eighteen-member Board of Directors of Amnesty International USA. Amnesty International is a worldwide human rights organization with more than 1,000,000 members, and each national section elects its own Board. Brooks, an authority on international human rights law, was elected by the U.S. membership from a slate of thirteen candidates for six open board posts. AIUSA directors are elected to three-year terms, and Brooks was also named to the Board's Executive Committee and to the position of Board liaison to Amnesty's women's rights and children's rights steering committees.
The organization recently decided to expand its mission, Brooks said, and her new Board oversight responsibilities include helping to keep AI effectively focused. "The expanded Amnesty mission creates many exciting new opportunities for coalition-building and expansion of the membership, but it also creates a risk that AI's work may become ill-defined or that the organization could become overextended," Brooks said.
Brooks says that one of the most critical human rights issues in the world today concerns the treatment of civilians during armed conflicts, and this is an area in which Amnesty International is increasingly active. In the United States, she said the government's reaction to September 11 is also raising new and troubling civil liberties issues alongside traditional Amnesty concerns over the treatment of refugees and immigrants, prisoners, the right to fair trials, and the death penalty.
Kitch Visits at Georgetown, Nebraska, Münster
In March 2002, Edmund W. Kitch delivered the Keynote Address to nearly 500 attendees of the Conference on the World Intellectual Patent System held in Geneva, Switzerland. The Conference was attended by representatives of patent offices, patent bars and patent users from all over the world. The purpose of the Conference was to discuss the WIPO Patent Agenda addressing possible improvements in the world patent system. The address is available on the WIPO website.
In February 2002, he spoke at a conference on traditional knowledge and intellectual property at Cardozo University, in New York, and in April 2002 Kitch spoke at a conference on Law and the Human Genome at Washington University, St. Louis.
During the spring semester of 2002, Kitch visited at Georgetown University Law Center, where he taught a course on corporations, and in May 2002 taught Constitutional Law to students at the University of Münster in Germany, as part of the continuing UVA-Münster exchange program.
In June 2002, Kitch lectured at the Max Planck Institute for Intellectual Property, Competition and Tax Law in Munich, Germany, on the relationship between intellectual property and accounting.
During September 2002, he was the Harvey and Susan Perlman Visiting Professor of Law at the University of Nebraska School of Law, where Kitch taught a course on securities fraud and delivered a lecture on the topic of "Enron and its Aftermath." Harvey Perlman, a former member of the University of Virginia Law School Faculty, was Dean of the Nebraska School of Law for thirteen years and is presently the Chancellor of the University of Nebraska, Lincoln.

Legal Fellows Program Builds Public Service Skills

A.E. Dick Howard is working with Virginia Governor Mark Warner's Office to establish a program he developed called Legal Fellows. A pilot project at this point, the Legal Fellows program mirrors a successful program, Governor's Fellows, that Howard founded and developed in the Robb and successive administration. In that program, undergraduate and graduate students had the opportunity to develop their public service and political skills by working in the Governor's Office. With Legal Fellows, a few handpicked law students chosen for their motivation, dependability, and intellect help Bob Blue, the current Governor's Counselor, prepare and implement public policy. The program started this fall semester and now includes three students: John Adams '03, Erica Paulsen '03, and Mike Signer '04. Each will devote one-half day per week in an effort to help both the functioning of the Governor's Office and their understanding of the professional and confidential contours of an executive office.
If the program proves successful, Professor Howard will likely add more Fellows to the program and fine-tune the selection process.
"I've always felt it was important for the Law School to have a presence in Richmond," said Howard. "This program allows us to demonstrate to the Governor's Office the intellect and scholarship of our students while allowing those students to apply their skills in a professional setting. It's quite an exciting opportunity, and, if it works out, we'll expand the program."
Michael Klarman has presented various portions of his book manuscript on the Supreme Court, race, and the Constitution to faculty workshops at Stanford, Illinois, Hastings, Yale, University of Southern California, Florida and Chicago. Due out in December 2003 under the Oxford University Press imprint, the book presents two large themes: the connection between Supreme Court decisions involving race and the broader social and political context of race relations, and the impact of these decisions on society.

According to Klarman, "to understand constitutional interpretation, you have to understand the context of the times. More or less, the Supreme Court is a reflection of the broader society. Brown illustrates the point. American racial attitudes and practices were changing dramatically in the late 1940s and early 1950s as a result of various forces deriving from World War II. The justices in Brown appreciated that they were riding the crest of a wave, not inaugurating a social movement. Then there is the question of how significant was the impact of the Court's race rulings. Did Brown create the civil rights movement? Did Plessy significantly advance Jim Crow? I don't think so. The Supreme Court just isn't that powerful."
In his penultimate chapter, Klarman describes how Brown was not the easy case that its unanimity might lead one to suppose. Indeed, his research reveals that in the initial conference, the justices were divided roughly down the middle about whether to reaffirm Plessy.
"Brown seems so obviously right that we hardly bother asking any longer how to justify it as a matter of constitutional theory," said Klarman. "But there wasn't a strong legal theory for striking down segregation. If you look at the constitutional text, the original intent of its drafters, and judicial precedent, they all seemed to point toward reaffirming Plessy. The best argument for striking down school segregation was that it was evil—morally indefensible—but most of the Justices didn't think that doing moral philosophy was part of their job description. Several of them saw Brown as posing a conflict between law and politics. They believed that segregation probably was legally justified, but they could not bring themselves to stomach that result."
Brown did have an important indirect effect on society, according to Klarman. "I think Brown accelerated the racial transformation that took place in the 1960s, but not in the conventional sense that it educated whites to believe in racial equality or motivated blacks to demonstrate in the streets. Its most important effect was in crystallizing southern white resistance to racial change, radicalizing southern politics, and creating a climate conducive to violence. When direct action protest movements developed in the 1960s, with police officers brutalizing civil rights demonstrators, the nation was appalled and demanded civil rights legislation. If that account is accurate, then Brown did accelerate racial progress, but in an indirect and almost perverse way. Brown brought out the worst in white supremacy and in doing so accelerated its demise."
Klarman also presented papers at the University of Sussex, in Brighton, England, in March; at the Institute for Southern Studies at the University of South Carolina in June; and at a conference at William & Mary Law School in October. In addition, he taught in two judge's programs during the summer in Indiana. Finally, in mid-September, he gave a lecture to Missouri state appellate judges on Brown and participated in a panel discussion on "liberty versus security in the wake of 9/11" at the Missouri Bar Association annual meeting in Kansas City. Klarman spent the last academic year visiting at Stanford Law School.


Administrative Law Update and Reviewing the Progress of Women in Law Schools

Elizabeth Magill joined other administrative law specialists to write an update of the last year in administrative law for the Section of Administrative Law and Regulatory Practice of the American Bar Association. The update was presented at their fall meeting in October.
Magill also served on a Law School panel with Barbara Armacost, Robert O'Neil, and Pamela Karlan, with A.E. Dick Howard moderating, which reviewed the last Supreme Court term. "Hundreds of students turned out for this event, which I hope is a sign of things to come. A core group of students are working to revitalize the Student Legal Forum, which is a welcome development."
Magill also moderated "Women in Legal Academia: Past, Present and Future," held March 26 at the Law School. Organized by Virginia Law Women, the panel reflected on the progress of women in law schools. "Previously, scant numbers of women attended law school-less than three percent of law students were women up until 1965," said Magill. "But the steadily increasing numbers of female students have now translated to greater female involvement in legal academia. In 1999, ten percent of law school deans were women and twenty-two percent of tenure-track law professors were women."

Heartened by Human Resilience in Guinea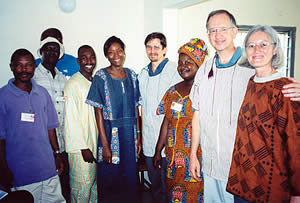 David Martin (second from right) joins International Rescue Committee staff at a gathering that marked the end of his visit to Kissidougou, Guinea.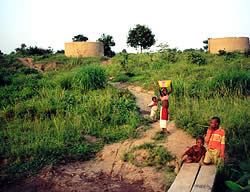 Refugee children collect water from a stream near Kissidougou, Guinea.
David Martin was recently elected to the national board of directors of the International Rescue Committee (IRC), one of the largest non-governmental organizations doing refugee assistance and resettlement. The IRC was originally founded in the 1930s at the request of Albert Einstein to help the victims of the Nazi regime's atrocities, but is now active throughout the globe.
"When I left the INS I wanted to make use of some of my experience," said Martin, who had taken leave from the Law School to serve as General Counsel of the Immigration and Naturalization Service from 1995 to 1998. "I didn't just want to write about the issues, I wanted to be involved. There is a certain satisfaction from helping a good organization function a little better so that it can serve some truly needy people."
In April, Martin traveled to refugee camps in Guinea, West Africa, in his role with the IRC. "We met a fourteen-year-old boy from Sierra Leone whose English was excellent, and the staff assigned him to be our guide though a center for separated children. He was an excellent guide and told us all about the center. But when we asked him to tell us about his family, he began to stutter. He explained, with difficulty, that his parents had been killed in front of him and he had seen the rebels cut off his younger brother's arm. We were told later that he had been forced to serve as a combatant, dragooned by the rebels after they murdered his parents, and that such a stammer was not uncommon among former child soldiers. The war's impact really came home to us in seeing how this smart, smooth, and accomplished kid was undone in retelling that part of his history.
"But I want to emphasize that that was by no means the whole story of our visit. Overall, I left with a much more hopeful image than I expected. The war is largely over in Sierra Leone and a lot of people are repatriating. Moreover, in the camps I was impressed by the engagement of the camp residents. The people have really rallied to support programs, run by IRC and others-health programs, schools,- efforts to reunite families. People who had been through things we can't imagine didn't let their past suffering overwhelm them. They rolled up their sleeves and got involved, a heartening example of human resilience."
Martin was invited to testify in June before the Subcommittee on Immigration, Senate Committee on the Judiciary, on "Immigration and the Organization of the Homeland Security Department." His central organizational proposal was endorsed by Senator Kennedy and incorporated into a bipartisan Senate bill on the new Department, although the final shape of the bill was unclear at press time.
Finally, in October, Martin spoke at programs in Berlin and Vienna, discussing findings of projects in which he participated on the subject of dual nationality.
Martin has served on numerous panels and as a speaker on antiterrorism policy, immigration, and civil liberties for the Association of American Law Schools annual meeting, the University of North Carolina Law School, the Federal Judicial Center, the John Bassett Moore Society, the Center for Migration Studies, University of Virginia Women of Color, an International Organization for Migration symposium in Geneva, the Immigration Law Professors Biennial Conference, and the Ninth Circuit Judicial Conference. He was also invited to speak on March 11 to the Inter-American Commission on Human Rights (an organ of the Organization of American States), at a hearing on Terrorism and Human Rights.
In April, Martin also delivered the Commonwealth 2020 Lecture (in the University of Virginia's Engaging the Mind Series) in Fairfax, speaking on the topic of "Immigration, Security and Liberty: Adjusting the Balance after September 11."

Federal Circuit, Justice Black, and the Immutability of Human Nature

In April, Professor Emeritus Daniel Meador spoke at the Annual Judicial Conference of the Federal Circuit in Washington, D.C., which was celebrating the twentieth anniversary of the creation of the Court of Appeals for the Federal Circuit. Meador talked about the origins of the court and the development of the legislation creating it in the Office for Improvements in the Administration of Justice in the U.S. Department of Justice, which he headed at the time. On October 3, Meador spoke at the Annual Conference of the Court of Federal Claims, celebrating its twentieth anniversary, which came about in the same legislation that created the Federal Circuit.
On June 28 at the Annual Judicial Conference of the Fourth Circuit at the Greenbrier, Meador participated on a panel of former law clerks of Justice Hugo Black to discuss the Justice and the experience of working for him as a law clerk.
"He had a close personal relationship with his clerks and we were intimately involved in drafting opinions with him, face to face," said Meador. "He did the original draft, we could make suggestions and discuss points, change some of the wording, but it was unquestionably him and his style. Very much unlike today where judges have the clerks do the first draft."
According to Meador, Justice Black "was a great reader of history, particularly of Greece and Rome and the founding years of our country. We were abundantly aware of his interests and he would assign readings to his clerks. It was education, like being in school for a year. His view was that these were more important than legal texts to get an understanding of human nature that hadn't changed in 2000 years."

Technology and Its Effect on Evidence Law

Jennifer Mnookin gave several evidence-related talks in the last year: "Computer Simulations and Animations in the Courtroom" at the AALS annual meeting in D.C.; "Evidence in a New Technological Age" on new forms of technological evidence at an AALS-sponsored Evidence conference; and "Nuts and Bolts of Daubert" about current issues in scientific evidence at a Science and Law conference sponsored by the Department of Justice and the National Institute of Justice. She also gave a faculty work-shop at Arizona State University Law School.
Mnookin became a member of the Editorial Board for Law and Social Inquiry, an interdisciplinary legal journal published by the American Bar Foundation.
Finally, Anne Coughlin and Mnookin are teaching a new seminar this fall semester on lawyers, law, and film.

(IN)juries & (IN)justice for All: (IL)Legal Blame?

In February and March, Jeffrey O'Connell was a visiting fellow at St. John's and Downing Colleges in Cambridge, England, lecturing to classes on insurance law. He also gave a lecture at the UCLA law school in a symposium on tort law on April 19 titled "(IN)juries & (IN)justice for All: (IL)legal Blame?"
"I was pointing out the contrast between a report from the Institute of Medicine which. characterizes medical errors as not caused by the carelessness of individual health care providers," said O'Connell. "Rather, it says they're the result of cumulative activities that inevitably cause some adverse results in today's complex medical system. If you view the problem as essentially multi-causal, trying to correct them is complicated and calls for a lot of cooperation on the part of all the contributing individuals. If you think of it as simply the fault of a single individual, when you cast that blame you're not beginning to get at the real heart of the problem." He also presented this paper in May at the University of Virginia's Miller Center of Public Affairs and in June at the annual meeting of the Republican [State] Attorneys General Association in Scottsdale, AZ.
O'Connell also spoke at a symposium in April at the University of Illinois honoring the late economist Julian Simon. "Julian's pragmatic research has often been unduly ignored by the overly abstract economics establishment, particularly his research on environmental issues and population," he said. "He believed that on the whole the environment was not deteriorating and that overpopulation was not a threat, which is an unpopular opinion among the establishment."
Also in April, O'Connell spoke on automobile insurance reform at a seminar series at the Department of Policy Analysis and Management at Cornell University.
In September in Charlottesville, O'Connell spoke at the Orthopedic Guild's annual meeting on neo no-fault insurance reform for medical adverse results.
O'Connell also delivered lectures on neo no-fault in September at the annual meeting of the Kentucky Medical Association and in October to a forum in D.C. sponsored by Common Good called Reforming America's Lawsuit Culture.
Academic Freedom, Threats to Privacy, and Cross Burning

Robert M. O'Neil has been appointed by the National Academies of Science to the Committee on Privacy in the Information Age, and as rapporteur for the Privacy Law subgroup. "We have a roughly two year timetable," said O'Neil. "We held hearings last month and heard from a number of groups and organizations. We expect to hold another couple of those sessions. We'll then make recommendations directly to Congress, giving our best judgment over the nature of current and future threats to privacy, not exclusively governmental, and to consider and recommend possible policy changes in response to these concerns."
O'Neil also agreed to chair a special committee of the American Association of University Professors studying the effects of September 11 on academic freedom. "We do not have any sense of a stampede or a crisis but we believe some group should be monitoring it," he said.
In September, O'Neil spoke to the Freedom of Information Foundation of Texas, in Austin. Also, the Thomas Jefferson Center for the Protection of Free Expression, of which O'Neil is Director, filed an amicus brief in the Supreme Court of the United States in the Black (Virginia cross-burning) case, supporting the ruling of the Virginia Supreme Court (which struck down the state law on First Amendment grounds.) "We believe the Virginia Supreme Court is on the right side, and we hope it will be affirmed," he said. "Needless to say, it will be close and difficult depending on how they feel about treating cross-burning as a protected form of expression, but we are hopeful."

Seeking New Models of Privacy Protection; Studying the Paradox of Mass Democracy


Dan Ortiz is currently acting as the coordinator for the Legal Project of the Markle Foundation Task Force on National Security in the Information Age. "The Markle Foundation, working with the University's Miller Center, has put together a task force to look at ways of employing the great advantage America enjoys in technology to fight terrorism," said Ortiz. "It's likely that the federal government will begin mining private databases-trying to match attendance at flight schools with credit card, phone, and travel records, for example-in order to prevent attacks like those of last year. This type of data analysis could become an important weapon against terrorism but it raises legitimate privacy concerns. We'll have to move to a new model of privacy protection that requires the government to show some good reason why matching up certain records would be helpful and initially minimizes access to the identities of specific people but allows the government to analyze patterns that may emerge."
Ortiz also gave a paper called "The Paradox of Mass Democracy" at a faculty workshop at Washington and Lee University on September 16. In it, Ortiz identified tensions inherent in democracy that can defeat its own principles. "We make three assumptions about democracy," said Ortiz. "That there should be broad participation, equality of participation, and thoughtful decision-making. But there is a tension between the first two and the third. As you broaden participation and make it more equal, there is less incentive for people to participate because the value of any single vote is diluted. There are two solutions. You can try to make people more thoughtful-which won't work and is coercive-or you can try to address the symptoms, rather than the cause. Rotating the order of names on a ballot to neutralize the effect of votes cast simply for whoever appears at the top is a good example of this second strategy. One can think of much of campaign finance reform in the same way."

FISA Investigations in the War on Terror
Stephen F. Smith was a panelist during the 2002-2003 Supreme Court Preview sponsored by the Institute of Bill of Rights Law at the College of William & Mary School of Law, September 20-21. Professor Smith addressed the "war on terror" and key developments in criminal procedure, and participated in a mock Supreme Court oral argument on the constitutionality of California's controversial "three strikes" law.
In his remarks on the war on terror, Professor Smith argued that the September 11 attacks were facilitated by decades of gross misallocation of federal law enforcement resources. "For myself and others who have decried the steady expansion of the federal criminal law into the province of state law enforcement over the last two generations," Smith said, "it came as no surprise that such a brazen attack could take place on American soil. How could we stop terrorists, after all, when federal law enforcement agents were so busy doing the jobs of state and local police, such as cracking down on street crime, illegal drugs, and garden-variety frauds?"
In this connection, Professor Smith discussed the historic appeal by the government of a controversial decision by the so-called FISA Court. The Bush Administration claims that federal criminal prosecutors ought to be free to direct intelligence-gathering activities under the Foreign Intelligence Surveillance Act (FISA) notwithstanding decades of cases ruling that FISA investigations cannot be conducted for law enforcement purposes. The FISA Court disagreed, saying that FISA still requires "minimization procedures" to protect the privacy of innocent U.S. persons. According to Smith, the government in its appeal has a strong argument that the USA Patriot Act significantly eases prior restrictions on prosecutors engaged in FISA surveillance activities. If, however, the court of review upholds the limitations imposed by the FISA Court, Smith sees an interesting separation of powers issue arise over the inherent authority of the President to conduct intelligence-gathering activities deemed essential to national security.

Courts Turn to Stephan as Russian Law Expert

Paul Stephan has worked extensively as an expert on Russian law in six U.S. lawsuits. "Three of them involve disputes over the ownership of natural resources in Russia," he said. "One involved a U.S. bank's responsibility for losses suffered by a Russian correspondent bank, one contests ownership of the copyright to Soviet-era animation and the last was a claim of legal malpractice under Russian law. In the two cases the court decided so far, it relied on my opinion in reaching its conclusion."
Stephan also taught U.S. Corporate and International Tax at Melbourne University this summer. In April, Stephan was one of the main speakers at the Clifford Symposium on Civil Litigation at DePaul Law School. He also presented the paper delivered at that conference, "A Becoming Modesty-U.S. Civil Litigation in the Mirror of International Law," at a Law School summer workshop.

Studying the Efficiency of Vague Contract Terms

In March, George Triantis presented a paper (with NYU law professor Barry Adler) at the Fifteenth Annual Corporate Law Symposium of the Center for Corporate Law at the University of Cincinnati. The paper is entitled "Absolute Priority in the Aftermath of North LaSalle Street" and is forthcoming in the University of Cincinnati Law Review.
Triantis also presented a paper at a conference at Louisiana State University Law School on Unifying Commercial Law in the Twentieth Century. The paper is entitled "The Efficiency of Vague Contract Terms" and is forthcoming in the Louisiana Law Review. "I asked the question why commercial actors use vague terms in contracts, contrary to the prescription of economic analysis," said Triantis. "By agreeing to terms like 'reasonable' or 'excellent condition', they invite future litigation over the meaning of these provisions. This suggests that contract scholarship should take a more thorough look at the litigation game and the incentives to present evidence at trial. After all, the parties contract in anticipation of these factors." In a separate paper coauthored with Chris Sanchirico, "Evidence Fabrication, Verifiability and Contract Design", Triantis explores the possibility that the prospect of evidence fabrication at trial may, in some circumstances, improve incentives to perform contractual obligations. The authors presented this paper at a conference on the law and economics of contracts at the Law School on September 27-28.
Triantis presented his paper on "Organizations as Internal Capital Markets" at the College of William and Mary School of Law and at the annual meetings of the American Law and Economics Association at Harvard Law School in May. The paper explores the conditions under which corporate and nonprofit managers should have the discretion to move capital between different projects, and the legal organizations that impede or facilitate such flexibility.
Triantis also participated in several conferences at business schools. In March, he was a discussant on a paper by Per Stromberg of the University of Chicago Business School entitled "Evidence from Venture Capital Analyses." The conference was the Second Annual Law and Business Conference at Vanderbilt University Law School. In May, Triantis was a discussant in a session at Darden on Corruption and Control at a conference on Valuation in Emerging Markets, held by the Batten Institute of the Darden School of Business.
Triantis taught the second half of the law and economics course in the Judges LL.M. Program at the Law School in July. The subject was "Information Economics of Contracts and Organizations."

White Asserts Hiss's Lifelong Loyalty to Communism
Ted White delivered the annual Kormendy Lecture at Ohio Northern University, an endowed lecture series designed "to bring prominent individuals to the Ohio Northern University campus to address matters of law in a public forum." Previous lecturers have included Justices Sandra Day O'Connor and Antonin Scalia. The title of White's lecture was "Holmes and Hiss." According to White, "the lecture is part of my forthcoming book, Alger Hiss's Looking-Glass Wars, where I recast the significant events in Hiss's life and career in light of recent information confirming his status as a committed agent for Soviet intelligence from the early 1930s through the Second World War. I'm suggesting that, despite his lifelong denials of any connection to the Soviets or of any attraction to Communism, he remained loyal to the ideals and aspirations of Soviet Communism from the 1930s to his death in 1996."
Also in March, White presented a paper, "The Arrival of History in Constitutional Scholarship," to the Constitutional Law Workshop at the University of Chicago Law School. On April 5, he gave a lecture in the Distinguished Lecturer Series at the University of Oregon School of Law, "The Supreme Court Justice as Cultural Icon: Marshall, Holmes, and Warren." White was also a member of the Blue Ribbon Commission that presented a Report on the National Museum of American History to the Board of Regents of the Smithsonian Institution last March. Other Commission members included Tom Brokaw, Roger Mudd, and Professors David Herbert Donald, Eric Foner, Neil Harris, and Laurel Thatcher Ulrich.
White's expanded edition of Tort Law: An Intellectual History is scheduled for publication in November by Oxford Press in New York.