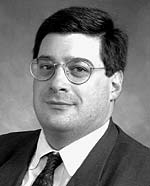 "Based on the delays and frustrations that I saw this and other families endure, I began to consider whether there was a better approach to resolving these types of claims. "
Holocaust-Looted Art: Lost But Not Forgotten
Owen C. Pell '83
It can be indelicate, perhaps even crass, to speak publicly about art looted during the Holocaust. On its face, Nazi-looted art relates to money and property, losses that are insignificant when compared to the millions of lives lost to the same evil regime. At the same time, however, we know that an integral part of the Nazi genocide was the planned and coordinated looting of the victims' property for the benefit of the Reich and its leaders. As a result of this looting program, vast amounts of art were dispersed across Europe, often to be fed into a market of dealers who bartered with the Nazis and then moved art to neutral nations and beyond.
In the late 1990s, following the publication of a book on Nazi art looting, I represented a family that had located a looted work at a U.S. museum. Based on extensive research, the family could trace the work of art from their collection to a bank vault from which it was looted, and then to the place where the Nazis stored the work before trading it for other looted art. Even with this evidence, it took several years of costly litigation before a settlement brought this property back to its rightful owners. Based on the delays and frustrations that I saw this and other families endure, I began to consider whether there was a better approach to resolving these types of claims.
At the same time, lawsuits were pending relating to claims by Holocaust survivors and their families. These actions ultimately were settled in 2000-2001, but each settlement expressly carved out and left unresolved claims to Holocaust-looted art. Although there were a host of organizations trying to help Holocaust victims locate looted art and negotiate for its return, none had proposed a legally sound approach for uncovering more Holocaust-looted art and encouraging its return. With the end of most Holocaust-related litigation in 2001, I decided to take an unpaid sabbatical from my firm to pursue that systematic approach.
The Nature of the Problem
Scholars and governments agree that a significant amount of Holocaust-looted art (literally thousands of objects) remains in the hands of governments, public institutions, and museums throughout Europe and the United States, and that Holocaust-looted art has been (and continues to be) transferred in the art market without identification of Holocaust-related gaps in provenance (the chain of ownership of a work of art). As comprehensively discussed by authors like Lynn Nicholas in The Rape of Europa and Hector Feliciano in The Lost Museum, the types of looted art still circulating include Old Masters, like Franz Hals, and Impressionists, like Matisse and Degas.
As I saw first hand, Holocaust survivors and their families face daunting odds should they ever locate their looted property. Access to data varies from nation to nation as do the legal standards regarding such fundamental issues as determining ownership or title, the time in which demand must be made and/or a claim must be brought, and the effect of intervening transfers to allegedly innocent transferees. Indeed, families often must spend so much to research and recover looted works, that the only way to cover lawyer and expert fees is to sell the works, if recovered. As such, the current legal system is neither consistent nor predictable, nor does it encourage the voluntary or efficient settlement of claims to protect the rights of looting victims seeking recovery of what is rightfully theirs.
This problem, however, can be solved. That is, a group of nations could create a title registration and clearing tribunal that would provide a way to resolve claims, while also providing a way to clear title to many Holocaust-looted objects and otherwise provide repose to current holders. Because a basis for such a tribunal exists under current international law, this proposal could be implemented relatively quickly and efficiently by nations working together. In particular, the nations of Europe, under the auspices of the European Union, could implement this system and reach many places where Holocaust-looted art is believed to be. By using a title registration and clearing system, this proposal would create positive economic incentives for behavior we want to encourage.
Finding a Basis Under International Law
Over the last 350 years, a doctrine developed under international law that protected certain types of private property, including art and cultural objects, from looting during war, and which actually created a duty by states to maintain looted property until restitution was made to the nation of origin. During World War II, in direct response to the unprecedented looting by Germany and its supporters, this duty was expanded by the Allies to cover combatants and neutrals, and to expressly supercede the right of third parties to whom looted property may have been transferred.
Thus, states now had an ongoing duty to recover, maintain, and restitute looted property, and could not act as anything more than custodians of looted property. The Nuremberg Tribunal then held that Holocaust-related looting was a war crime, such that Holocaust-looted art bears a "mark of Cain" which, under international law, infects all transactions relating to it, including transfers to third parties. As explained by the U.S. State Department, these legal principles were meant to enhance recovery by true owners and to ensure that Holocaust-looted art would "never be saleable." The United States felt so strongly about this policy that, following the war, the government took the extraordinary step of sending a letter to universities, museums, libraries, art dealers, and book sellers asking for help in the recovery of looted cultural property.
Under these principles, Holocaust-looted art is subject to the in rem jurisdiction of every nation. Moreover, under international law (i) no nation may assert ownership interests in Holocaust-looted art superior to that of the original owners; (ii) each nation has an affirmative obligation to identify and return Holocaust-looted art; and (iii) laws or policies (e.g., statutes of limitation, theories of abandonment, export restrictions, etc.) that hinder the return of Holocaust-looted art should be invalid. By creating affirmative state obligations, these principles also establish a basis for states to create a Holocaust-looted art title registration and claims tribunal.
How the Tribunal Would Work

The tribunal would work like other title registration systems: it would establish an archive on Holocaust looting and a public register of current holders who would register works with Nazi-era provenance gaps or other evidence of looting. To encourage participation, states would require public museums and other state-funded (including tax exempt) entities to register works. Armed with this type of data, claimants could file claims to specific works at no charge. After some defined period, absent a claim, the tribunal would begin an action to vest title in the current holder by a declaratory judgment that would be enforceable in participating states (in Europe, under the Lugano Convention, in other nations, like the United States, by legislation). States could agree that looted works that remained in state hands could be recovered in the future, but only upon some heightened showing, and could also mandate that museums and other public institutions acknowledge publicly and permanently any evidence of Holocaust looting in the provenance of a work.
In resolving claims, the tribunal would use the international law rule (which mirrors the Anglo-American rule) that the looter may not pass good title, and would adopt rules of proof and evidence that would facilitate settlements and assure that claimants were not unfairly disadvantaged by the passage of time. To streamline proceedings, a party registering a work would waive all claims against prior sellers or holders. Tribunal rulings would be final as to the parties and would protect both the claimant and former holders against any other claims relating to a given work of art, including claims by other alleged heirs of the true owner.
The proposed tribunal would create a powerful economic incentive for Holocaust-looted art to be identified by holding out the possibility for many holders that they could clear title in a legally binding fashion. Claimants would gain a central registry to research claims and a special forum-with uniform rules and procedures to foster efficient and fairer results. Museums and other holders would gain by the possibility of repose and the adoption of uniform standards for identifying and resolving issues relating to Holocaust-looted art. Most importantly, by "tainting" unregistered or uncleared property, the proposed system would establish an important and lasting precedent regarding how property looted in connection with war crimes or other human rights violations should be treated, and might help discourage this type of activity in the future.
Owen Pell is a partner in the Litigation Department of White & Case LLP, in New York. He recently completed his sabbatical during which he pursued his proposal for a Holocaust-looted art claims resolution system. On October 7, the Committee on Legal Affairs and Internal Markets of the European Parliament voted unanimously to hold hearings on the problem of looted art and the potential solutions such as Mr. Pell's proposal. The hearings should be held early next year. To encourage participation, states would require public museums and other state-funded (including tax exempt) entities to register works.