closing remarks
Learning by Doing in Los Angeles
Q & A with Susan Akens '88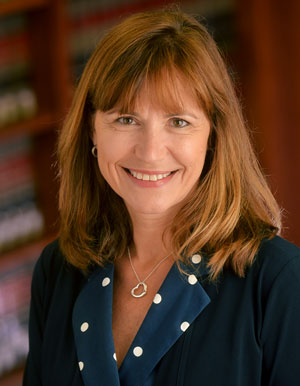 After 25 years of "doing deals" and leading the charge at domestic and international entertainment giants, Susan Akens '88 changed direction in her career.
Most recently the executive vice president of business affairs at CBS Studios International, Akens is now executive director of the UCLA School of Law's Ziffren Center for Media, Entertainment, Technology and Sports Law and a member of the full-time faculty.
We caught up with Akens to ask about the transition from practice to the classroom, to hear more about her plans for the school's program, and to ask her opinion on the value of practical experiences in law school.
Q: How would you summarize your 25 years of practice in the entertainment industry in Los Angeles?
A: I have had the great fortune of working in iconic entertainment industry institutions from the entertainment department of O'Melveny & Myers to Paramount Pictures to CBS. That practice has put me in the heart of an amazing transformation in the entertainment industry with the advent of the digital/internet world as well as the globalization of an industry that was once almost solely based in Hollywood.
The first deal I did when I started was acquiring the car for a little film called "Driving Miss Daisy." The last deal I did was a deal of first impression for the Showtime show, "Penny Dreadful," for first window (i.e. initial) exhibition in France for Netflix's launch of its OTT (over-the-top) service . . . a true paradigm change for the television industry.
Q: What captured your interest in the Entertainment, Media and Intellectual Property Law Program at UCLA?
A: I approached Ken Ziffren, one of the true leaders in the practice of entertainment law (also a professor and distinguished alumni of UCLA Law) about teaching . . . something that had for years interested me. As fate would have it, UCLA Law was looking for someone for the position and after an hour or so with Ken I was intrigued about the program and the vision Ken and others have for the program.
I would be given a clean slate to create programs, externships, and other offerings to enhance and supplement the already exceptional academic offerings of the law school. The annual listing of the top 100 entertainment lawyers is consistently dominated by UCLA Law alumni and many of them were already on board to help build this program. It is a wonderful challenge and with the unbelievable diversity in what constitutes "entertainment" these days, there are unlimited possibilities.
Q: Had you had much interaction with the school or the program in your years of practice in Los Angeles?
Interestingly no. I, like most entertainment industry folks, know and have attended the annual UCLA Entertainment Symposium, but that is where my interaction ended.
This is an area where I see a lot of potential for the program to grow. Building a robust interaction between the entertainment industry and the law school is a win-win for both. UCLA School of Law sits in a town with more practitioners in the areas of entertainment, sports, media, etc. than anywhere else in the United States. That affords the students here amazing access for training, mentoring and careers.
In the same respect, with the faculty, speakers, research and classes here at the law school, the members of the legal community have an amazing resource in their backyard. This bridge-building is a key area of the vision I spoke about earlier.
Q: How hard was the decision to make the change?
A: I was incredibly flattered to be offered the position, but it was a daunting proposition for me. I loved what I had been doing all these years and I think I was pretty good at it, so it was not an easy decision to step away. That said, it is really exciting to try to utilize the experience and relationships I have gained over the last 25+ years to build hopefully the premier program in this space. The daunting piece comes from starting something new and the responsibility to take to new levels an already amazing offering at UCLA Law.
Q: UCLA's program consists of "courses intended to present the fundamental principles and practices of contemporary entertainment law," and cover copyright protection, transactional doctrines, and media law. How are the practical aspects of these matters covered inside the classroom and out?
A: Well, this is definitely a big area of focus. To date, UCLA Law has invested a tremendous amount of resources in expanding its experiential offering. Assistant Dean Luz Herrera has been on board for a year or so and under her watch UCLA Law has, as relates to my program, a number of clinical and experiential courses (e.g., Patent Clinic and Trademark Clinic). In addition there are externships at talent agencies, studios, networks and gaming companies to name a few. There are also luncheon seminars focused on training for lawyers in their early years. Also, being in the heart of Hollywood, there are numerous speakers from the industry who speak with our students on a regular basis about the "art" and "business" of entertainment.
Q: As the California Bar contemplates increasing the requirement for practical coursework to 15 credit hours, is it a goal for you to bring clinical offerings or expand the practical coursework at UCLA Law?
A: Absolutely. I am happy to say that in the couple of months I have been here we already have expanded the externship program. The new dean, Jennifer Mnookin (former professor of law at UVA), is extremely supportive of growth in this area and I believe very supportive of a practitioner bringing real world experience to the table in deciding what is truly beneficial practical coursework for the students.
Q: Many lawyers talk about the changes in the legal industry. How has the practice changed during your career? Were there times while managing teams where you noticed changing trends in the types of recent law school graduates and their practical abilities?
A: There are a lot of answers to your questions. Let me address one practical change and that is technology/email and the reliance by lawyers on it.
When I started, negotiation occurred largely verbally (in person or over the phone) or through carefully written comment letters. Today comments are often written in an email, perhaps on an iPhone and then sent in a keystroke.
Often the original email spawns a litany of clarifying emails by one or more recipients of the first email, or strange responses because the recipient tried to read it on her iPhone and missed part of the text. More efficient . . . maybe.

As someone whose practice for the last decade or so involved varying time zones and little proximity, I definitely know the benefit of email. But nine times out of ten, when difficult issues needed to be addressed or the most movement in a deal was accomplished was when there was direct verbal communication.
Yet I continually saw younger lawyers resist leaving their comfort zone of the digital world. This was true equally in the negotiation of documents. While perhaps a great equalizer in the world of drafting such that both sides control the pen, I watched many deals negotiated by dueling agreements with weeks of back and forth with very little progress until someone reluctantly picked up a phone.
Circling back to the crux of this conversation, in a world where law students in their personal life communicate with emails/tweets/texts and the like, there is a real need for them to gain experience in face-to-face negotiation so as to develop those skills.
Law schools have always had trial advocacy and moot courts for those with an interest in litigation, but the skills and a comfort with those skills for those in the transactional arena is extremely important in the current digital world.
Q: In the ongoing conversations in the field of American legal education, do you have strong feelings about the need for more practical/clinical experiences for all law students?
A: I can't speak to all areas of legal practice but I can speak to my area and yes. Some of the reasons I have discussed earlier, but one area we haven't mentioned is the role of large law firms.
In my day, anyone from a top law school who wanted, could get a job at a major law firm. Like any good boot camp you were whipped into shape. You were trained on drafting and negotiating. You learned through massive repetition the standard documents for your practice area. You got to watch those who had practiced for years negotiate. With different clients you advocated for very diverse positions. All of this was done in an environment designed to train the "right" way to do it.
But while learning how to do it the "right way" may still exist in large law firms, the number of students fortunate enough to get jobs in large law firms is much smaller and the financial pressures are such that staffing which is optimal for training may not occur. And yet, young lawyers do need to be trained.
Coming directly out of law school into small law firms without the bandwidth to staff deals with lawyers of differing levels or which have a client base that sits predominately on one side of the table, severely limits the training.
In addition, for those students who begin their career directly in a company, their interaction may be predominately with non-lawyers and there is little room for the errors of learning. So I firmly believe that the "law school" process needs to play much more of a role in providing that training. If you look at many western countries (e.g., Canada, United Kingdom, and Germany), they all require one or more years of hands-on training prior to being able to sit for their bar. So yes, coming from where I sat as a practitioner, I truly believe successful lawyers require a combination of a strong academic education and hands-on training to develop critical lawyering skills.
Susan Akens '88 is the executive director of the Ziffren Center for Media, Entertainment, Technology and Sports Law at the UCLA School of Law. Previously she was executive vice president of business affairs for CBS Studios International; and prior to that held the same position with Paramount Pictures International Television. After graduating from the Law School she was an associate at O'Melveny & Myers, later becoming special counsel.
Akens is very active in community service and was awarded the President's Volunteer Service Award by President George Bush. She has served for more than ten years on the board of directors of the American Red Cross of Greater Los Angeles and resides in Los Angeles with her daughter Katie.