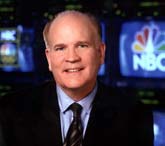 Bob Wright '68
No Profession is More Honorable Than the Law
Bob Wright '68
Editor's Note: Mr. Wright gave the commencement address at the Law School's graduation ceremony on May 19, 2002. The text of the address appears below.
Dean Jeffries, Mr. Day, distinguished faculty, honored graduates, family members—good afternoon and thank you for including me in this wonderful day of celebration. I am honored to be here.
I've learned that you should never give a speech that lasts more than 20 minutes—because in 20 minutes, any audience of average intelligence will figure out you don't know what you're talking about. Given the intelligence of my audience today, I'll hold my remarks to ten.

I loved my time here at UVA, and I hope you did, too. I had wonderful friends, great times, and the most awe-inspiring, intimidating and, since it was the mid-60s, the worst-dressed professors one could imagine.

Here, in my Law School seminars, I learned the difference between a fact and an assumption, between reasoning and guessing. Plus, I was a newlywed, which meant that at home, I was learning the difference between a fact and an assumption, between reasoning and guessing.

My wife, Suzanne—the main breadwinner at the time—was the assistant to the manager at the Monticello Hotel. We lived in married housing—Copeley Hill. Or Copulation Hill, as it was called back then.

So returning to Charlottesville brings back lots of memories—of first building a life together with the woman I love, of stretching a small paycheck with peanut butter and jelly, of countless hours of blood, sweat, and tears—not to mention books, papers, and beers—of earning the degree that qualified me to join a profession of honor and distinction and integrity.

"Once you become flexible with your principles, as an individual or a society, your moorings are lost, and allegiance to liberty and justice is impossible."
And make no mistake: no profession is more honorable than the law. The defenders of the Constitution, the guardians of our liberty, the advocates of just causes, no matter how unpopular, the protectors of the powerless, the wise counselors of our society—that is the role of America's lawyers. This is what you have trained to become.
Why, then, if you type lawyer into a search engine, do you come up with a million websites devoted to lawyer jokes?

No doubt you were at least dimly aware of this already. But it seems there is a disconnect between the function lawyers serve, and how they are perceived by the public.

A few weeks ago, a friend of mine in Chicago, Robert Clifford, sent me the results of a new study about the public perception of lawyers in America. One of the top litigators in the nation, Clifford is the current Chair of the ABA Section of Litigation. He commissioned the study, the results of which were just made public last month.
The findings are sobering: The legal profession ranks as one of the least reputed institutions in American society, just above the media, in fact. Which means, of course, that the study is deeply flawed. Still, we need to consider its findings.
Only 19 percent of Americans say they are extremely or very confident in the legal profession or lawyers.
74 percent think lawyers are more interested in winning than in seeing that justice is served.
Nearly three-quarters think lawyers are greedy and manipulative.
As a result, most individuals who have an occasion to hire a lawyer do not actually hire one—putting themselves and their families at unnecessary risk.
And, all this data was collected before the Enron scandal.
Perpetrated by executives, accountants, and lawyers, the Enron fiasco in a matter of weeks utterly destroyed Arthur Anderson—a nearly 90-year-old firm which less than a year ago had thousands of employees around the world and millions of dollars worth of goodwill. Now, the name is less than worthless. At Enron, the life savings of thousands of employees evaporated, and shareholders lost nearly $25 billion—shareholders who believed in the integrity of earnings statements and security filings signed off on by accountants and lawyers.
Where were the lawyers? Well, they were at the table—with the accountants and the executives.
Where are they now? Well, they're at the table, sitting before Senate hearings and in federal courtrooms, answering questions about shredding. Shred bad term papers, credit card offers, wild frat party photographs—but never shred evidence.

The legal issues involved here will take years to unravel. But it seems to me the ethical issues are quite clear. Two weeks ago, federal regulators released e-mails written by Enron lawyers describing business practices that, while perhaps not illegal, certainly raise serious ethical questions. One lawyer wrote that "Enron gets paid for moving energy to relieve congestion without actually moving any energy or relieving any congestion."
"With this ceremony, you are marked as different. You take on a responsibility above and apart from the rest of society. You accept new obligations, standards, and principles."
The revenues Enron booked from such practices came straight out of the pockets of California consumers. This is not just, as another lawyer called it, "taking advantage of arbitrage opportunities."
Where were the lawyers? Were they complicit in supporting, justifying, and condoning trading tactics that are at best unethical, and at worse, illegal? Did greed trump their sense of fairness and justice?
Now, it may turn out that some Enron lawyers—such as Stephen Hall, whose e-mails have been made public—were in fact the heroes, blowing the whistle on potentially criminal activity. But no matter what transpires with the Enron scandal, all professionals—accountants and lawyers alike—are tarnished.
Unfortunately, you—young soon-to-be lawyers about to embark on exciting careers—end up paying the price. You pay the price in having a public that thinks they don't want or need your services, and a public that doesn't trust your ethics or your honesty.

Now that you are thoroughly depressed and ready to give up on the law before you even begin, let me say that if this were the whole story, you should be depressed. And this would be the most pathetic law school commencement speech in history. But this isn't the whole story.
Because for every high-profile instance of a lawyer behaving less than admirably, there are many, many untold stories of lawyers giving their all to see that justice and fairness prevail.

Lawyers who devote countless hours to pro bono work to make sure that the wrongly accused are not jailed, that innocent lives are not ruined, that the weak are not preyed upon. Lawyers who fight daily for fairness, who are intolerant of injustice, who live and work with unimpeachable integrity.

And for every example of a lawyer failing the system, there are young people like yourselves, eager to put their energy, knowledge, and integrity to the test, young lawyers who will seize the opportunity to make a difference.

We are a nation united by just a few powerful pages of parchment—the U.S. Constitution—the language of which was influenced so much by Thomas Jefferson, the great defender of liberty who founded this university.

"Lay down true principles and adhere to them inflexibly," Jefferson wrote. He understood what I hope all of us will remember, and what some Enron lawyers apparently forgot: once you become flexible with your principles, as an individual or a society, your moorings are lost, and allegiance to liberty and justice is impossible.
Now, I know that not everyone receiving a degree today will have a career as a lawyer. Some, like me, will find themselves drawn to the business world. Others will devote themselves to education, or philanthropy, or the arts. The possibilities are endless. And the education you've acquired here will help you excel in any field, at any profession.
Don't watch Law & Order and think courtrooms and law offices are the only places people with law degrees belong. But don't misunderstand me: Do watch Law & Order—especially this Wednesday because it's sweeps. Just know that there are other ways to use your education to spread the message of justice and fairness.
Think of Gandhi and Nelson Mandela. Think of John Grisham, David E. Kelly, and Monty Python's John Cleese. Law school graduates, each of them. Six of our nation's U.S. senators are alumni of one of the best law schools in the nation: UVA. So is Tom Finchem, commissioner of the PGA Tour.
Whether you head for a large law firm or become a public servant, whether you hang out your own shingle, head into business, or start making TV shows, you can forge a path of your own making. Your training here will serve you well. Just remember that your ultimate allegiance is to a set of principles—not to the profits or perks of any profession.
Most of you will eventually be sworn in by a judge as members of the bar. You may, in fact, be sworn in more than once. In my case, I enjoyed the ceremony so much I went through it five separate times: in the states of Virginia, New York, Massachusetts, New Jersey, and again for the Department of Justice.
"Something tells me that a generation of new ideas and talent is about to change the world. It's the only thing that ever does."
With this ceremony, you are marked as different. You take on a responsibility above and apart from the rest of society. You accept new obligations, standards, and principles. And as Jefferson said, you must adhere to them inflexibly.

If your values are not in sync with these obligations, do yourself and society a favor, and don't join this profession. If your value system does match the code, then I couldn't welcome you more enthusiastically.

And remember too, when you are sworn in, the set of principles and obligations you accept becomes part of your life forever, whether you remain a practicing lawyer or not. For the rest of your days, you and your actions will be judged in this light—in light of your education and your status as a member of this profession.

What a burden, some may say. Yes, but what an honor. What an honor.

You may find yourself put to the test quite soon. In a matter of months, some of you will be in meetings with colleagues who chose business school over law school. Remember that the real bottom line is the one you draw, not necessarily the one advocated by associates who don't have your training and your obligations. "Lay down true principles and adhere to them inflexibly."
Many years from now, you'll be judged not based on your degrees and medals, but on your scars. The questions asked will be these: How hard did you fight? How much did you risk? How willingly did you suffer so that others might overcome?

You're getting the questions to your judgment-day test early—so decide now how you want to answer them, and live out the answers through your actions the rest of your lives.
More than 100 years ago, Oliver Wendell Holmes expressed his belief that no profession was as rewarding as the law. In what other profession, he asked, "does one plunge so deep into the stream of life, so share in its passions, its battles, its despair, its triumphs."

So plunge deeply. You have a terrific future ahead of you. Something tells me that a generation of new ideas and talent is about to change the world. It's the only thing that ever does.
Thank you again for allowing me to share this wonderful day with you. My congratulations to you all.
Bob Wright joined the National Broadcasting Company as president and chief executive officer on September 1, 1986, and became chairman and chief executive officer on June 4, 2001. According to the GE website, Wright has had one of the longest and most successful tenures of any network chief executive. He is also vice chairman of the board, executive officer and a member of the Corporate Executive Office of the General Electric Company. Prior to his association with NBC, Wright served as president of General Electric Financial Services and, before that, as president of Cox Cable Communications.