Class Notes
Send Us Your News
We welcome submissions for inclusion in Class Notes. Submit online, mail to UVA Lawyer, University of Virginia School of Law, 580 Massie Road, Charlottesville, VA 22903; or fax to 434-296-4838. Please send your submissions by Sept. 1 for inclusion in the next issue.
1938
Baxley Tankard was featured in a front-page story entitled, "Baxley Tankard is 'Dean of the Bar'" in the November 28 issue of Eastern Shore News. The story highlights his remarkable 70-year law career in Northampton County and gives an interesting first-hand perspective on the life of a small-town lawyer through much of the 20th century to the present.
Tankard and his brother, John Tankard, Jr., graduated from law school the same year and returned to Virginia's Eastern Shore to handle legal matters in their father's business. John moved to Washington, but Baxley stayed close to his roots in the rural community of Weirwood.
When Tankard took his first court-appointed case, his fee of about $10 covered finding witnesses, researching the case, and his time in court. In those days cash-strapped clients sometimes paid in crops or livestock. Tankard's first important jury trial involved a man and woman who lived together, though their relationship was unclear. The man died, and the woman sued to collect money she avowed was due her for serving as his housekeeper. Tankard won the case, the woman collected $650 (a very large sum in those days), and Tankard took the afternoon off to celebrate.
His first court-appointed case was settled by agreement with the Commonwealth's Attorney. "We didn't call it a plea bargain in those days" he told the reporter, "It was what kind of deal can you get." Tankard himself served as Commonwealth's Attorney for 16 years.
1948
Judge George M. Warren, Jr., passed away January 12. He was born in Bristol, Va., in 1922. After serving in the U.S. Navy in World War II, he enrolled in the Law School, and upon graduation he joined his father to practice law in his hometown. Among his many achievements in a career that spanned 55 years, he served in the Senate of Virginia from 1963 to 1975 and was elected Commonwealth's Attorney for the City of Bristol in 1976, what he served until retirement in 2002. He returned to the private practice of law in 2002. That same year the Governor of Virginia appointed him a judge pro tempore of the General District Court of the 28th Judicial District. Judge Warren was 80 years old when he left the bench in January 2003.
1949
Mr. and Mrs. Peter J. Rogers celebrated their 61st wedding anniversary with their family in Manchester, Mass., late last summer.
1951
W. Moultrie Guerry is enjoying retirement. "I felt I should retire because my hearing is impaired now and I thought I might miss some testimony," he writes. "I am healthy otherwise." Guerry's son and daughter graduated from the Law School and are both in Washington, D.C.
Charles B. Reeves notes that with the death of Jim Slaughter, he is now the sole survivor of the class of 1951 Student Legal Forum.
1952
Guilford D. Ware received the Norfolk Foundation's Barron F. Black Community Builder Award in November. He was recognized for his extensive philanthropic support and commitment to charity organizations in the Hampton Roads area. He has been with Crenshaw, Ware & Martin for his nearly 60-year career. One of his practice areas has been advising families regarding their charitable contributions. He has helped create and has served on the boards of charitable foundations for the Virginia Institute of Marine Science and the Norfolk & Portsmouth Bar Association. He is also a fellow of the Virginia Law Foundation. He and his wife, Gay, have established a donor-advised fund at the Norfolk Foundation.
1953
William M. Scaife, Jr. retired two-and-a-half years ago, after several years in the Marine Corps followed by over 50 years of law practice in Fredericksburg, Va. He retired from the Marine Corps Reserve in 1983.
1957
Earle Bates is now living in Lexington, Va., within walking distance of his undergraduate alma mater, Washington & Lee. His residence is located in a retirement community, Kendal at Lexington, and at 77 he reports he's in reasonably good health.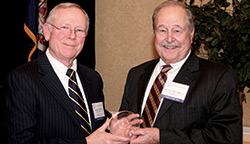 In February retired Judge Jere M.H. "Mac" Willis, Jr., received the 2010 Harry L. Carrico Professionalism Award presented by the Virginia State Bar Criminal Law Section at its 40th annual criminal law seminar in Williamsburg. Willis was recognized for his commitment to the ideals of professionalism in the practice of law and the administration of justice in Virginia; his contributions to improving the criminal justice system; and his competence, fairness, integrity, and courtesy. Willis served on the Court of Appeals from 1989 until his retirement in 2002. A Fredericksburg native, he is the grandson, son, and father of lawyers.
1958
E. Eugene Gunter of Winchester, Va., passed away on October 18. He was a member of the Delta Theta Phi law fraternity. After graduating from law school, Gunter worked briefly at St. Paul's legal publishing company and the Virginia Farm Bureau. He was elected via write-in ballot as Commonwealth Attorney for Frederick County, Va., where he served from 1968 to 1970. In 1966, Gunter opened his law firm, where he practiced law until just a few days before his death. Survivors include his daughter, Melody Anne Gunter Foster.