Faculty Briefs

Ken Abraham was elected a Fellow of the American Academy of Arts and Sciences in April, 2009. He has also published "Custom, Noncustomary Practice, and Negligence" in the Columbia Law Review; "Stable Divisions of Authority" in the Wake Forest Law Review; "The Common Law Prohibition on Party Testimony and the Development of Tort Liability" in the Virginia Law Review; and "Insufficient Analysis of Insufficient Activity" in the Michigan Law Review.
In September, Margo Bagley participated in the "IP and Religious Thought Roundtable" at the University of St. Thomas School of Law in Minneapolis.
In November she presented "The International Patent System" in New York to officials from the State Intellectual Property Office of China (SIPO) at an intensive training program at Yeshiva University's Cardozo Law School. Also in November, Bagley's most recent article, "The New Invention Creation Boundary in Patent Law" was published in the William & Mary Law Review.
In January Bagley presented "Patent Subject Matter and the Public Good: To Limit or Not to Limit?" at Bar-Ilan University's faculty of law, at Ramat Gan in Israel. She also presented at the St. Louis University Law School Health Law Distinguished Speaker Series, "Illegal, Immoral, Unethical . . . Patentable? Issues in the Early Lives of Inventions," and gave the same talk in February at the Indiana University IP Colloquium Speaker Series.

Michal Barzuza presented her paper "Lemon Signaling in Cross-Listing" at the Law & Economics Workshop at Columbia Law School.

In March Lillian BeVier gave a talk entitled "Six Things You Probably Don't Know about Citizens United" to the Federalist Society at the University of Kentucky Law School.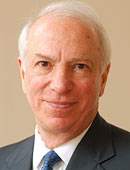 Richard Bonnie '69 received a research grant from the Robert Wood Johnson Foundation to study implementation of revisions to Virginia's Health Care Decisions Act adopted in 2009 based on recommendations of the Commission on Mental Health Law Reform chaired by Bonnie. The major innovations in the new law relate to the use of advance directives to guide medical and mental health care when patients lack decision-making capacity due to mental illness. The research will be carried out by a team of researchers from UVA's Department of Public Health Sciences and Duke University's Department of Psychiatry.
In February Bonnie presented a lecture entitled "Reflections on the Challenges of Mental Health Law Reform" at the Center for Bioethics at the University of Pennsylvania in Philadelphia.
In April he presented "The Moral Biology of Addiction" at Harvard Law School and "Competence of Criminal Defendants" at the Conference on the Evolution of Forensic Psychiatry at the Yale School of Medicine in New Haven, Conn.
In May Bonnie presented "Innovations and Challenges in Mental Health Law and Policy" to the board on Behavioral, Cognitive and Sensory Sciences at the National Research Council in Washington, D.C. He presented "The Supreme Court and Psychiatry in the 21st Century" at the annual meeting of the American Psychiatric Association in New Orleans, La.
Bonnie also published an article on collective actions in public health in the American Journal of Public Health (with Gil Siegal), on prescribing of drugs to enhance mental performance in Neurology, and on the virtues of pragmatism in drug policy in the Journal of Health Care Law and Policy.

In January Tomiko Brown-Nagin was a panelist on "Student Activists as Law Makers," at the Law School's conference, Fifty Years After the Sit-Ins.
In February she moderated, "Charter Schools: The Future of Public Education?" at the Law School's Public Service and the Law Conference.
In April Brown-Nagin was a panelist on "Race with History," at From Slavery to Freedom to the White House: A Conference in Honor of John Hope Franklin, Duke University School of Law.
In May she was a panelist on "Discovering a Pragmatic Tradition of Civil Rights Lawyering," A Conference in Honor of William Nelson, New York University School of Law.
Finally, Brown-Nagin reviewed Martha Minow, In Brown's Wake (Oxford, 2010); Frymer, Black and Blue: African Americans, the Labor Movement, and the Decline of the Democratic Party (Princeton, 2007); Julie Novkov, Racial Union (Michigan, 2008) in Book Review Edition, Tulsa Law Review (summer, 2010)(Sanford Levinson & Mark Graber, Guest editors).

George Cohen has a number of books and chapters forthcoming; a casebook, The Law and Ethics of Lawyering (5th edition), with Geoffrey C. Hazard, Jr., Susan P. Koniak, Roger C. Cramton, and W. Bradley Wendel ; a chapter, "How Fault Shapes Contract Law," in Contract Law and Fault (Ariel Porat and Omri Ben-Shahar eds.); and "Interpretation and Implied Terms in Contract Law," in Encyclopedia of Law and Economics (Boudewign Bouckaert & Gerrit De Geest eds.)

In June Cohen will be a panelist at the 12th Annual Bench & Bar Conference of the Federal Circuit Bar Association at The Broodmoor in Colorado Springs, Colorado. He will be speaking about Advance Waivers of Conflicts of Interest.

Anne Coughlin published an article in November in the Virginia Law Review entitled "Interrogation Stories." It focuses on the ways in which police use victim-blaming narratives to shape the confessions provided by accused rapists.

Coughlin is teaching the first course in the Law School's Law & Public Service Program. All students enrolled in the program must take this course. It is offered as an elective to other students at the Law School.

In March Coughlin presented a paper entitled "What the Police Do" at a conference being held at Harvard Law School to honor Professor Bill Stuntz '84.
In May she is giving a lecture at the Judicial Conference of Virginia in Norfolk. The conference is attended by the Justices of the Supreme Court of Virginia and by all judges on Virginia appellate courts. Her assignment is to provide a round-up of the Virginia appellate criminal case law decided in the past year. She has assembled a team of first-year Law students who are assisting her in preparing a memorandum describing the cases, which they will submit to the conference prior to her lecture.

Kimberly Emery's '91 article on parents and child-rearing decisions, co-authored with Robert Emery, Ph.D., and originally published in the Wake Forest Law Review, was reprinted in the Minnesota Family Law Journal.
Her article submission was accepted for Volume 34 of the Washington University Journal of Law and Policy on "New Directions in ADR and Clinical Education Theory, Teaching and Practice." Emery participated as a presenter and commentator in the Volume 34 Roundtable held at Washington University in November. The article is forthcoming this summer.

Brandon Garrett testified before the U.S. House of Representatives Judiciary Committee, Subcommittee on Commercial and Administrative Law, in November on the subject of "Transparency and Integrity in Corporate Monitoring." He also presented a chapter entitled "Innocence on Trial" at the American Criminology Association Annual Meeting in Philadelphia.

Garrett helped organize the Law School's Olin Conference in March on Law & Economics and Criminal Law, and will present a paper there co-authored with J.J. Prescott, titled "Failure and Delay in Appellate Litigation by the Innocent."

In April Garrett presented "The Substance of False Confessions" as one of the featured presentations at the annual Innocence Network Conference in Atlanta; and his article entitled "The Substance of False Confessions" was published in the Stanford Law Review. In June his essay "DNA and Due Process" will be published in Fordham Law Review.

Garrett moderated a day-long discussion among prosecutors, police, and defense lawyers at Cardozo Law School, as part of the conference "New Perspectives on Brady and Other Disclosure Obligations: What Really Works," designed to reach consensus on a set of best practices concerning effective management of information between police and prosecutors during criminal investigations and trials.
George Geis published two articles: "Internal Poison Pills"in the NYU Law Review (2010); and "An Empirical Examination of Business Outsourcing Transactions" in the Virginia Law Review (2010). He has also participated in a wide variety of presentations and panels, including events at the American Law and Economics Association, the Association of American Law Schools' Conference on Transactional Law, the Association of American Law Schools' Conference on Business Associations, and the Law and Entrepreneurship Conference.

On the teaching front, Geis is offering a new seminar on the financial crisis with Ed Kitch – along with classes in Contracts, Corporations, and Corporate Finance. He also co-taught a new January term class, Applied Problem Solving. Finally, Geis is participating in several upcoming activities as chair of the Law School's Law & Business Program, including a private equity symposium (sponsored by the Virginia Law and Business Review) and a venture capital summit at the Darden School.
Risa Goluboff won the Order of the Coif Biennial Book Award for 2010 for her book, The Lost Promise of Civil Rights. Goluboff published an essay this spring in Stanford Law Review entitled "Dispatch from the Supreme Court Archives: Vagrancy, Abortion, and What the Links Between Them Reveal About the History of Fundamental Rights."
She presented a paper at the University of Pennsylvania Journal of Constitutional Law symposium on judicial review, and is also presenting at the University of Chicago Public Law and Legal Theory Workshop. Goluboff is also participating in UC Irvine's conference, "Law as . . .": Theory and Method in Legal History.
Goluboff will be leading a week-long summer seminar for junior faculty and graduate students for the Institute for Constitutional History with Dean Avi Soifer (of the University of Hawaii Law School). It is entitled "The Economic Constitution: Coercion or Freedom?"
Goluboff has joined both the board of directors and the executive committee of the American Society for Legal History, and the editorial board of the peer-reviewed journal Law & Social Inquiry.

Tom Hafemeister will be publishing "Castles Made of Sand? Rediscovering Child Abuse and Society's Response" in the Ohio Northern University Law Review (forthcoming July 2010). In addition, Hafemeister will be submitting (with his colleague Shelly L. Jackson) to the National Institute of Justice this summer their final report entitled "Financial Abuse of the Elderly vs. Other Forms of Elder Abuse: Assessing Their Dynamics, Risk Factors, and Society's Response." This report is the culmination of a three-year study of elder abuse in Virginia.
With the help of various co-authors, Hafemeister is working to submit for publication within the next year manuscripts that address (1) intimate partner violence and the law's response, (2) intimate partner violence targeting individuals with a mental disorder (with Rebecca Vallas and Joshua Hinckley-Porter), (3) "Financial Abuse of the Elderly: The Fiduciary Duty of a Person Who Assumes or Exercises Control over the Assets of an Elder" (with Matthew Weger), (4) "Society's Mechanisms for Responding to Elder Abuse (with a Focus on Financial Abuse of the Elderly)" (with Jessica Montellese and Shelly Jackson), (5) "Advance Directives and a Physician's Fiduciary Obligations" (with Mary Niemann), and (6) "Melendez-Diaz, Crawford, Goldstein, and the Testimony of Forensic Mental Health Professionals: Biting Their Tongues" (with Amanda Muller).

Rachel Harmon recently published an article, "Promoting Civil Rights Through Proactive Policing Reform," in the Stanford Law Review.

A. E. Dick Howard '61 was commissioned to write the lead article in the 50th anniversary volume of the Virginia Journal of International Law.In that article, "A Traveler from an Antique Land: The Modern Renaissance of Comparative Constitutionalism, " Howard traced the remarkable rise of interest in comparative constitutionalism since World War II.He emphasized, as key factors in that resurgence of interest, post-war emphasis on protecting human rights, the rise of judicial review, the many uses of federalism and devolution, and the debate over citations to foreign and comparative law in opinions of the United States Supreme Court.At a conference in Washington, sponsored by the International Association of Law Schools, Howard drew upon his Journal article in presenting a paper, "The Renaissance of Comparative Constitutionalism."

In Philadelphia, at the University of Pennsylvania Law School, Howard gave a lecture, "A Global Voyage: The Influence of the American Constitutional Experience on Other Countries and Cultures." This was the second in a series of lectures Howard is giving as visiting scholar for 2009-10, a joint appointment of the National Constitutional Center and Penn Law.In his lecture, Howard explored several constitutional moments when the American experience framed constitution-making in other countries -- the French Revolution, the 1848 revolutions in Europe, America's colony in the Philippines, Czechoslovakia after World War I, Japan and Germany after World War II, and post-communist Central and Eastern Europe.
In the spring Howard gave his third lecture as visiting scholar at the National Constitution Center and Penn Law.In that lecture, "The Road to Global Constitutionalism," he traced important chapters in the development of international norms of constitutional government, including the founding period in America and France, the liberal constitutions of nineteenth-century Europe, the rise of social and economic rights, and post-war convergence on such norms as human rights, constitutional supremacy, and means of enforcing constitutional rights.

The New York Law School and the New School for Social Research sponsored a program marking 20 years since the fall of the Berlin Wall.Howard joined other scholars who had been active, after 1989, in countries emerging from communism.In his remarks, Howard reflected on the meaning of the events of 1989 and prospects for constitutional democracy in the region 20 years later.

Howard continues to organize and supervise the Governor's Legal Fellows program. He created that program for Mark Warner, and it continued under Tim Kaine and now under Bob McDonnell. UVA Law students who are chosen as fellows go to Richmond on a regular basis and work closely with the Governor's Counselor.

In February Deena Hurwitz, Director of the Law School's International Human Rights Law Clinic and Human Rights Program, spoke on a panel on U.S. Policy and the Islamic World, organized by the UVA Center for International Affairs.
In March Hurwitz was a panelist on "Teaching International Law: Lessons from Clinical Education" at the 104th Annual Meeting of the American Society of International Law.

The Human Rights Program hosted the UN Special Rapporteur on Violence Against Women, South African Rashida Manjoo, a distinguished international scholar in residence for three weeks at the beginning of the Spring semester.Among other things, the Human Rights Program organized and hosted an invitational roundtable with Manjoo and other gender and human rights advocates from around the country on violence against women in the United States.

The International Human Rights Law Clinic was involved in the case of Samantar v Yousef, heard March 3 in the Supreme Court of the United States.The clinic consulted on an amicus curiae brief submitted by Senators Arlen Spector and Russell Feingold, and Representative Sheila Jackson Lee '75.



Elizabeth Magill '95 published the foreword to the Annual Review of Administrative Law published by the George Washington Law Review in June 2009.The paper was called "Agency Self-Regulation."
This spring Magill delivered a paper called "Allocating Power within Agencies," co-authored with Adrian Vermeule at Harvard Law School, about how judicial review of agency action, and the structures and processes imposed on agencies, operate to allocate decision-making authority within agencies among competing internal constituencies.Some rules of judicial review, for example, empower political appointees, others empower agency lawyers, and still others empower agency professionals like scientists or economists. Magill presented this paper and received comments from participants at UVA Law's Winter Faculty Retreat (where Dan Ortiz commented on the paper); Emory Law School; University of Minnesota Law School; and in May at the University of Chicago Law School.
In late May Magill will teach a course on food and drug law at the Melbourne Law School in Melbourne, Australia. In August she will give a keynote address at the Chautauqua Institution, opening their series on the Supreme Court.She will set the stage for the week's events by providing an overview of the founding and the history of the Supreme Court.
SIDEBAR
Magill Elected to American Law Institute
By Mary Wood
Academic Associate Dean Elizabeth Magill '95 has been elected to the American Law Institute, a prestigious group of lawyers, judges and academics dedicated to improving the law.
Magill is among 54 newly elected members, the organization announced in March, and joins more than 20 Law School colleagues already involved with the institute.
"I was really honored to be elected," Magill said. "The American Law Institute has a long tradition of eminent lawyers, law professors, and judges being involved. Its law reform efforts are very well known and have always been very influential. I was especially touched that people nominated me and wrote letters of support."
The organization produces scholarly work to clarify, modernize and otherwise improve the law. Its publications are extremely influential in legislatures, courts, and academia, and inclusion in the organization is a great honor, said Professor Kenneth Abraham, an ALI member.
"The organization prepares and publishes what they call Restatements of the Law, which are attempts to synthesize and restate the legal principles in a variety of subjects," Abraham said. "For example, the principle doctrine in American law of products liability for 40 years or so was a single section of the Restatement of Torts."
A membership committee deliberates on the qualifications of proposed members, and Abraham said Magill is a valuable addition to the organization.
"I think she's a superb legal scholar and a great lawyer, and she deserves to be a member of the institute," he said.

Greg Mitchell joined Dan Meador as an author on the third edition of American Courts, which was published in the fall of 2009. A book that Mitchell edited with David Klein of the UVA Politics Department, The Psychology of Judicial Decision Making, was released in early 2010. The latter book included two chapters by Mitchell as well as chapters by professors Fred Schauer and Bobbie Spellman. Mitchell also published a comment in the Virginia Law Review's online journal, In Brief, on the role of empiricism in employment law. John Monahan, Larry Walker, and Mitchell published the article "The Limits of Social Framework Evidence" in the journal Law, Probability and Risk. This spring Mitchell presented another paper he has written with Walker and Monahan titled, "Beyond Context: Social Facts as Case-Specific Evidence," at the law schools at Michigan State and Temple.

A report of the Department of Defense Independent Review, "Protecting the Force: Lessons from Fort Hood," concluded its investigation by referring to the work of John Monahan:
"Academics have been developing violence risk assessment tools that the Department of Defense could employ or emulate. For example, the MacArthur Violence Risk Assessment Study produced a model to predict risk of violence among patients recently discharged from psychiatric facilities. Software incorporating this model was quite successful in its assessment of whether patients fell into a low- or high-risk group for violence. [Monahan et al, An actuarial model of violence risk assessment for persons with mental disorders. Psychiatric Services 56:7 (2005): 810-815.] This software, called Classification of Violence Risk, is available for use with acutely hospitalized civil patients [Monahan et al. 2005], and suggests that the development of tools for other populations may be worth pursuing . . . A full academic literature review would reveal other tools like these that the Department of defense might use in part or in whole. The Department of Defense could also sponsor the development of a comprehensive risk assessment tool aimed at identifying those at risk for a wide range of violent behaviors."
Tom Nachbar is giving presentations covering the full spectrum of his

scholarly interests this spring at a variety of locations. On national security detention, he is giving talks in a class called "U.S. Detention Policy and Litigation" that he is teaching as part of a program – Law and War: An International Humanitarian Law Workshop. The workshop is co-sponsored by the Law School's Human Rights Center, the International Committee of the Red Cross, and the American Red Cross. It is part of a panel held at the Law School on recent issues in U.S. national security detention co-sponsored by the Human Rights Program and the U.S. Army Judge Advocate General's Legal Center and School).
Nachbar is also discussing the role of antitrust as a requirement of public rather than private regulation of markets (at Drexel University in Philadelphia), the historical purposes of copyright law (at the Copyright@300 symposium in Berkeley), and definitions of the rule of law (at a conference – Promoting the Rule of Law: Cooperation and Competition in the EU-US Relationship at the University of Pittsburgh).

John Norton Moore is currently engaged in a wide array of scholarly pursuits in addition to his full teaching schedule at the Law School. In June of 2009, he participated in a Maritime Piracy/Counter Piracy Workshop sponsored by Booz Allen Hamilton, presenting a paper titled "Toward More Effective Counter Piracy Policy." As piracy in the world's oceans became an increasingly relevant topic, Professor Moore's expertise and opinion were frequently sought out by various media.
Moore is the chair of the 2010 Sokol Colloquium Committee, which presented the 23rd Sokol Colloquium on Private International Law on the topic of "Enhancing Effectiveness in Accountability for Human Rights Norms: Toward Stronger Criminal and Civil Measures" in April at the Law School.
At the Sokol Colloquium, Moore presented a paper on "Liability of the United States Government for 'Taking' of Foreign Claims." This spring will see the publication of a new book co-edited by Moore and titled Legal Issues in the Struggle Against Terror. Its contributors—from the highest levels of government, military and academia—address the fundamental legal issues arising from the War on Terror, and it includes an innovative chapter by Moore that advocates the use of civil litigation as a tool against terrorism.
As director of the Law School's Center for Oceans Law and Policy, Moore will host the 34th COLP Conference in Washington, D.C., in May, on the topic of "United States Interests in Prompt Adherence to the Law of the Sea Convention." This year's conference will involve participants with extraordinary backgrounds in government, law, business, and policy, and its proceedings will, as always, be published for international distribution.Another undertaking of the center is its annual Rhodes Academy of Oceans Law and Policy.Moore will be participating in the 15th session of the Rhodes Academy in Greece, from June 27-July 17, 2010. The Rhodes Academy is an international collegial institution that provides an educational forum for discussion of the principles of modern oceans law and policy.
In his role as director of the Center for National Security Law, Moore will be hosting and teaching at the 18th National Security Law Institute from May 30-June 11 at the Law School. The institute was originally conceived as a means of offering advanced training for legal educators in the field of national security law, and since its inception it has trained more than 100 lawyers from virtually every federal department and agency with national security responsibilities, including all of the military services and most of their war colleges, service academies, and JAG schools; in addition, foreign government lawyers from six continents have attended the institute.
In May Jeffrey O'Connell is speaking at the annual meeting of the Physician Insurers Association of America in Washington, D.C. He also gave a three-week course on "Civil Litigation & the Automobile" in February and March at the Tel Aviv University Law School.

The Carolina Academic Press has published a book, Political and Legal Adventurers: From Marx to Moynihan" by O'Connell and T.E. O'Connell, his brother, President Emeritus at Berkshire(Mass.) Community College.

Dotan Oliar will publish "Intellectual Property Norms in Stand-Up Comedy" (co-authored with Chris Sprigman) in Making and Unmaking Intellectual Property (forthcoming 2010, University of Chicago Press, Biagioli et al. eds.) a collection of articles studying the promotion of intellectual production without intellectual property rights.

Bob O'Neil, director of the University's Thomas Jefferson Center for the Protection of Free Expression, will deliver in June the keynote speech opening the 50th anniversary meeting in Washington, D.C. of the National Association of College and University Attorneys. O'Neil has also written a 50th anniversary article for the Journal of College and University Law.
In April, under the editorial leadership of John Norton Moore and Robert Turner '81, S.J.D. '96, O'Neil contributed a chapter of a new book on terrorism and national security issues called "Hate Propaganda and Terrorism" as a specific First Amendment contribution.

Dan Ortiz and Elizabeth Magill have published an article called "Comparative Positive Political Theory" in Comparative Administrative Law (Susan Rose-Ackerman and Peter L. Lindseth eds., forthcoming 2010). Also, the Supreme Court of the United States has agreed to hear one of the Law School's Supreme Court Clinic cases (directed by Ortiz), Abbott v. United States. Jim Ryan'92 should argue it in October.

Saikrishna Prakash is working on a book on the original understanding of the President's powers and also working on a paper on the constitutionality of Lincoln's suspension of the writ of habeas corpus. The latter piece will be entitled the "Great Suspender of the Great Writ." Finally, in March Prakash gave a chair lecture at the Law School entitled "No more Kings!?"

Last March Mildred Robinson published "The States' Stake and Role in Closing the Federal 'Tax Gap'"in the Virginia Tax Review. In August she presented "The Role of the AALS Resource Corps in Preparing for Site Visits" at the Southeastern American Law Schools Conference; and in October, "Brown v. Board of Education From the Ground Up: Opportunities, Grievous Costs, and Glimmers of Light" at UVA's Woodson Institute's NAACP 100th Anniversary Symposium.

George Rutherglen has an article forthcoming in the Supreme Court Review on the New Haven firefighters case decided by the Supreme Court last spring, "Ricci v. DeStefano: Affirmative Action and the Lessons of Adversity."

Jim Ryan '92 is serving as the inaugural Cameron Visiting Fellow at the University of Auckland this semester. He is co-teaching two short courses in their L.L.M. program and giving a series of lectures and workshops on a range of topics, including constitutional interpretation, American legal education, and the protection of religious liberty in the United States and New Zealand. Ryan has an upcoming public lecture entitled: "Lawyers, Guns, and Money: The Principles and Politics of Modern American Constitutional Interpretation."

This summer, Ryan's book, Five Miles Away, A World Apart: One City, Two Schools, and the Story of Educational Opportunity in Modern America is being published by Oxford University Press.


Bob Sayler and Molly Bishop Shadel have just submitted (and signed a contract with Aspen to publish early next year) a 250-page book called Tongue-Tied America: Oral Communication-Causes and Remedies for a Neglected Skill.
Shadel and Sayler will independently conduct legal education courses this summer on various aspects of oral advocacy at Covington and Burling in Washington, D.C. as well as a three-day oral presentation course for faculty at the Law School in May.

In December Fred Schauer presented paper on "Positivism Before Hart" at University College London.
In January he published in Ratio Juris "Was Austin Right All Along?: On the Role of Coercion in a Theory of Law;" and "Neuroscience, Lie-Detection, and the Law" in Trends in Cognitive Sciences. He also presented paper on "Comparative Constitutional Architecture" at the Netherlands Academy of Sciences in Amsterdam.

In February Schauer presented his paper on "The Trouble with Cases" at the Columbia Law School "Courts and Legal Process" workshop with Judge Pierre Leval of the United States Court of Appeals for the Second Circuit as his commentator.
In March Schauer spoke on "Lie Detection and the Law" at Michigan State University Department of Psychology; and on "Karl Llewellyn on Rules" at Washington University (St. Louis) School of Law.
He published "Is There a Psychology of Judging?" in a book entitled The Psychology of Judicial Decision-Making, published by Oxford University Press, and edited by Greg Mitchell and David Klein, UVA professor of politics.

Schauer's "Rules of Recognition and the Dizzying Dependence of Law on Acceptance," co-authored with Larry Alexander, was published in 2009 in The Rule of Recognition and the U.S/ Constitution, published by Oxford University Press and edited by Matthew Adler and Kenneth Himma.
In May Schauer will speak in Gerona, Spain, on "The Necessary and the Important in the Philosophy of Law."

In 2009 Lois Shepherd published two books, If That Ever Happens to Me: Making Life and Death Decisions after Terri Schiavo, University of North Carolina Press, and the second edition of her co-authored casebook, Bioethics and the Law (with Janet L. Dolgin), Aspen Publishers, Inc.
In November she presented a paper at the Columbus School of Law entitled "Autonomy and Responsibility at the End of Life," which later appeared in the Journal of Contemporary Health Law and Policy. A co-authored paper (with Donna Chen), "When,Why, and How to Conduct Research in Child and Adolescent Psychiatry: Practical and Ethical Considerations," was published in Psychiatric Clinics of North America. She also published short commentaries in The Hastings Center Report, the Charlottesville Daily Progress, and the UNC Press Blog.
In March Shepherd produced a white paper for the University's Miller Center, "Rationing Health Care at the End of Life." The paper was background for a debate on U.S. health policy that was aired on PBS. She appeared as an expert on the law of genetics and ethics, along with Gil Siegal and Mimi Riley in a locally produced series "Genetics, Ethics and the Law" airing on Charlottesville Public Access T.V.
Shepherd has recently presented talks in bioethics at the American Society of Bioethics and Humanities annual meeting, the Miller Center, the School of Medicine's Medical Center Hour, and the Center for Bioethics and Humanities' conference, "Developing Skills for Healthcare Ethics Programs." She spoke at several community forums on health care reform and end of life issues.

In February, Gil Siegal S.J.D. '09 appeared at Arizona State University to present "Collective Action Problems in Public Health – Lessons to be Learned, Obstacles to be Surmounted;" and at theColumbia University Medical Center, N.Y., to present "Regulating Genetic Research in Israel."
Siegal also hosted six TV programs on 'Genetics, Ethics and the Law', for public TV, to be aired on Public Access Station. The broadcast included Law school faculty Mimi Riley and Lois Shepherd.
Siegal also has an article forthcoming called "Enabled Autonomy and Justifiable Paternalism in Health Policy (James F. Childress, ed.).

Zahr Stauffer's article, "Embedded Advertising and the Venture Consumer," was selected for the Third Annual Junior Scholars Workshop in Intellectual Property held at Michigan State University Law College. Another article, "Sponsor-Generated Content and Its Discontents," is forthcoming in a Symposium Issue of the Buffalo Law Review, dedicated to advertising and the law.

In March Paul Stephan '77 participated in a panel at the annual meeting of the American Society of International Law on recent developments in alien tort suit litigation. In May Stephan will teach a course on emerging markets at the law faculty of the University of Sydney.

Two articles written by G.E. "Ted" White received awards in the 2009 calendar year. "The Suspension Clause," in the Virginia Law Review (with Paul Halliday), received the 2009 Sutherland Prize of the American Society for Legal History for the best article in English legal history in the 2008-09 academic year. White's introduction to Oliver Wendell Holmes, The Common Law (John Harvard Library edition, 2009) received an award for exemplary legal writing in the 2009 Green Bag "Almanac of Useful and Entertaining Tidbits for Lawyers for the Year to Come & Reader of Exemplary Legal Writing from the Year Just Passed." White also presented a paper, "The Lost Origins of American Judicial Review," at a conference at George Washington Law School in October, which will be published in the fall 2010 issue of the George Washington Law Review.

Thomas White has published a second edition of Commercial Real Estate Transactions: A Project and Skills Oriented Approach (LexisNexis 2009, with James Geoffrey Durham and Debra Pogrund Stark). In the book, White introduces analysis of the equity portion of real estate syndications.

Ethan Yale has an article forthcoming for the Virginia Tax Review entitled "Corporate Distributions Tax Reform: Exploring the Alternatives." He has also published in the Virginia Tax Review "Risk and the Tax Benefit of Deferred Compensation."