Erasing the Color Line
Ted Small '92 Looks Back on Founding a Group that Started Conversations About Race at UVA Law
hen Theodore W. "Ted" Small '92 began his education at the Law School in 1989, he was surprised by what he saw.
Black and white stu­dents sat alongside each other in courses, but led separate lives outside of the classroom. For the most part, they ate, studied and socialized apart from each other.
"I kind of had an immediate sense that some­thing was awry and wrong with this scenario," said Small, who had grown up in DeLand, Florida, a small town with a history of racial segregation. "Even though we were at a top-10 law school and were expected to be molded into the next genera­tion of leaders, we were still living by the unwritten Jim Crow rules of social separation between the races."
Small, who graduated magna cum laude in history from Har­vard University, came to the Law School as a Hardy Cross Dillard Scholar, which included a full-tuition award. He became friends with the other scholars, many of whom were white, so he was ideally placed to bridge the two circles of students.
"Because of my natural inclination to have friends who were racially and socially diverse, it seemed to me that there was something that needed to be done — and that could be done and that should be done," he said.
He created a new organization, Students Unit­ed to Promote Racial Awareness, or SUPRA, as a way to help provide "neutral ground where the thoughts and feelings of one race could come directly into contact with the thoughts and feel­ings of another."
SUPRA started as a discussion group of 10 people whose numbers were equally divided between black and white students, many of them Dillards. (The vast majority of Law School stu­dents of color at that time were black, he said.)
"I kind of had an immediate sense that something was awry and wrong with this scenario."
Because the group was centered on conversation over a potluck dinner, everyone would bring something to the table.
In the group's first meeting, Small invited participants to talk about a "color line memo" he wrote, based around W. E. B. Du Bois' notion that the color line was the most pronounced problem of the 20th century. While legalized segregation had ended, racial divisions still remained. Small's memo outlined his reasons for creating the group.
"Instead of addressing affirmative action, which generated plenty of very tense debate within the Constitutional Law classrooms, we simply talked about this notion of the color line and how it existed around us and what our thoughts and feelings about it were."
After that, members took turns coming up with a topic, preparing articles to read and respond to, or bringing some other thought-provoking items to generate conversation about race.
University of Virginia President-elect James E. Ryan '92, also a Dillard Scholar, was in that first group.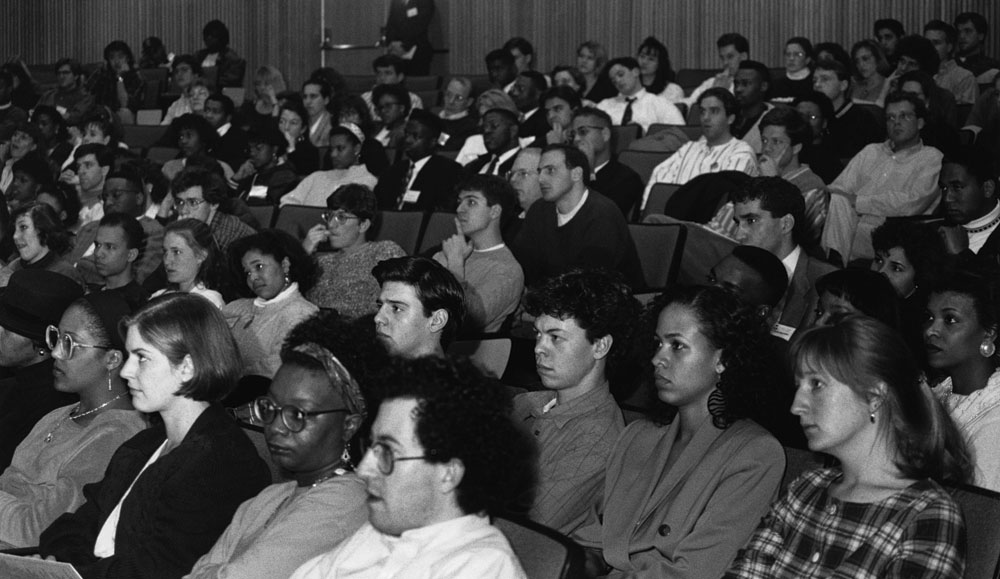 "At the beginning it was hard and it was awkward, and everyone was a little bit ner­vous," Ryan told Virginia magazine. "You're worried about causing offense. You're worried about being offended. But what happened over the course of probably 2 1/2 years that we kept this group together is that we all became incredibly comfortable with one another and had a lot of really honest conversations."
By the time Small graduated, 13 SUPRA groups had formed, involving more than 130 law students. It was so popular that some groups had to break the rule of equal representation, and some evolved to meet over bar review instead of dinner.
"I always had more white students who wanted to partici­pate than I had African-Americans who could participate," Small said of his effort.
Jeannine Lesperance '92, then a Dillard Scholar who grew up mostly in Michigan, said she was raised in a homogenous environment, though her parents were liberal and open-minded.
The group discussions opened her eyes to some of the everyday offenses people of color experience, said Lesper­ance, now an administrative law judge for the Social Security Administration. And it exposed the students to different kinds of diversity, from race to sexual orientation.
"It was a really safe and supportive environment in which to talk about some of those difficult topics," she said. "I think everyone came out of it enriched, not that everybody's mind was changed on every topic. We all came out of it more open to different perspectives."
Small said it was fulfilling to know that SUPRA made a difference.
"I got an awful lot of thank-you notes that were very per­sonal, very thoughtful in terms of sharing stories of personal growth and understand­ing," he said.
Students also told him they felt more em­powered to deal with issues of race as they entered the profession.
Origins of a 'Social Engineer'
Small had made a lasting impact at the Law School. His determination to surmount the color line came from growing up in the South.
"As a little boy I remember seeing the KKK riding in the Christmas parade. I thought it was kind of cool, so I waved at them."
His family elders quickly snatched him up, warning of the danger.
His father, Theodore Sr., had a yard-care business for more than 50 years and his moth­er, Beatrice J. Small, cleaned houses and did other domestic and personal care work. But he was encouraged to be either a doctor or a lawyer.
"I dismissed the notion of becoming a doctor because I didn't like blood," Small said.
Going to Harvard for his undergraduate education opened up different possibilities, and he weighed his next step, busi­ness or law school. During an internship with Chemical Bank­ing Corp. (now JPMorgan Chase & Co.) in New York, he lived in Columbia University's dorms (then Barnard College), on the fringe "of what appeared to me to be two different worlds."
Nearby Harlem looked much like his hometown, where daily life involved getting a haircut, church and going to the neighborhood market. He also saw people struggling to make ends meet.
His relatives had recommended that he visit the then-tourist attraction of Trump Tower in midtown before coming home. Once there, he took a ride on the gold-adorned escalator to see how high he could go and observe "how the rich and famous lived in New York."
But "for me, it was deeply disturbing that some people could live so well and others had to struggle for survival."
He decided he wanted to be someone who could bring those two worlds together.
"So it became an objective of mine to go to law school and get some of those tools to help me do some of that social engineering."
Bridging Divides
Even as Small worked to improve the social connections outside of the classroom, he en­joyed learning law and better understanding "how the world works."
He had classes with Bob Scott (Contracts), Saul Levmore (Torts), Richard Bonnie (Crimi­nal Law), Pamela Karlan (Civil Procedure) and John Jeffries (Federal Courts). With Karlan, his small-section professor, Small forged a lifelong friendship and interest in civil rights and voting rights.
"I met in that first year, in first semester, some of the great­est teachers at the Law School and with many of them have been able to develop lifelong modes of collaboration on issues of common interest."
After law school, Small carried forward the lessons learned as his career progressed. He clerked for Judge Joseph W. Hatchett of the U.S. Court of Appeals for the Eleventh Circuit, then joined and eventually became a partner with Holland & Knight, where he practiced commercial litigation and employ­ment law in its Tampa, Orlando and Washington, D.C., offices.
Over the years, Small has chaired and been the member of several American Bar Association committees, including the Commission on Homelessness and Poverty; served on the board of Florida Legal Services Inc.; and served on the Law School's Alumni Council and Dillard Scholar selec­tion committee, among other public service work. He was a founding member of the Ron Brown Scholar Selection Committee, a scholarship program aimed at talented black high school students.
In 2004, Small started his own law office in DeLand, rep­resenting an independent special taxing district as its outside general counsel, and private clients in business and employ­ment law matters.
"If someone with my background cannot make you feel comfortable talking candidly about race, then you're just not open to a conversation that we as a nation must have."
He has returned to his roots in other ways as well. He started the Color Line Roundtable, a multiracial group of interested citizens devoted to discussing racial issues.
Community leaders, including the school superintendent, mayor, police chief, sheriff and pastors, attend the group's monthly meetings, which he began in 2016 in the wake of a string of police shootings of African-Americans.
"The notion that blacks and whites cannot have a thought­ful and honest conversation about race in America without becoming disagreeable or possibly violent is a notion that we've got to overcome if we're actually going to make progress on this issue," Small said.
"At the end of these meetings, if one or two people come up to me and say they changed the way they thought about race or the way they thought about whatever the topic was that we were discussing, then I feel like the effort was worthwhile."
A Time for Discussion
Though SUPRA ended in 2010, other diversity-minded efforts have developed at the Law School over the years, including the Center for the Study of Race and Law, which began in 2003 (see story on p. 24), and student organizations such as Women of Color and the Minority Rights Coalition. Students in recent years have organized allyship events, encouraging and celebrating support for students of color and affinity groups, and the Student Bar Association sponsors an annual Diversity Week offering a range of discussions, talks and a festival where students celebrate their differences.
"The time that SUPRA disbanded itself was a time of tre­mendous economic prosperity," Small said. "Everybody felt that race was no longer as divisive a concept, that it wasn't as prone to divide us a much as economics and politics."
But with racial issues again at the fore in the national conver­sation, Small said it may be time for more groups like SUPRA.
"I think what we've seen in this nation in the past couple years, particularly with the economic downturn in 2008, is that there is a huge reservoir of racial tension that has not been adequately discussed in an honest and open way between the races."
He said having conversational forums like the Color Line Roundtable and SUPRA in place "allows me to feel like some­thing positive and helpful is being done about a societal problem that many feel is hopeless."