Send Us Your News
To submit a class note, email us or submit mail to UVA Lawyer, University of Virginia School of Law, 580 Massie Road, Charlottesville, VA 22903. Please send your submissions no later than Aug. 1 for inclusion in the next issue.
1990
Curtis P. Bounds is listed in Best Lawyers 2017 in family law and was named Best Lawyers 2017 Wilmington, Del., family law Lawyer of the Year. He is a director and head of the family law practice at Bayard.
Trevor J. Chaplick joined Greenberg Traurig as a shareholder in the corporate and securities practice in Washington, D.C. He concentrates his practice on representing technology and growth companies, underwriters, private equity firms and venture capital funds in corporate and transactional matters, including mergers and acquisitions, financings, public offerings, and general corporate and securities law matters. Chaplick was previously a partner with Proskauer Rose.

Richard E. Sarver LL.M. is listed in Chambers USA 2016 in litigation: general commercial. He was also named a 2016 leading lawyer in Lawdragon 500. He is a member with Barrasso Usdin Kupperman Freeman & Sarver in New Orleans and focuses his practice on complex litigation, particularly environmental, product liability and toxic tort cases.
Russell S. Sayre was named Lawyer of the Year in Best Lawyers 2017 in appellate practice. He is also listed in Ohio Super Lawyers 2016 in business litigation. He is chair of the litigation department and a partner with Taft Stettinius & Hollister in Cincinnati.
Lisa Ormand Taylor joined McGuireWoods as a corporate partner in Jacksonville, Fla., returning to the firm after 13 years as a senior legal executive with two leading international transportation and logistics companies. Most recently she was vice president and assistant general counsel with XPO Logistics Inc.
1991

Jeremiah DeBerry has received the 2016 Diversity Leader Award given by the Profiles in Diversity Journal for his leadership role in recruiting, hiring, developing and promoting diverse lawyers at Mayer Brown. He was profiled in the 2016 Diversity Leader issue, in which he was recognized as a trailblazer in the legal profession, having spent the past 18 years promoting diversity in the legal field. "Over the years," he notes in the profile, "I have witnessed a shift in focus from recruiting, to development and retention, to, most recently, business development and promotion." DeBerry is Mayer Brown's U.S. director of diversity and inclusion and is based in the New York office. 
Impact Investing Spurs Social Change
Steven Okun '91 helps small companies with big ideas reach their potential. As director of Asia-Pacific Public Affairs for global investment firm KKR, he developed a pro bono investing assistance program that is the company's signature philanthropic effort in Asia.
KKR collaborated with Impact Investment Exchange Asia to bring business expertise to for-profit companies that deliver positive social outcomes as well as financial returns. There are a number of social entrepreneurs in Asia, and potential investors too, but often the entrepreneurs don't know how to create a business plan, how to project revenue, or how to present themselves in a way that makes sense to investors. With KKR's help, these community- minded companies position themselves to obtain needed capital and move to the next level. "In emerging markets, an entrepreneur can generate great social return with a relatively limited amount of investing," Okun said.
KKR's program has worked with three businesses in the past three years. In Indonesia, East Bali Cashews, Bali's first large-scale cashew processing facility, employs hundreds of local workers, many of them women who for the first time have a formal job. In the Philippines, Glovax imports, distributes and sells vaccines at affordable rates to low- and middle-income Filipinos. Banyan Nation, based in Hyderabad, India, improves India's waste recycling through improved technology and sustainable business practices. 
Okun reviews potential candidates for the investment program, decides which could best leverage KKR's assistance and helps staff each project with three KKR investment professionals. He visits the projects to determine the best way to position each for raising capital and provides counsel on an ongoing basis.
"When I created the program with Impact Investment Exchange, we thought KKR could help prove the point that what is lacking in the world of impact investment is a bridge to raising serious investment beyond a business' proof-of-concept stage," he said. "To date, the three social enterprises have gained access to nearly $5 million in capital — well beyond what we envisioned." 
This year East Bali Cashews received the Secretary of State's Award for Corporate Excellence.
"We continue to explore how best to leverage KKR's business skills to create social impact," Okun said. "One area of interest is 'venture philanthropy,' in which profitable businesses raise capital from investors with no expectation of return of either investment or capital. It's a donation to a business whose 'profit' goes solely to creating social impact." 
He's already started working on the first such project, the East Bali Center for Community Development, a charitable effort supported by East Bali Cashews, which will provide education to farmers and their families in one of the poorest areas in Bali.
—Rebecca Barns  
Roman Lifson '92 has been fascinated by cars as long as he can remember. Growing up in Moscow, he took the long way to school so he could go by the hotel where Westerners parked their "huge" American cars. One Buick station wagon, he recalled, was several times larger than any car he'd ever seen.
Lifson learned to drive in a Datsun 200SX and drove an Audi coupe through college. By the time he got to the Law School, he had a 1987 Toyota Supra Turbo. He became interested in racing when a friend invited him to an event at Virginia International Raceway in 2006. 
Soon he was hooked. He took his BMW M5 to a number of high-performance driver education events, reaching speeds of more than 160 mph. When he decided he needed something safer than a family sedan, he outfitted a BMW M3 with harnesses, a roll cage, a head and neck restraint device and fire system. Then came racing school with the BMW Car Club of America.
Road racing, which is his forte, is very different from a NASCAR race. The course includes varied turns and changes in elevation. His first road race was at Virginia International Raceway, an 18-turn, 3.27-mile course considered one of the best in the U.S. It was there, two years later, that he had his most challenging moment behind the wheel. His brakes failed as he came into the first turn at 135 mph. In a split second he had to maneuver the car into the least hazardous position. He veered off onto grass and hit a wall made of bundled tires. His car sank into the rubber all the way up to the doors, but he walked away without a scratch.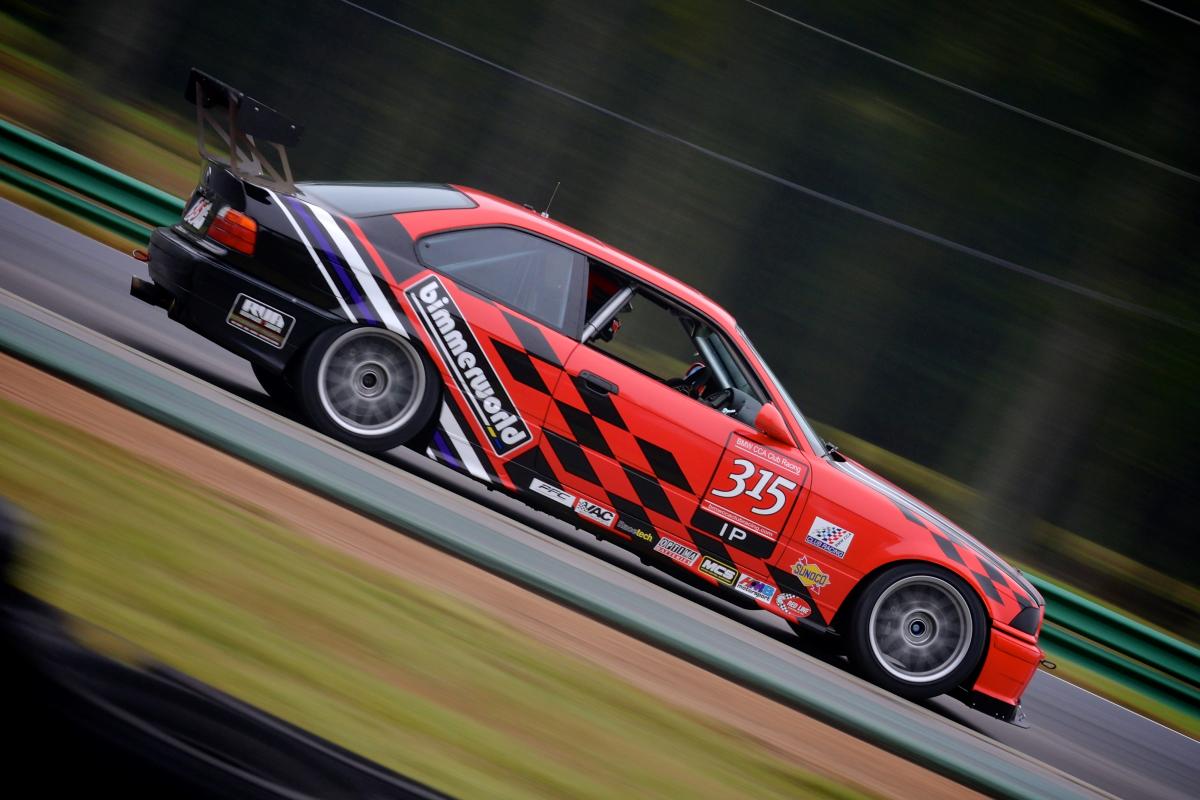 The demands of the sport, he said, are in some ways similar to those of practicing law — the need for strategy, sound and timely judgment, risk management in challenging conditions, and "perhaps more than anything else, the ability to thrive when the unexpected happens," Lifson said. 
"In trial work, as much as we try to control what happens in court, we can never reliably control what judges, witnesses and juries do," he said. "It's in the unexpected that the greatest challenges, and often the greatest opportunities, exist. Being able to not only deal with the unexpected but to benefit from the challenge the unexpected presents often plays a large role in the outcome."
Lifson's passion for racing has also become a focus for his law practice. He is a partner with Christian & Barton in Richmond, where he represents racetrack operators, event organizers, racing teams and individuals, bringing his deep experience in the racing world to his work. 
—Rebecca Barns 
Sharon Dennis is co- founder and executive director of a new D.C.- based nonprofit organization called Eyes Wide Open Mentoring. The organization pairs trained volunteer mentors to work intensively with homeless students to open up opportunities for improved educational outcomes and career exploration.
Dwight M. Francis is listed in Best Lawyers 2017 in commercial litigation. He is a partner in the litigation group with Gardere Wynne Sewell in Dallas, where he focuses on complex business litigation.
Maurice A. Jones has been named chief executive officer of Local Initiatives Support Corp., a nonprofit headquartered in New York City. The corporation invests in building and preserving affordable housing and supports projects in health, safety and job creation that help revitalize struggling neighborhoods across the U.S. Jones previously served as Virginia's secretary of commerce and trade.
In the spring, Bernie Link completed a master's of science in national resource strategy, with a specialization in shipbuilding, at the National Defense University's Eisenhower  School. Link is the deputy director of the Office of International Health and Biodefense at the Department of State.

Michael Wu, senior vice president, general counsel and secretary of Carter's Inc., organized and moderated a general counsel panel at Emory University School of Law titled "Diversity Speaker Series." The panelists included Raquel daFonseca, general counsel, GE Digital Energy; Reginald Hedgebeth, general counsel and chief ethics and compliance officer, Spectra Energy; Craig Silliman '94, executive vice president, public policy and general counsel, Verizon; and Lawrence Tu, senior executive vice president and chief legal officer, CBS Corp. 
Judge Diarmuid O'Scannlain LL.M. '92 To Assume Senior Status On Ninth Circuit
Judge Diarmuid F. O'Scannlain, a 1992 graduate of the LL.M. program for judges, notified President Barack Obama on Sept. 26 that he will assume senior status on the U.S. Ninth Circuit, effective Dec. 31. The move occurred on the 30th anniversary of his appointment to the bench by President Ronald Reagan.
O'Scannlain, in choosing senior status, retains his chambers in Portland but decreases his workload. The move also makes it possible for the next president to appoint his successor.
Holding the record for longest active service of any Oregonian on the Ninth Circuit since Judge William Gilbert, appointed in 1892, O'Scannlain has participated in more than 10,000 federal cases.
—Eric Williamson 
1993
Christopher Couch is the chief operating officer and general counsel of AVERA Companies in Houston, a development, construction and investment firm focused mainly on office and industrial space.
Harmeet K. Dhillon was elected California Republican National Committeewoman to the Republican National Committee in April, becoming one of the RNC's 168 members nationwide. Dhillon performed the invocation on the second day of the Republican National Convention in Cleveland, singing a Sikh prayer in Punjabi. She also served as California's rule committeewoman for the convention's rules committee. Her firm, the Dhillon Law Group in San Francisco, celebrates a decade in business this fall, with eight attorneys handling mainly commercial, intellectual property, privacy, free speech, and employment litigation and counseling, while also performing pro bono work in the areas of religious liberty, civil rights and First Amendment law.
Ivy Wafford Duke has joined Seward & Kissel as counsel in the firm's investment management practice group in Washington, D.C. She and her husband of 20 years, Roberto, have a 12-year-old son, Ian, and a 2-year-old daughter, Ana.
Army Brig. Gen. (Ret.) Richard C. "Rich" Gross has been named a senior fellow at Columbia Law School. He is the first fellow to fill a joint position in both the Human Rights Institute and the Roger Hertog Program on Law and National Security. Prior to retiring from the military, Gross was the legal counsel to the chairman of the Joint Chiefs of Staff. He is a partner with Fluet Huber + Hoang in Northern Virginia.
Col. Jack Ohlweiler retired from the U.S. Army in July after 23 years on active duty. During his military career he spent five years on the faculty of the Army's Judge Advocate General's Legal Center and School, served as the commander of the Army Claims Service, and as the staff judge advocate for the 82nd Airborne Division. He also served overseas in Iraq, Haiti, Korea, Germany, Rwanda and Bahrain. Ohlweiler has accepted a position in the Senior Executive Service at the U.S. Agency for International Development in Washington, D.C., as assistant general counsel for ethics and administration. He lives with his wife, Lisa, and his three children, Abigail, Jack and Benjamin, in Fairfax, Va.
James Cecil Wills is senior deputy general counsel for the Federal Bureau of Prisons. Wills has been with the bureau since graduating and has worked in four different locations in various capacities. He lives in Glenn Dale, Md., with his wife, Toni, who is also an attorney for the bureau, and their four children.
Dana Young serves in the Florida House of Representatives, representing the greater Tampa Bay Area. First elected in 2010, she is the House majority leader. Young is running for a newly created seat in the Florida Senate and is on the ballot this November. Young and her husband, Matt, have two teenage daughters and live in Tampa. 
1994
Zebulon D. Anderson is listed in Best Lawyers 2017 in labor and employment litigation. He is a partner with Smith Anderson in Raleigh, N.C.
Marvin S. Cash joined K&L Gates as of counsel in the banking and asset finance practice in Charlotte, N.C. Cash was previously with FisherBroyles.
James M. Taylor has been named chief executive officer and president of Brixmor Property Group in New York City. He has more than 20 years of experience in the commercial real estate industry, most recently with Federal Realty Investment Trust.
1995

Judge Susan E. Edlein of the Fulton County State Court in Atlanta was elected to serve on the board of governors of the State Bar of Georgia. She was installed in June to the Atlanta Judicial Circuit seat on the board—having served as judge on the Fulton County State Court since 2008.
Peter S. Vincent is assistant director general for international policy at Borderpol, an organization that shares information among border forces about combating terrorism, drug trafficking and transnational crime, while allowing for the movement of people and goods across national borders. His perspective on the situation in Colombia has been featured in the media numerous times. In June he discussed the recent cease-fire deal between the Colombian government and FARC rebels on CCTV America. On Aug. 25 the Houston Chronicle featured his op-ed on "El Chapo" Guzman, "Mexico's Extradition of Guzman to U.S. Must Be Prompt." On Aug. 28 he contributed an op-ed to The New York Times, "The Best Deal for Colombia." 
Mark Knueve is listed in Best Lawyers 2017 in employment law/ management, and labor and employment/litigation. He is a partner with Vorys, Sater, Seymour and Pease in Columbus, Ohio, where he is a member of the labor and employment group.
Rob Masri and Mike Signer '04 were featured in an article in Real Estate Weekly titled "Living in a College Town: What UVA Means to the Charlottesville Economy," in which they describe the town-and-gown interaction that has created a thriving climate for entrepreneurs and startups. Masri started two startups in Charlottesville: Cardagin, a mobile loyalty and advertising platform, and Moonlighting, an app that connects job seekers with job providers. Masri notes that he could rely on the kind of community support in the early stages that gave his projects the chance they needed to succeed. "There is no doubt Charlottesville has what it takes to be a true entrepreneurial ecosystem."

Russell S. Post has been elected a member of the American Academy of Appellate Lawyers. He is a partner with Beck Redden in Houston, where his practice focuses on civil appellate litigation. Post is listed in Best Lawyers 2016, Chambers USA 2016, and in Benchmark Litigation 2016 as a litigation star.
Kathy Sheehan was promoted to vice president, compliance and customer trust for Amazon. com. She is responsible for Amazon's global anti-corruption program and serves as their lead information security lawyer. She also serves on the boards of Food Lifeline, Washington state's largest hunger relief organization, and Feeding Washington. She writes, "I spend the rest of my spare time destroying golf courses in Seattle (and not in a good way)."
1997
Caroline W. Laguerre-Brown is George Washington University's vice provost for diversity, equity and community engagement. In addition to leading GW's Office of Diversity and Inclusion, she oversees the Honey W. Nashman Center for Civic Engagement and Public Service, the Office of Disability Support Services, the Multicultural Student Services Center and the Title IX Office. Laguerre-Brown was previously vice provost for institutional equity at Johns Hopkins University.
Samantha Pelosi is senior vice president of payments and innovation at Bankers Association for Finance and Trade, the leading global financial services association for international transaction banking. In her new position, she defines and drives the association's strategy with respect to payments, emerging technology and combating financial crime. Pelosi was previously the manager of retail payments at the Federal Reserve Board. She lives in McLean, Va., with her husband and twin girls.

Timothy B. Phillips was one of 10 lawyers who serve as general counsel in the U.S. to be named Legends in the Law for 2016. The award is given by the Burton Foundation, co-sponsored by the American Bar Association, and held in association with the Library of Congress. Supreme Court Justices Stephen Breyer and Ruth Bader Ginsburg spoke at the ceremony, held at the Library of Congress in May.
Phillips is chief legal executive and general counsel of the American Cancer Society Inc., where he leads an Atlanta-based team that develops and implements legal and risk-management strategies that advance the mission of eradicating cancer. He was named general counsel in 2012, and has also served as senior counsel and interim general counsel. 
Previously Phillips was a special tax counsel in private practice, providing legal counsel to nonprofit business clients in the health care, faith-based, education and health science areas. He served as a commissioned officer in the U.S. Navy's elite special forces and is currently counsel to the Navy SEAL Foundation. 
He is chair of the Association of Corporate Counsel's nonprofit organizations committee and a member of the advisory boards of the Pro Bono Partnership of Atlanta and the Atlanta Legal Aid Society.
Andy Rosenberg and Allen Cohen were excited to return to their hometown of Philadelphia from Washington, D.C., and New York, respectively, to get together for events on the sidelines of this year's Democratic National Convention. Rosenberg co-founded the bipartisan government affairs firm Thorn Run Partners in Washington, D.C., in 2010.
1998

W. Altenbernd LL.M. joined Carlton Fields as shareholder in the national appellate practice and trial support group in Tampa, Fla. He will also practice in the firm's national trial practice and white- collar crime and government investigations groups. Altenbernd served on Florida's Second District Court for 27 years and wrote nearly 1,400 opinions for the court. For more than two decades, he was a faculty member of the Florida Judicial College of New Appellate Judges.
Adrienne Pruden Ashby is in her fifth year of homeschooling her children and serving as a part-time staff attorney for the Georgia Senior Legal Hotline of the Atlanta Legal Aid Society.
Mark H. Churchill joined Holland & Knight as a partner and member of the litigation and dispute resolution practice in Northern Virginia and Washington, D.C. Churchill lives in Arlington, Va., with his wife, Betsy, and their four children.
Earsa Jackson is listed in Best Lawyers 2017 in franchise law. She is a partner with Strasburger & Price in Dallas, where she is the practice area leader for the franchise and distribution group and serves as chair of the diversity committee. Her new book, "Annual Franchise and Distribution Law Developments 2016," was presented at the 39th annual American Bar Association Forum on Franchising in Miami in November.
Thomas J. Mccarthy has been promoted to head of the international trade section at Akin Gump Strauss Hauer & Feld in Washington, D.C., where he focuses on national security, export control, sanctions and other international trade laws. He and his wife, Sandy Mccarthy '99, live in Maryland with their two daughters, Cara and Anna.
Paul Mccoy relocated to the New York office of Morgan Lewis, where he is head of the private equity funds practice area.
Carrie O'Neil was appointed senior vice president with JLT Specialty USA, a U.S. subsidiary of Jardine Lloyd Thompson Group, one of the world's leading specialty- focused providers of insurance, reinsurance and employee benefits related–advice brokerage and associated services. O'Neil joins JLT's legal and claims practice as financial lines product leader in the U.S. She was previously with Berkshire Hathaway Specialty Insurance.
Katherine Ramsey recently moved her practice to Virginia Estate and Trust Law, a boutique trusts and estates firm in Richmond. She and her four partners — Helen Lewis Kemp '87, Nancy Newton Rogers '85, Derek L. Smith '76 and David W. Whitehead '77 — are all members of the American College of Trusts & Estates Counsel.
1999
Cmanda Persaud joined Ropes & Gray as a partner in the private investment funds practice in New York City. She focuses her practice on the formation, fundraising and operation of private investment funds. She was previously with Wachtell, Lipton, Rosen & Katz. 
"I have always loved music; it's been part of my family for generations," said Raquel Whiting Gilmer '99, who recently became the first executive director of the Baltimore Symphony Orchestra's noted educational program, OrchKids. Now in its ninth year, OrchKids demonstrates how music education can be a remarkable agent for social change.
"Even though financially we didn't have a lot when I was growing up, my mom always made sure I played an instrument and had weekly lessons," said Gilmer, who grew up in Baltimore and returned there to live a few years ago. "Playing an instrument taught me the importance of practice and commitment. The training helped me be driven and focused in my professional and personal life."
Now Gilmer is committed to the continued success of a music education program that has changed the lives of children in her hometown. OrchKids was founded by the Baltimore Symphony Orchestra's music director Marin Alsop in 2008 with part of her MacArthur Foundation "genius" grant. It started with 30 children in one of the worst-performing schools in Baltimore. Today OrchKids serves more than 1,000 students at six sites in some of the city's most underserved neighborhoods. Funded largely through private donations and grants, the program offers instruments, instruction and field trips.
The music is fun and worthwhile in its own right, Gilmer said, but the program brings other important benefits too. Parents of OrchKids students get more involved with their children's school activities, and student attendance has improved. The young musicians learn about teamwork, have opportunities to explore creativity and see the results of their hard work.
"Even though I don't play now, music is still a huge part of my life," Gilmer said. "I always tell people that you need a soundtrack in your life, and your soundtrack needs to motivate you—whether you're at the gym and you're trying to finish your workout or preparing for a big presentation. Music makes everything in life more colorful."
Gilmer brings a strong background in education to her new position. She previously was executive vice president of academic support for Learn It Systems, which serves school districts across the country, and was senior director of community and business development for Educate Online, a division of Sylvan Learning.
—Rebecca Barns