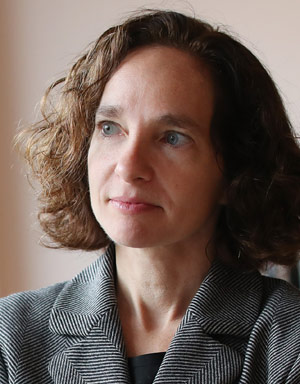 We publish this issue of UVA Lawyer under circumstances none of us could have predicted. COVID-19 continues to bring sweeping changes here and across the world. On top of that are the pandemic's related global financial consequences, a national reckoning with race following the pro­tests of this past spring and summer, and a polarizing election.
At the Law School, we are rising to these challenges as we have risen to so many over the past two centuries: with resilience, creativity, mutual   support and dedication to our mission. In response to COVID-19, we decided to offer about half our classes in hybrid form so that students can attend either in person or online.  That shift entailed enormous effort: more technological sophistication and investments, more training for our faculty, more flexibility from our students. Though the course of this pandemic is unpredictable, I could not be prouder of what we have accomplished nor more grateful to the entire Law School community for coming together to get us to this point.
Even as our faculty have dedicated countless hours to adapting their pedagogy, they continue to create new knowledge that they put to work in service of advancing the law. As an engaged institution, we are not only witness to the momentous events of the day, but a partici­pant in them. In this issue, you will see what that engagement looks like in an area of the law much in need of it: criminal justice. Our ex­ceptional faculty, students and alumni are (and have been) hard at work understanding and shaping every aspect of the criminal justice system. Studying, teaching, practicing and reforming criminal justice have long been strengths of the Law School. They are strengths that matter now more than ever. 
You will also see in these pages new installments in our multiyear engagement with the Law School's history. Milestones abound this year, making it an important time for us to continue to commemorate pathbreakers and the trails they blazed. As we mark 100 years of coeducation at UVA Law and the passage of the 19th Amendment, we share the stories of the three women who enrolled at the Law School in August 1920. This year also marks the 70th anniversary of Gregory Swanson's racial integration of the Law School, and the 50th anniversaries of the UVA Law chapter of the Black Law Students Association and the graduation of Elaine Jones, the first Black female student at the Law School. 
Their stories remind us how far we have come, and compel us to strive every day to make our institution one in which everyone feels an equal sense of belonging and has an equal opportunity to thrive and succeed.
As always, engaging with the past is a crucial part of envisioning the future. Indeed, we have been busy preparing for that future by welcoming the new faculty and students who will help us create it. This past year, we hired 10 tenure-line faculty. The arrival at the Law School of such a large and illustrious cohort of scholars and teachers is nothing short of transformative. The in­tellectual life of the Law School is more vibrant than ever, both because of those joining us and because we are establishing new centers and institutional foundations for the scholarly and pro­grammatic strengths already here.
Nothing is more affirming of our future and our mission than welcoming the latest class of UVA lawyers to our community each fall. Appropriate for the celebration of our centennial of coeduca­tion, this year is the first in which we welcome more women than men, as well as more students of color than we've had in any class for a decade. As our accomplished and inspiring students begin their legal educations, they invigorate us with joy and excitement and give us immense hope for the future — theirs and ours.