It's an example of what is known as incunabula, meaning that it was printed with movable type before 1500. The book's particular construction, as well as its importance to medieval canon law, makes it a fascinating and significant piece of history.
According to the British Library, only three other copies of "Constitutiones" exist in the United States—at Harvard, Yale and the Library of Congress—making this one of the rarest books in the UVA Law Library's collection.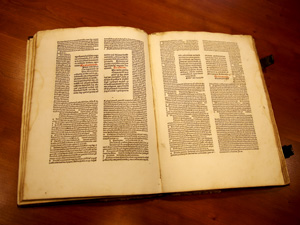 The book is bound between two wooden boards covered in quarter leather, most likely pigskin, which was typical for 15th century German printing. There are stamps of the Habsburg coat of arms decorating the leather on the front and back of the book, and metal clasps, which originally held the book shut, are attached to the boards binding the book.
The text itself consists of papal letters, or decretals, on matters of faith and discipline, originally compiled by Pope Clement in 1314, the year of his death, then circulated by his successor John XXII with his own promulgation later in 1317.
The printer Peter Drach published this particular copy in the German city of Speyer, and it includes commentary by the prominent 14th century canonist Johannes Andrae. It is written entirely in Latin, with the commentary on the outer margins, surrounding the decretals.
This copy of "Constitutiones" was a gift from former professor Neill H. Alford Jr. '47, who purchased the book in Paris in the mid-20th century, and donated it, as part of his valuable collection of antiquarian books, to the UVA Law Library in 1960.