This issue of UVA Lawyer is — to a greater extent than we expected or hoped — about saying goodbye. During the spring, we lost two extraordinary people who began their academic careers on our faculty. Beth Garrett '88, the newly inaugurated president of Cornell University, died in March. We interviewed her for this issue with regard to her selection as the recipient of the University's Distinguished Alumna Award, given by the Maxine Platzer Lynn Women's Center. Beth was due to come to Charlottesville in April for the award ceremony.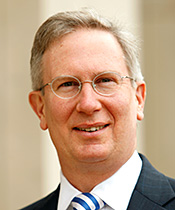 Antonin Scalia was a full-time member of our faculty from 1967-74 and thereafter taught here from time to time as an adjunct until his appointment to the Supreme Court in 1986. He was scheduled to come to Charlottesville at the time of his death to be the keynote speaker at the Federalist Society's National Student Symposium, held this year at the Law School. Former students and law clerks offer their memories of the justice in these pages.
On a lighter but still bittersweet note, my friend and colleague David Martin retires at the end of this academic year after 36 years on the faculty. David epitomized the professor who is as much at home in the world of policy and practice as in the classroom and the library. His service with the Departments of Homeland Security, State and Justice helped solidify his towering presence in international law, particularly the law of immigration and citizenship. He offers some thoughts on his extraordinary career inside.
I will also make a transition at the end of the academic year, returning from the deanship to full-time teaching and research at the Law School. Of all the privileges I have enjoyed as dean, none compares to the time I have spent with you, our alumni and friends, at events around the country. You are a wonderful reminder that our students not only join a uniquely close community, but remain members of that community for life. I'm grateful that I can continue to be a part of it.
As always, this issue contains several pieces prominently featuring our remarkably accomplished alumni. None will bring a bigger smile than our celebration of Mort Caplin's 100th birthday. Mort has done so much, for so long, to make the Law School the place it is today. On July 11, we'll all be raising a toast to Mort. He'll probably be in the office working.
You will also notice a few changes in layout and content in this issue. It seemed time to freshen up our look a bit. I hope you like it and of course we welcome your reactions.