Send Us Your News
To submit a class note, email us or submit mail to UVA Lawyer, University of Virginia School of Law, 580 Massie Road, Charlottesville, VA 22903. Please send your submissions no later than Aug. 1 for inclusion in the next issue.
1990
Tracey Phillips Beck is vice president and chief counsel for marketing and government affairs for Conagra Brands, which recently moved its corporate headquarters from Omaha, Neb., to Chicago. He lives in Lake Forest, Ill., with his wife, Kathy, and daughters Lauren, 16, and Alexandra, 13.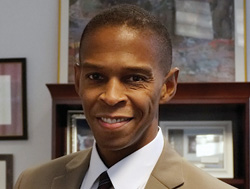 Mike Herring '90:
Instead of Detention, Choosing Diversion
Richmond Justice, a yearlong multimedia project examining the criminal justice landscape in Virginia's capital, recently profiled Richmond Commonwealth's Attorney Mike Herring '90. In this excerpt, he talks about his years of experience as a prosecutor and defense attorney, and how that experience persuaded him that diversion programs for criminal drug users are critical.
I didn't go to law school to be a criminal lawyer. And I certainly didn't go to law school thinking I'd be a prosecutor. I went to school in the late 1980s thinking I would end up in a corporate practice. I was originally drawn to prosecution because I wanted trial experience — not because I saw a need for somebody like me.
I joined the Commonwealth Attorney's office when I was 26 or 27. Crack was rampant, and I wanted to maximize felony convictions. But by the time I left in 1996, I was burned out, partly because I had prosecuted so many drug cases and was beginning to realize that our approach to the drug war was ineffective.
For the next nine years, I worked on criminal defense. As a defense lawyer, I learned you have to have a sense of the person's story in order to build an adequate defense. I'm years away from in now, but my work in criminal defense still informs my thought process.
You don't have to do an in-depth analysis of our state's or our city's response to narcotics to see limitations in what the law offers. Here's the problem: If you are a hardcore user, the single second chance that the law give s you could be insufficient. The science tells us that the number of relapses you should expect from an addict is six or seven—not one. The law imposes an expectation that people who have been unable to control impulses and stay away from substances will, miraculously, enjoy restraint, simply because they've been charged with a felony. But the threat of prosecution and the threat of arrest is not a part of the calculus of a drug addict, and probably not even of a drug user.
Most of the people we've convicted for felonies, we will see again — not because they're inherently bad, as we've told ourselves, but because of the consequences of the felony in terms of difficulties sin securing stable housing, employment and recovery. Forgotten felons come back again and again.
To take the chance of reallocating seven figures from detention to diversion, for people who have broken the law—it's risky, right? But the potential upside on diversion eclipses the yield that you get from incarceration. And you might preserve a person's capacity to be a productive, non-felon citizen.
Read the full interview here. Interview by Richmond Justice, a project of Field Studio.
1991
Rich Farley's marriage to Chele Chiavacci inspired a feature story in the December issue of Town and Country titled, "The Greatest Wedding Story Ever Told." The story actually begins with Farley's calamitous participation in the wedding of his friend, Maxwell Kennedy '92. Farley delivered the wedding rings in his friend's Saab, but before he could get them out of the trunk, he snapped the car key in the car's ignition. Just before the ceremony, he and the groom pried open the trunk with a hammer. Years later, Farley's own wedding on the Baja Peninsula was postponed when a hurricane struck. After the storm, the event went on without a hitch.
Zane David Memeger returned to Morgan Lewis as a litigation partner in the firm's Philadelphia and Washington, D.C., offices in January. He was a partner at Morgan Lewis from 2006-10 before President Obama appointed him U.S. attorney for the Eastern District of Pennsylvania, where he served nearly seven years.

W. Foster Wollen Jr. was married to Gigi Molina on Aug. 10 in San Francisco. Tino Olsen was best man and Julia Gremp was maid of honor. Foster and Gigi live in the Ocean Beach neighborhood of San Francisco.
1992
Douglas Towns is vice president and general counsel with Guardian Pharmacy, an Atlanta-based company that provides pharmaceuticals and services to assisted living, skilled nursing and correctional facilities, hospice programs and behavioral health facilities.
He was previously a partner with Sherman & Howard.
Towns also serves as a volunteer pilot for the Georgia chapter of Angel Flight Soars, flying nonemergency patients, many of whom are young children, to health care facilities for treatment.
1994
Zebulon D. Anderson is listed in North Carolina Super Lawyers 2017. He is a partner with Smith, Anderson, Blount, Dorsett, Mitchell & Jernigan in Raleigh, where he focuses his practice on representing private and public employers in all aspects of employment-related litigation.
Amelia A. Fogleman is listed in Oklahoma Super Lawyers 2016 in business litigation and was named Best Lawyers 2017 Tulsa appellate practice Lawyer of the Year. She is also listed in Best Lawyers 2017 in commercial litigation and antitrust litigation.
Fogleman is a shareholder with GableGotwals, where she focuses on litigation in the areas of appellate law, complex commercial litigation, antitrust law, and oil and gas. She serves as an adjunct settlement judge for the court-ordered dispute resolution program in the U.S. District Court for the Northern District of Oklahoma.
1995
Peter S. Vincent, former senior official with U.S. Immigration and Customs Enforcement, appeared on "CBS This Morning" on Jan. 20 following the extradition of the notorious drug lord "El Chapo" Guzman from Mexico to the United States in the final hours of President Obama's tenure. In February Vincent appeared on NBC News addressing the challenges facing Western governments dealing with mass migrations of refugees in the age of terrorism. Vincent is director counselor for international policy
1996
Mark A. Knueve is listed in Ohio Super Lawyers 2017 in employment and labor law. He is a partner with Vorys, Sater, Seymour and Pease in Columbus, where he represents employers in complex employment litigation, including wage and hour class actions and collective actions.
Rob C. Masri joined Woods Rogers in Charlottesville as of counsel. He is a member of the firm's new emerging- growth practice group, focused on serving companies engaged in startup activities, including technology innovation and business growth opportunities. Masri has started several businesses and has served as an executive vice president and general counsel for a provider of online communication software and an on-demand gig economy mobile marketplace.

Christopher D. Reiss returned to Brownstein Hyatt Farber Schreck in Denver as a shareholder. His practice concentrates on mergers and acquisitions, private equity, portfolio company investment, leveraged recapitalizations and buyouts, strategic planning, joint ventures and general corporate governance matter.
1997

Kate H. Day was elected to serve on the management committee at Bracewell in Houston. Day represents leading international banks and borrowers in senior and subordinated debt financings, acquisition financings, reserve- based loans, master limited partnership financings and other credit transactions in the energy industry.
Wallace C. Hollowell III is general counsel with Cardinal Innovations Healthcare in Kannapolis, N.C.
Kevin Walker Holt was named to the Virginia Business 2016 Legal Elite list for civil litigation and is listed in Best Lawyers 2017 in commercial litigation. He is a partner with Gentry Locke in Roanoke, Va., where he focuses his practice on commercial, employment, ERISA and intellectual property litigation.
Jason M. Sneed was named Charlotte Lawyer of the Year in trademark law in Best Lawyers 2017 and is listed in Super Lawyers in intellectual property litigation, intellectual property and business litigation. He is founding and managing member of SNEED PLLC, an intellectual property boutique firm in Davidson, S.C.
1998
John W. Berry has been named associate regional director for enforcement in the Los Angeles regional office of the Securities and Exchange Commission. He will help oversee enforcement efforts in Southern California, Arizona, Nevada and Hawaii.
Peter Bowden is now co-head of energy investment banking at Jefferies in Houston. Since joining Jefferies in July 2012 from Morgan Stanley, he has served as lead adviser on more than $120 billion of mergers and acquisitions.
Brian S. Johnson joined Woods Rogers in Charlottesville as of counsel. He's a member of the firm's new emerging-growth practice group focused on serving companies engaged in startup activities, including technology innovation and business growth opportunities. He serves as outside legal counsel and as a director for the Charlottesville Business Innovation Council, the leading technology-focused advocacy group in Central Virginia.
1999
Seth J. King has been named partner at Perkins Coie in Portland, Ore., where he practices land use and zoning law with emphasis on obtaining permit and entitlement approvals for complex development projects.
Steven Rubin recently co-founded and launched Rubin Sheeley Paterniti Gonzalez, a Manhattan/Long Island-based civil defense litigation firm. The firm specializes in defending employment, medical malpractice, and product liability, and property and casualty loss claims.
Anthony M. Russell was named to Virginia Business' 2016 Legal Elite list for civil litigation. He is listed in Best Lawyers 2017 in mass tort litigation/class actions (plaintiffs), medical malpractice law (plaintiffs), product liability litigation (plaintiffs), and was named Roanoke Lawyer of the Year 2017 in personal injury litigation (plaintiffs), and was named Roanoke Lawyer of the Year 2017 in personal injury, medical malpractice, products liability and wrongful death.
Johanna W. Schneider is listed in Super Lawyers 2016 in land use/zoning. Schneider is a director with Rackemann Sawyer & Brewster in Boston, where she focuses her practice on real estate development permitting, land use and environmental litigation, and representing public and private clients at the trial and appellate levels.