1980s Class Notes
1980
Stephen Bornstein recently started his own practice in New York aimed at hedge fund and asset managers who are seeking general counsel services on an outsourced basis. See his Web site at www.sab-at-law.com.
Peter E. Keith was elected as a fellow of the American College of Trial Lawyers. He is a partner with Gallagher Evelius & Jones in Baltimore, Md., where he concentrates his practice in trial and appellate litigation in state and federal courts. Keith has taught civil litigation as an adjunct professor at the University of Maryland Law School since 1990.
Richard J. Pocker was selected for inclusion in Best Lawyers 2010 and 2011 for commercial litigation. He is the administrative partner for the Nevada office of New York-based Boies, Schiller & Flexner. In 2009 Pocker successfully passed the New York State Bar Examination and was admitted to practice in New York in May 2010.
Mary Ellen Powers is partner-in-charge of Jones Day's European and Middle Eastern operations, based in the Washington, D.C. office. In 2010 Powers received InsideCounsel magazine's Transformative Leadership Award for her work developing women leaders at the firm. "As Mary Ellen Powers has risen to the top of her profession, she's made sure to bring other women along," said the award citation. "The partner-in-charge of one of Jones Day's largest offices - more than 400 lawyers and staff in Washington - Powers has played a key role in helping other female attorneys assume leadership posts. At her firm, women now lead five offices."
Beat Steiner was named by Best Lawyers as Lawyer of the Year for Denver area real estate. Steiner is the administrative partner at Holland & Hart in Boulder and the chair of its resorts, lodging, and leisure group.
1981
Uncommon Portrait Photographer Tina Ravitz
Edward Bright has joined Arnold & Porter as partner in the New York office, where he will focus his practice in the areas of compensation and benefits, corporate and securities, and tax planning.

Terence J. Fox has been elected to the board of directors of Archer & Greiner in Haddonfield, N.J. Fox joined the firm in 1981 and has been a shareholder since 1989. He concentrates his practice in corporate and commercial banking law with an emphasis on mergers and acquisitions, commercial lending transactions, and general corporate services. He lives in West Deptford.
Gary L. Francione, a noted expert on animal rights theory, presented "Animals: Our Moral Schizophrenia" as the 2011 Boswell Distinguished Lecturer in Philosophy at Hobart and William Smith College in March.
Francione is the first academic to teach animal rights theory in an American law school. He has been teaching animal rights and the law for 20 years and has lectured on the topic throughout the U.S., Europe, and Canada, and blogs at www.abolitionistapproach.com. Francione is the Nicholas deB. Katzenbach Scholar of Law and Philosophy at Rutgers School of Law-Newark. In his most recent book, The Animal Rights Debate: Abolition or Regulation? he debates the abolitionist approach to animal rights with a leading defender of animal welfare reform. (See In Print.)
David Schaeffer has written a book entitled Five Big Mountains: A Regular Guy's Guide to Climbing Orizaba, Elbrus, Kilimanjaro, Aconcagua, and Vinson, published by Mercer University Press. Schaeffer's account reveals the grit and determination it takes to make it to the top of some of the highest peaks in the world. Jim Ewing joined him on the ascent of Mt. Elbrus, the highest peak in Europe. (See In Print.)
1982
Mark W. Merritt is in his 28th year with Robinson Bradshaw & Hinson in Charlotte, N.C., where he focuses his practice on business litigation. He is the chair of the North Carolina State Bar Ethics Committee and also serves as chair of the Lawyers Assistance Program, which, he notes, he enjoys a great deal.
1983
Paula Campbell Millian continues to work as a legal search consultant with Finn & Associates in McLean, Va. She specializes in partner, associate, and in-house placements in the Washington, D.C., area.

James P. Cox III was inducted into the 2011 class of fellows for the Virginia Law Foundation at the Virginia Bar Association's annual meeting in Williamsburg on January 20. He was also named to the Virginia Bar Association Board of Governors during the meeting. Cox practices in the areas of estate planning and administration, estate litigation, and real estate with Michie Hamlett in Charlottesville.

Hugh M. Fain III was sworn in as president-elect of the Virginia Bar Association at the VBA's annual meeting on January 22 in Williamsburg. He is managing director at Spotts Fain in Richmond.



Deborah Farmer Minot has been appointed District Associate Judge for the Sixth Judicial District of Iowa. She presides over criminal and juvenile court in the Johnson County Courthouse. Minot practiced law in Baltimore for eight years before moving to Iowa, where she served as an assistant Johnson County attorney for 18 years prior to her appointment to the bench. She and her husband, George, live in Iowa City and have two sons: Tanner (22), a 2010 graduate of the University of Arizona currently attending the University of Iowa College of Law, and Walker (17), an Iowa City High School senior awaiting college application decisions.
William Fish has been named 2011 Lawyer of the Year by Best Lawyers in the areas of bankruptcy and creditor-debtor rights and selected for inclusion in Connecticut Super Lawyers 2011. He is with Hinckley, Allen & Snyder in Hartford.
Fulton County Superior Court Judge
Constance C. Russell
of the Atlanta judicial circuit was honored with the 2010 Judge Thelma Wyatt Moore Legacy Award. The award was given by the Gate City Bar Association, the oldest African American Bar Association in Georgia, to honor "phenomenal public servants representing high professional standards."
Robert Simmons was named chair of McGuireWoods' real estate and land use department in January. He had been co-chair of the Charlotte, N.C., real estate transactions department since the merger of his former firm, Helms, Mulliss & Wicker, and McGuireWoods in 2008. The current department has 97 lawyers, professional agents, and paralegals throughout 15 of the firm's U.S. and European offices.
In May Simmons received the 2010 Mecklenburg County Bar Pro Bono Attorney of the Year Award, which recognized his work over more than a decade for the Children and Family Services Center. He has served as general counsel and a board member since co-founding the center in 2000, and served as president from 2004-06. During the agency's fiscal year ending June 30, 2009, he contributed more than 150 hours of volunteer legal services.
In October Simmons received the 2010 North Carolina State Bar Distinguished Service Award, which honors current and retired members of the North Carolina State Bar throughout the state who have demonstrated exemplary service to the legal profession. In 2010 Simmons was named to Business North Carolina's Legal Elite, was included in North Carolina Super Lawyers, and named Charlotte Real Estate Lawyer of the Year by Best Lawyers.
Joseph H. Varner III was inducted into the American College of Trial Lawyers at the college's annual meeting in Washington, D.C., held in September. He was also named as one of the Top 10 lawyers by Florida Super Lawyers, named to the Florida Trend Legal Elite Hall of Fame, and selected for inclusion by Best Lawyers in the bet-the-company litigation and commercial litigation categories. Varner is with Holland & Knight in Tampa, where he specializes in commercial litigation. Most importantly, he says, he either stays young or ages rapidly by chasing his young sons, Evan (4) and Eric (2 ½), around the house.
1984

Lisa D. Eldridge has joined Martin Banks as an associate in Philadelphia, Pa., where she concentrates her practice on workers' compensation law. She previously practiced workers' compensation law with a defense firm.


K.C. Green has joined Ulmer & Berne as a partner in Cincinnati, Ohio, where he concentrates his practice on product liability. Green was previously with Dinsmore & Shohl. He was included in Ohio Super Lawyers 2011 and was selected for inclusion in Best Lawyers 2011 in mass tort litigation/class actions-defendants and mass tort litigation/class actions-plaintiffs, product liability litigation. Best Lawyers also named him Cincinnati Mass Tort Litigator of the Year 2011.
James W. Huston's most recent novel, Falcon Seven, was published by St. Martin's Press in 2010. (See In Print.) Huston is a partner in the San Diego office of Morrison Foerster, where he is chair of the trial practice group. He focuses his practice on product liability matters, contract disputes, and appeals. He was selected for inclusion in Best Lawyers 2010 in the area of product liability litigation.
A portrait of former North Carolina state representative, senator, and Supreme Court justice
Willis P. Whichard
LL.M. '84, S.J.D. '94
was presented in a ceremony
at the Campbell University School of Law in October. Whichard served as dean of the school from 1999-06. He now applies his extensive judicial and legislative experience to advising and mentoring litigation attorneys, focusing on appellate litigation for Moore & Van Allen clients in the Research Triangle Office.
Wendy Wysong
is relocating to Hong Kong for a couple of years, where she will be opening a U.S. white collar practice at Clifford Chance's Hong Kong office. She will also be working with the firm's offices in Singapore, Beijing, Shanghai, and Tokyo.
Wendy and her husband, Tracy Rickett (UVA M.A.), were expecting their first grandchild in January.
1985
F. Sheffield Hale has been elected to serve as a member of the National Trust for Historic Preservation's board of trustees. Hale is chief counsel of the American Cancer Society in Atlanta, Ga. He has served as chair and trustee for a number of organizations dedicated to historical preservation.
Joseph M. Leccese, of New York City, has been elected chairman of Proskauer Rose, where he is a partner in the corporate department, a member of the executive committee, and co-head of the sports law group. He is the youngest elected chairman in Proskauer's 135-year history.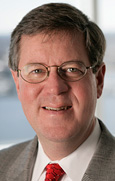 Charles V. McPhillips has been selected by the Virginia Law Foundation to its fellows class of 2011. He is a partner and executive vice president of practice management at Kaufman & Canoles in Norfolk. His practice focuses on commercial transactions; government contracts and construction; and mergers, acquisitions, and strategic alliances.
1986

Carl Q. Carter has joined the board of directors of the Tennessee Justice Center, a non-profit public interest law and advocacy firm serving the poor. Carter is associate general counsel of International Paper at its Memphis headquarters.


Scott Douglas Gerber, a law professor at Ohio Northern University, spent the 2009-10 academic year on sabbatical at Brown University. He was recently appointed to a second two-year term on the Ohio Advisory Committee to the U.S. Commission on Civil Rights. His latest academic book, A Distinct Judicial Power: The Origins of an Independent Judiciary, 1606-1787, will be published by Oxford University Press in May. A symposium was held on the book at Harvard Law School on March 29. Scott's third legal thriller, Mr. Justice, also scheduled for publication in May, will be published by Sunbury Press.
U.S. Air Force Colonel
Thomas J. Hasty, III,
was honored with an Air Force retirement ceremony in Washington, D.C., in October. Through his 29+ year military career, Hasty held a number of positions at all levels of command, including Civil Design Engineer; Assistant Staff Judge Advocate; Military Criminal Defense Counsel; Associate Professor of Law at the U.S. Air Force Academy; and Staff Judge Advocate at the installation and headquarters level. The colonel completed his career as the Director of the Air Force Commercial Law and Litigation Directorate in Rosslyn, Va. He is currently an Associate General Counsel for Lockheed Martin Aeronautics Company.
Hasty is admitted to practice before the D.C. bar, the U.S. Court of Military Appeals, and U.S. Court of Federal Claims. He is the proud father of four daughters, Katherine (19), Tori (14), Thomasa (12), and Judith (12).

E. Ford Stephens has been inducted as a fellow of the Virginia Law Foundation. He serves as chair of the Committee on Continuing Legal Education, which oversees the non-profit educational division of the Virginia Law Foundation, is a Leadership Metro Richmond graduate (class of 2010), and is active in providing pro bono legal aid. Stephens is a partner at Christian & Barton in Richmond, where he focuses his practice on insurance, telecommunications, commercial litigation, and appeals.
1987
Keenan Becomes General Counsel of the NAACP
David E. Bauer works as a tax policy analyst for the State of Maine Bureau of Revenue Services after having served for many years as the agency's general counsel. He writes, "I am an avid contra dancer and play two different types of button accordion. My oldest son, Edward, graduated from Wesleyan University in 2008 and is an actor (and waiter!) in New York City; my second son, Peter, is a sophomore at the New England Conservatory of Music in Boston; and my daughter, Lucy, is a sophomore at Portland High School. Finally, since waking up not long ago to the fact that the official version of the events of September 11, 2001, is a monstrous hoax, I have been active in the 9/11 Truth Movement and am continually astonished that more attorneys and law professors are not similarly involved."

William R. Denny was recently featured in a Jaffe Legal News Service article, "The Lawyer's Speech."
The piece shares Denny's travails with severe stuttering since he was a young boy. Determined to be able to speak fluently, he tried a number of different therapies before finding one that helped him retrain the muscles he uses for speech.
Denny is a partner with Potter Anderson & Carroon in Wilmington, Del., where he focuses his practice in the areas of electronic commerce, information licensing, and commercial litigation. He speaks extensively on technology and business issues.
Paul Enzinna has joined Brown Rudnick as a partner in Washington, D.C., where he practices in the newly established white collar defense and government investigations group. Previously, Enzinna practiced white collar defense at Miller Cassidy Larroca & Lewin and Baker Botts.
Jeffrey P. Guyton practices law in Nevada City, Calif., in the Sierra Nevada foothills, where he enjoys the great opportunities for recreation.
Neil McKittrick is one of four founding shareholders of the Boston, Mass., office of Ogletree, Deakins, Nash, Smoak & Stewart. He continues to practice in the areas of employment and labor law and commercial litigation.
Fred Wagner has been appointed chief counsel of the Federal Highway Administration by President Barack Obama. Wagner, a principal in Beveridge & Diamond's Washington, D.C. office, had been with the firm since 1991. His practice involved counseling and litigation in a wide variety of land use, environmental impact analysis, and public land matters, focusing on the National Environmental Policy Act and related federal natural resources statutes. He chaired the firm's land use practice group for the past six years. Wagner and his wife, Mary, and children, David and Sarah, live in Rockville, Md.
1988
Former Wisconsin Supreme Court Justice William A. Bablitch LL.M. passed away February 16 at his winter home in Kailua-Kona, Hawaii. He served on the Wisconsin Supreme Court from 1983-2003. Following graduation from the University of Wisconsin he served in the Peace Corps in Liberia for two years before returning to attend law school. He was district attorney for Portage County, Wisc., and a Wisconsin state senator from 1972-83; for seven of these years he was Democratic majority leader. Key legislation during this time included groundbreaking sexual assault legislation, reorganization of the state court system, divorce reform, mandatory reporting of child abuse, and Wisconsin's Open Meeting Law. He wrote the first campaign finance reform law that placed restrictions on campaign funding and established public financing.
After earning his LL.M. from UVA, he joined the faculty of New York University Law School, Institute of Judicial Education, where he taught appellate judges. Following retirement from the Wisconsin Supreme Court he became a partner with Michael, Best and Friedrich in Madison.
Alison Cooper Chisolm writes that she and her husband live happily in northern New Hampshire where she has an independent college admissions consulting practice. She works with students in the U.S. and abroad, assisting them through the admissions process. "It suits me much better than law practice ever did!"

John M. Cooper has been elected Virginia Trial Lawyers Association district governor for the second district. He was also listed in Virginia Super Lawyers 2010 in the area of personal injury law. He is a partner with Shapiro, Cooper, Lewis and Appleton in Virginia Beach.
David L. Finger, a partner with Finger & Slanina in Wilmington, Del., has made his book, The Delaware Trial Handbook, available for free online at www.delawgroup.com/dth. The book, co-authored with his father, Louis J. Finger, was originally published in 1994 and went out of print in 1998. After a 12-year hiatus, The Delaware Trial Handbook has been updated. (See In Print.)

Richard A. Forsten was recently selected as the Wilmington Land Use & Zoning Lawyer of the Year for 2011 by Best Lawyers. He is a partner in the project and resource development group and a member of the transactional real estate practice group in the Wilmington, Del., office of Saul Ewing.