Non-Fiction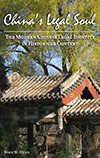 China's Legal Soul: The Modern Chinese Legal Identity in Historical Context
John W. Head '79
Carolina Academic Press
This new look at Chinese law and society reflects the "triple anniversary" that 2009 will mark for Chinese law reform. In 1979, the People's Republic of China embarked on a dramatic new phase of legal transformation; 30 years before that, in 1949, Mao announced the creation of the PRC itself, another moment of legal reorientation; and 30 years before that, in 1919, the May Fourth Movement also had legal reform at its core, as thousands of protesters in Beijing erupted at the refusal Western powers to acknowledge that China's legal system was no longer inadequate and uncivilized.
This claim—that China's legal system is inadequate and uncivilized—remains in play today, particularly in respect of how China approaches the rule of law and human rights. Head's new book (following his earlier work, Law Codes in Dynastic China) examines these issues by focusing on modern China's "legal soul"—by which he means the set of fundamental and animating legal principles or values that give a society its unique spirit and character. His lively and insightful comparison of contemporary Chinese law with dynastic Chinese law—readily accessible by (and written for) non-specialists—addresses these central questions: (1) what sort of a "rule of law" does today's Chinese legal system hope to achieve against its ages-old Legalist-Confucianist background; and (2) is there any modern correlative to the Imperial Confucianism that gave dynastic China its "legal soul," or is today's China "soul-less," as some would claim?
In addressing these questions, Head insists on looking beyond easy assumptions and assertions found in much Western legal literature about China and its law; instead, he relies heavily on leading contemporary legal scholars at Chinese universities and their views on politics, constitutionalism, and rule of law in China.
Head is a professor of international and comparative law at the University of Kansas, though this semester he is on a Fulbright visiting professorship in Italy.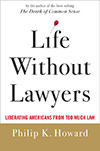 Life Without Lawyers: Liberating Americans from Too Much Law
Philip K. Howard '74
W.W. Norton
In his latest book, the author of The Death of Common Sense and The Collapse of the Common Good reveals how Americans have handed over everyday decision-making to lawyers. From no-risk playgrounds to doctors afraid of the legal ramifications of discussing a patient's treatment plan in emails, we seem to be avoiding potential lawsuits at all costs. "How did the land of freedom become a legal minefield?" Howard asks. He offers numerous anecdotes that support his case, showing how today's justice system thwarts and confounds most Americans. Called by George Will "2009's most needed book on public policy," Life Without Lawyers' urgent and elegant argument is full of examples, often darkly humorous. He describes the historical and cultural forces that led to this mess, and he lays out the basic shift in approach needed to fix it. Today we are flooded with rules and legal threats that prevent us from taking responsibility and using our common sense. We must rebuild boundaries of law that affirmatively protect an open field of freedom. The stories here will ring true to every reader. The analysis is powerful, and the solution unavoidable. What's at stake, Howard explains in this seminal book, is the vitality of American culture.
Howard, a partner of Covington & Burling in New York City, is also one of America's leading proponents of legal reform, and works closely with public officials, corporate executives, academics, and judges across the country. He chairs a nonprofit called Common Good, dedicated to restoring reliability to American law.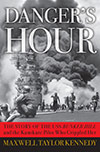 Danger's Hour: The Story of the USS Bunker Hill and the Kamikaze Pilot Who Crippled Her
Maxwell Taylor Kennedy '92
Simon and Schuster
In World War II, Japanese officers were trained to become the ultimate weapons of war. As kamikaze pilots they made suicidal dives in bombers packed with explosives, causing catastrophic damage to their targets. On May 11, 1945, soon after the Japanese surrendered in World War II, a pair of kamikaze pilots targeted USS Bunker Hill, one of America's most powerful aircraft carriers. They destroyed 100 American aircraft and killed or injured more than 700 Americans.
Kennedy chronicles the episode through the stories of the kamikaze pilots and the men aboard the USS Bunker Hill on that fateful day. With quotes from letters, diaries, and extensive interviews with survivors, the author recounts the period in vivid detail, and helps readers understand the destructive force of terrorist attacks in modern times. Readers will find multimedia content related to the book, including video footage of the ship on fire and interviews with kamikaze pilots, at dangershour.com.
Kennedy is currently a research fellow at the John Carter Brown Library for Advanced Research in History and the Humanities at Brown University. He lives in Los Angeles with his wife and children.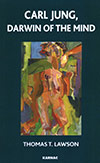 Carl Jung, Darwin of the Mind
Thomas T. Lawson '65
Karnac Books, London (U.S. distributor is Stylus Publishing)
Jung explored the human psyche throughout his long life. His writings elaborate on imagery that can be found in rituals, myths and fables worldwide as well as in the dreams, visions and fantasies of his patients and himself. Jung pursued common threads of meaning to the point of becoming deeply versed in the esoterica of Eastern mysticism, Gnosticism, and alchemy.
Taken collectively, Jung's works develop a coherent theory about how the psyche is constructed, including an idea of how consciousness emerged as a part of it. The author demonstrates that Jung's concept of a collective unconscious structured by archetypes meshes well with accepted views of evolution and can be squared with the most rigorous science of today. So taken, Jung's work is of unrivaled explanatory power and opens new vistas for understanding who we are and how we function.
It is accepted that everything in biology can be explained through Darwinian evolution except the human mind. Jung's theory contemplates that the collective unconscious evolved through natural selection just as instinct did. From this uniform, inherited unconscious, consciousness arose and the rapid expansion of consciousness over the last 6,000 years can be traced in the various cultures in which it has been embodied. Indeed, Erich Neumann, Jung's brilliant successor, has charted this evolution through the myths and rituals of successive phases of culture.
The author enlarges upon Jung's and Neumann's findings by showing that the evolution of consciousness must have occurred not through genetic selection as with that of the collective unconscious, but through another form of natural selection: that propagated through culture itself.
Lawson left the practice of law in 1992. This book is the outgrowth of an interest he has long held in mythology and psychology and the connection between the two.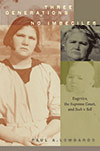 Three Generations, No Imbeciles: Eugenics, the Supreme Court, and Buck v. Bell
Paul A. Lombardo '85
The Johns Hopkins University Press
In the landmark 1927 case Buck v. Bell, the U.S. Supreme Court ruled that states could forcibly sterilize citizens as a means of preventing "feebleminded and socially inadequate" people from having children. In 1924, Carrie Buck was institutionalized against her will after she was raped and impregnated. Judging the woman, her mother, and her daughter mentally defective, the state of Virginia wanted to sterilize her to prevent further generations of mentally incompetent offspring. In the Supreme Court decision, Justice Oliver Wendell Holmes Jr. declared, "Three generations of imbeciles are enough." Sympathy for the eugenics movement had prevailed, and Carrie Buck was sterilized.
Lombardo's years of research, including the last interview with Carrie Buck before she died, the honor roll grade book of her daughter, and private correspondence of the lawyer who was named to represent her, support the conclusion that the Buck case was a fraud, initiated to hide the shame of a poor girl, pregnant after she had been raped.
Although the Buck decision set the stage for more than 60,000 operations in the United States and was cited at the Nuremberg trials in defense of Nazi sterilization experiments, it has never been overturned. This book tracks the career of Buck in American memory, as a potent symbol of government control of reproduction and a troubling precedent in the human genome era. "Three Generations, No Imbeciles is a must read for anyone who wants to understand the historical context of Buck v. Bell and its implications for ethics, law and public policy," according to a review in the New England Journal of Medicine.
Lombardo is a professor of law at Georgia State University College of Law. He has played a key role, as both a historian and a lawyer, in the movement to solicit state apologies and legislative denunciations of past eugenics laws. Supplemental material is available at buckvbell.com.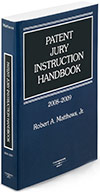 Patent Jury Instruction Handbook
Robert A. Matthews '92
Thomson West
In his most recent book, Robert A. Matthews provides a comprehensive sampling of annotated jury instructions used in patent infringement actions. He details the legal issues most often implicated in patent infringement trials and offers expert guidance through the complex process. It includes model jury instructions from the American Intellectual Property Law Association.
Matthews' recently updated, seven-volume treatise on patent law, Annotated Patent Digest, is in its fourth year of publication. It is an invaluable research tool that guides patent lawyers through the process of creating legal arguments and briefs for patent litigation. It provides the information needed to determine whether to cite a case in a letter, brief, or other document and is a key reference for writing opinion letters and responses to office actions by the U.S. Patent and Trademark Office.
The author is a partner with Latimer, Mayberry & Matthews Intellectual Property Law in Blacksburg, Va., where he provides patent litigation consulting services to corporations and law firms regarding all aspects of U.S. patent litigation and pre-litigation analysis.

Brethren and Sisters of the Bar: A Centennial History of the New York County Lawyers' Association
Edwin David Robertson '71
Fordham University Press and the New York County Lawyers' Association
Edwin David Robertson's book celebrates the 100-year history of a pioneering organization that has been front and center in public debates over important legal issues, including legal ethics, the defense of indigents, the right to counsel, judicial selection, and just compensation for judges and employees of the courts. Here are stories of the legions of lawyers who, in the association, successfully faced the challenges of their profession and created a powerful community of shared interests and commitments. The New York County Lawyers' Association, founded in 1908, was the first major bar association in the country that admitted members without regard to race, ethnicity, religion, gender or sexual identity.
Robertson researched a wealth of primary resources to uncover the history of the esteemed organization. He served as NYCLA's 54th president, from 2006-2007, and is a partner at Cadwalader, Wickersham & Taft in New York City.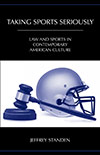 Taking Sports Seriously: Law and Sports in Contemporary American Culture
Jeffrey Standen '86
Carolina Academic Press
Contrary to the common "wisdom" that people take sports too seriously today, Jeffrey Standen argues that we don't take them seriously enough. Without taking sports as seriously as we do law and public policy, he explains, we will have a difficult, if not impossible time fixing the problems in contemporary sports. This collection of essays offers an unflinching take on the salient legal issues from the world of sports, including player violence, fan injuries, free agency, player agents, drug testing, athletes as role models, gambling, and other hot-button topics. Each essay provides background information on the issue, poses the relevant problems provocatively, and presents surprising resolutions sure to generate reflection and discussion. Written in a fast-paced, accessible style that unpacks jargon, this book brings sophisticated legal analysis to bear on the problems of sports.
The author is a professor of law at Willamette University in Salem, Ore. His website, thesportslawprofessor.blogspot.com, is dedicated to the complete integration of sports and law.
Fiction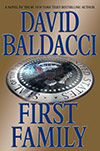 First Family
David Baldacci '86
Grand Central
David Baldacci's latest King and Maxwell thriller begins with a children's birthday party that seems at first like any other—except this one is at the Presidential retreat Camp David. All the fun and games end abruptly when a child is kidnapped, and a national security nightmare begins. Against the wishes of the FBI, former agents Sean King and Michelle Maxwell are drawn into the investigation by the First Lady, and the race is on to save the child. With Michelle still battling her own demons, and forces aligned on all sides against them, the two are pushed to the absolute limit. In the race to save an innocent victim, the line between friend and foe will become impossible to define … or defend.
Baldacci and his family live in Virginia and have founded the Wish You Well Foundation, a nonprofit dedicated to supporting literacy efforts in America. Visit his website at DavidBaldacci.com.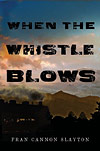 When the Whistle Blows
Fran Cannon Slayton '94
Philomel Books
Jimmy lives in Rowlesburg, W. Va., during the 1940s. He does all the things boys do in the small mountain town: plays a mean game of football, pulls the unforgettable Halloween prank with his friends in "the Platoon," and promises to head off into the woods on the first day of hunting season—no matter what. He also knows his father belongs to a secret society, and is determined to uncover the mysteries behind it! But it is a midnight encounter with a train that shows Jimmy the man his father really is.
Newcomer Fran Cannon Slayton's powerful first novel captures the serendipity of boyhood by shining a spotlight on the peak adventures of Jimmy's life. But at its heart, this is a story about a boy and his father in a time when trains reigned supreme.
"When the Whistle Blows is reminiscent of classic tales by Jack London, William Golding and Robert Louis Stevenson, yet carries the remarkable, fresh voice of its author. Fran Cannon Slayton should be extremely proud of this, her debut novel," writes, National Book Award finalist, Ellen Hopkins.
Slayton lives and works in Charlottesville. Find more on the book at FranCannonSlayton.com.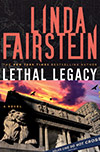 Lethal Legacy
Linda Fairstein '72
Knopf Doubleday
In Linda Fairstein's new novel, the New York Public Library houses dazzling treasures—and deadly secrets.
When Assistant District Attorney Alex Cooper is summoned to Tina Barr's apartment on Manhattan's Upper East Side, she finds a neighbor convinced that the young woman was assaulted. But the terrified victim, a conservator of rare books and maps, refuses to cooperate with investigators. Then another woman is found murdered in that same apartment with an extremely valuable book, believed to have been stolen. As Alex pursues the murderer, she is drawn into the strange and privileged world of the Hunt family, major benefactors of the New York Public Library and passionate rare book collectors.
Eventually Alex connects their internal family rivalries to a priceless edition of Alice in Wonderland, which also contains the world's oldest map. Would one of the well-bred Hunts be willing to kill for the treasures? The search for the answer takes Alex and her team on a breathtaking chase from Manhattan's grandest apartments to the secret tunnels and chambers of the New York Public Library, and finally to a nineteenth-century underground vault. There, in the pitch-black darkness, Alex comes face-to-face with the killer who values money more than life.
Fairstein lives in Manhattan and on Martha's Vineyard. She's also a legal commentator for the major television and cable networks. Her website is lindafairstein.com