Send Us Your News
To submit a class note, email us or submit mail to UVA Lawyer, University of Virginia School of Law, 580 Massie Road, Charlottesville, VA 22903. Please send your submissions no later than Aug. 1 for inclusion in the next issue.
1990
Clint Broden was named the Criminal Defense Lawyer of the Year by the Texas Criminal Defense Lawyers' Association — the largest criminal defense organization in the country. Broden, who practices at Broden & Mickelsen in Dallas, was recognized for his work related to the shootout at the Twin Peaks restaurant in Waco, Texas, in May of 2015, during which nine people were killed and 177 motorcyclists were arrested. 1991
Vernon E. Inge Jr. joined Whiteford Taylor & Preston as a partner in Richmond, Va. Inge is a commercial litigation, bankruptcy and sports law attorney, and is past president of the Rich­mond Bar Association.

Jason M. Murray is a shareholder with Gunster in Miami, fo­cusing on franchise and distribution law. Mur­ray's practice involves providing counsel and assistance with creat­ing, managing, licensing, protecting and enforc­ing franchised business relationships, product distribution systems and dealership networks. He is also noted in the com­munity for his service as past president of the Dade County Bar Asso­ciation, where he was the first African-Amer­ican to be elected to the position. Murray's service also includes chairing the diversity committee of the busi­ness law section of the Florida Bar. Prior to joining Gunster, Murray operated his own Mi­ami-based firm.
1992

Dwight M. Francis is a partner in the busi­ness trial practice group in Sheppard Mullin's Dallas office. Francis has devoted his career to class actions and other complex corporate liti­gation, and has extensive courtroom experience.

Lee Tyner was named Texas Christian Uni­versity's first general counsel. Tyner previ­ously served as an at­torney at the Univer­sity of Mississippi since 1998 and the chief legal officer since 2003.

In May, Michael Wu, senior vice president, general counsel and secretary of Carter's, organized and moder­ated the Asian Ameri­can Bar Association of New York inaugural general counsel panel and reception celebrat­ing Asian Pacific Ameri­can Heritage Month. The panelists included David Leitch '85, global general counsel, Bank of America; Sandra Leung, executive vice president and general counsel, Bristol-Myers Squibb; Lucy Fato, ex­ecutive vice president and general counsel, AIG; Kelly Tullier, exec­utive vice president and general counsel, Visa; and Brad Turner, chief legal and administrative officer, Newell Brands.
1993
Jeffrey Swiatek was elected president of the New York State Asso­ciation of School At­torneys for the 2018 term. Swiatek is the leader of both the ed­ucation practice and the municipal prac­tice at Hodgson Russ in Buffalo. Association members serve as legal counsel to boards of ed­ucation and school dis­tricts across New York state. For 50 years, the association has been dedicated to ensuring the highest level of legal representation for New York's schools.
Sharff '94 Named Bradley Office Managing Partner
Bradley Arant Boult Cummings named Dawn Helms Sharff '94 office managing partner for the firm's Bir­mingham, Ala., office in September.
"Birmingham, our largest office and the headquar­ters for our administrative operations, is the foundation for so much of our history and success," said Bradley Chairman and Managing Partner Jonathan M. Skee­ters. "Dawn's dynamic leadership there reinforces the firm's commitment to our roots, and further enhances our position in the Birmingham and Alabama legal com­munities."
Sharff, who joined the firm in 2005, also serves on Bradley's board of directors and has held other firm leadership positions. She represents public compa­nies, privately held entities and individuals in all types of commercial real estate transactions, including the buying, selling, leasing and developing of commercial real estate nationwide. Her commercial real estate prac­tice includes representation of developers of projects nationwide, as well as large companies that own and/or lease real estate assets across the United States as a part of their business operations.
"The firm's Birmingham office is one that is expe­riencing great growth, along with our city and state," Sharff said. "The creation of the office managing partner position in Birmingham will allow us to continue strengthening our ties to the city and to our clients."
—Mike Fox
1994

Zebulon D. Anderson was recognized in Chambers USA among the leading attorneys in North Carolina in the area of labor and em­ployment. Anderson is a partner with Smith An­derson in Raleigh.
Geoff Berman, a former political staffer for President Barack Obama, is the execu­tive director of the New York Democratic Party.

John Nalbandian was confirmed in May as a judge on the Sixth U.S. Circuit Court of Appeals. He was for­merly a partner in the litigation practice group of Taft Stettin­ius & Hollister, where he has practiced since 2000.
Quagliana '95 Wins Justice For Charlottesville Beating Victim Accused Of Attack
Charlottesville attorney Rhonda Quagliana '95 won a March 16 assault-and-battery trial on behalf of DeAndre Harris, the black man who was beaten during the violent "Unite the Right" protests in the city during August 2017.
Harris was accused by Harold Ray Crews, a North Carolina attorney and state chairman of the white nationalist group League of the South, who said he was a victim, too — and that Harris was his attacker.
Quagliana, a partner with St. John, Bowling Lawrence & Quagliana, believed Harris was only trying to defend one of his companions that day. She represented Harris pro bono.
"He was a 20-year-old young person who showed up at this event Aug. 12 and had no clue things were going to be as volatile as they were," she said.
As a longtime criminal defense attorney, Quagliana has represented clients charged with a multitude of violent crimes, on up to capital murder. She had closely followed the white supremacist rallies, which resulted in the vehicular homicide of city resident Heather Heyer and made headlines worldwide.
Harris was beaten during a separate incident which took place in a parking deck next to the police station.
"It was never a question in my mind that he should be acquitted," she said. "But anybody who has spent time trying cases in court knows that it's never a guarantee."
When Harris accepted her offer of representation, Quagliana thought it was a good opportunity to get UVA students involved. (In addition to her J.D., Quagliana earned her Ph.D. from UVA.) It was a practical learning opportunity with both legal and historical implications.
Quagliana reached out to the Law School, and quickly thereafter, assembled a team of law students eager to help.
Proving Harris' innocence hinged on video evidence collected by the team.
"What's great about these students is that they understood on their own the demands of preparing a case for trial," Quagliana said. "I gave them an assignment, and it got done. It's a tribute to the Law School that they didn't require my constant guidance."
—Eric Williamson
1995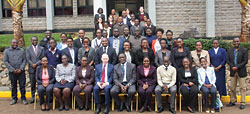 Peter Vincent, center­-front, recently taught counterterrorism law to senior prosecutors and defense advocates in Nairobi, Kenya. The program, which focused on Kenya's Prevention of Terrorism Act of 2012 and other national secu­rity laws, was sponsored by Lawyers Without Borders and the U.S. government. Kenya has faced committed and sustained terrorist acts by al-Qaida's Somali affiliate, al-Shabaab, which commands 4,000 to 6,000 active fighters, making it one of al-Qa­ida's largest and most lethal affiliates.
"I could not have been more impressed with the degree of skill and courage exhib­ited by the Kenyan na­tional security pros­ecutors," said Vincent, who is general counsel of Thomson Reuters Special Services and as­sistant director general for international policy at BORDERPOL. While in Nairobi, Vincent also met with the U.S ambassador and the Homeland Security Investigations attaché at the U.S embassy. They discussed U.S.-Kenyan cooperation and coor­dination in counterter­rorism matters as well as the importance of the rule of law and respect for civil rights and due process.
Rodgers '97 Advises Spotify's Direct Listing
Greg Rodgers '97, a partner at Latham & Watkins in New York, co-led the team that advised Spotify Technology, the world's largest global music streaming subscription service, in its groundbreaking direct listing this year on the New York Stock Exchange.
Unlike in a traditional initial public offering, Stockholm-based Spotify did not offer any new shares and there were no underwriters. The shares, which can be sold directly by stakeholders, began trading under the ticker symbol "SPOT" on April 3.
"We are pleased that our direct floor listing, which merges trading technology with human judgment, contributed to this historic day to help Spotify transition to a public company," NYSE President Tom Farley said in a statement.
With no immediate need for capital, Spotify engaged in a direct listing to provide liquidity to its large existing institutional shareholder base. Spotify's opening value of $29.55 billion made it the third-largest U.S.-listed tech IPO on record, according to Dealogic.
"It was a real pleasure to work with Spotify on this first-of-its kind deal," Rodgers said in a news release. "Executing a deal with this degree of innovation required a full team effort from so many pockets of expertise, and it was a genuine pleasure to see our team rise to the challenge."
—Mike Fox
1997

Jeffrey A. Bartos won the Republican primary for lieutenant governor of Pennsylvania on May 15, securing 47 percent of the vote in a four-way race for the nomination. Bartos won 57 of Penn­sylvania's 67 counties in his first bid for elected office.
The Atlanta Business Chronicle featured Simon Bloom earlier this year for his work with Hope+Access, a nonprofit he founded in 2017 for underserved Atlanta-area children. Bloom, who started his firm, Bloom Parham, 11 years ago, describes the nonprofit this way: "It arms historically black churches in some of the toughest neighborhoods to bring best-in-brand youth support services to the kids and families just outside the chapel doors. We are driving generational change to attack poverty where it lives, starting with our kids."
Elisha King has been named DLA Piper's general counsel. King, a partner in the Wash­ington, D.C., office had served as the firm's deputy general counsel since 2012. She joined the firm in 1997 as an associate in the em­ployment practice. After promotion to partnership, she began working with the Office of General Counsel in 2008.
Charron '98 Founds Court Of Arbitration For Art
William Charron '98, a partner at Pryor Cashman in New York, has founded the Court of Arbitration for Art, a new body dedicated exclusively to resolving art disputes.
The court was formally launched June 7 in The Hague by two groups, the Netherlands Arbitration Institute and Authentication in Art.
Charron is a member of Pryor Cashman's litigation, intellectual property, and media and entertainment groups. He is also co-leader of the firm's art law practice and represents clients in art disputes, including in particular title and authenticity cases.
"In 2016, it occurred to me that one of the problems is how the court system is ill-constructed to resolve authenticity disputes in a way that the market may be inclined to accept," he said. "There is more than one published decision where a court has openly explained that 'the market,' not the courts, is the best place to 'resolve' authenticity issues."
While the parties are free to customize their rules to a large extent, the default rules provide for either single-or three-arbitrator panels, depending on the value of the art in question, with more limited discovery than in court, and with international enforcement through treaties. The court additionally provides for mediation by experienced mediators with backgrounds in art law.
"There are often also questions of how to assign burdens of diligence and risks of loss," he said. "I think my law and economics background from UVA has really helped my understanding and advocacy of those issues."
Charron has represented a plaintiff in the largest art fraud scandal in American history, involving a now-defunct gallery in New York known as the Knoedler Gallery, which earned tens of millions of dollars from the sale of counterfeit artwork.
—Mike Fox
1998
Earsa Jackson is a partner at Dallas-based Clark Hill Strasburger and is chair of the In­ternational Foundation Association's Diversity Institute. Jackson was featured in Franchis­ing World magazine in a piece addressing the importance of busi­nesses, especially fran­chise businesses, suc­cessfully responding to the changing demo­graphics of the United States.

Raymond Krncevic joined Tucker Ellis as counsel in the firm's trial department. Based in Cleveland, Krncevic specializes in litigation and health care, drawing upon two decades of in-house, governmen­tal and private prac­tice experience.
Andrew M. Lohmann was recognized in Chambers USA as a leader in the field of cor­porate/mergers and ac­quisitions law. Lohmann is a partner and chair of Hirschler Fleischer's business section and chair of the mergers and acquisitions group in Richmond, Va.
1999

Olivier Catherine LL.M. joined Sonepar as group general counsel, in charge of legal, risk management and com­pliance matters. Sonepar is the world's business-to-business distributor of electrical products and related solutions, with 44,500 employ­ees over 44 countries and 21.6 billion euros in revenue in 2017. Cath­erine remains based in Paris but writes that his new position gives him more opportunities to travel in the United States, which he is happy about.
Clarissa A. Kang was recognized in 2018 Super Lawyers for Northern Califor­nia. Kang is a direc­tor with Trucker Huss' ERISA litigation group in San Francisco. She has handled a broad spectrum of litigation, including cases involv­ing benefit claims, fi­duciary issues, plan administration, multi­employer plans, with­drawal liability, delin­quent contributions, plan reimbursement and subrogation, non- ERISA benefit plans (such as governmental plans and church plans) and class actions.

George O. Peterson was named as one of the top 100 attorneys by Super Lawyers in 2018.
Greg Peterson joined Maynard Cooper & Gale as a shareholder in the intellectual prop­erty practice. Peterson has a Ph.D. in biochem­istry and molecular genetics from the Uni­versity of Alabama at Birmingham. He repre­sents clients on a wide variety of IP issues and advises clients in trade­mark prosecution and approval of products by the Food and Drug Ad­ministration.

Scott Spence has been appointed by U.N. Sec­retary General António Guterres to serve as one of nine experts assist­ing the U.N. Security Council Committee established pursuant to Resolution 1540. He started his position in mid-April in New York.
Under the resolution, states must not provide any form of support to nonstate actors that attempt to develop, acquire, manufacture, possess, transport, transfer or use nuclear, chemical or biologi­cal weapons and their means of delivery; must adopt and enforce laws to prohibit any nonstate actor from carrying out these activities; and must take and enforce effective measures to establish domestic con­trols to prevent the pro­liferation of nuclear, chemical or biologi­cal weapons and their means of delivery, as well as over related ma­terials.
Spence will be the fourth U.S. appointee to the Group of Experts since the resolution was adopted in 2004. He was previously the programme director for national implementa­tion at London-based VERTIC.