Send Us Your News
To submit a class note, email us or submit mail to UVA Lawyer, University of Virginia School of Law, 580 Massie Road, Charlottesville, VA 22903. Please send your submissions no later than Aug. 1 for inclusion in the next issue.
1953
William M. Scaife Jr. died on May 22 in Fred­ericksburg, Va. He at­tended Tufts University, where he met his future wife, Sylvia Hall. He went to law school on a Navy ROTC scholarship. Upon graduation he was commissioned as a second lieutenant in the U.S. Marine Corps, and then married. After he completed active duty, the couple returned to Fredericksburg, where Scaife immersed himself in community and civic activities. He served on the City Council, the board of the rescue squad, and the vestry of Trinity Episcopal Church. In the 1960s, he served on the Fred­ericksburg Biracial Commission and was a founding member of Hazel Hill Apartments, the first nonprofit in Vir­ginia to receive Housing and Urban Develop­ment funds. Over the course of his 50-year career, Scaife made many friends and gained the respect and loyalty of numerous clients, his family reports. He remained an officer in the Marine Reserves; in 1982 he took a sabbati­cal from his law prac­tice and spent a year on active duty working out of the Navy Yard in Arlington, Va. Scaife helped rewrite the Sol­diers and Sailors Relief Act, the key law detail­ing protections given to Reservists and National Guard members when recalled to active duty. After retiring from the Marine Corps Reserve as a colonel in 1985, he remained involved in military-related ac­tivities, most recently serving on the board of the Families of the Wounded, an organiza­tion that raises money to help meet the acute, unmet needs of the fam­ilies of wounded service members.
John W. Warner was presented with the 2018 Gerald R. Ford Medal for Distinguished Public Service by Michael Ford, son of President Ford and chair of the Gerald R. Ford Presidential Foundation, at a cer­emony in June. Warner received the honor for his years of dedica­tion and service to his country, including as U.S. senator represent­ing Virginia.
1960
T. Maxfield Bahner re­ceived the 2018 Ameri­can Inns of Court Pro­fessionalism Award for the Sixth Circuit. Bahner is senior counsel with Chambliss, Bahner and Stophel in Chatta­nooga, Tenn., where his practice concentrates on complex litigation. The American Inns of Court Professionalism Awards are presented each year, in participating federal circuits, to a lawyer or judge whose life and practice display sterling character and unques­tioned integrity, coupled with ongoing dedication to the highest standards of the legal profession and the rule of law.

Richard Silver is "de­lighted to report" that Silver Golub & Teitell just celebrated its 40th anniversary. Silver is actively working and trying cases in Stam­ford, Conn.
1962
Edward Minor Prince, senior counsel and trademark specialist of Alston & Bird, club athlete, and devoted husband, father and grandfather, died on April 20 from com­plications of multiple myeloma at Suburban Hospital in Bethesda, Md. He was 80.
A lifelong Washing­tonian, born on May 3, 1937, the first son of his Alabama-born father and Connecticut-born mother, "Ted" embod­ied Southern charm and Northern efficiency, ac­cording to family and friends.
He was raised on the fairways of the Chevy Chase Club and seldom strayed. He attended Woodbury Forest School, Yale University and UVA Law School — alternating between his Southern and Northern roots. While at Wood­bury and Yale, he ex­celled at sports. He played on the varsity tennis and squash teams at Yale — winning a na­tional championship in 1958. He held two sig­nificant country club records (unlikely to be matched): winning all three of the tennis, golf and paddle tennis club championships at the Chevy Chase Club throughout his 20s and 30s and, at 74, winning the senior club cham­pionships at all three of his clubs in a single year: Ponte Vedra, Baker Hill and Chevy Chase. Despite all these records, according to his family, his fiercest competition was always left to playing against his father, his sons, his son-in-law or his sons' friends — 25 or 30 years his junior — where his competitive drive was on display the most, especially if $2 was on the line.
After law school, he served in the Army. He married his law school sweetheart, Sally Ma­thiasen, moved back to Chevy Chase, practiced intellectual property law and began a family.
He helped raise three children — Jackie, Ted Jr. and Christian, who all attended Yale Uni­versity. On Feb. 17, 1991, Christian — a Yale sopho­more and All-American lacrosse player — was murdered walking home on a Saturday night in New Haven, Conn.
Later that year, Prince testified in front of Con­gress in an emotional plea to pass the Brady Bill for gun control. The Connecticut Bar Association honored
James A. Wade with the Edward F. Hennessey Professionalism Award during the organiza­tion's annual awards celebration in the fall. Wade is a member of Robinson+Cole's busi­ness litigation group in Hartford and has tried numerous criminal and civil cases across the United States during his legal career, which spans five decades. The award honors a member of the Connecticut Bar whose career has mani­fested a dedication to the highest ideals and standards of the legal profession.
Wade was recently recognized in Chambers USA in Connecticut for white-collar crime and government investigations.
1963
Michael A. Bander attended a ceremony where the Judge Boyce F. Martin Jr. Unsung Hero Award was given to Alden Sproul of Bristol, Maine. The award is sponsored by the Rotary Club of Dam­ariscotta-Newcastle and is given biennially to acknowledge and cel­ebrate those who have made unselfish, unac­knowledged and uncele­brated contributions.
William T. Wilson was named to the Virginia Lawyers Weekly Hall of Fame. Wilson practices with Wilson, Updike & Nicely in Coving­ton, Va., and has tried a multitude of cases, both criminal and civil, in his 50-year career, as well as one case involv­ing whether to build the Garthright Dam. Wilson considers his service to others the highlight of his career thus far. That list includes: serving on the Virginia State Bar Council several times; as chairman of the Senior Lawyers Conference; as chairman of the Confer­ence of Local Bar Asso­ciations; and in the Vir­ginia House of Delegates from 1974 through 1989.
1964

Graham D. Holding Jr. is the inaugural winner of the North Carolina Bar Association Estate Planning & Fiduciary Law Section's Distin­guished Service Award. The section has also es­tablished the Graham D. Holding Jr. Justice Fund with the North Carolina Bar Foundation Endow­ment in his honor.
The award honors an estate planning attor­ney who has made sig­nificant contributions to the legal practice, its practitioners and the public; has exhibited the upmost professionalism and high character; and has provided service to the Estate Planning & Fiduciary Law Section.
Holding has been a member of the section since its creation in 1979 and has been extensively involved in its legislative committee. He is co-au­thor of two popular re­sources for North Caro­lina attorneys: the BB&T Estate Planning Forms Manual and the docu­ment assembly software program MenuForms for North Carolina Estate Planners.
In celebration of his accomplishments, Holding's colleagues in the section raised more than $50,000 for the justice fund in his honor. Justice funds support endowment-funded programs and projects that promote access to justice, civic education, service through the profession and professionalism.
Holding has prac­ticed estate planning, trust and estate adminis­tration, and taxation law with Robinson Brad­shaw in Charlotte for 29 years.
Gilbert P. Wright Jr. is enjoying retirement in Jacksonville, Fla., after closing his downtown law office in 2015. He keeps young by running a youth sailing club and said he is fortunate in that both he and his wife Nancy are in good health.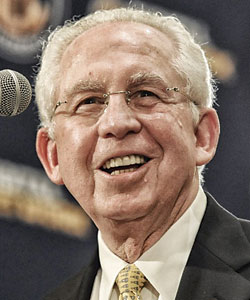 In Memoriam: Game Changer in College Athletics
Mike Slive 
'65
Mike Slive '65, who transformed the landscape of college sports as commissioner of the Southeastern Conference, died May 16 in Birmingham, Ala. He was 77.
The Utica, N.Y., native was named SEC commissioner in 2002, after serving as founding commissioner of the Great Midwest Conference starting in 1991 and then Conference USA starting in 1995.
Slive was the driving force behind the four-team College Football Playoff, which he proposed in 2004 after undefeated Auburn was excluded from the BCS National Championship. The change was implemented in 2014.
The SEC notched several successes under Slive's 13-year leadership, including 81 national championships, the hiring of its first black football coach and growing to 14 teams.
"It is not hyperbole to state that no individual has had more impact on intercollegiate athletics in America over the past quarter-century than Mike Slive," Mississippi State University President Mark E. Keenum said in a statement.
While SEC commissioner, Slive served on the Commission of Athletics Opportunity, established by the U.S. Department of Education to review the workings of Title IX, which prevents discrimination on the basis of sex in federally funded education.
He also served as coordinator of the Bowl Championship Series and as chair of the NCAA Division I Men's Basketball Committee.
"Commissioner Slive was truly one of the great leaders college athletics has ever seen [and] an even better person," Alabama head football coach Nick Saban said in a statement. "The professionalism he displayed throughout his career was second to none. He was an advocate for all of our universities and placed the utmost importance on the well-being of student-athletes."
As a prostate cancer survivor, Slive founded the Mike Slive Foundation for Prostate Cancer Research upon his retirement in 2015.
In 1990, he founded the Mike Slive-Mike Glazier Sports Group, which assisted NCAA institutions in compliance matters. Before that, Slive was a partner in the Chicago law firm Coffield Ungaretti Harris & Slavin.
His early foray into sports included working in Dartmouth's and Cornell's athletic departments and as a Pacific- 10 Conference official.
Slive started his legal career operating his own practice in New Hampshire and serving as judge of Hanover District Court from 1972-77.
He earned a bachelor's from Dartmouth College in 1962 and an LL.M. from Georgetown University Law Center in 1966.
—Mike Fox
1967

J. Rudy Austin was named to the Virginia Lawyers Hall of Fame, a Virginia Lawyers Weekly awards program designed to recognize the state's most signifi­cant senior lawyers. Austin has been a leader of Virginia bar associations, serving as president of the Roanoke Bar Associa­tion and the Virginia Association of Defense Attorneys, and as chair of the Sixth District Ethics Committee and the Virginia State Bar Disciplinary Board. In 2007, he received the Virginia Associa­tion of Defense Attor­ney's highest honor—the Award for Excellence in Civil Litigation. He is a fellow in the Amer­ican College of Trial Lawyers, the Ameri­can Bar Foundation and the Virginia Law Foun­dation. He was also an emeritus master of the bench in the Ted Dalton American Inn of Court.
Austin recently retired from his posi­tion as a senior litigation partner at Gentry Locke. In a career that began in 1967, Austin's experi­ence includes the prac­tice areas of insurance defense, insurance cov­erage, workers' compen­sation, construction and legal ethics.