Send Us Your News
To submit a class note, email us or submit mail to UVA Lawyer, University of Virginia School of Law, 580 Massie Road, Charlottesville, VA 22903. Please send your submissions no later than Aug. 1 for inclusion in the next issue.
1960
Rust E. Reid received the 2015 Each Moment Matters award from the Presbyterian Communities and Services Foundation in October. The award honors individuals and leaders who strive to be agents of change in their communities. Reid is of counsel in Thompson & Knight's tax practice group in Dallas, where he focuses on estate planning, probate and fiduciary administration. 
1961
James E. Covington Jr. was featured in the Richmond Times Dispatch on Dec. 19, in "The People Who Made Richmond: James Covington, A Pioneer in the Luxury Condo Market, Continues to Find Success." 
Covington began developing condo properties in Richmond in the 1970s, before the idea had really caught on. He converted historic buildings into condos and built new ones with high-quality details, while educating consumers on the benefits of condo living. He practiced law in Richmond for four years before co-founding his first development company in 1965. Today his Covington Company focuses on retail commercial real estate projects.
C. Roy Kelley retired from his 20-year career as a RE/MAX realtor two years ago. For eight years he's written a blog (activerain.com/blogs/ roykelley) for ActiveRain, a networking site for the real estate industry. He started out focusing on real estate, but has added flower photography and descriptions of outings and travels with his wife, Delores. His flower photographs are so popular that he posts them on 40 different Facebook groups. Many of his followers from the real estate blog also follow him on Facebook, and his blog is ranked second on ActiveRain's national network.
Desmond C. Wray Jr. died on Feb. 14 at the age of 86. Before attending the Law School, he completed a year at VMI and received an appointment to the U.S. Naval Academy. He served with the U.S. Marine Corps as a ground officer, pilot and flight instructor. After resigning his regular commission, he continued to serve as an officer in the Marine Corps Reserves. He retired with the rank of colonel.
Following law school he practiced with his brother, Bill, in Staunton, Va. He served for 10 years as judge of the Augusta County Court and for 20 years as attorney for the city of Staunton. 
1962
By the Numbers: The Late, Great Richard "Buzzy" Wilkinson '62
UVA basketball legend Richard "Buzzy" Wilkinson '62, who died in January, still holds ACC and University career records for scoring. While he will also be remembered as the president and CEO of First Century Bank in Bluefield, W.Va., and a former president of the UVA Alumni Association Board of Managers, among other accomplishments, many fans will keep Buzzy in their hearts for his on-court achievements:
1955 Year of undergraduate degree and last year of college play
30 Average points per game, season
28.6 Average points per game, career
14 Wilkinson's jersey number, first to be retired from UVA
10 Number of times scoring 40 points in a game
#1 All-time ACC rank for both points and shots per game
Col. Robert D. Hoagland writes that he is in good health and living in Charlotte, N.C. 

G. Marshall Mundy was selected by his peers for inclusion in Best Lawyers in America, for personal injury law. Mundy has been included in the publication for 29 consecutive years, since it was first published in 1987. He is a fellow in the American College of Trial Lawyers and an advocate in the American Board of Trial Advocates. He has his own law office in Roanoke, Va., where he has practiced for 53 years. In 2014 he received the Lifetime Achievement Award from the Roanoke Bar Association.
1963
John M. Oakey Jr. was listed among Virginia Business magazine's legal elite for 2015 in legal services/pro bono. He retired as partner with McGuireWoods in Richmond in 1999 and is currently active in pro bono matters. 
1964
Walter L. Metcalfe Jr. was named the St. Louis Post-Dispatch 2015 Citizen of the Year. His success at negotiating public projects includes creating the Danforth Plant Science Center, building the Pulitzer Art Foundation Museum, constructing the Edward Jones Dome, bringing Teach for America to St. Louis, and renovating the Gateway Arch grounds. Metcalfe is senior counsel at Bryan Cave, where he focuses on technology, entrepreneurial and commercial practice, and agribusiness and food law. 
1965
Martin E. Simmons passed away in 2013. His wife, Judy, wrote to say that he adored UVA and practiced law successfully for 50 years in Nashville, Tenn. She remembers enjoying serving as president of the Law Wives Club. 
1966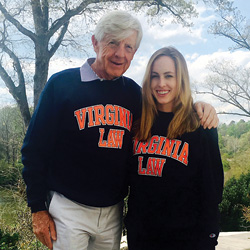 Norwood Davis '66 is pleased to announce that his daughter, Clay, will be entering the Law School in the fall as a member of the Class of 2019. 
1967
Gene Dahmen is listed in New England Super Lawyers 2015 and Best Lawyers 2016 in family law. She is senior counsel with Verrill Dana in Boston.
Foy R. Devine was listed among Georgia Trend magazine's 2015 legal elite in personal injury law. He is listed in Best Lawyers 2016 in personal injury litigation (plaintiffs) and product liability litigation (plaintiffs), and in Georgia Super Lawyers 2016 in personal injury products (plaintiff). He is a partner in the litigation and dispute resolution practice group with Taylor English Duma in Atlanta.
1968
Barry C. Hawkins was elected to the board of governors of the American Bar Association in September, and at his first meeting of the board enjoyed catching up with classmate Allen Goolsby, who had finished his board term. Hawkins is a partner with Shipman & Goodwin in Stamford, Conn., where he focuses his practice on real estate and litigation. He is listed in Connecticut Super Lawyers 2015 in real estate and in Best Lawyers 2016 in real estate law and litigation.
Former NBC CEO Bob Wright has been in the news, talking about his new book, "The Wright Stuff," which chronicles his NBC tenure as well as his co-founding of Autism Speaks, an organization to help families dealing with an autism diagnosis.
1969
Gordon D. Schreck is listed in Chambers USA 2015 in transportation: shipping litigation/nationwide, and in South Carolina Super Lawyers 2015 for transportation/maritime. He has been listed in Best Lawyers for more than 25 consecutive years. A senior partner with Womble Carlyle Sandridge & Rice in Charleston, Schreck was recently elected to the board of trustees of Columbia Theological Seminary in Decatur, Ga., having previously completed four terms as a trustee of his alma mater, Hampden-Sydney College.
Thomas G. Slater Jr. was appointed to the American College of Trial Lawyers Virginia State Committee for 2015-16. He was selected for the "Who's Who Legal 2016" competition, and is listed as a leader in Chambers USA 2016. He is special counsel with Hunton & Williams in Richmond, Va., where he focuses his practice on complex litigation matters, with emphasis on antitrust and intellec­tual property.